He was known as "Big Ears" before he settled on "Flop."
Decades ago, and for reasons that would never fly today, Bill Finkle's overly generous ears earned the 13-year-old a photo in The World-Herald.
The reason? Finkle, who lived in North Omaha's Minne Lusa neighborhood, had won the newspaper's first "Biggest Anything" contest.

The year was 1937, and it was a time when newspapers were attempting to re-create on their pages the small-town feel that many readers saw slipping away after headlines of mass migration, immigration, a world war and economic upheaval.
Whether it was 12-year-old Betty Blackburn besting the boys at a game of marbles, Police Inspector Bert Thorpe claiming honors for the first baby of the new year — when his goat gave birth — or an embarrassed Lincoln broker, L.G. Gooden, caught cavorting with ladies of the night, the pages of the paper were packed with stories about everyday people.
These were the people who came to life for longtime Omaha resident Beth Richards as she combed the archives of The World-Herald for news about the people of Minne Lusa and nearby Florence Boulevard. Richards is compiling address-by-address booklets on every home in the neighborhood. So far, she's put together about 800 booklets, some fat with history, others thin. And she's still doing her research.
Richards said her research has reinforced her sense that each of us has only a certain amount of time, and then we make way for someone else.
"What makes it fun is that you can imagine those people walking these same streets we're walking," she said.
Beyond the charming and silly, Richards encountered tragedy and found bits of history now lost to popular knowledge — like the fact that candy maker Russell Stover enjoyed his first big commercial success in Omaha.
Her clippings also provide reminders that society has progressed. In those days, a married woman usually was named in relation to her husband, such as "Mrs. Frank Sutera," if she was named at all.
Richards' research begins in 1900, when the neighborhoods of Minne Lusa and Florence north of Miller Park were getting established. It's not a coincidence that Richards would stumble on such varied and intimate stories, said Caitlin Cieslik-Miskimen, who has researched this era of newspapers and is an assistant professor of journalism and mass communication at the University of Idaho.
Cieslik-Miskimen said that from the 1890s to 1930s, many publishers broadened their business model to include cultivating a sense of community. Cities were undergoing rapid changes in population and demographics, and along the way their sense of community was fraying.
"The newspaper kind of retained that role of the old-time town square," she said. "It was a way to make a city that was becoming very impersonal still seem very personal."
The business imperative? Names were news. If your child's name was in the paper, or your neighbor's, you were more likely to buy the paper, she said.
"This has been an underappreciated aspect of newspapers," Cieslik-Miskimen said. "They don't just report on the events of the day. They give us a sense of what it means to live in a certain place at that time, and what it means to be part of a community."
Here are snippets of stories Richards uncovered, and their sometimes cryptic headlines:
April 10, 1919: Young Farmer Proposed Many Times, She Says. She Refused Him for the Last Time Sunday, Then he Filed $12,000 Claim, She Alleges
The romantic escapades of La Ranee Buckwalter twice made the headlines in The World-Herald. First when she was sued by a handsome, wealthy cattleman whose advances she had rebuffed. He was suing over money he said he spent on her, including for jewels and a Cadillac roadster. She disputed Joe Bauer's account, saying it was she who paid him to leave her alone. The second time she made news was when another jilted lover, her former chauffeur-turned-criminal, was jailed on suspicion he'd come to Omaha to kill someone.
Sept. 13, 1919: Thieves Loot Home of Tom Dennison (twice)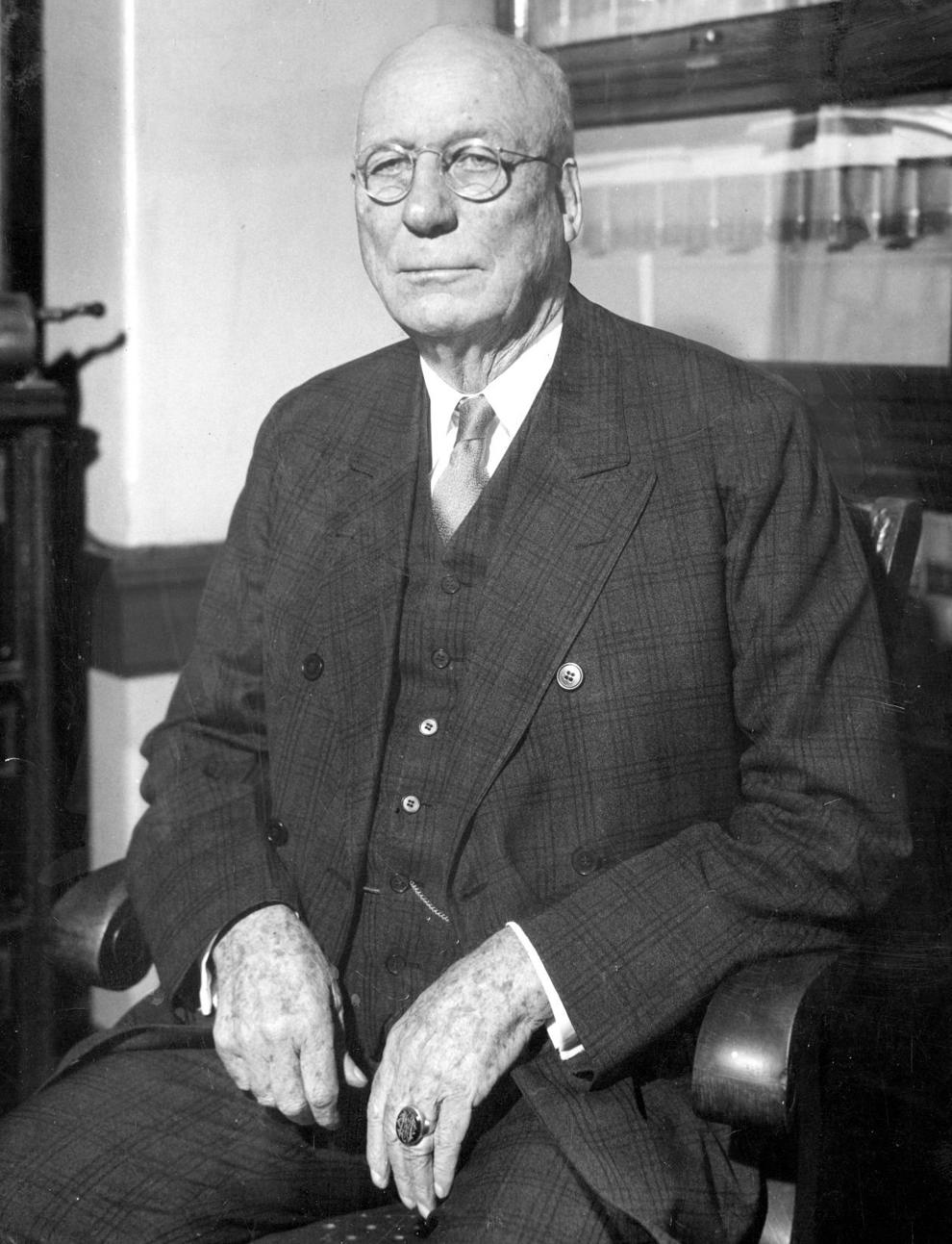 Tom Dennison was a political and crime boss who held considerable power over Omaha life in the early decades of the last century. While Dennison was at the races in Milwaukee, a thief broke into his home at 6141 Florence Blvd. and stole a pearl-handled revolver. The crudity of the break-in led police to believe it wasn't the work of a "gentleman burglar," but "just one of the horde of vulgar burglars." The following spring, Dennison's home was burglarized again, with the thieves taking silverware, furs and clothing. And the next year, someone stole his Cadillac from 14th and Howard Streets while Dennison was in the auditorium.
Dec. 25, 1921: Sudden Wealth Comes to 2 Omahans With an Idea
Chris Nelson was a 20-something Iowa boy obsessed with an idea — coating ice cream with chocolate. He was so obsessed that he moved to Omaha in a bid to make the perplexing treat a reality. To be sure, Nelson had some false starts — like dipping ice cream in house paint before covering it in chocolate. "People couldn't digest house paint," The World-Herald wrote. "Something else must be found." Eventually, Nelson stumbled on an oil mixture to adhere chocolate to ice cream. He then turned to Minne Lusa resident and experienced candy maker Russell Stover to produce his treats. Eskimo Pies were an instant sensation across the country. Nelson went from earning $20 a week at a pool hall to making hundreds of dollars a day. Stover and his wife, Clara, lived at 2744 Titus Ave. at the time, and would later move to Denver, where they would create their own nationally recognized brand of boxed chocolates.
May 9, 1922: Girls in Overalls Meet Police Raiders at Door
Two "girls" in overalls answered the door when police raided a party at 5805 Florence Blvd. shortly before 3 a.m. The women were immediately quizzed by the officers: "What's the idea of the overalls?" an officer demanded. "We've been gardening all day," responded one of the "farmerettes," as the reporter described her. One of the men in the house, L.G. Gooden, a broker from Lincoln, explained to police he had come there for the chicken: "The girl told me she would kill a chicken ... I guess they put on overalls to do it." (Five people in the house paid $5 fines, the equivalent of a little more than $75 apiece today.)
1923: Says Bobbed Hair to Protect Herself
This court case involved a husband, Frank Sutera, 2876 Titus Ave., who had been charged with disturbing the peace. In police court, his wife, described only as Mrs. Frank Sutera, testified against him, saying she had bobbed her hair to prevent him from dragging her around by it. He countered that she had been in the company of other men, which she denied. The judge dismissed the case against the husband.
July 23, 1925: Holds Man has right to locate the home 
In this case, the wife of Harry A. Johnson, 2885 Ida St., didn't want to live in their Minne Lusa house because "it was too far from town ... and it took her too long to come to town on the street car," he told the judge. The judge ruled that "it is the husband's prerogative to pick out the place where the family shall live," if the location is close to where he works. (The wife's name was not included in the story.)
March 6, 1926: Joseph West Dead; Sold Edison Patent
According to Joseph West's obituary, the 54-year-old plumber was a genius who had invented a recording device in the late 1800s that Thomas Edison coveted.
With his device, West would record animal sounds, orchestra music at theaters, his sister playing a piano and friends talking.
West's sister, who lived at 2880 Whitmore St., recounted: "My brother avoided Edison as long as he could, but on the advice of his attorneys he sold out as he felt he had no chance against him. The eastern company kept a man here for six weeks looking for my brother so anxious were they to get the machine."
In exchange for $800, West had agreed to not keep any blueprints or pictures or make any more of the machines. Edison believed the machine infringed on his patents, according to the story.
April 25, 1927: Man Dismantles Furnace to Save the Life of Pet Baby Chick
Dr. Lyman J. Cook brought baby chicks home for his young sons and left them in a covered basket overnight in the kitchen. In the morning, one chick was missing and eventually found in the furnace. Cook dismantled the furnace and retrieved the chick for his sons. The chick likely had fallen through the hot air register at the home at 2887 Mary St. This is a family that Richards was able to follow through the years due to subsequent clippings. As an adult, one of the boys died in a plane crash with his wife and two children.
Feb. 19, 1929: Schools Need Light
The classrooms in 18 Omaha school buildings had no electricity as of 1929. Two North Omaha residents requested wiring for Miller Park School so that pupils would not suffer eye strain on dark days. The estimated cost to light all 18 buildings was $15,000, or about $226,000 in today's dollars. The request was sent to the finance committee. Clearly, the buildings eventually were wired.
Jan. 4, 1931: First New Year "Baby" Honors Claimed by Cop
Police Inspector Bert Thorpe said the honor of first baby of the new year should be awarded to his home at 6703 Florence Blvd. due to the birth of baby goats born on either side of midnight Dec. 31. He named them "30" and "31" for the years they were born.
Nov. 6, 1936: Omahan is Willed Glass, Donor hopes for "No Liquor"
Miss Mary McDowell, 82, bequeathed her sister, Mrs. Annie Hopkins of 6120 Florence Blvd., a Bohemian glass tray and bottles that had been their parents' wedding presents. Miss McDowell hoped they "may never hold alcoholic liquors." (Miss McDowell also asked for "the simplest funeral that will not embarrass my friends.")
May, 17, 1937: Biggest Anything
Bill Finkle told The World-Herald he was sensitive about his big ears when he was younger but had gotten over it by age 13, when he won the newspaper's first "Biggest Anything" contest. According to the story, he couldn't blame genetics because the rest of his family had "middle-sized ears." The photo in the paper was a side view so as to fully capture his right ear, the largest of the two. He used to be called "Big Ears," and now took his nickname "Flop" for granted.
Aug. 13, 1944: Man Must Curb Dog, Roomers in 30 Days
A judge gave Jesse E. Gibson 30 days to get his dog to stop howling at night and two women boarders to stop turning cartwheels on the lawn at 4 in the morning. Gibson had been charged with disturbing the peace.
June 27, 1945: Three Boys Lose Urge to Roam After Stormy Night Under a Bridge
A 7-year-old boy and two 8-year-old boys who lived near 30th and Vane Streets decided to go exploring on their tricycles. They were about a mile north of their homes when a storm blew in. The boys took shelter under a bridge at 30th and State Streets and fell asleep, only to awaken to the darkness of night. One of the 8-year-olds told his parents, "I wanted to come home, but the other boys wanted to stay until daylight." The boys said they didn't know "for sure" whose idea the trip was.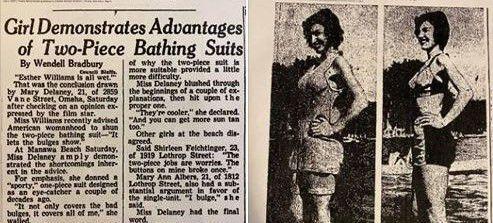 July 3, 1949: Girl Demonstrates Advantages of Two-Piece Bathing Suits
Back in 1949, women disagreed over whether to switch to two-piece swimsuits. Icon Esther Williams advocated that women stick to one-piece suits rather than allow skimpier attire to show bulges. Omahan Mary Delany, 21, modeled both types of suits at "Manawa Beach" for The World-Herald, and reporter Wendell Bradbury obligingly interviewed her and two other women at the beach. The other two preferred the one-piece, agreeing that it hid bulges and had fewer buttons to pop. But Delany wasn't dissuaded. "I don't care," she said. "I just like them better."
Nov. 4, 1952: It's an Idea
A pivotal presidential election season was underway, and when the results were in, Republicans had swept Democrats out of power at the national level as Dwight D. Eisenhower assumed the presidency. On this morning, 15-year-old Bruce Houston had an inspiration when he saw a newspaper fall, tent-like, over his dog. He fashioned a blanket for the dog, Mickey, and lettered "Vote" on each side. Bruce let Mickey out the door, and the dog roamed the neighborhood, encouraging people to cast their ballots.
---
Weird World-Herald headlines from the archives that leave you wanting more