Nebraska continues to make progress in its efforts to get COVID-19 shots into the arms of its residents, and Gov. Pete Ricketts said Monday that the situation should improve if yet another vaccine is approved soon.
As of Sunday, the state ranked 15th in the total number of shots given based on its adult population. In all, 496,000 Nebraskans age 18 and older, more than a third of that population, had received at least one dose.
In addition, 290,000 Nebraskans have been fully vaccinated, the ninth-highest rate in the country, according to a World-Herald analysis of federal Centers for Disease Control and Prevention data.
Several weeks ago, the state ranked in the middle to lower-middle of the pack in its vaccine rollout.
The state also ranks well in vaccinating the 65-and-older population, which is at greatest risk of serious illness and death if they catch the virus. Seventy-five percent of Nebraskans in that age group have now received at least one shot, ranking the state No. 10 in that category. Almost half of that group have been fully vaccinated, putting the state at 15th.
Iowa ranked even higher, at 10th in its total shot rate and 7th in the percentage of its adults who have been fully vaccinated.
On Monday, Nebraska moved on to vaccinating 50- to 64-year-olds, the age bracket with the next-highest risk.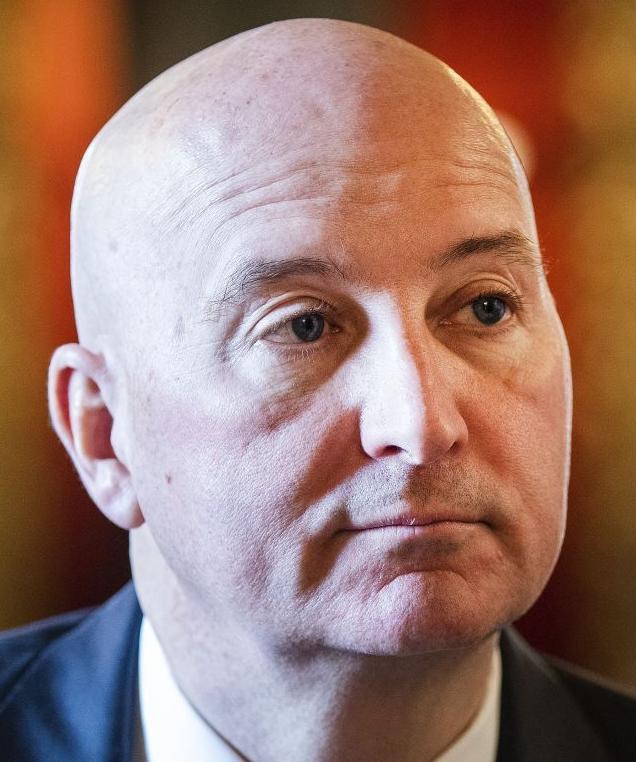 Ricketts said Monday that he would always like to get more vaccine, but he acknowledged that allocations to states have increased in recent weeks.
Next week, the state expects a big increase in its supply of the one-and-done Johnson & Johnson shot.
Ricketts said he thinks that Nebraska "is in the ballpark" of getting its proportional share of shots. Allocations to states are based on their 16-and-older populations.
Nebraska, with its relatively younger population, is getting relatively less vaccine.
Ricketts said he had asked both the Trump and Biden administrations to show him the math behind the federal government's distribution, but neither provided it.
Based on his checks with other states, he said, he thinks that the state is getting its fair share, although he doesn't have a way to verify it.
Ricketts said it will be helpful if AstraZeneca's vaccine is approved.
The drugmaker reported Monday that its COVID-19 vaccine provided strong protection among all adults in a U.S. study. According to the company's data, the vaccine was 79% effective overall at preventing symptomatic cases of COVID-19, including in older people, and none of the study participants were hospitalized or developed severe disease.
The company also said its experts did not identify any safety concerns related to the vaccine, including an increased risk of the rare blood clots identified in Europe.
Officials said the company would seek emergency clearance for the vaccine from the Food and Drug Administration in the coming weeks.
Douglas County, the state's most-populous county, is signing up residents in the next age bracket in five-year increments.
By noon Monday, residents ages 60 to 64 had made almost 6,000 appointments, according to the Douglas County Health Department. Each of the five-year brackets includes roughly 30,000 residents. But the number of people who still need shots in each group is likely to be less because some people have already received shots as part of previous priority groups.
Under the state's requirements, 90% of shots in the next phase are to go to people in the age-based brackets, and 10% are for younger people with high-risk health conditions.
Health departments covering Douglas, Sarpy, Washington, Dodge and Saunders Counties, working with the Omaha Metropolitan Healthcare Coalition, have developed a process of identifying high-risk patients based on information in the electronic health records of four large health systems — Nebraska Medicine, Methodist Health System, CHI Health and Children's Hospital & Medical Center.
Risk scores will be calculated based on the number of conditions, the patients' current health and their medical records. Social determinants of health, such as residents' ZIP codes, will also be considered.
"We feel this helps ensure an equitable, effective framework for vaccine distribution," health officials said in a statement.
Depending on the amount of vaccine available each week, health care systems will contact patients with the highest scores with instructions on scheduling appointments at community clinics.
In an advisory to health care providers, health officials said there is no other way for high-risk patients to get on the list. Doctors' notes will not be accepted.
Everyone older than 50 is expected to be eligible within the next two or three weeks, and everyone else by at least May 1.
Meanwhile, new case counts in the state continued on the same plateau where they have been for more than a month.
The state recorded 1,782 cases last week, roughly unchanged from the 1,811 the previous week. Cases have ranged between 1,700 and 2,000 for five straight weeks.
But health officials have cautioned that transmission of the virus is still well above where they would like it to be and that those infections, coupled with COVID-19 variants, could cause another wave.
COVID-19 case counts in the U.S. as a whole have been flat for about two weeks, according to the New York Times. But persistent outbreaks in the Northeast and Michigan have offset progress elsewhere.
Coronavirus-related deaths in Nebraska have continued to decline, with just eight reported last week. That was down from 14 the previous week and was also the fourth-lowest weekly figure since the state recorded its first deaths in late March last year. The state last recorded a lower weekly toll in early July.
This report includes material from the Associated Press.
---
Virus by the numbers: 10 charts that show how Nebraska is coping with COVID-19