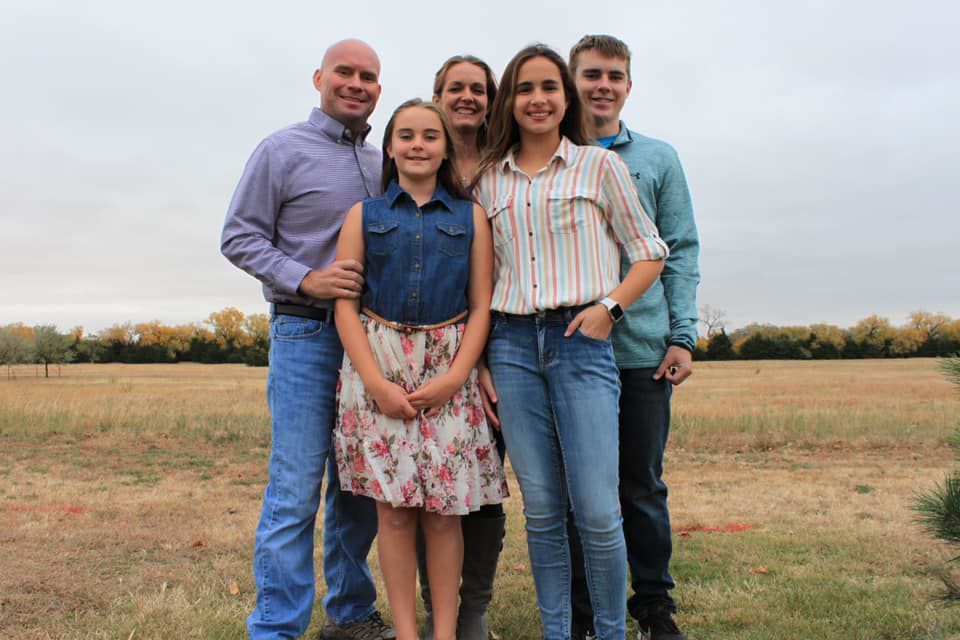 Andy Hoffman seemed to be getting better.
The recently retired attorney from Atkinson, Nebraska, had been diagnosed with a massive brain tumor in July after he became ill during a jog. It was the same diagnosis his son Jack had faced nine years earlier.
Jack, then 7, became famous in 2013 when he ran for a 69-yard touchdown during Nebraska's spring football game. Jack is now a 15-year-old freshman at West Holt High School in Atkinson, and his cancer is in remission.
After Jack's story was shared across the country, Andy and his wife, Brianna, launched the Team Jack Foundation, which has pledged nearly $8.4 million toward pediatric brain cancer research.
Following his own diagnosis this summer, Andy Hoffman, who is 41, lost the ability to walk and had to use a wheelchair to get around.
He underwent chemotherapy and radiation treatments at the Mayo Clinic in Rochester, Minnesota. It seemed to help Hoffman regain his mobility. Two weeks ago, Hoffman said in a phone interview Monday, he tackled a 4-mile hike in the Black Hills.
Last Tuesday, however, Hoffman woke up and couldn't walk. He spent the morning throwing up. The next day, he wasn't any better, so he was flown to the Mayo Clinic, where an MRI detected two new tumors on his brain.
Doctors were concerned that tumors also had spread to his spine, but Hoffman said Monday that the spinal scan came back clear.
Having the cancer spread to his spine "would have made my prognosis even worse," he said. The clear scan of his spine, he said, "was a huge relief."
Doctors, Hoffman said, were confident they could go in and "zap" the new tumors with radiation. He likely will undergo treatments in Rochester again.
Hoffman said he has regained some mobility, but it's limited. He can walk but is unsteady. He said he will continue to meet weekly with his pastor and rely on his favorite Bible verses.
Hoffman said Brianna has been "the real saint in all of this."
"For her to deal with Jack and now her husband, I don't think there's another woman on Earth that is capable of what she is," he said.
This month, Hoffman's book, "Yards After Contact," was released. In it, he details Jack's battle with brain cancer. Hoffman described the book as his "last hurrah."
Proceeds from the book will go toward childhood brain cancer research through the Team Jack Foundation.
"I'm hoping this can be my final dig at brain cancer," Hoffman said. "Research is how we're going to beat this disease. When I think about kids going through this, it breaks my heart."
Hoffman's advice to people following his story: Don't have any regrets. Hug your kids. Tell your friends you love them. Talk to your parents. Don't carry any grudges.