Nicole Hamill's morning started as usual.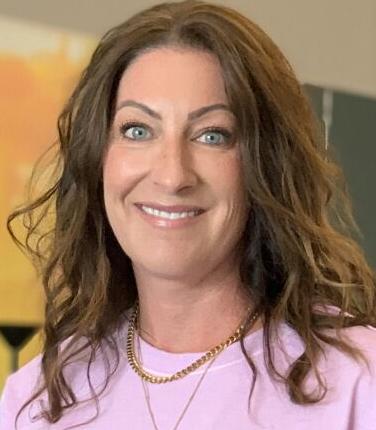 The Bennington woman went to a Pilates studio for an early morning class. In the middle of class, she started to feel weak, but she didn't know why her instructor and fellow gymgoers were making a fuss over her.
"I'm OK," she kept telling them.
Then Hamill, who was 42 at the time, realized she was starting to slur her words. She lost the ability to move her left arm and left leg. She was having a stroke.
But thanks to the quick actions of studio members and Omaha Fire Department medics, Hamill was able to receive treatment and was back in the studio two weeks later.
"The timing of everything was crazy," Hamill said Friday. "I'm so lucky they saw the symptoms and called right away."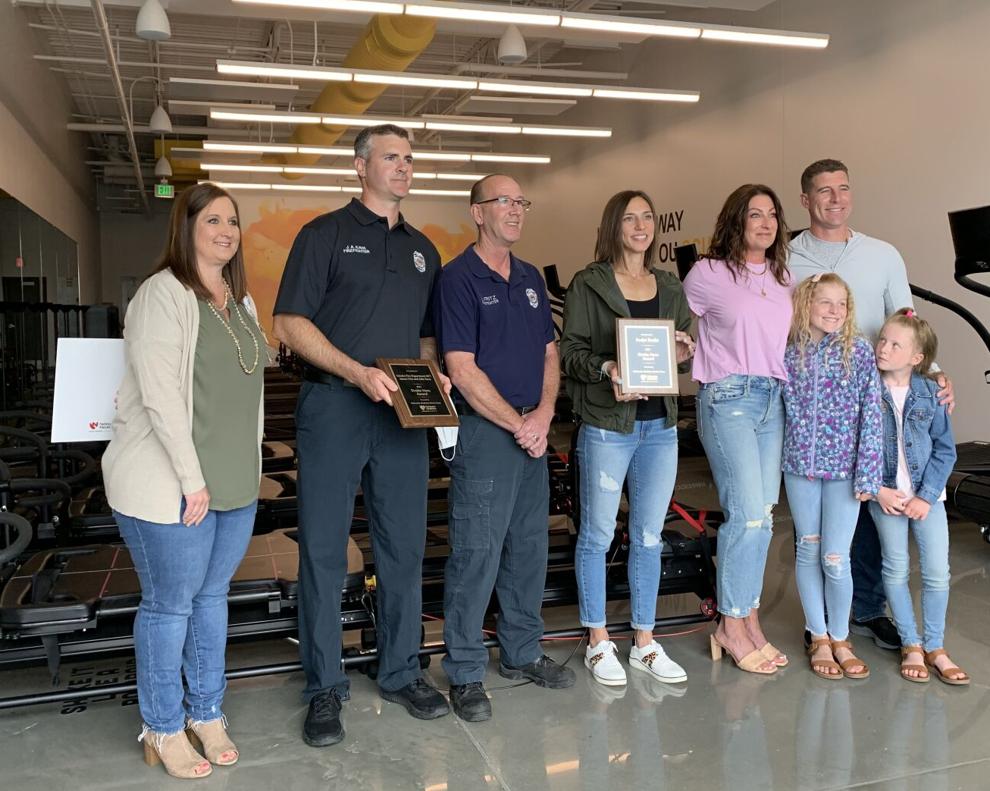 The Nebraska Medical Center's stroke team on Friday recognized the medics who treated Hamill and Sculpt Studio, which is near 204th Street and West Dodge Road.
Paramedics James Fritz and John Kava usually don't learn what happens to the patients they treat and transport.
The two said you wouldn't expect a stroke to occur to someone fit and athletic like Hamill. But she was clearly experiencing stroke symptoms when they arrived at Sculpt Studio. Seeing Hamill walking around Friday, accompanied by her family, was extraordinary, they said.
"It's amazing," Fritz said.
Hamill had the stroke March 4 during a 5:30 a.m. Pilates class at the studio.
Hamill usually goes to Sculpt a few days a week. The other days, she runs or works out at home before work.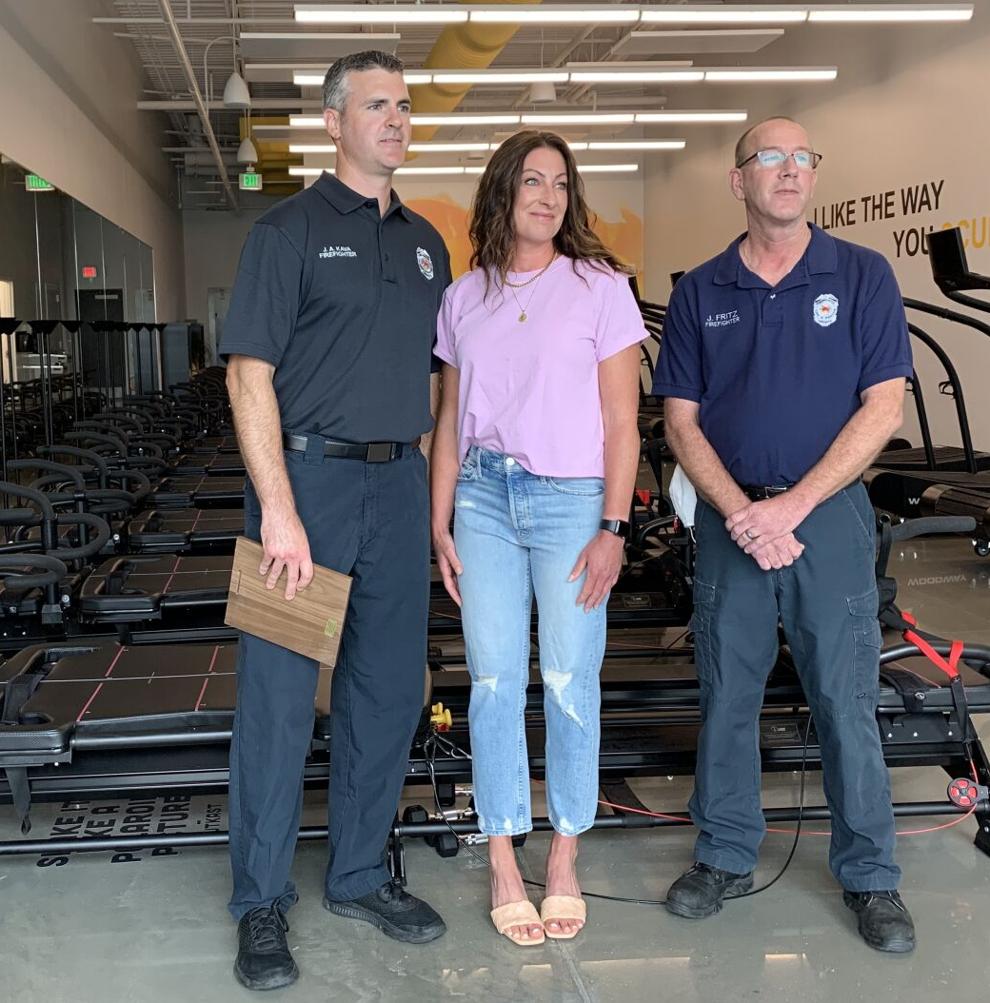 That morning, instructor Lori Wilson noticed that Hamill hadn't switched to the next move in a sequence.
Wilson went to see if Hamill needed help. As she approached, she noticed that Hamill, who was in a lunge, had a tight grip on the back of a Pilates machine. Her face was turning red.
Hamill insisted that she was OK. But then she couldn't get up. Wilson looked over at other members of the class, and they worked together to help Hamill into a seated position.
Wilson called 911. The dispatcher quickly determined that Hamill was having a stroke.
Wilson watched the clock for paramedics to arrive. It took three minutes, she said, but it felt like an eternity.
"I went home and replayed everything in my head. I was just praying that we did everything we could," Wilson said. "I'm very blessed and grateful for the members here, for the dispatcher, the EMTs and the doctors, because they are why she's healthy."
Hamill was taken to the Nebraska Medical Center. Within 15 minutes of her arrival, she received a clot-busting medication, said Nichole Cooks, stroke program coordinator at the Omaha hospital.
Because Hamill's clot was so large, she underwent a mechanical thrombectomy to remove the clot. Within 52 minutes of arriving at the hospital, full blood flow had returned to her carotid artery.
The quick actions of Sculpt Studio members and the paramedics helped lead to a positive outcome.
"Stroke is a time-critical diagnosis," Cooks said. "The longer you wait to get treated, the bigger your deficit can actually be. Time does matter."
Hamill was able to go home in a few days. Her only symptoms were fatigue and lingering headaches. Both went away after a few weeks.
Hamill said her stroke was caused by a dissection in her carotid artery. Doctors inserted three stents to fix the problem.
She got back on the treadmill, starting with walking and working her way back up to running. Within two weeks of the stroke, she was back at the Pilates studio.
"I'm beyond grateful," Hamill said. "I feel so lucky to be here."
---
17 rare and unusual health stories out of Omaha
One rare disease left an Omaha doctor eating a shakelike formula to supplement her diet. A friend said it tasted like cat food. An Omaha man woke up after his family took him off life support. And a Lincoln teen is allergic to almost everything.
Check out the stories on their unusual ailments and sometimes equally unusual treatment plans.