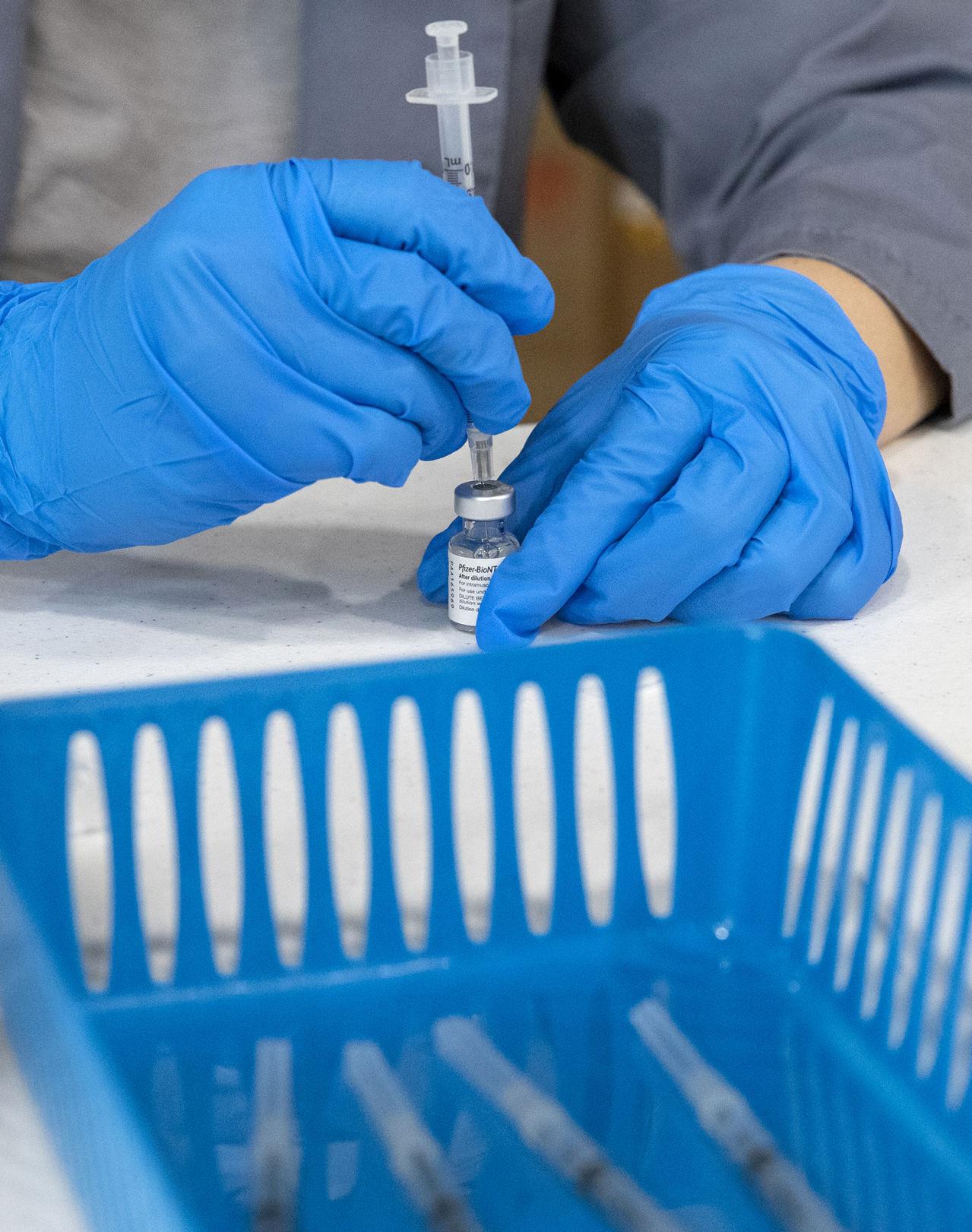 In the vaccination race against the persistent coronavirus, Nebraska will shift Monday to open up shots to anyone 16 and older.
Nebraska's recent moves to open eligibility come at a critical time in the pandemic as new COVID-19 cases rise again and hospitalizations turn higher — portending a potential surge facing the state.
Caveats and scheduling challenges remain for people eager to get their shots. But as the vaccine dynamics quickly shift, the bottom line is this: Everyone 16 and older in Nebraska has options right now for scheduling a COVID-19 shot.
Nebraska continues to show steady progress in vaccinating the state: 334,750 Nebraskans are fully vaccinated, according to Wednesday's count from the State of Nebraska. That's nearly 23% of the state's total population 16 and older.
Even so, as more contagious virus variants spread, new COVID-19 cases have started rising again after the state's long, steady decline.
On March 22, Nebraska's seven-day daily average of new cases fell to 241 — which the state hadn't seen on a steady basis since late August and early September.
By Wednesday, the daily average was up to 296, according to data gathered by the New York Times and analyzed by The World-Herald.
Nebraska's drop in hospitalizations hit its end, as well. On Tuesday, the statewide count of hospitalized COVID-19 patients increased from 102 to 116 — a turn that Gov. Pete Ricketts said Wednesday was a cause for concern.
"It's a great time to be optimistic but also a great time to continue to be cautious," Ricketts said, urging people to keep social distancing, wear a mask and get a COVID-19 test if they suspect an infection.
Two experts offered more stark warnings of a potential surge in Nebraska.
Dr. Bob Rauner, president of Partnership for a Healthy Lincoln, said that people have forgotten the importance of wearing masks and testing, tracing and isolating cases.
"Unfortunately our vaccine effort may not be enough," he said, "and we may be at yet another surge and hitting hospital capacity yet again because people have forgotten this."
Dr. James Lawler, an executive director at the University of Nebraska Medical Center's Global Center for Health Security, said the increase facing Nebraska has the potential to be significant, citing the experiences of Michigan and the northeastern United Sates.
The vaccination efforts to date can dampen the most severe cases, Lawler said. But those efforts haven't made a dent so far in vaccinating the population most responsible for transmitting the virus, he said, referring to people under age 60.
"We're still at a dangerous time," he said, "and people need to really buckle down and keep doing the things that we know got us to lower levels of cases."
Ricketts announced that starting Monday, Nebraska's health departments will have the option to open COVID-19 vaccinations to anyone ages 16 and older.
But the governor stopped short of wide-open vaccine availability by Monday. He gave one big disclaimer to his announcement:Whether health departments make the move immediately depends on their own scheduling and supply.
Local health departments will decide how they progress through different age levels.
Ricketts said some health departments are ready to vaccinate in lower age groups. So starting Monday, the governor said, the entire state will be eligible for a vaccine at any approved age group.
That's age 16 and older for the Pfizer vaccine, and 18 and older for Moderna or Johnson & Johnson.
The distinction on availability means individual clinics might not be immediately open for booking younger people.
Starting Thursday, the Douglas County Health Department is expanding its clinics to ages 45 and older. Spokesman Phil Rooney said the department will be discussing how it will further open up vaccine eligibility, partly depending on how the current clinic spots fill up.
"I would expect us to move quickly," he said.
Thursday, two new Omaha clinics will open: a curbside clinic at Total Wellness, 9320 H Court, and a drive-through clinic run by the Nebraska Department of Health and Human Services at Metro Community College's Fort Omaha Campus, 5300 N. 30th St.
The Sarpy/Cass Health Department also will open its clinics to ages 45 and older Thursday. Residents of the two counties can go to www.sarpycasshealthdepartment.org/myturn for clinic locations. The Sarpy/Cass department will receive just over 8,000 doses of vaccine for the week that begins Saturday. Officials there have administered 75,000 vaccinations to residents.
Ricketts said he is scheduled to receive his vaccine at 1:30 p.m. on Saturday through UNMC.
But health department clinics are just one vaccine track operating in Nebraska.
A separate track is running through the federal government's pharmacy program. That program — available at numerous local pharmacies or locations including Walmarts and Hy-Vees — is currently open in Nebraska to those ages 18 and older.
While the eligibility is more open than health department clinics, the schedule can be tight for those appointments. Booking an appointment often requires hunting online through numerous pharmacy scheduling sites to claim a spot.
But Ricketts said the federal government is expanding the pharmacies in the program and planning a major increase in Johnson & Johnson doses by next week.
Still, the federal pharmacy program also seems to have a supply and demand imbalance in the state.
One vaccine tracking website — vaccinespotter.org — regularly shows pharmacy appointments in Norfolk, through central Nebraska and out to the Panhandle.
But vaccine appointments around Omaha and Lincoln — with bigger populations and high demand — come and go quickly.
Asked about spreading the state-distributed vaccine stock to high-demand areas, Ricketts said the state already is doing that. But he said the federal government manages the retail pharmacy supply.
In a statement, the Centers for Disease Control and Prevention said the program has scaled up incrementally but will experience a substantial and rapid expansion by April 19. The CDC said it will continue to monitor vaccine demand, supply and market saturation, and will make adjustments as necessary.
Dr. Gary Anthone, the state's chief medical officer, said the COVID-19 vaccines are proving effective in Nebraska. Out of everyone vaccinated in the state, Anthone said just 15 potential cases have arisen where a fully vaccinated person got infected with COVID-19.
Anthone said that if people keep signing up for vaccines, "we can prevent this surge." He then stopped himself to add: "If there is a surge."
"We can do it," Anthone said. "We're getting close, but we still need to be cautious."
---
Our best Omaha staff photos of March 2021