Rochelle Swanson woke up Christmas morning as she would on any other day.
On her way to work, she decided to swing by her family's storage unit to grab her husband's Christmas present.
But Swanson wouldn't make it to her shift as a nurse at Methodist Hospital. Instead, the Gretna woman ended up as a patient there.
Swanson, 39, suffered a stroke on her way to work. But quick thinking — and teamwork between local hospitals — helped her to quickly get lifesaving medication and care.
"I call myself a Christmas miracle," Swanson said.
Shortly after 6 a.m., Swanson stopped at the family's storage unit. As she went to pick up the box holding her husband's Christmas gift, she felt her left side go weak.
She went to grab the present — a heavy, 80-quart cooler — again. But she kept dropping it, and she finally tipped over onto her left side.
"I felt slow," Swanson said. "My thoughts were there, but my body was slow."
Then she felt her face start to droop and drool start to trickle.
That's when Swanson knew. She was having a stroke, just like many of the patients she has treated on the hospital's neurology floor.
Swanson got back in her car and tried smiling in the mirror. The left side of her face was just hanging there.
She called her husband, Scott, to tell him she was having a stroke. With her garbled and slurred speech, it took five attempts before he could understand what she was telling him.
While Swanson waited for her husband to arrive, she called 911 to let them know the last time she was feeling well — 6:10 a.m. Then she called the hospital to let them know she was having a stroke and that they should be ready for her in the emergency room.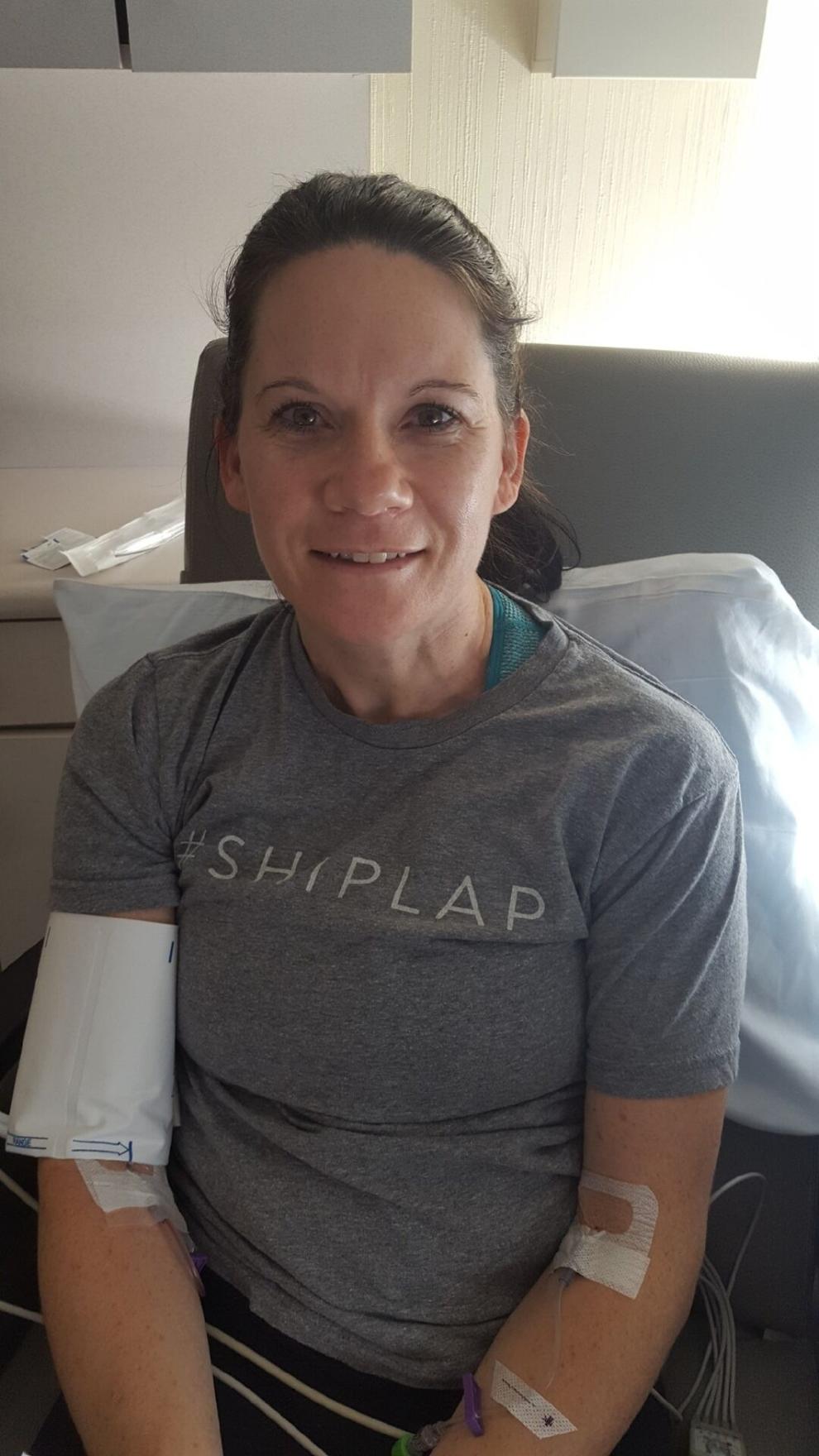 It took her husband about five minutes to get to Swanson. Once she was at the hospital, Swanson underwent a scan that showed a clot in her brain causing the stroke.
Doctors were able to administer a clot-busting medication. That medication typically needs to be administered within 4½ hours of the onset of symptoms. Swanson also was a candidate for a procedure that could be performed at the Nebraska Medical Center that would help to break up the clot.
In the procedure, a catheter is inserted in an artery in the leg and moved up to the vessel in the brain that's blocked, clearing the clot, said Dr. Michael Pichler, a stroke neurologist at the Nebraska Medical Center.
By the time Swanson arrived at the med center, her symptoms were nearly gone. Swanson's weakness and speech issues had resolved. The clot-busting meds had done the job and cleared the blocked vessel, Pichler said.
"This was kind of an exceptional case where the clot-busting medicine was very successful, largely because stroke symptoms were recognized so quickly and she got the appropriate care as quickly as she did," Pichler said. "There are unfortunately a number of cases where folks may not come in or may not recognize symptoms that fast."
The med center's stroke team instead focused on finding what caused the stroke in Swanson, who is young and otherwise healthy.
A slew of tests showed that Swanson had an opening between two of her heart's chambers. She will undergo some additional tests and potentially undergo a procedure to close the opening to prevent future strokes.
Swanson's knowledge of stroke symptoms worked in her favor.
"I've known Rochelle for a long time and she is very healthy, very fit," said Pam Stout, stroke program coordinator at Methodist. "She's not somebody that the general person would expect to have a stroke, which really focuses on why it's so important that people know what the signs and symptoms of a stroke are."
Often, patients experiencing stroke symptoms wait to go to the hospital, Stout and Pichler said. And strokes don't just impact the elderly. Typical symptoms include difficulty with balance; vision issues, such as blurred or double vision; facial drooping or numbness; arm or leg weakness; and difficulty with speech.
"Don't wait," Stout said. "We would much rather have you come to the emergency room and have us say, 'You have a migraine. It's not a stroke,' than have you delay coming in to where we can't treat you. The sooner you get in, the sooner we can treat you and hopefully reverse any deficits."
Swanson said she's grateful for the teams at Methodist and the Nebraska Medical Center for saving her life.
Swanson didn't have to undergo any rehabilitation after the stroke. She returned to work on Thursday.
"It's truly amazing. I'm blessed with the outcome I have because it could have been a lot worse," Swanson said.
As for the Christmas gift, the Swansons returned it to the store. It felt like a jinx, she said.
17 rare and unusual health stories out of Omaha
One rare disease left an Omaha doctor eating a shakelike formula to supplement her diet. A friend said it tasted like cat food. An Omaha man woke up after his family took him off life support. And a Lincoln teen is allergic to almost everything.
Check out the stories on their unusual ailments and sometimes equally unusual treatment plans.