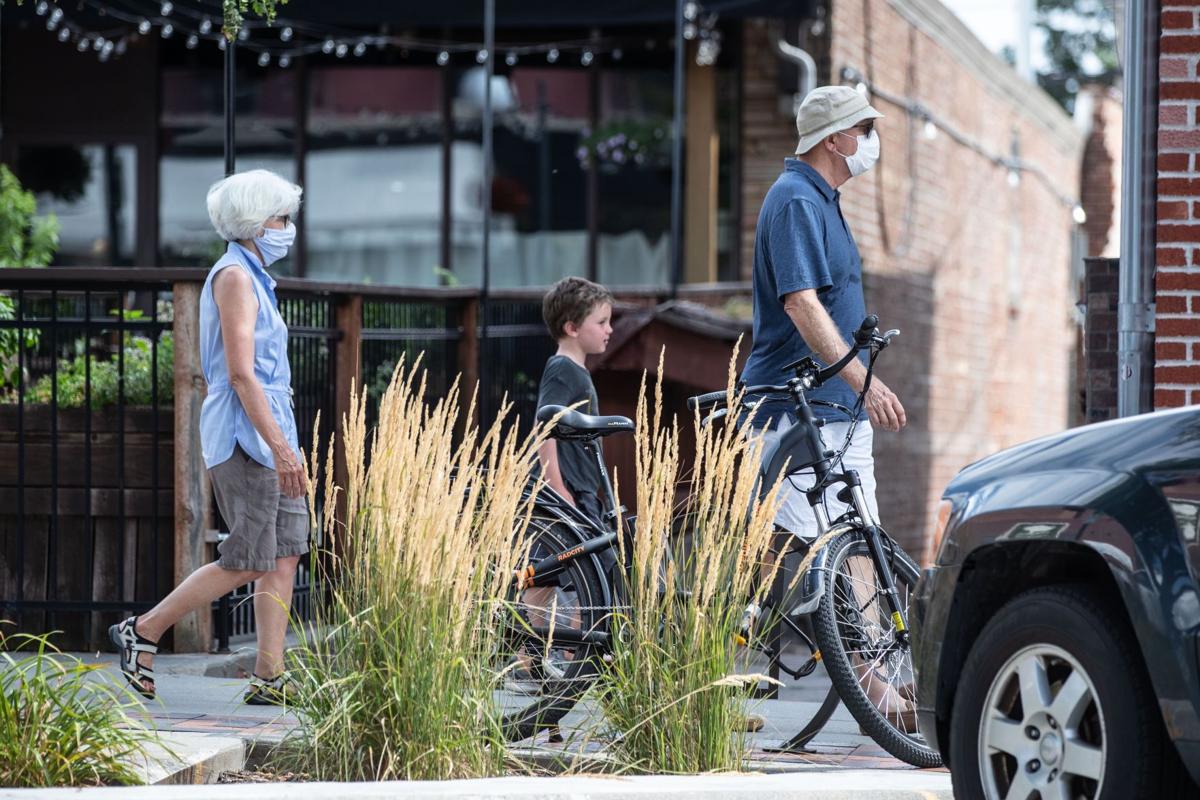 University of Nebraska Medical Center researchers report that they have found, for what appears to be the first time, intact and potentially infectious coronavirus in some tiny airborne particles collected from the rooms of COVID-19 patients.
The researchers say their study supports evidence indicating that the virus, formally known as SARS-CoV-2, can be transmitted in an airborne fashion.
"I hope this says, 'The concern over airborne transmission is legitimate enough that we need to really start taking it seriously and not just pay lip service to it,' " said Joshua Santarpia, an associate professor of pathology and microbiology at UNMC.
The next question, he said, is how much of a role the airborne route plays in transmitting the virus, compared to other modes, namely the larger droplets produced when people cough or sneeze.
The report, published in an online archive before peer review by outside scientists, is one of many that researchers around the world are conducting and publishing as they seek answers to questions about the virus and how it operates.
In March, the UNMC team published another online report indicating the potential for airborne transmission, which helped inform discussions on the topic. They collected samples from the air, in bathrooms and from surfaces in 11 isolation rooms that housed some of the 13 people who tested positive for COVID-19 after being rescued from a stricken cruise ship.
The 13 were among a total of 15 passengers who were monitored and treated in the Nebraska Biocontainment Unit and the National Quarantine Unit, both on the UNMC campus, between mid-February and mid-March.
That study found high levels of contamination by the virus on commonly used surfaces and in the air of patients' rooms. Air samples from hallways outside rooms where staff were moving in and out of doors also were positive.
However, the researchers at that time found only the virus's genetic material, not intact virus that could be grown in a lab. An updated version of that study, reviewed by other scientists, was published Wednesday in the journal Scientific Reports.
For the new study, the researchers collected six samples of three sizes each in rooms occupied by six COVID-19 patients at the Nebraska Medical Center. Three of the six smallest samples, measuring smaller than 1 micron, showed some evidence that the virus replicated, indicating that the virus had the potential to be infectious. (To get an idea of how large a micron is, a human hair is about 50 microns across.) Two slightly larger samples had some evidence of growth, but those from the largest samples did not.
Linsey Marr, a civil and environmental engineering professor at Virginia Tech, said some researchers may dispute the evidence of intact virus because it wasn't obtained in a particular fashion. But genetic material can increase only if the virus is replicating.
"This virus is hard to grow, so I'm not surprised it isn't 'Gotcha!' evidence," said Marr, who was not involved in the UNMC research.
Marr also noted that scientists accept that measles is transmitted through the air. But attempts to grow it from air samples have failed.
Santarpia said it's not yet known how much of the novel coronavirus it takes to get infected. The virus is not as infectious as measles, which requires just one or two virus particles to infect a person.
Still, the study builds on a number of other reports that have suggested the notion of an airborne route. Those include one from a restaurant in China and another from a choir practice in Washington state in which one sick singer infected 52 others.
Santarpia and Marr are among more than 200 scientists worldwide who outlined such evidence in a letter to the World Health Organization.
John Lowe, another report author and UNMC assistant vice chancellor for health security training and education, said the study bolsters researchers' confidence that poorly ventilated indoor spaces likely pose a strong risk of aerosol transmission.
Lowe is part of a team from UNMC that has advised officials at meatpacking plants and nursing homes on reducing such risks.
Santarpia said the research reinforces the importance of wearing masks, in combination with keeping a distance from others and proper hand hygiene.
Research already supports the fact that those things are having an impact on slowing the virus's spread, he said.
Increasing that impact, however, will mean pushing out better quality masks to the public and helping people wear them correctly, Santarpia said. He encouraged people to wear the best mask they can find.
Marr noted, however, that airborne transmission doesn't mean that the virus is lurking everywhere. Most transmission occurs when people are close to an infected person for at least 15 minutes, particularly in a crowded, poorly ventilated room, not just passing on a street or in a hallway.
And while people ask about viral transmission in elevators, she said, it doesn't appear that most people are in elevators long enough to make a difference. "That said," she said, "I'd still try to avoid being in an elevator with lots of people. And wear a mask."