With the highly contagious delta variant on the rise, the federal Centers for Disease Control and Prevention on Tuesday reversed course and recommended that even some vaccinated people return to wearing masks indoors in areas of the U.S. where the virus is surging.
The move, however, drew a quick objection from Nebraska Gov. Pete Ricketts, who said the new guidance "flies in the face" of public health goals that should guide the agency's decision-making, furthers distrust of the agency and will not help encourage more people to get vaccinated.
"The State of Nebraska will not be adopting their mask guidance," Ricketts said in a statement.
Specifically, the CDC recommended that vaccinated people who live in areas with substantial and high transmission rates wear masks in public indoor spaces.
Those indoor spaces include schools, the agency said, meaning all teachers, staff and students should wear masks in buildings this fall, no matter their vaccination status.
The guidance reverses the CDC's May 13 recommendation that vaccinated people did not need to wear masks inside or outdoors. At that time, cases of the coronavirus were on the wane, and the delta variant had not gained a significant foothold. The country now is averaging more than 57,000 cases a day and more than 24,000 COVID-19 hospitalizations.
Most new infections, as well as some 97% of hospitalizations, continue to occur among unvaccinated people. But breakthrough infections can occur in vaccinated people, although they generally cause milder illness.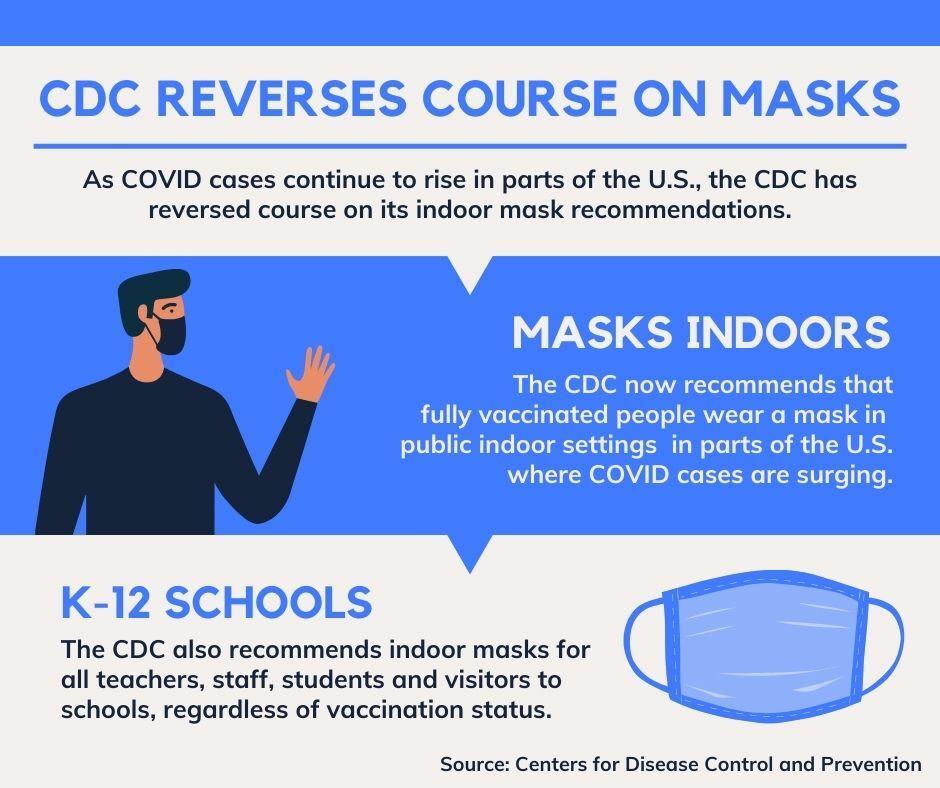 Some local experts already had begun recommending masks for vaccinated people in indoor settings, particularly if they have young children at home or live with an immune-compromised person.
Dr. James Lawler, a co-executive director of the University of Nebraska Medical Center's Global Center for Health Security, said the new recommendation is overdue.
"People really don't comprehend how bad this delta variant is, and what a rude awakening we're going to get unless we're able to change course quickly," he said.
Previously, the CDC recommended that only unvaccinated people needed to mask in indoor, public places. But without some kind of verification system, Lawler said, no one can determine whether those they encounter in stores or workplaces are vaccinated.
Dr. Rochelle Walensky, the CDC's director, said during a media briefing that new scientific data indicates that delta "behaves uniquely differently" than past strains of the virus. On rare occasions, some vaccinated people infected with delta may be contagious and spread the virus to others.
When earlier strains of the virus predominated, infected vaccinated people were found to have low levels of virus and were deemed unlikely to spread the virus. But with the delta variant, the level of virus in infected vaccinated people is "indistinguishable" from the level of virus in the noses and throats of unvaccinated people, she said.
"This new science is worrisome and unfortunately warrants an update to our recommendations," Walensky said.
At the same time, Walensky stressed that the vaccines remain remarkably effective against all strains of the coronavirus, significantly reducing the chances of breakthrough infections as well as hospitalization and death.
Dr. David Quimby, an infectious diseases physician with CHI Health in Omaha, said he has been wearing a mask in stores and other public places, even though he's fully vaccinated, because the number of people he sees wearing masks is far lower than the percentage of vaccinated people in the county where he lives.
As for schools, he said, the important thing is to have them open and to have kids attending. Masks and other precautions in schools last year reduced transmission, even when some became ill.
Like the CDC's new recommendation, a Back to School Playbook released Tuesday by Lawler and other experts with UNMC's College of Public Health also recommends masking for teachers, students and staff, no matter their vaccination status.
The researchers emphasize that all children can safely return to in-person education this fall. But they note that much of Nebraska likely will experience much higher transmission rates of the virus by late summer, when schools are due to open.
With children under 12 not eligible for vaccines, and vaccination rates still low among 12- to 18-year-olds and adult school staff in much of the state, they wrote, the safest way to protect kids is to decrease transmission through vaccination.
School systems, they wrote, should strongly consider requiring COVID-19 vaccination when possible, they wrote, as they do with other childhood vaccines. Lawler said he hopes school systems will take that step when the vaccines have been given full approval by the Food and Drug Administration.
In addition to vaccination, they wrote, schools should follow a layered approach that, in addition to masks, includes testing programs and surveillance for illness and absences; home isolation of confirmed COVID-19 cases and following CDC quarantine guidelines for unvaccinated students and staff exposed to the virus; and enhanced building ventilation, cleaning and disinfection.
The masking recommendation is similar to that issued last week by the American Academy of Pediatrics, which also advised that all students and staff wear masks in schools.
Nebraska's increase in COVID cases has not been as steep as some harder-hit states to the south and west. Nonetheless, the state's cases were up 100% over the past two weeks, marking its fifth-straight week of increasing counts. An average of 101 Nebraskans a day were hospitalized with COVID-19 last week, up 24% from the week before.
Officials with local health systems say their patients are mostly unvaccinated, healthier and younger than those they saw during last fall's peak.
The new guidance follows recent decisions in Los Angeles and St. Louis to revert to indoor mask mandates.
Many Nebraska communities instituted mask mandates during the fall, when the number of infections and hospitalizations surged in the state. Those have been lifted one by one as the number of cases fell.
World-Herald Staff Writer Martha Stoddard contributed to this report, which also contains material from the Associated Press.
---