Children's Hospital & Medical Center in Omaha will welcome another four-legged staff member this month.
Frito, a 2-year-old golden retriever, starts her full-time job at Children's on Monday, said Terry Patterson, the hospital's director of family resources.
The hospital dropped hints on social media about the dog's name and breed all week. On Tuesday, the hospital shared a photo of Sansa next to a sign that gave the definition of a sister as "a lifelong best friend."
Like Sven and Sansa, Frito comes from Canine Assistants, a Georgia-based nonprofit that trains and places service dogs. She will be paid for through donations as well as budgeted funds, Patterson said.
The dog will be partnered with Kylie Keller, a child life specialist.
Children's first started its facility dog program in November 2016 with Sven's arrival. Sansa joined the staff in November 2018.
Facility dogs are full-time employees. At the hospital, the dogs motivate patients to get out of bed after surgery or treatment and comfort kids when they're scared or sad. The dogs also can model proper patient behavior, such as how to sit still during an MRI or how to offer up an arm for an IV.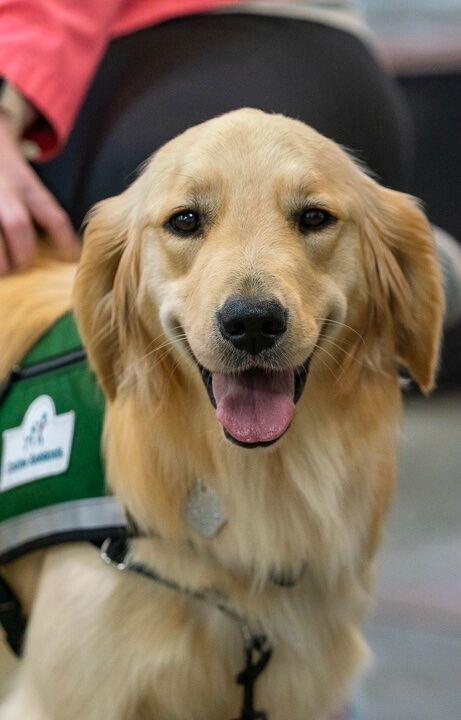 The dogs go home with their handlers at night and have time off when their handlers do.
Seeing a dog in a hospital, Patterson said, leads to instant smiles and "pick me ups."
The dogs help to make the hospital feel a little less scary and a little more comfortable, he said.
"It's a very worthwhile program," Patterson said. "For children, it brings a little bit of home to the hospital. ... It's the best of both worlds — making people smile and helping them through their most difficult moments."
---
Photos: Sven the facility dog celebrates his birthday at Children's Hospital
Sven the golden retriever celebrated his second birthday Friday with some of his closest friends — patients, their families and staff at Children's Hospital & Medical Center. He is a facility dog at the Omaha hospital. With the help of handler Britta Carr, he provides support and therapy for patients. "Sven has so many best friends here at the hospital," Carr said from the lobby. At the party, Sven mingled with his friends, giving some a few wet kisses, and chowed down on dog-friendly cake. Party guests ate cookies, made canine-themed crafts and played games.