Dr. Katie Sagrero became concerned several weeks ago when upset patients began calling her South Omaha clinic with questions about a flyer in Spanish that suggested the two vaccines approved for COVID-19 contained tissue from aborted fetuses.
To provide some answers, Sagrero, a family physician with OneWorld Community Health Centers, revived the video series she had been doing for the Spanish news station Radio Lobo.
Neither the Pfizer nor Moderna vaccines contain aborted fetal cells, Sagrero explained in the Spanish-language video now available on YouTube.
In addition, the Catholic Church has said it is permissible for its members to get the vaccines.
"This whole discussion is so technical, so I've tried to make it as simple as possible," said Sagrero, a Catholic with a background in theology and religious studies.
Both Pope Francis and Pope Emeritus Benedict XVI have gotten their second doses of the vaccine, the Catholic News Agency reported last week. Cardinal Blase Cupich of Chicago, an Omaha native, was vaccinated in late December, according to the news service. And Omaha Archbishop George Lucas has said publicly that he plans to get vaccinated.
Sagrero said the timing of the flyer, which was handed out about three weeks ago, was unfortunate because it came about a week before OneWorld was set to start vaccinating some of its elderly patients.
Nor are concerns about fetal tissue confined to Catholics. Dr. Ralph Lassiter, pastor of Mount Moriah Baptist Church in North Omaha, said during a Wednesday press briefing with Nebraska Gov. Pete Ricketts that he has heard people in his community object to the vaccines on those grounds.
Lassiter said he has assured them that the available vaccines were not built on newly obtained tissue.
"The vaccine is our only line of defense," said Lassiter, who was scheduled for his second shot later in the day. "Many say your faith will protect you ... but I believe that God gave us science as a way of understanding the wonders of his creations."
For her video, Sagrero drew from a Q&A prepared by Dr. James Lawler, a director of the University of Nebraska Medical Center's Global Center for Health Security. She also obtained a statement from the Archdiocese of Omaha supporting use of the available vaccines.
Lawler confirmed in an interview that no aborted tissue and no fetal cells were used in the development or production of the Pfizer or Moderna vaccines.
But that's where things get a little more complicated.
Fetal cell lines were used in some of the testing of the two vaccines, he said. Fetal cell lines, however, are not the same as fetal tissue. Instead, fetal cell lines are descended from cells obtained from elective abortions decades ago. In the case of the two vaccines, the companies used a fetal cell line derived nearly 50 years ago in the Netherlands. The cells, which continue to multiply in labs, now are thousands of generations removed from the original fetal cells.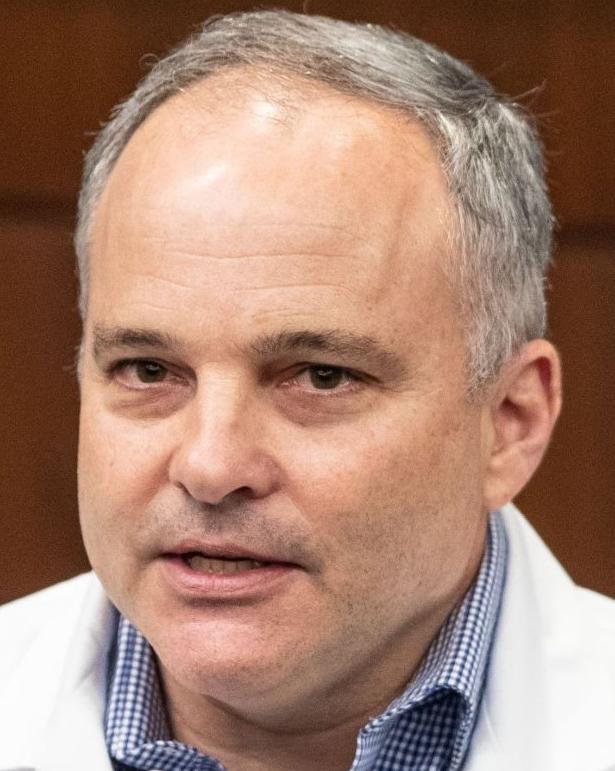 The makers of the two vaccines used cells from a cell line known as HEK 293 in an early step known as confirmation testing. In that step, researchers introduce the drug or vaccine in question to the cells to make sure it doesn't have harmful effects before it's injected into the first human.
"You don't want your first safety signal to be when you inject it into a live human," Lawler said. "You want to have some confidence first that you don't see any concerning signals from experiments and cell lines."
But no fetal cell lines were used to manufacture the two vaccines, Lawler said. And there are no cells from the cell lines in the shots people get.
Such testing, Lawler said, has been done in such cell lines for so long that it has become a routine part of developing many drugs, vaccines and other products. They have become an industry standard, producing a predictable and reliable response.
"We know how these cells react and so we can characterize the reaction very accurately," Lawler said.
Such cell lines have been used since the 1960s to make vaccines, including current vaccines against rubella, hepatitis A and shingles, according to Science magazine. They also have been used to make drugs for rheumatoid arthritis and cystic fibrosis.
Researchers, Lawler said, must rely on human cells because they don't know enough about basic biology to reproduce those reactions in a computer or a cell-free petri dish. While researchers often use mice in basic studies, what happens in mice often doesn't translate to humans.
The Omaha Archdiocese noted the fact that the "morally compromised cell lines" were used in testing means the vaccines are not entirely free from any connection to abortion. However, officials noted in materials sent to parishes that the connection is "very remote."
And, given the gravity of the pandemic and the lack of alternative vaccines, the reasons to accept the Pfizer and Moderna vaccines "are sufficiently serious to justify their use."
"In addition, receiving the COVID-19 vaccine ought to be understood as an act of charity toward the other members of our community," they wrote. "In this way, being vaccinated safely against COVID-19 should be considered an act of love of our neighbor and part of our moral responsibility for the common good."
The Omaha Archdiocese noted that a vaccine candidate being developed by AstraZeneca with Oxford University is "more morally compromised." In addition to confirmatory testing, researchers used the cell line in the vaccine's design, development and production stages.
Lawler said the Johnson & Johnson candidate vaccine also used another fetal cell line for those additional stages.
However, the Associated Press reported that the cell lines serve as factories to produce the working parts of the vaccines. Lawler said the vaccines contain only the purified particles collected from those systems and do not contain any cells from the fetal cell lines.
And, he said, the Vatican Congregation for the Doctrine of Faith's statement on the topic in late December specifically cites vaccines that use cell lines in development or production, which would cover the AstraZeneca and Johnson & Johnson vaccines.
In the clinic, Sagrero said, she tries to gauge the source of any concerns patients raise about the vaccines. If they're concerned about government funding going into the work, she encourages them to get the Pfizer vaccine, which was developed outside the federal Operation Warp Speed program.
But from her standpoint, any questions regarding the Pfizer and Moderna vaccines and fetal cell lines have been resolved. The Catholic Church has written on the topic of fetal cell line use in the production and testing of vaccines in documents dating to 2005. The recent statements back up use of the Pfizer and Moderna vaccines, although she acknowledged that it is not a simple issue for many.
"It's very nuanced topic," she said.
---
Everything you need to know about COVID-19 vaccination