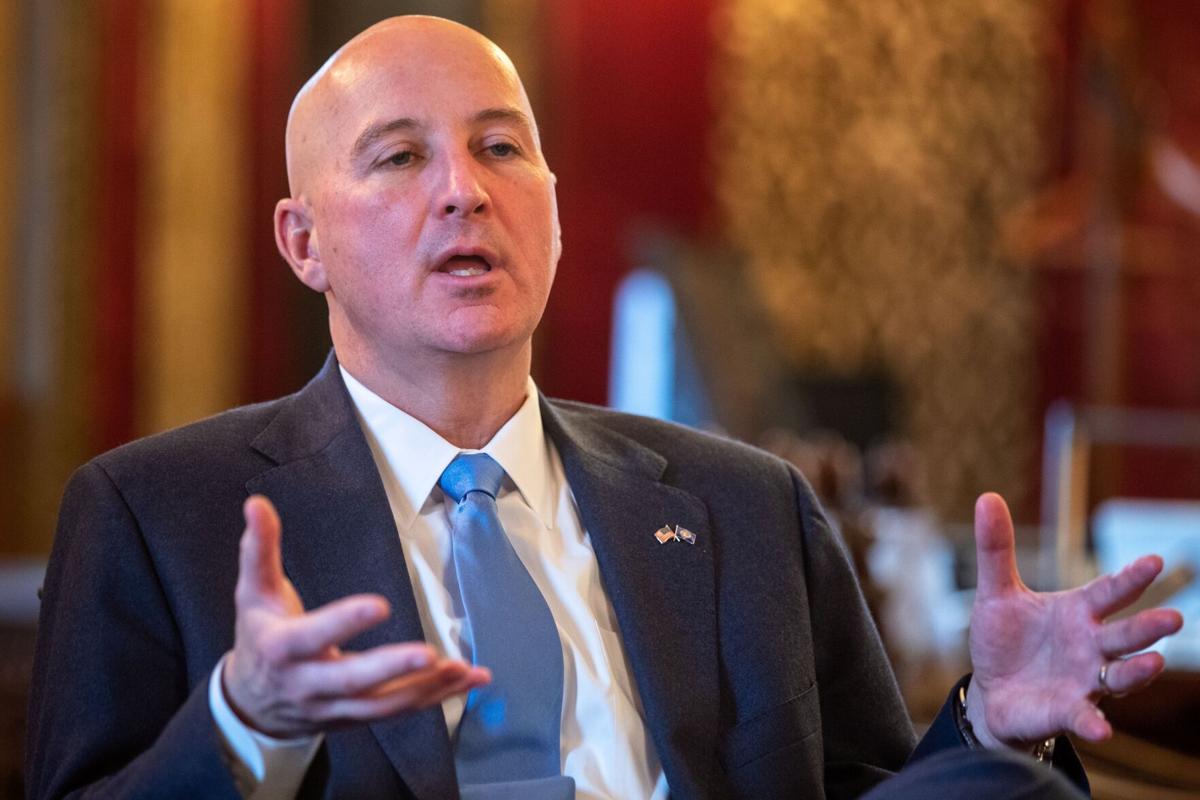 Gov. Pete Ricketts is reinforcing the state's focus on vaccinating older Nebraskans against COVID-19 as teachers keep pressing to move up the priority list.
On Friday, the state teachers union asked officials to prioritize educators for vaccinations, especially those 65 and older and those with health conditions.
Ricketts, in a Friday press conference, reiterated his focus on vaccinating the general 65-plus population. He said that a portion of doses could go to people in other priority groups but that is up to local health directors to decide.
The governor pointed to statistics showing that the vast majority of Nebraska's COVID-19 deaths were of people 65 and older.
Almost 83% of Nebraska's 2,002 COVID-19 deaths came from people in that age group, according to the state's statistics as of Friday.
"Those are the folks who are at most risk of dying," Ricketts said.
Current federal guidance from the Centers for Disease Control and Prevention's Advisory Committee on Immunization Practices suggests multiple priorities: Older age groups, a series of different front-line essential workers and people age 16 to 64 with high-risk medical conditions. In January, the Trump administration also sought to open up vaccine access across different groups.
Nebraska combines those groups within the overall label of Phase 1B.
As vaccine supply remains restricted, Ricketts said he has directed Nebraska's health departments to put at least 90% of their doses toward people 65-plus. He said the state is also asking that the 65-plus group be the focus of a federal program offering COVID-19 vaccines through local pharmacies.
Ricketts said he has given local health directors leeway to provide 10% of their state-allotted doses to other groups in Phase 1B. Nebraska lists numerous essential workers in that phase, including educators.
But Jenni Benson, president of the Nebraska State Education Association, and Maddie Fennell, the union's executive director, said in a letter to Ricketts that the allotment is not being applied uniformly across the state and that educators are being bypassed.
"Some health districts have been excellent at setting aside the 10%," they wrote. "Others have completely ignored the directive or have not yet devised a specific plan that is being communicated effectively."
Benson said the union wants the governor to reinforce to health districts and pharmacies the 10% allocation for infrastructure workers in Phase 1B, including school employees. The union further wants him to direct health districts to coordinate with school districts to immunize employees over 64, and those with health problems, within the next two weeks.
Now is the time, the union leaders said, for state leadership to recognize educators' heroic work in the pandemic "by prioritizing educators, especially those above age 65 and those with co-morbidities, to be vaccinated."
Also on Friday, CDC Director Rochelle Walensky "strongly encouraged" states to prioritize vaccination of teachers and other school staff.
Still, Walensky said schools can safely reopen before that happens. She made the comments in a press briefing largely aimed at states where schools have stayed closed amid battles between parents, public officials and teachers unions.
Vaccinating teachers is "one of those layers of mitigation that we believe will help," she said, "but we believe, and the science has demonstrated, that schools can be reopened safely prior to all teachers being vaccinated."
In a statement later Friday, the Governor's Office said Ricketts greatly appreciates the service of Nebraska teachers during the pandemic.
The Governor's Office said some health departments are focusing more than 90% of their allotment on people 65 and older. Regardless of where they live in Nebraska, teachers 65 and older are eligible to get the vaccine now, the Governor's Office said.
---
Everything you need to know about COVID-19 vaccination