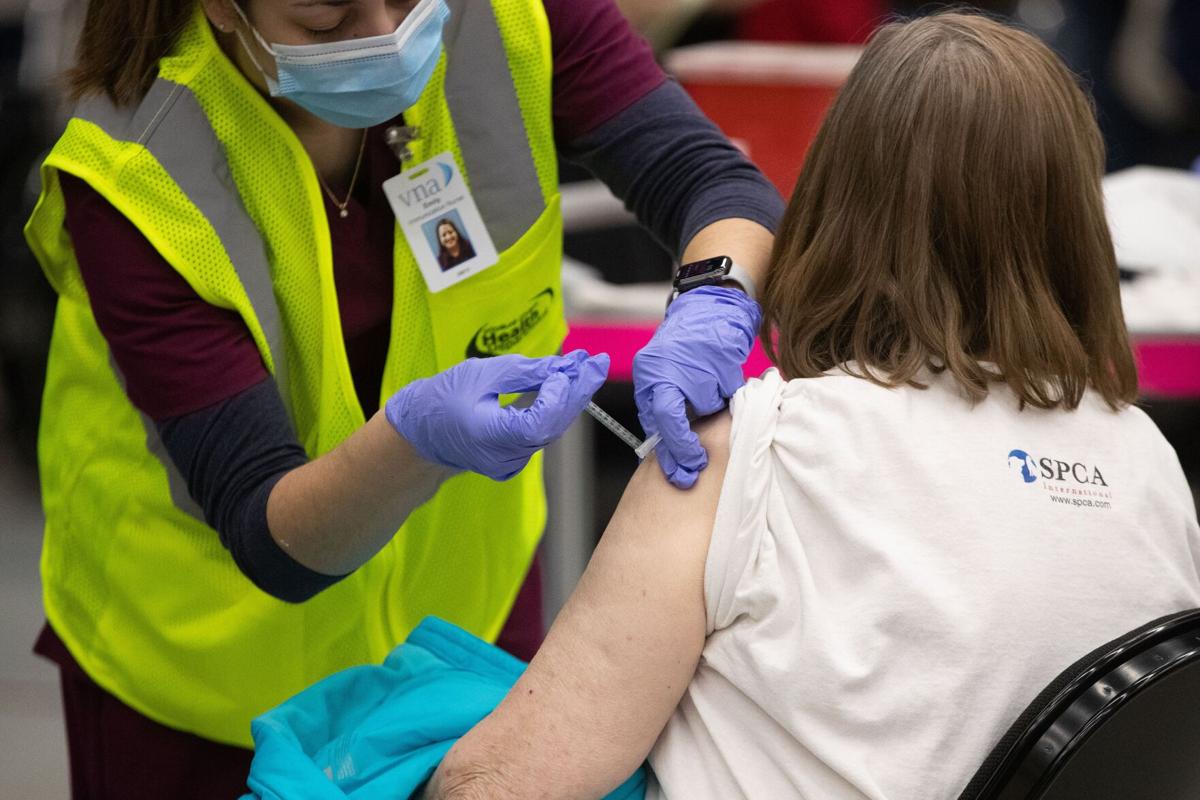 Connie Kully and Pat Lontor, both just months shy of 80, lined up Tuesday inside the lobby of Omaha's Christ Community Church before their 9 a.m. appointments for their first shots of COVID-19 vaccine.
Early arriving seniors, including Kully's husband, Bob, 83, who was scheduled for a 9:10 a.m. shot, waited while seated at small, socially distanced tables.
"We're thrilled to get this done," Connie Kully said. "Our kids are thrilled."
But the friends, who met a quarter of a century ago through their love of antiquing, didn't have long to wait on the first day of the Douglas County Health Department's vaccination clinics for those born in 1941 or earlier.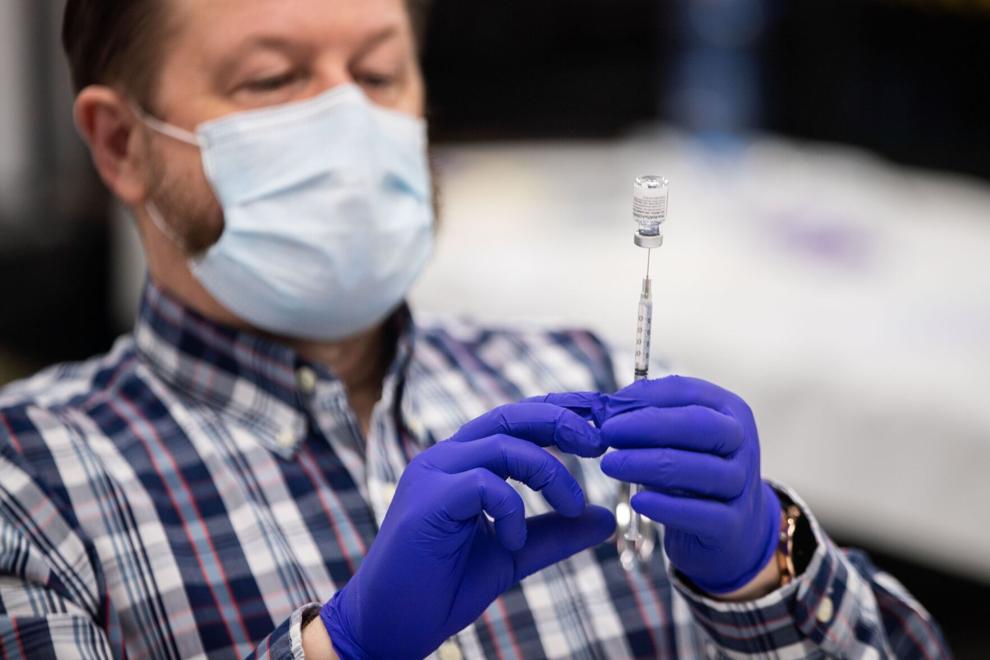 The two moved quickly through a registration area and on to the church's gym, where they sat in an assigned, color-coded pod of socially distanced chairs.
A nurse with a cart loaded with syringes, bandages and "I Got the COVID-19 Vaccine" stickers wheeled over to their chairs.
Lontor said one of her two daughters, a nurse in Delaware, had told her of people waiting four hours for shots. "This is amazingly good," she said.
Meanwhile, the nurse was injecting a dose of vaccine into Connie Kully's arm. On tap for the day was the Pfizer shot.
"I didn't feel it at all. She's very good," Kully said of the nurse giving the shot.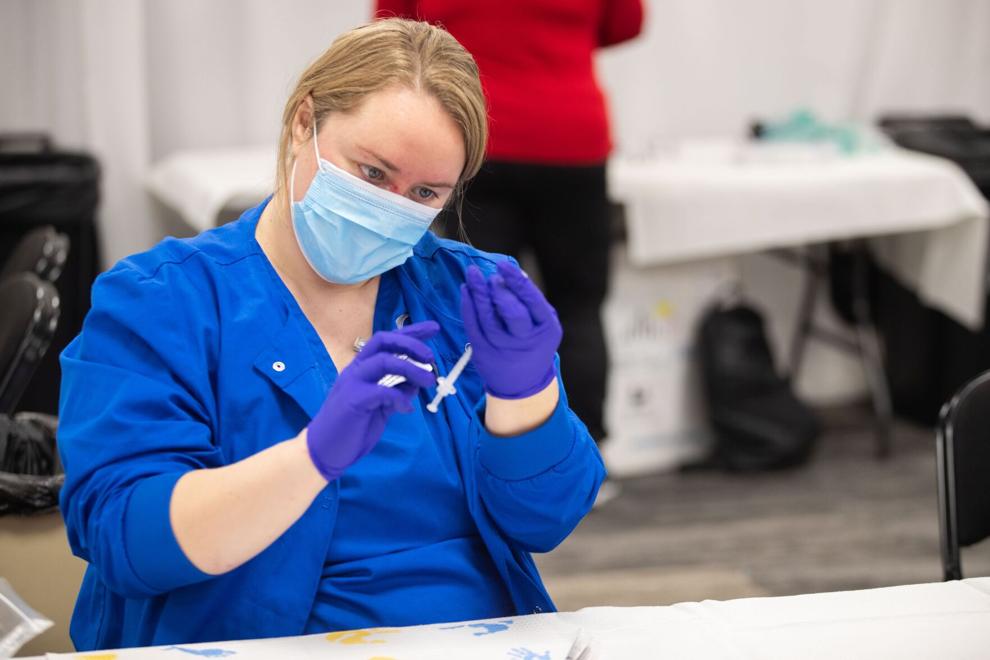 Phil Rooney, a Health Department spokesman, said health officials, working with the church's staff, made a number of changes before launching clinics for older residents. The clinics are being conducted in partnership with area health systems. Vaccinations are by appointment only.
During earlier clinics for health care workers, lines snaked through the building. Rooney estimated that organizers had cut the number of steps shot-seekers would have to take by about a third.
Staff and volunteers also were using golf carts to ferry people from their cars in the parking lot to the building's doors.
Jennifer Misfeldt said her grandmother, Grace Bakhit, 94, had worried that Bakhit would have to navigate stairs to enter the clinic. Bakhit uses a walker most of the time.
But there were no stairs. And after Misfeldt pulled her vehicle up to the church's front circle drive, a volunteer helped her grandmother indoors while Misfeldt parked.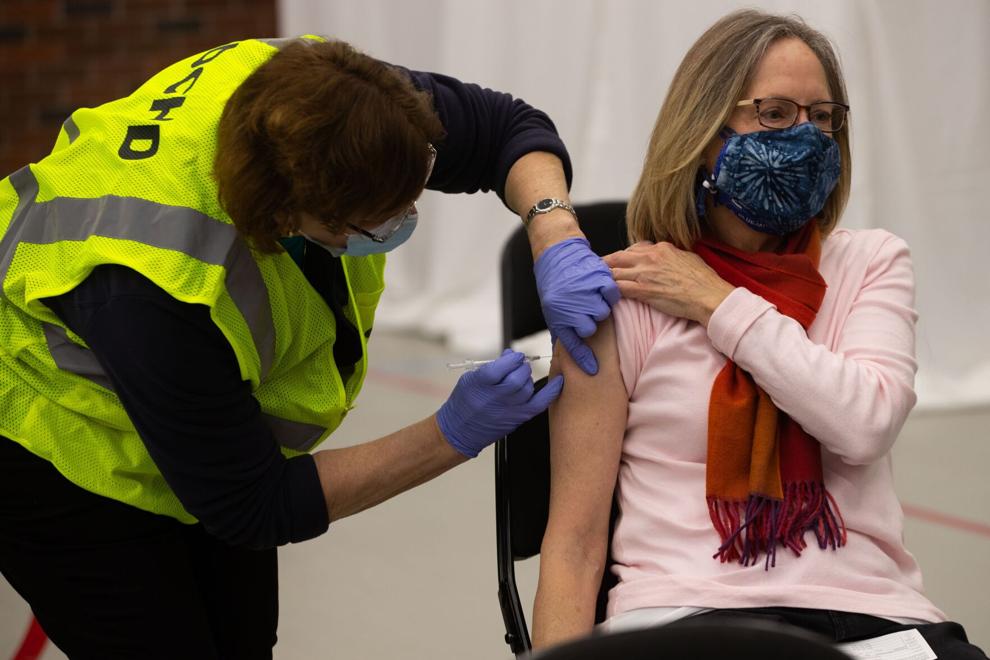 Misfeldt said she and a cousin have been signing up elders in the family for appointments. She also has signed up her parents, who are in their 70s. Grace Bakhit lives with them.
"Overall, it was a very simple process," Misfeldt said.
After the women received their shots, they waited 15 minutes while they were observed for any allergic reactions. While they waited, a staff member stopped by with a tablet computer to set up an appointment for their second shots.
As one seating pod cleared, a volunteer sprayed the area with disinfectant to prepare for the next group.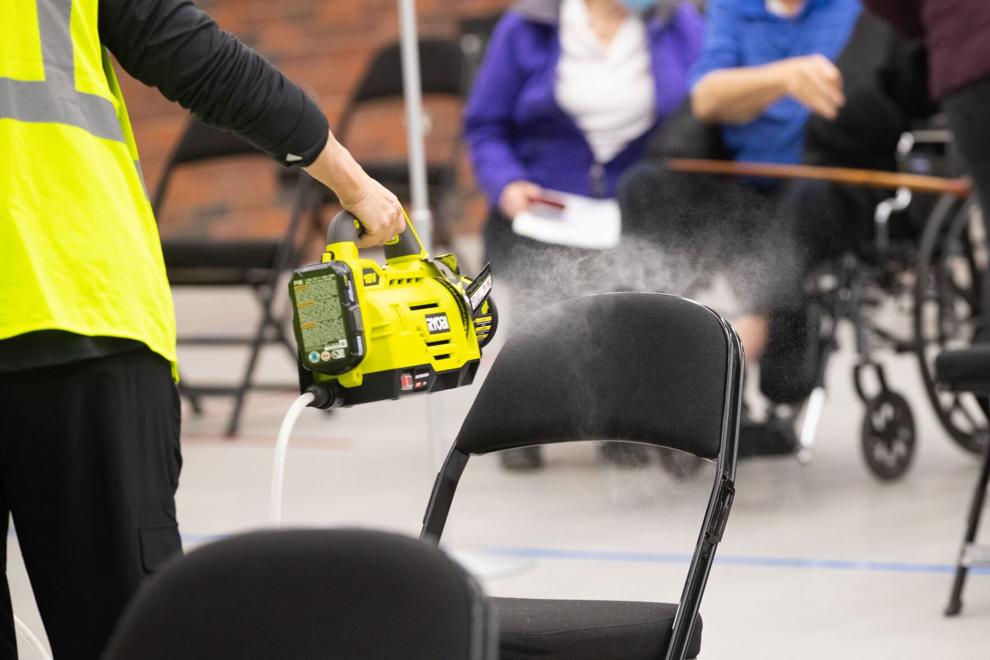 Rooney said the department had 700 appointments scheduled each for Tuesday and Wednesday. Three other clinic sites are handling similar numbers.
The Health Department also announced Tuesday that people 75 and older — those born in 1946 or before — can begin to schedule appointments Thursday. A link to schedule them will be available on the department's website no later than 9 a.m. that day. Appointments could be available as early as Saturday.
Rooney noted, however, that those in the 80-plus group still can schedule appointments. The expansion does not mean they won't get their shots.
Adi Pour, the Health Department's director, told the Douglas County Board on Tuesday that the department received additional doses of vaccine this week. Some were available because large pharmacies had returned doses to the state. They are left over from the federal program through which the pharmacies have been vaccinating staff and residents in long-term care facilities.
Pour told County Board members that the Health Department is expanding into the next age bracket because it still has openings for appointments for people 80 and over, meaning that they are meeting the demand for that group and can accommodate more.
The department also has started offering vaccines to law enforcement officers. Pour said about 90% of this week's allotment is going to older people and about 10% to law enforcement. The officers are at the top of the next tier in the current phase of vaccinations.
A lot of prep work occurred before the doors opened.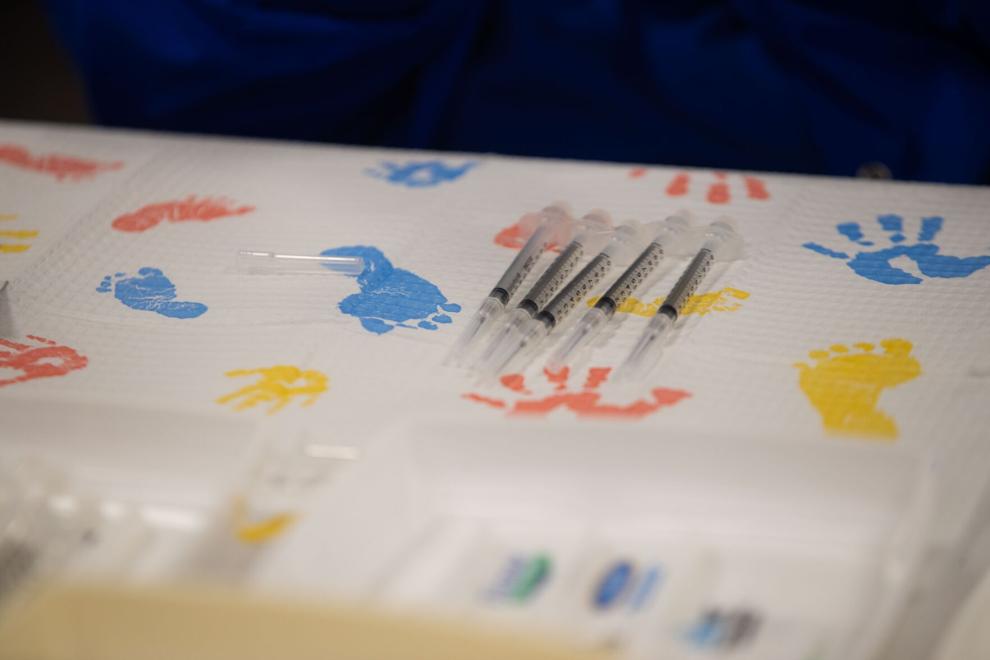 Fred Massoomi, a pharmacist volunteering with the clinic, helped Health Department nurses fill syringes with the vaccine.
"This is what I would call the penicillin moment of our generation," he said of the vaccination effort.
The Pfizer vaccine, in particular, requires careful handling and additional steps in preparing each shot for injection.
Leah Casanave, who usually supervises the Health Department's STD prevention and control efforts, now is supervising clinic volunteers. In addition to an assist from members of the Nebraska National Guard, the county has gotten volunteers from the Visiting Nurse Association and from the University of Nebraska Medical Center, Creighton University and the University of Nebraska at Omaha.
"We've been waiting for this day," Casanave said.
So have Ida and Joe Macchietto, ages 88 and 90. They came with daughter Christine Johnson.
"I think it's great," Ida Macchietto said. "I'd like to be protected."
Joe Macchietto said he wants to take a little trip and to dine out somewhere other than a drive-thru.
Johnson said the couple used to host the family for Sunday dinners. They have four children, nine grandchildren and 13 great-grandchildren.
"It makes me appreciate family — when you can't visit, you can't hug," she said.
World-Herald Staff Writer Christopher Burbach contributed to this report.
---
Our best Omaha staff photos of January 2021