The rate of illegal drug use and prescription drug abuse in Nebraska is lower than that of most states, according to a new report.
Nebraska ranked third-lowest among the states in the percentage of adults who reported abusing prescription drugs or using illicit drugs (aside from marijuana) in the last 12 months, United Health Foundation reported in its 2020 America's Health Rankings.
Nebraska's rate was 7.3%, putting it behind Minnesota at 6.9% and South Dakota at 6.4%. The U.S. average was 11.9%. Iowa was tied with Ohio at 10%.
Drug courts, counseling and drug education play important roles in keeping the numbers low.
The District Six Adult Drug Court, based in Fremont, gives people in Dodge County who are facing nonviolent drug-related charges a chance to avoid incarceration. The program, which began in 2008, has around 35 participants at a time and an average graduation rate of 66%.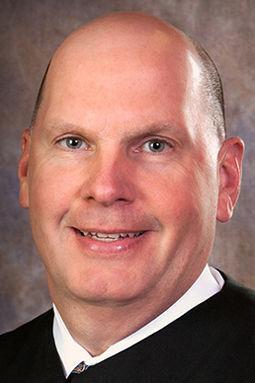 "The continuity of our team and the idea that we work together as a team aspect to deal with a problem is very helpful," District Judge Geoffrey Hall said.
Across its 12 judicial districts, the state serves 1,400 participants annually with its 32 problem-solving courts, which range from veterans services to drug courts.
District Six Adult Drug Court Coordinator Brandon Jerred said Nebraska has strived to be a leader in looking at innovative ways to address its problems.
"We have people from all over the state of Nebraska looking at what our gaps and services are — not only from a probation standpoint, but problem-solving court is kind of the great bridge between probation and the treatment world," Jerred said. "We really sit in between those two realms, and so we really have a unique perspective on what the treatment world's trying to do with this, and then also what (probation officials) are doing with this."
As a district judge, Hall said 70% of the people who come before him in court either have issues with mental health or substance abuse and are in need of resources that probation or incarceration can't give them, such as a place to live, a job or a vehicle.
"When all those things come together, that's where people really excel, and they don't go back to substance (abuse) for the most part, because they have made life changes that they see a better way," he said. "But that takes a lot of time, effort and resources to get to that point."
Jerred said people eligible for drug court are "using the substance because either they need it to function or because there's an underlying either mental health or some other ... issue that is not being addressed that they're looking to the substance to self-medicate, essentially."
With severe drug abusers, Jerred said, "a lot of their healthy supports have either gone away or the client has pushed them away, so really, all their supports are substance users," Jerred said. "So now we have to get them completely into a sober community that is going to help them to continue with that long-term sobriety."
One person who went through drug court expressed gratitude for the program.
"When I look at my journey with drug court, I am so grateful for the life I live today, and there will never be enough words to express my gratitude," the participant wrote in an anonymous letter. "I know drug court saved my life."
Federal and state grants have helped increase outreach in some areas of the state, especially in regard to opioid usage in the Panhandle, said Region 1 Behavioral Health Authority Coordinator Lisa Simmons.
But access to prevention, treatment and recovery options varies widely across the state.
Community Action Partnership of Western Nebraska in Scottsbluff is one of a handful of places in the Panhandle that offers medication-assisted treatment, meaning that some people may have to travel miles to reach it.
Dr. Gage Strenski, who has been at Community Action Partnership of Western Nebraska in Scottsbluff for five years, said western Nebraska patients would need to travel out of state to go to inpatient clinics.
"We don't offer halfway housing or sober-living services, and no residential inpatient services," he said.
Counseling and drug education have been effective in other parts of Nebraska.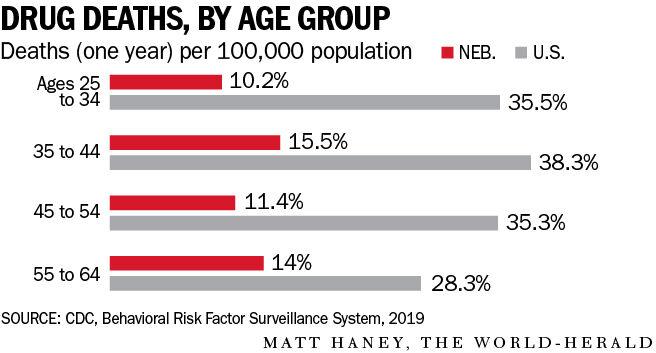 While drug use is prevalent around North Platte, Officer Matt Elder, a North Platte police spokesman, said he wouldn't necessarily say the area has a drug problem. The drugs he sees regularly aren't usually ones that contribute to deaths from drug overdoses.
"When you get into the overdose deaths, you most likely see a lot of the heroin and fentanyl," Elder said. "I'm not going to say it's not here, but we don't have the problem that you see in other Midwestern states and big cities. We mainly see the meth, the marijuana, cocaine."
Region II Human Services in North Platte offers a medication-assisted treatment program, which uses medication management, treatment and counseling to help people with opioid addiction.
"I think one of the most important things to remember is that when we're talking about reducing drug-related deaths, it's not telling people how to, quote, 'Do drugs and alcohol safely,'" said Community Connections Substance Abuse Prevention System Coordinator Catiana Urrutia. "It goes much deeper than that — it's talking to your kids and starting young so that we never even get to the point where we have to talk about drug-related deaths."