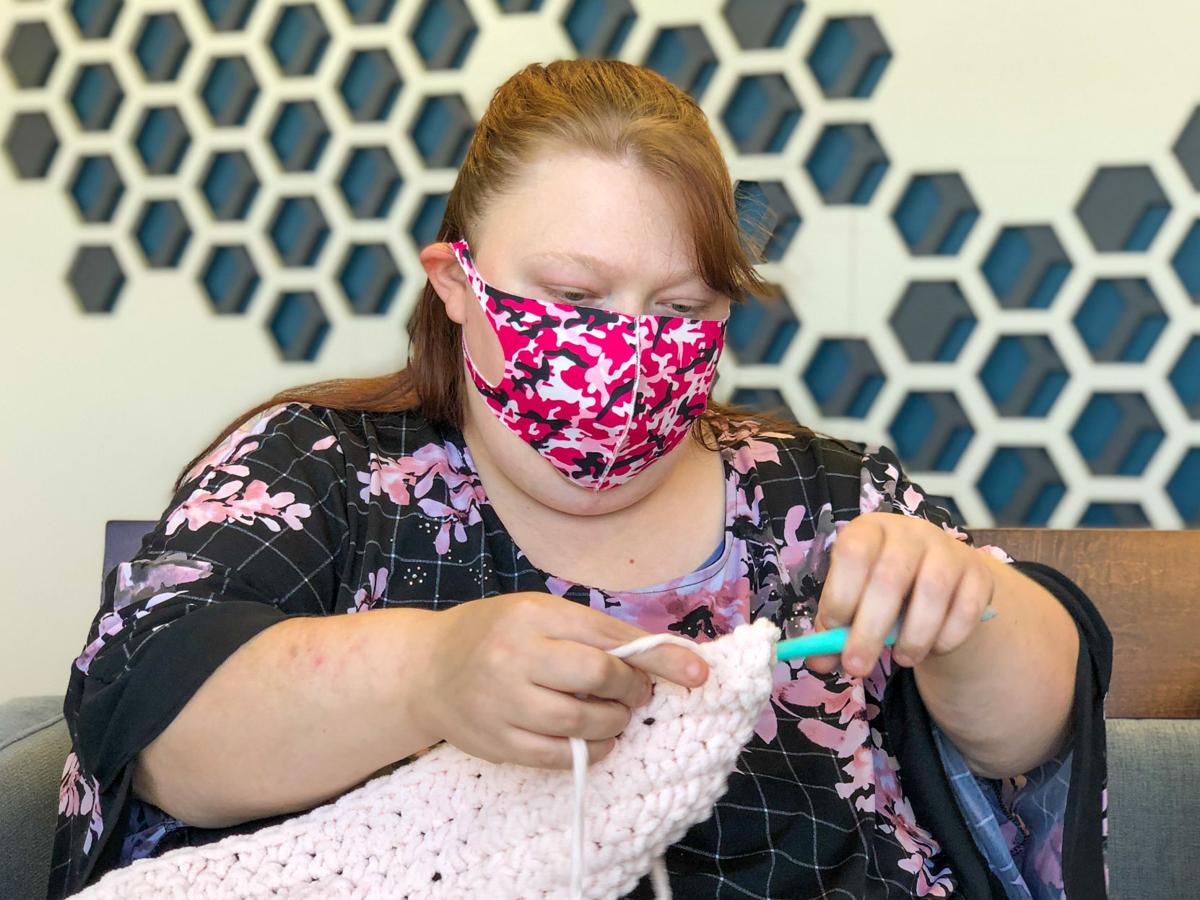 Nicole Gundersen is no stranger to the emergency department at Fremont Health.
She was a patient there two, three, sometimes even four times a month.
But during her visits, she bonded with Kendra Bloch, a nurse with whom she chatted about their children and about Gundersen's crochet hobby.
Gundersen, 26, returned to present Bloch with handmade blankets for her son and daughter.
This week, Bloch stayed home with her sick son. He was wrapped up in the blanket Gundersen had made.
The act of kindness piqued the interest of Karen Baber, a medical social worker at the Fremont hospital. Baber recruited Gundersen to crochet prayer shawls for ailing patients.
Just shy of a year since starting the project, Gundersen has crafted seven of the shawls, which are a shade smaller than a throw blanket. Gundersen said it has helped her get back on track while in a difficult period.
"It kind of gave me another purpose," she said. "I can help others."
Gundersen, who lives in Fremont, has a complicated medical history. She has a host of medical issues, including lupus and a blood clotting disorder. Many of her hospital visits stemmed from being dehydrated, she said.
At some visits, Gundersen would bring her crochet work with her as a way to stay calm while waiting in the emergency room.
With the help of a how-to book, Gundersen taught herself to crochet when she was about 9 years old. She got more serious about the hobby as a teenager. Now she crochets blankets and other items for family and friends in her free time.
"I worry about my health often, and that's something I do to keep my mind off of it," Gundersen said.
Because Gundersen was in the emergency department so often, nurses consulted Baber to work with her, hoping to keep her from having to visit the hospital so often. They talked about Gundersen's medical history and the struggles she goes through on regular basis.
When Baber learned about Gundersen's crocheting skills, she thought making prayer shawls might help.
"It brings her comfort and purpose," Baber said. "She's a very giving person."
Gundersen was surprised to be asked, but she jumped at the opportunity.
Over time, Baber noticed changes. Gundersen was able to move out of her mother's house. Now she's in her own apartment and takes care of her 5-year-old son, Jace, every other week. She dropped weight after starting a new walking routine. This week, she started a new job.
"You could see that she was glowing and happy," Baber said. "Not to say there weren't rough days. These complex medical issues aren't going away. But now she has something else to do and give back. I think it's done a lot for her quality of life."
Gundersen said she can wrap up a prayer shawl in about a day if she doesn't have other things going on. Officials with Methodist provide yarn for the shawls.
"This is like another form of therapy for me," Gundersen said. "Doing these prayer shawls is helping somebody else, letting somebody else know that someone out there knows what it's like to be in a hospital for a long period of time."