In the center of a remodeled brick building on the Boys Town campus, a vault-like room houses a shiny white machine that calls to mind an outer-space version of a salon hair dryer.
But the helmet above this machine's built-in chair holds 306 independent sensors, bathed in liquid helium to chill them to minus-452 degrees Fahrenheit but insulated so the helmet surface is merely cool.
The device, a MEGIN TRIUX neo, is one of two next-generation MEG, or magnetoencephalography, systems housed at Boys Town National Research Hospital's new Institute for Human Neuroscience, which opened last month near 144th Street and West Dodge Road.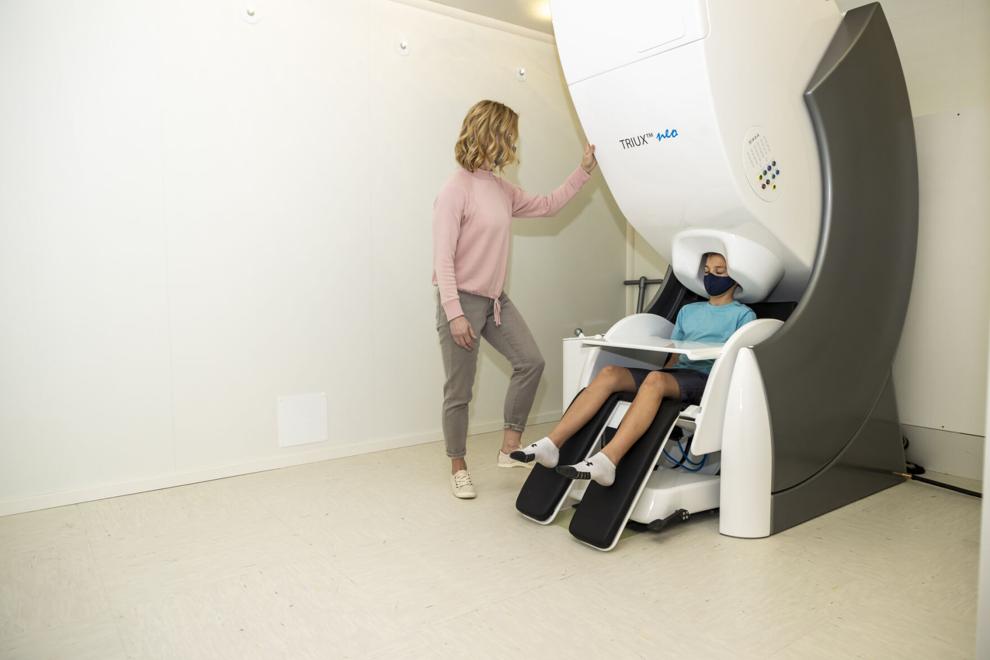 The nearly 50 researchers and staffers hope to use the machine and other sophisticated tools to learn more about the brain and how it develops — both normally and otherwise — and to help the hospital's medical specialists improve treatments for kids. Boys Town officials describe the more than 15,000-square-foot setup as one of the most cutting-edge neuroscience research facilities in the nation.
"We really think we're going to make some major, life-changing discoveries in this building," said Tony Wilson, director of the new institute. "And we can't wait to get started."
Ryan McCreery, Boys Town's research director, said Boys Town has had a research program for 40 years. It began with the need to provide evidence to support the services the organization provides.
With the recruitment of several physicians in pediatric neurosciences, the organization recognized an opportunity to build a research program around them. The hospital officially launched a pediatric neuroscience institute in mid-2019.
McCreery said Boys Town officials began talking with Wilson, then a University of Nebraska Medical Center neurological sciences professor, about finding experts to build its program. They soon recognized that Wilson, one of the world's leading experts in magnetoencephalography, was the right person. His research fit Boys Town's mission.
"It's cutting-edge research, but it has really important clinical implications, so it's not something that's going to take 10 or 15 years to help people," McCreery said.
Wilson, who has received millions in grant funding, brought in his research team and recruited scientists with different areas of expertise to complement each other's work.
The institute now numbers six neuroscience research labs, including Wilson's. Plans call for expanding to 10 over the next five years. The building and the new equipment cost about $10 million, which was covered by Boys Town.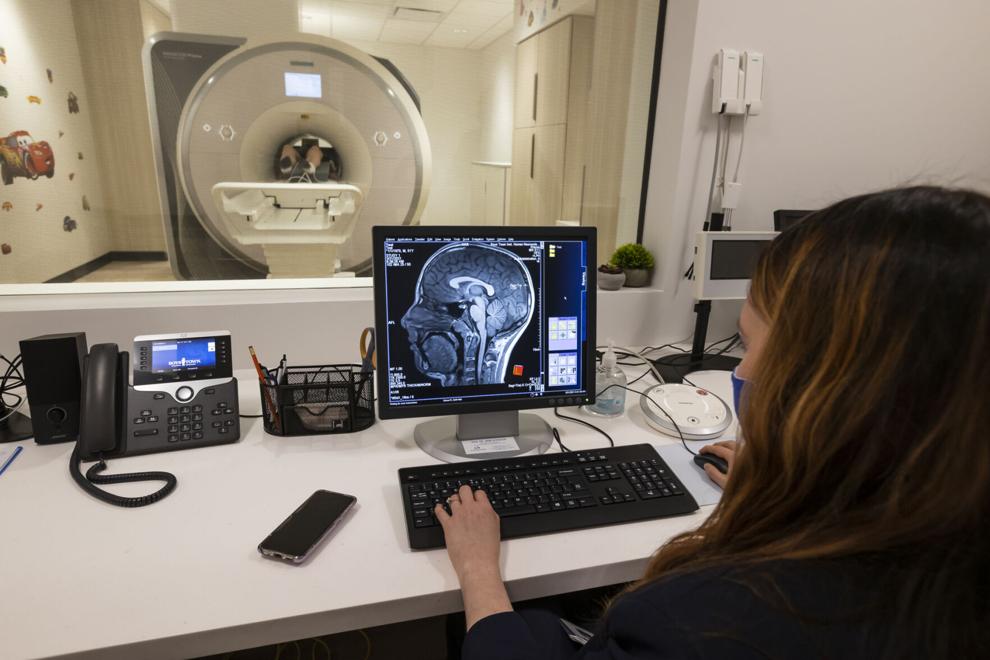 The institute, according to Boys Town officials, is the only research facility in the world with two of the next-generation MEG systems. It's also home to a super-high-resolution MRI system. Wilson said the institute will add a new MEG system, which will be the first of its type in North America, in 2022. The machines measures the minuscule magnetic field the brain naturally produces.
McCreery said the two technologies complement each other, opening opportunities to do things that couldn't be done with just one or the other. That includes mapping the brain responses of children with epilepsy, a focus of the institute, to help determine the best treatment. Another team will use the combined tools in its studies of movement disorders and therapies.
Also housed in the building is one team that focuses on acquiring data from all of those scans and another that analyzes that data. Many on those teams are students from area universities at various points in their education.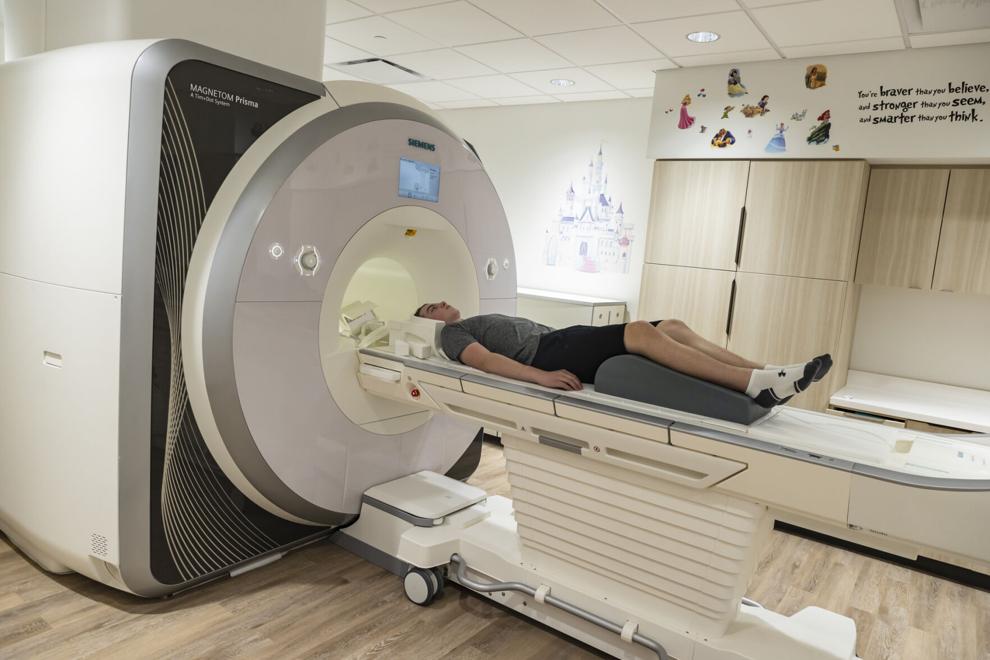 Wilson said each lab functions independently. But being in the building together makes it easy for researchers to collaborate. Boys Town will continue to collaborate with UNMC and other partners, as it has in the past. With UNMC a hub for infectious diseases research, Wilson hopes to work with scientists there on how such diseases, including COVID-19, affect the brain.
"Really, this was just an incredible opportunity," he said. "A facility like this is a really unparalleled in the U.S."
McCreery said he already has begun working with Elizabeth Heinrichs-Graham, one of the researchers Wilson hired, to look at how hearing loss affects the brain.
For years, researchers have been telling parents that kids should wear hearing aids as much as possible. Now, he said, the researchers have evidence that kids who wear the devices more consistently have brain patterns similar to those of kids who don't have losses. The next step is to determine whether certain interventions, such as how clinicians fit the devices, can make a difference.
Wilson said his lab always has had a large section focused on pediatrics. The group received one of President Barack Obama's original BRAIN Initiative awards and brought a lot of that basic research with it. One of the key goals of the initiative, launched in 2013, was to create new ways of treating neurologic conditions. Hence, one study uses brain stimulation in the form of tiny, noninvasive electrical currents that temporarily change brain function. The aim is to determine whether researchers can develop such methods as a therapy.
Wilson said he also seeks to make detailed maps of how the brain changes as children grow, to see how they develop from childhood through adolescence to young adulthood to determine what's changing in the brain as they develop emotionally and cognitively.
Having such information is critical, because most psychiatric conditions develop during those years.
"Understanding how the brain is changing in healthy children allows us to identify the changes that are not typical and identify those children who are going to be in need of intervention very early on," he said. "Typically, that's associated with much better outcomes."
---
Our best Omaha staff photos of March 2021