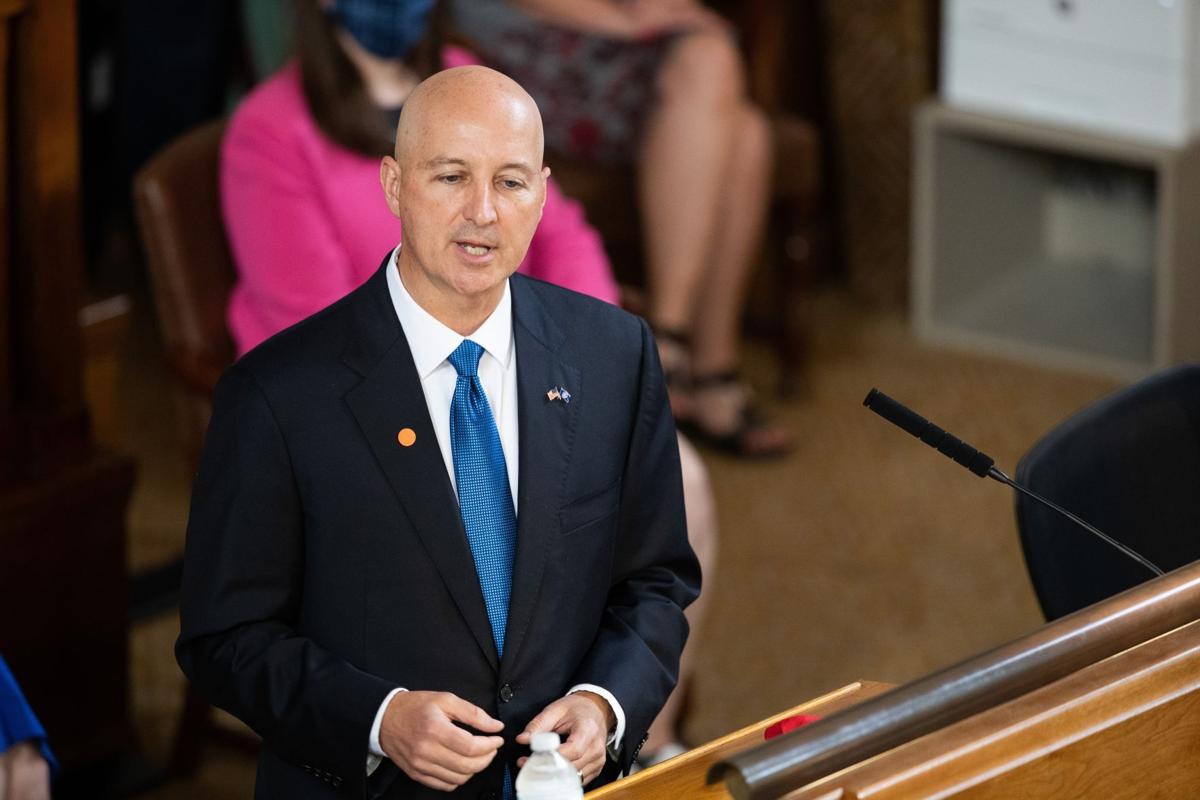 LINCOLN — Gov. Pete Ricketts on Thursday mandated no additional restrictions to combat the spread of coronavirus, even as Nebraska is in the midst of what's shaping up to be its sixth straight week of record COVID-19 cases and hospitalizations.
Ricketts continued to implore people to take steps on their own to slow the spread of the virus. The governor said he wanted several more weeks to see the impact of directed health measures put into effect last month that prohibited standing-room crowds in bars and restaurants and decreased indoor capacity limits, among other changes.
The governor also announced Thursday that Nebraska was applying to receive maximum benefits for emergency supplemental food aid, known as SNAP, because of the uncertainty caused by the recent spike in cases.
Douglas County reported a new single-day record Wednesday with 486 new COVID-19 cases. The county has seen week after week of record cases and appears poised for another record week this week.
Deaths, which lag new cases about a month, also are on the increase. Public health officials and pandemic experts have been warning for weeks of worse numbers to come if the state does not take stronger measures to stop the spread or adhere more closely to the measures already in place.
Ricketts said a public service announcement campaign, with online videos and messaging, will be launched, to remind Nebraskans about "avoiding the three C's": crowded places, close contacts and confined spaces.
Ricketts also encouraged Nebraskans with symptoms or who have been exposed to get tested through TestNebraska. Staffing and equipment have been beefed up at the lab, and turnaround time is down to 29 hours — less in some cases — from swab to results.
State offices will now be allowed to reduce workplace occupancy by as much as half by letting employees work from home or on alternate office days. Ricketts implored businesses statewide to look at ways to reduce workplace density.
After speaking with doctors and staff across the state, Dr. Gary Anthone, the state's chief medical officer, said it's clear that the public needs to take steps to decrease the spread of the virus and, therefore, hospitalizations.
"It's obvious we're headed in the wrong direction," he said. "We cannot surge our way out of this pandemic by just finding ways to increase hospital beds or staffing."
The number of Nebraskans hospitalized with COVID-19 Wednesday had climbed to a record 698; that's up from 528 a week ago. A total of 669 Nebraskans have been confirmed to have died from the virus, according to the state's data dashboard.
On Wednesday, the state recorded a new single-day record of 1,828 new cases, more than 200 cases higher than the previous single-day record on Oct. 29.
While single-day case counts can be subject to variations in reporting, the state has averaged 1,335 new cases a day over the seven-day period that ended Wednesday.
Ricketts said people need to continue to heed the advice of experts: wear a mask in public or at gatherings, stay 6 feet apart, wash their hands and stay home if they're sick.
He nodded to coming holiday gatherings and said his family will pare back the usual large event to a smaller group, which he advised others to do as well.
"Just because you know somebody doesn't mean they can't give you the virus," Ricketts said.
He and Nebraska Education Commissioner Matt Blomstedt said it's a priority to keep schools open but that gatherings outside of school without precautions have led to the spread of the virus.
Blomstedt said he hopes to make it through the semester with in-person learning. He said, however, that the biggest risk to that would be if school staffing levels decrease because of the virus.
Adults letting their guard down and gathering without masks has led to the spread of the virus, Blomstedt said. He added that if a school event is canceled, people shouldn't create their own.
"The same protocols that are going to keep our kids safe in schools are going to keep them safe out of schools," Blomstedt said. "Listen to your children."
The cautions come as the virus continues to surge across much of the country.
Nebraska was among five states that set single-day case records Wednesday, according to the New York Times. The others were Maine, Minnesota, Indiana and Colorado.
The five helped push the United States as a whole to more than 107,800 new cases Wednesday, marking the first time the nation has recorded more than 100,000 new coronavirus cases in a single day since the pandemic began. Twenty-three states have recorded more cases in the past week than in any other seven-day stretch, the Times reported.
Most people will recover from the virus. The state, in fact, listed 45,772 Nebraskans as having done so Wednesday.
Nebraska was holding steady at No. 7 among states in terms of per capita cases, with 64.3 new cases a day per 100,000 people, according to the federal Centers for Disease Control and Prevention. Iowa was No. 5 with 72.3 new daily cases per 100,000 residents. Ahead of Iowa were the Dakotas, Wisconsin and Montana.
A total of 304 COVID-19 patients were hospitalized in the Omaha metro area Wednesday, with 37 more listed as "persons of interest." Such patients typically are suspected of having COVID-19 but are awaiting test results.
Anthone said hospitals are trying to strike a balance between continuing to provide other kinds of needed care, some of which was postponed when elective procedures were canceled in March, and caring for COVID-19 patients.
Ricketts has said hospitals must preserve 10% of their capacity in order to continue elective procedures. The governor also directed that $40 million of the state's coronavirus aid be directed to hospitals to hire traveling health care workers or to give hazard pay to existing staff.
Anthone said hospitals have been successful in increasing their staff by hiring traveling workers. They also have been able to use state funds to award hazard pay to their health care workers to work extra hours, producing the equivalent of 50 traveling staff members.
Specialty hospitals in Omaha and Lincoln also have volunteered to provide post-operative care for some patients to help hospitals that treat COVID-19 patients keep beds available, Anthone said.
Ricketts said the state did not ask the federal government for maximum SNAP benefits over the summer as it did early in the pandemic because the coronavirus situation was improving.
Nebraska was the only state not to continue the pandemic-driven emergency supplemental assistance beyond July. The program, authorized by a federal coronavirus relief bill, boosted SNAP benefits, formerly known as food stamps, to the maximum level for all recipients. Usually, those benefits are determined on a sliding scale based on income. The state accepted the aid from March to July.
Twenty state senators earlier this fall sent a letter asking the governor to change his mind. In October, Nebraska Appleseed submitted a petition signed by more than 1,000 Nebraskans asking the same thing.
Ricketts said the state had requested the additional aid Thursday and expects to receive it. The additional assistance would be available to people who aren't already receiving the maximum benefits in December.
---
Our best staff images from November 2020