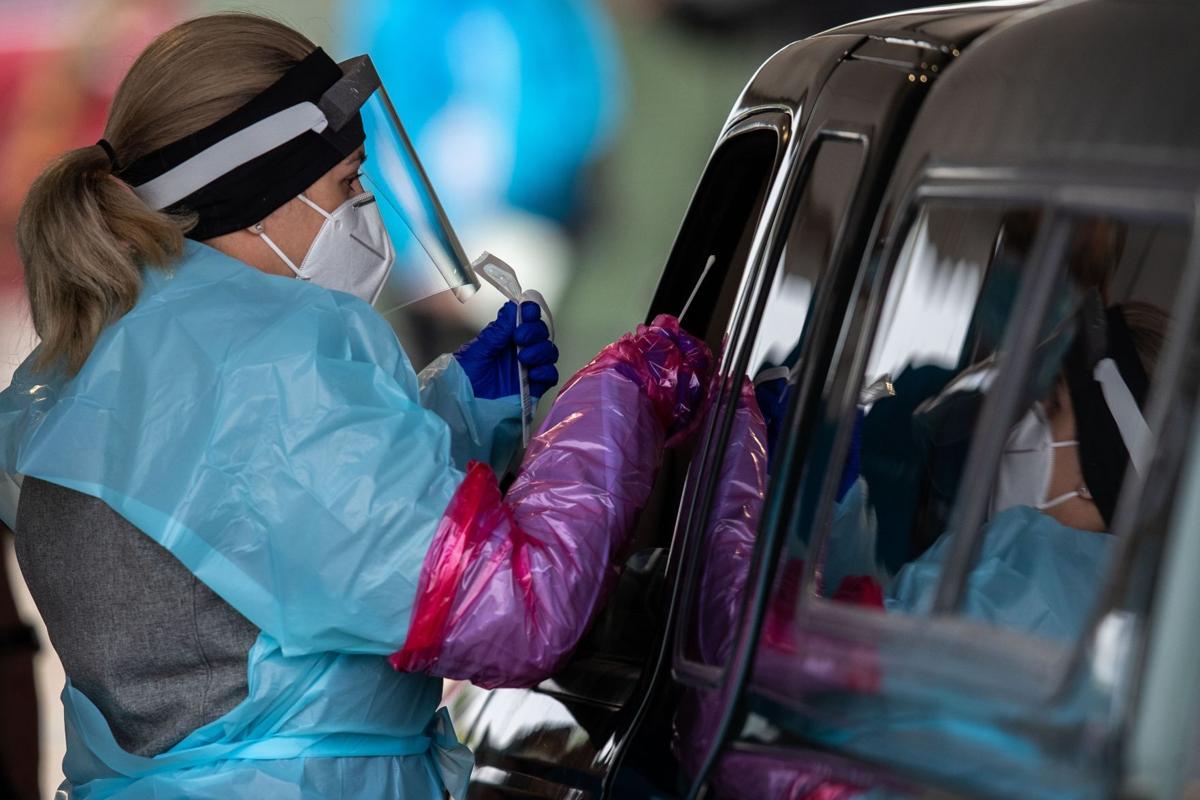 Record numbers of COVID-19 cases and hospitalizations have prompted health care providers to call for Nebraska Gov. Pete Ricketts to adopt stricter health measures to stem the spread of the disease.
"Nebraska hospitals are suffering," Dr. Erica Carlsson, an emergency medicine physician at Nebraska Medicine, said on Twitter. "Our ER's are jam-packed and we are tired. We need real mandates, enforcement of those mandates and action by the government. Nebraskans will suffer and many will die if we keep up this pace of COVID spread."
Similar messages were posted online by health care providers from the two other Omaha-based health systems.
Nebraska COVID-19 hospitalizations have increase since three weeks after @GovRicketts moved to Phase 3 DHM on June 22 and precipitously increasing since move to Phase 4 on Sept 21. Time for data driven COVID response Nebraska pic.twitter.com/EqaVkYQkMN

— John J. Lowe, Ph.D. (@Prof_Lowe) November 7, 2020
The number of Nebraskans hospitalized with the virus — 748 on Friday, more than double the number three weeks ago and more than three times the late May peak of 232 — is already straining the health care system.
This spring's peak single-day statewide case count was 677 on May 7.
On Friday, the state recorded 2,681 new infections.
It was Nebraska's third straight day of single-day records for new cases and topped by more than 550 the cases reported Thursday.
In addition, the COVID-19 case count for the seven-day period that ended Friday topped 10,000 for the first time, totaling 11,048.
That's an average of more than 1,500 new cases a day.
Some of the increases in cases in rural areas have been even more dramatic on a per capita basis.
John Lowe, assistant vice chancellor for health security at the University of Nebraska Medical Center, said the White House Coronavirus Task Force's threshold for closing indoor dining and capping gatherings at 10 people is 100 cases per 100,000 people over a seven-day period. The state now has 23 counties adding cases at a rate greater than that, according to COVID Act Now.
On Saturday, Douglas County reported a record 640 new COVID-19 cases, which broke the record of 565 new cases set a day earlier, which broke the record of 486 new cases set the day before that.
Douglas County health officials also reported that 346 patients were hospitalized with COVID-19 and 30 more were awaiting test results.
Dr. James Lawler, a director at UNMC's Global Center for Health Security, said health care providers' calls for more action reflect "the frustration and desperation that my colleagues are experiencing."
A key difference from May, Lawler said, is that many patients who became seriously ill then could be transferred to larger hospitals.
"Now our large hospitals are as full as they were in the spring, but all of the rest of the hospitals are full, too," he said. "There's nowhere to decamp patients to."
Lawler said most Nebraska communities should not be allowing gatherings of more than 10 people. Nor should indoor dining at restaurants be allowed because people take off their masks to eat and drink.
Researchers now know that the virus can spread beyond 6 feet. Spending extended time in close contact also increases risk, so even sitting 12 feet apart for an hour and a half without masks can prove risky.
Face coverings, which reduce the amount of virus people can spread, should be worn everywhere in public, Lawler said.
A spokesman for Ricketts said the governor's decisions regarding pandemic restrictions are based on science and data, not social media campaigns and tweets.
Spokesman Taylor Gage said in a statement that the governor recently instituted stricter health measures, announced new measures Thursday and has been reviewing additional measures to protect hospital capacity.
Ricketts said Thursday that he wanted to wait several more weeks to see the impact of directed health measures put into effect last month that prohibited standing-room crowds in bars and restaurants and decreased indoor capacity limits, among other things. He continued to implore Nebraskans to take steps to prevent the spread of the virus.
But Lawler said it makes sense to call for more aggressive measures.
"If what you're doing isn't working," he said, "you need to do something different."
COVID-19 cases and hospitalizations are now doubling every two to three weeks, Lawler said.
Faith Regional Health Services in Norfolk added 14 negative air pressure rooms on Oct. 30, the Norfolk Daily News reported. Such rooms keep potentially contaminated air from spreading to other parts of a hospital. The beds filled within 48 hours.
"The fact of the matter is we are seeing a significant increase in COVID patients while still needing to continue to take care of non-COVID patients," said Kelly Driscoll, the health system's president and CEO.
Great Plains Regional Medical Center in North Platte now has its highest number of COVID-19 patients, CEO Mel McNea said Friday during a Facebook live event hosted by the West Central District Health Department.
McNea said that on Thursday night, the hospital transferred three patients to hospitals in Grand Island, Norfolk and Kearney. The North Platte hospital has inquired about transferring patients to Colorado hospitals, but those facilities have also been taking patients from Wyoming.
On Friday, the North Platte hospital fielded requests to take patients from as far away as Kansas.
"So this isn't just a state of Nebraska situation," McNea said. "This is a Midwest issue."
Meanwhile, the hospital is searching for nurses and plans a campaign to ask retired nurses to return to work, he said.
McNea said state officials have predicted that Nebraska will see more than 1,000 patients hospitalized with COVID-19 by the end of the month.
Indeed, COVID-19 case counts continue to rise in the state as a whole and in many parts of Nebraska that previously had seen few of them.
Shannon Vanderheiden, executive director of the West Central District Health Department, noted that the six-county district's per capita rate of new cases exceeds that of New York in the spring and is double that of the rest of Nebraska.
---