Community health providers and advocates are pressing to ensure that people of color and disadvantaged communities in Nebraska have access to COVID-19 vaccinations — and information to make informed decisions about the vaccines.
Plans for how and when to do that are still in the works. Nebraska's state COVID-19 vaccination plan mentions racial and ethnic minority groups and "tribal communities" as being among "critical populations" for receiving the vaccine. It does not explicitly include them in early vaccine distribution phases, although the plan is evolving and discussions are ongoing.
Working with limited supplies of doses, the state currently is allotting vaccines to frontline health care workers and long-term care residents and staff, dubbed Phase 1A.
Nebraska plans to move next to Nebraskans aged 75 or older and workers in such key industries as education, food processing and prisons, Phase 1B, likely in mid-January. People ages 65-74 and those with high-risk emergency medical conditions would come next in Phase 1C, possibly beginning in March.
The general population — Phase 2 — will follow when there's enough vaccine available to meet demand.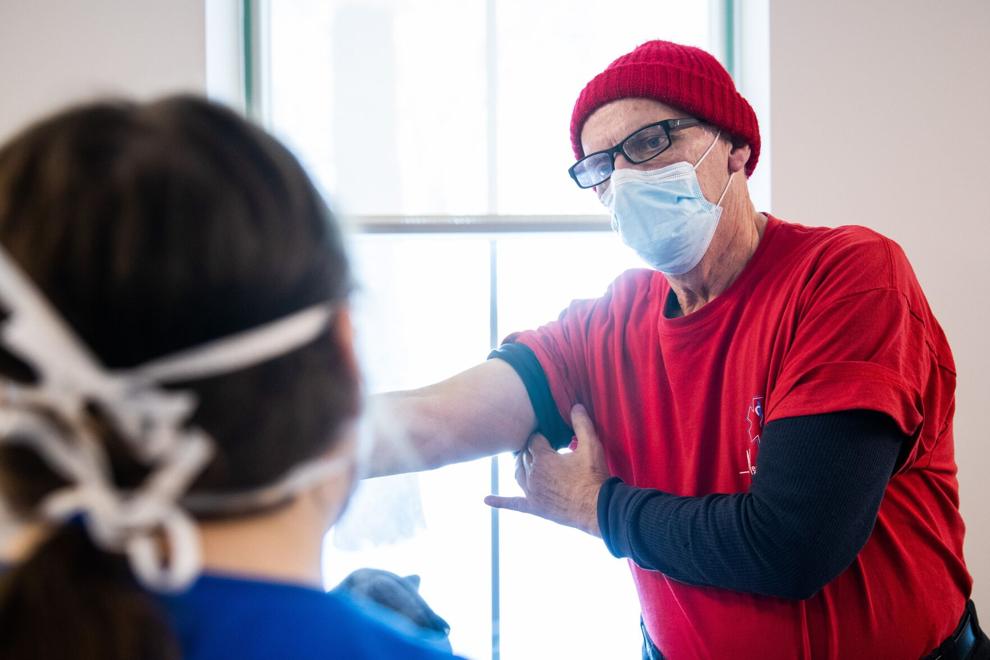 Community health providers in South and North Omaha are urging that the early phases include minority populations that have been disproportionately affected by COVID-19 and are more vulnerable to it in part due to lack of access to health care.
Communities of color have been "especially devastated" by the coronavirus, many people of color work in jobs that expose them to greater risk and coronavirus infections are still running higher in the Hispanic community, said Andrea Skolkin, CEO of OneWorld Community Health Centers Inc. in South Omaha.
"That speaks to the need to include the populations earlier," Skolkin said. "That's what One World and Charles Drew are pushing for, that there should be some thought given to the communities that were greatly impacted."
While there obviously will be people of color among the various groups already being targeted, that doesn't go far enough to address the needs, she said.
Kenny McMorris, CEO of Charles Drew Health Center Inc. in North Omaha, said he and others had advocated that disproportionately affected minority communities be included in Phase 1B.
"This particular virus, and how we as a country have been dealing with it, is no different than what we've been dealing with over decades, over generations, about lack of accessibility, lack of availability and affordability to quality health care," McMorris said.
The state's recently updated COVID-19 vaccination plan does not explicitly identify communities of color as a priority, but state and Douglas County officials said they are an important part of the effort.
"We're working with the community partners now to make sure that when the time comes that there's equitable allocations and accessibility," said Angie Ling, Nebraska Department of Health and Human Services incident commander. "We're also working on defining how to get vulnerable populations vaccinated and those higher categories as well. ... We're bouncing that off data and more information will come on that, but we are working very closely with community partners right now to determine where the best places (are) and how to get those folks vaccinated."
Ling said Phase 1C includes a broad category called vulnerable populations that will be further defined in the next couple of weeks.
She said the state is working closely with federally qualified health centers to make sure they have allocations of vaccines. Such community-based organizations, including Charles Drew and One World, provide care regardless of people's ability to pay or health insurance status.
Sheena Glover, an Omaha Fire Department firefighter and paramedic, received the first dose of a two-dose vaccination last week through a Douglas County Health Department-offered clinic. Glover, who is Black, works as a community safety specialist but recently was called back to work as a firefighter at a fire station. She had reservations about the vaccines, she said, due to the speed of the vaccines' creation and approval and also, as she put it, to "the shadiness historically with vaccinations and the Black population."
As a single parent, she worries who will take care of her son if something happens to her? She ultimately became convinced that the vaccine would help keep her safe for her family, and that getting it would help the community.
"The difference for me was the fact that there were a lot of people who look like me that were having those same issues and were afraid," Glover said. "It was more about, it was bigger than me. ... There are people who are very scared of the vaccine, and for valid reasons. If I can be the one to show them that this is a good thing, that if we can become immune we can go back to normal, we can reduce the risk of passing it from one person to the next, and if the vaccine is available to prevent those people who are dying unnecessarily from passing away, then let's do our part."
Nancy Luna, a medical assistant whose job at One World includes helping coordinate coronavirus testing, received the second of two doses Monday.
"I want to protect myself so I can continue work and help the community," said Luna, who is Latina. "Also to set a good example for my team, because we're in the front line. I want to show them that it's OK, we should trust it, and we're doing it to keep ourselves safe. I did it for my family — my son, and my mom, who's older and she lives with me, so I want to keep them safe."
---
Our best Omaha staff photos of 2020