It's a miserable milestone no one wanted to cross.
But nine months into the coronavirus pandemic, Nebraska on Monday topped 1,000 COVID-19-related deaths, reaching 1,018.
When the state actually crossed that line isn't clear. Coronavirus-related deaths can take weeks to verify. Local officials match each one with a positive COVID-19 test.
But it is clear that COVID deaths have been on an uptick in recent weeks. A total of 387 of Nebraska's deaths were reported in November, according to data from the New York Times. Unlike the state's COVID-19 dashboard, the Times provides a day-by-day breakdown.
The November number is roughly 38% of the pandemic total and the highest monthly total so far. The next-highest month for deaths was October, with 159.
Last week's count was 87, the second-highest of the pandemic and triple the number the state was recording six weeks ago.
Iowa on Tuesday had recorded 2,430 deaths since the start of the pandemic, according to the Times database.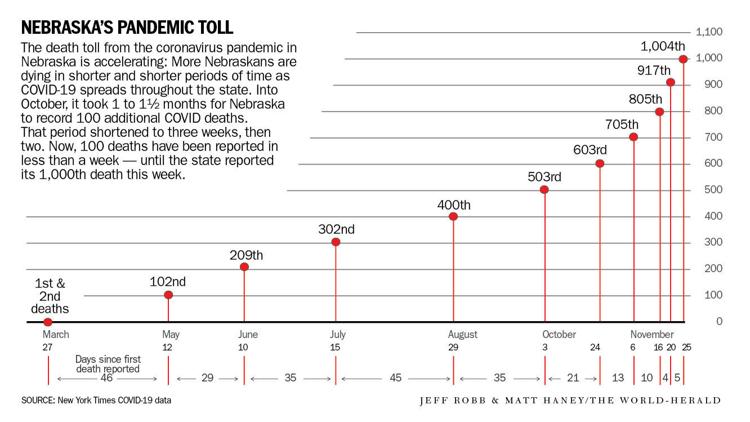 Nebraska has lost 52 people for every 100,000 residents, while Iowa has lost 76 people per 100,000 residents. A World-Herald analysis in October attributed the difference in death rates to the fact that Iowa has a higher proportion of elderly people than Nebraska. That not only makes Iowa's nursing home population larger than Nebraska's, but at the time of the report, Iowa also had seen more deadly outbreaks in such places.
The nation as a whole had reported at least 270,500 deaths by late Tuesday.
Where Nebraska's numbers will go from here is difficult to predict. Deaths typically follow infections by about a month, meaning many of the people dying now were infected weeks ago, and many of those who will succumb in a few weeks already are infected.
Much will depend on how well Nebraskans followed COVID safety protocols over the Thanksgiving holiday and how they behave over the holiday season to come, said Dr. Bob Rauner, a Lincoln physician and president of Partnership for a Healthy Lincoln.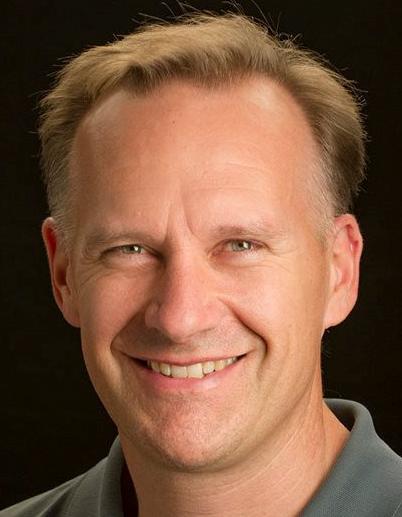 "Some people did the right thing and some people did not," Rauner said of Thanksgiving.
Indeed, public health officials nationally have cautioned that some states' downturns in new cases are likely to be overtaken by an increase linked to Thanksgiving gatherings and travel.
Nebraska last week ended an eight-week streak of record COVID-19 cases. But Nebraska Gov. Pete Ricketts said Monday that it was too soon to know whether the slowdown in new cases was the result of Nebraskans following the steps recommended to slow the virus's spread or a slump in testing over Thanksgiving.
Rauner said it probably will take two weeks for the data to catch up after the holiday.
He said Nebraska could get to 2,000 deaths by January, but he acknowledged that he doesn't have access to all the data, particularly from over Thanksgiving, needed to make precise predictions.
Dr. James Lawler, a director of the University of Nebraska Medical Center's Global Center for Health Security, agreed that the state could approach 2,000 deaths by the time the fall wave is done, even without another surge in cases.
While the state hit a peak in new cases in mid-November, it wouldn't see the peak in deaths from that wave until Dec. 10 to 15. And there would be a long tail of accumulating deaths after that.
"The reality is .... you accumulate the vast majority of deaths after the peak in your case counts," Lawler said.
The fatality rate for COVID-19 has dropped since the early days of the pandemic. Since then, hospital staffers have had time to prepare to treat the virus, and doctors and other health care professionals have learned a lot about how to treat the disease.
They know more about when to place people on ventilators and when to use other forms of oxygen supplementation. They know that proning, or placing patients on their bellies, helps improve breathing. And treatments for hospitalized patients, such as remdesivir and the steroid dexamethasone, have been added to the treatment roster.
Most estimates, Rauner said, now put the COVID-19 infection mortality rate at about 0.5%.
At the same time, demographics have shifted. While the Nebraskans getting infected over the summer were mostly younger people, the virus now is affecting older Nebraskans. And older people have higher mortality rates when they contract the disease.
Those 75 and older account for 636, or about 63%, of COVID-19 deaths in Nebraska. Add up all of those 55 and older and the total goes to 938, or about 93% of the deaths. At the same time, those 55 and older account for only 27% of total cases.
"It's now leaked into Mom and Dad and Grandpa and Grandma, and they have a higher mortality rate," Rauner said.
Among Rauner's worries are people gathering for the coming holidays; people congregating in bars; and youth sports, which now are being played indoors. (Lancaster County has put a hold on youth sports, both in and out of schools.)
But while a raw number like 1,000 is hard for people to grasp, Rauner said, people start to take matters such as a pandemic more seriously once they know someone who has died.
And that, unfortunately, is happening to more and more people. "It's sad," he said, "that it has to get to that point."
---
Our best staff images from November 2020