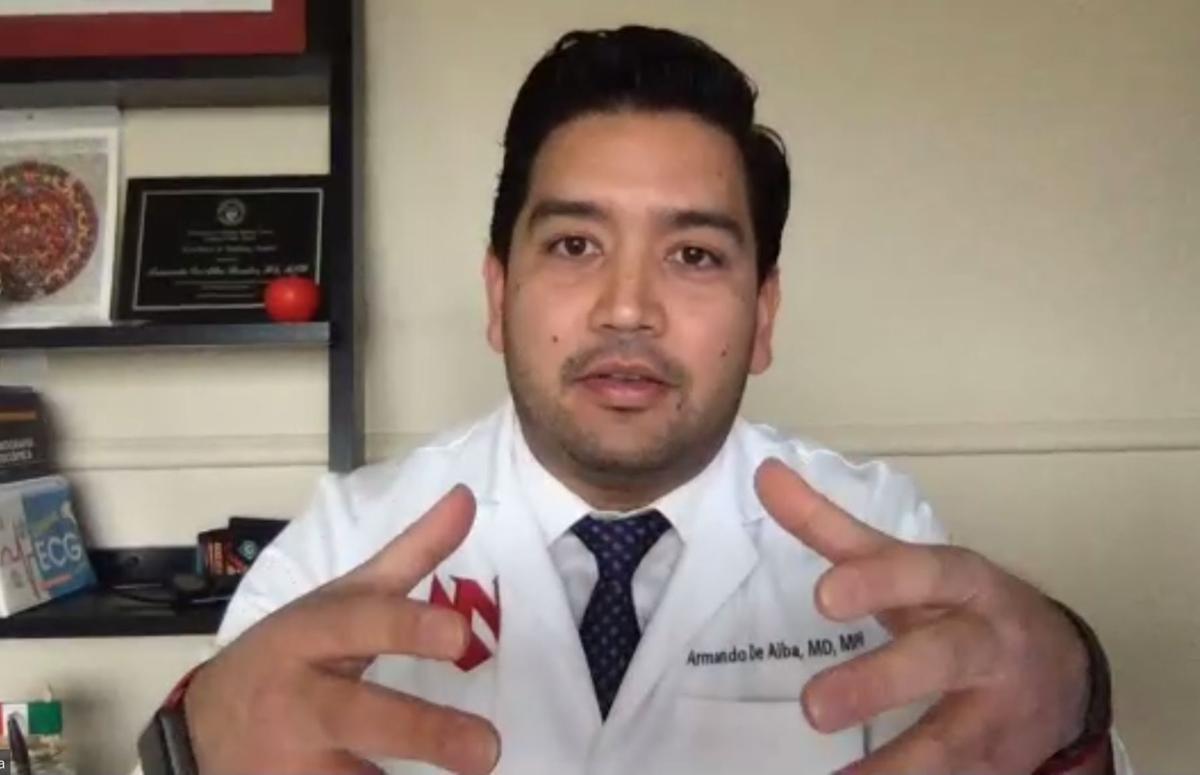 Back in June, the Hispanic community accounted for more than half of all Douglas County coronavirus cases during a two-week period.
But the Hispanic share of cases has dropped to 16.9% in the past two weeks, which is much closer to the county's 13.4% Hispanic population, said Douglas County Health Director Adi Pour.
That's thanks to a number of factors: additional preventative measures taken at meatpacking plants, which suffered large outbreaks early in the pandemic; increased availability of testing; and consistently following best practices to avoid the virus, such as wearing masks.
"You see? You can do it — and together we need to keep on doing it for a few more months," Pour said during an online presentation to the public on Wednesday.
Even so, the current numbers worry health professionals. Record increases of positive cases in the general population mirror what's still happening in the Latino community.
"Cases are skyrocketing," said Dr. Armando De Alba Rosales of the University of Nebraska Medical Center. "Protect yourself and protect others."
Pour, De Alba Rosales and four other Spanish-speaking doctors with various specialties held a virtual forum Wednesday. They offered reminders about how to avoid contracting the virus and what to do if a loved one tests positive, as well as discussing distribution plans for a future vaccine and more.
Wednesday was another record day for coronavirus cases reported in Douglas County, with 844 additional residents testing positive for COVID-19. County officials also reported that five more people had died — a man in his 50s and two women and two men over 80, raising the county's death total to 280.
Metro area hospitals had 280 medical and surgical beds and 58 adult ICU beds available, amounting to 19% and 17% vacancy, the Douglas County Health Department reported.
De Alba Rosales warned the public that if positive COVID-19 cases and hospitalizations continue to climb at the current rate, hospitals won't have enough beds to care for coronavirus patients or other medical emergencies, such as people suffering from a stroke or other illness.
Dr. Sara Hurtado Bares, also of UNMC, said it's important to remember that the virus frequently is passed among people who know one another, at gatherings with family and friends. It's particularly important now to not meet with other households, especially without wearing masks, she said.
"We understand that everyone is tired of this pandemic," Hurtado Bares said in Spanish. "We miss our friends, family, parties."
Dr. Shirley F. Delair of Children's Hospital & Medical Center said many positive coronavirus cases have been in Latino children.
De Alba Rosales advised people to avoid public places where residents would need to remove their masks, such as at restaurants and bars, or potential superspreader events like weddings. Since the early spring and summer, he's seen a shift in virus exposure and positive cases. In the past, it happened at meatpacking plants or other workplaces with close working conditions; now it tends to be through informal social gatherings. Continued diligence is necessary, he said.
"We would love to see, from a health care perspective, to send a message to the community — to go back to those times when we were avoiding public places and being more compliant with the mask-wearing," he said.
He explained that he, other doctors at the forum and many others care about the Latino community because they're a part of it, or because they have friends and family who are Hispanic. He offered hope and a fiery pep talk in his final words.
"Together, we can save more lives," he said in Spanish. "Sí se puede."
---
Our best staff images from November 2020