First, federal health officials announced that certain immune-compromised people, including organ transplant recipients and people receiving cancer treatment, should get a third shot of COVID-19 vaccine.
Last week, they said most Americans should receive a booster shot eight months after receiving their second inoculation, beginning as early as late September.
Health officials stressed that the vaccines used in the U.S. continue to be "remarkably effective" in reducing risk of severe disease, hospitalization and death, even against the widely circulating and highly infectious delta variant.
New data from the U.S. and other nations, however, indicates that protection against the virus begins to wane over time. With the delta variant, federal Health and Human Services officials said in a joint statement, they're beginning to see evidence of reduced protection against mild and moderate disease. Based on current information, they project that the current protection against severe hospitalization and death could diminish in the coming months as well, especially among those at higher risk and those vaccinated in the early phase of the vaccine rollout.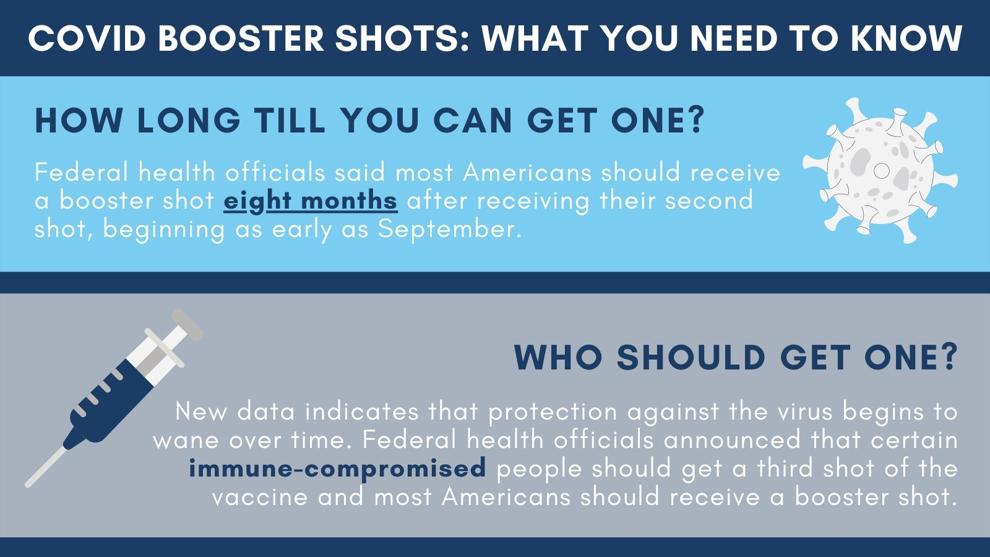 But the plan has become the subject of debate nationally. While booster doses long have been expected at some point, some scientists have questioned the need for boosters for most fully vaccinated people at this time.
World Health Organization leaders have criticized wealthy nations for offering a third shot to some citizens, while millions in less affluent nations have yet to receive a first shot.
Federal health officials, meanwhile, have said the logistics of a rollout are too complex to wait until the last minute. White House officials also noted that the U.S. has donated 115 million doses to 80 countries, more than all other nations combined.
Several other countries, Reuters reported, also have decided to offer boosters to older adults as well as to people with weak immune systems. Among them are Israel, France and Germany.
Dr. James Lawler, a co-executive director of the University of Nebraska Medical Center's Global Center for Health Security, said providing boosters now to fully vaccinated people who are not immune-compromised will expend a lot of energy and doses for a modest benefit in protection.
"If you think about it from an epidemiological perspective, we are much better off spending that energy and those vaccine doses vaccinating people who've never been vaccinated," he said. "We will clearly tamp down community transmission, ultimately resulting in fewer cases, if we do that."
On a global level, he said, reducing spread also limits opportunities for the virus to mutate and for new variants like delta to arise.
But Dr. Bob Rauner, president of Partnership for a Healthy Lincoln, noted that the U.S has an abundant supply of vaccine. Tens of thousands of doses are due to expire in the coming months. Once distributed, doses cannot be returned to federal stockpiles or shipped overseas.
"Let's just get them in arms," he said.
Indeed, while the pace of vaccination had lagged over much of the summer, it has now picked up, particularly in hard-hit Southern states. Nebraska, too, has seen an uptick in recent weeks. However, some 40% of Americans eligible for shots, those ages 12 and older, still have not gotten a first dose.
Local health officials stressed that there is a clear distinction between the two recent recommendations.
Dr. Renuga Vivekanandan, an associate professor at Creighton University and chief of infectious diseases at Creighton and CHI Health, said the recommended third shot for certain immune-compromised people should be viewed as the completion of their primary series of shots rather than as a booster.
Lawler said third doses for immune-compromised people are strongly supported by data.
"A lot of those folks just never get to adequate levels of immunity with two doses, so a third dose is warranted in that small segment of the population," he said.
The process of administering shots to that group already has begun.
David Kohll, a pharmacist with Kohll's Rx, estimated the local pharmacy chain has administered more than 1,000 third shots to people who meet the federal criteria. Interest, he said, has been high.
The Douglas County Health Department will begin offering third shots to immune-compromised people this week. The shots are free, and a doctor's approval is not required.
Kohll said he'd like to keep a waiting list of non-compromised people who could get leftover doses as booster shots, like the lists many vaccine-givers maintained early in the vaccine rollout to avoid wasting doses. But he's still awaiting federal approval of the booster plan.
Before it can take effect, that plan is subject to a determination by the Food and Drug Administration that a third dose of the Pfizer and Moderna vaccines is safe and effective. It also requires a review and OK from a Centers for Disease Control and Prevention advisory panel.
Federal officials say they also anticipate a need for booster shots of the Johnson & Johnson vaccine. More data is expected on that in the next few weeks.
Pending those approvals, federal officials are preparing to offer boosters beginning the week of Sept. 20, according to the HHS statement. At that time, those who were vaccinated earliest in the rollout likely would be eligible for the shots, including health care providers, nursing home residents and other seniors. Federal agencies also would begin efforts to deliver boosters to residents of long-term care facilities, as they did with the first two doses.
Vivekanandan acknowledged that she is conflicted about the boosters.
She said she recognizes the need to get shots to people who aren't vaccinated to prevent spread and head off new variants. But she said she's also worried about frontline health care workers and first responders, people who were among the earliest to be vaccinated and who face repeated exposure. Protecting them is an important step in protecting the frontline workforce. Those in congregate settings, such as homeless shelters and prisons, also may need to be prioritized.
On the other hand, she said, preventing breakthrough infections, the vast majority of which are mild, might also prevent transmission.
Some vaccinated people who have developed such infections recently have been found to have as high a viral load as unvaccinated people, according to recent studies, and some may be able to spread it. Transmission by the vaccinated, however, appears to be a small part of overall spread of the virus.
Vivekanandan, the mother of two children under age 12, said she's also eager for approval of the vaccine for those youngsters, which is expected yet this fall.
It appears there will be plenty of vaccine for that group. White House officials announced in July that the federal government bought an additional 200 million doses of the Pfizer vaccine for inoculating kids under 12 and for possible boosters, Kaiser Health News reported.
Judging from the scramble for the first round of shots, it's likely that a significant number of people will line up to get the boosters. When The World-Herald posed the question on Facebook, several people said they would happily get a third shot. Several others, however, said they'd had their two and were done.
Vivekanandan said the fully vaccinated people she has spoken with welcome booster shots. "They like the fact that they've been staying healthy," she said. "If they have to do a booster at eight to 12 months, they're OK with that."
Indeed, Lawler said the need for eventual boosters should come as no surprise. Scientists have been saying for some time that they would be needed. And few vaccines provide perfect, lifelong protection with one or two doses.
Five doses of the Tdap (tetanus, diphtheria and pertussis) vaccine, for instance, are required for baseline immunity. And adults still need a tetanus booster every 10 years.
Dosing schedules also can make a difference in vaccines' performance, Lawler said. Often, spacing shots over a longer interval can deliver longer-lasting immunity. In some ways, the three- and four-week spacing for the Pfizer and Moderna doses was driven by the urgency of getting enough people vaccinated to slow the spread and providing short-term protection rather than looking at long-term coverage. That, he said, was the right decision.
"We're seeing really high efficacy of these vaccines in preventing hospitalization and death," he said. "The vaccines are working. We just need to get more people vaccinated. If I were king for a day, that's where I'd be focusing my energy. If we get 80 to 85% of the population vaccinated, most of these problems go away."
Douglas County Health Director Lindsay Huse said she envisions that it will take a two-pronged approach to continue vaccinating the unvaccinated, including the under-12 crowd, and to provide boosters.
With waning immunity, and a more infectious virus, it makes sense to start boosting protection, she said. The unvaccinated, however, should be a priority.
At the same time, the Health Department already is planning for boosters.
Unlike last winter, however, when health officials faced the bottleneck of limited vaccine, a rush of vaccine-seekers and few providers that could give shots, the vaccine now is widely available at pharmacies, doctors' offices and clinics, Huse said.
"There will be multiple places that can assist in getting this done," she said.
This report contains material from the Associated Press.
---