Douglas County hit a milestone Monday with 51.9% of residents 16 and older fully vaccinated against COVID-19.
The state trailed that mark, with 49.6% of those 16 and older, or nearly 736,000 Nebraskans, fully vaccinated.
"This is a tremendous step forward in our efforts to return to normal," Adi Pour, Douglas County's health director, said in a written statement. "I am asking everyone to encourage their friends and family members who are not yet vaccinated to make plans now to be protected."
Both milestones come a little more than four months after vaccination efforts launched in late December among residents and staff of long-term care facilities. By the first week of April, the state had vaccinated 25% of residents and OK'd vaccinating those ages 16 to 49.
However, the pace of vaccination has slowed from a weekly peak of nearly 142,000 doses given the week ending April 17. That number dipped to nearly 82,500 doses the week ending May 1, according to data from the federal Centers for Disease Control and Prevention. Last week's total was slightly higher, at nearly 83,500 doses.
Meanwhile, the number of new cases of COVID-19 in the state has flattened in the past week at just under 70 cases per day per 100,000 residents. That's slightly lower than the 90 cases per day per 100,000 residents recorded in mid-March. It's closer to the rates seen in late June to early July of last year.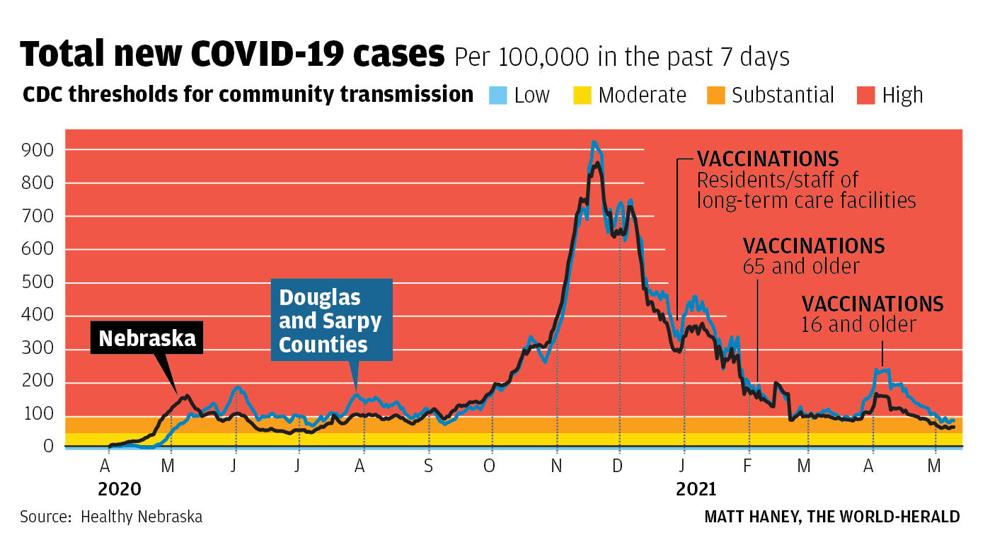 According to CDC data, Nebraska had 1,315 cases last week, roughly unchanged from the 1,300 the week before. Over the past two weeks, cases were down 46%, the fifth-steepest drop in the country. Cases are falling nationally, too: They're down 28%.
Nebraska also has seen a significant reduction in deaths related to the virus. In the past two weeks, the state has recorded 10 deaths. That's the lowest for a two-week period since the last week of March and first week of April 2020, in the pandemic's early days.
While case counts are not yet as low as they were late last summer, Nebraska's position is starting to look much better, even with COVID-19 variants circulating, said Dr. James Lawler, an executive director at the University of Nebraska Medical Center's Global Center for Health Security.
"The more we get above 50%," he said, "the better we're going to do, even in the face of some of these variants."
Lawler said low vaccination rates and few health measures such as masking and distancing, plus more transmissible variants, produce the kind of situation occurring in India right now. There, new case counts are high and hospitals are struggling to find beds and oxygen for patients.
British Columbia, Canada, on the other hand, had a large increase in cases of the COVID variant that originated in Brazil. But it battled back with strong health measures and ramped-up vaccination that focused on getting one shot into as many people as possible. The province, Lawler said, has turned a corner and has seen new cases decrease.
In Nebraska, vaccination rates vary by region, ranging Monday from nearly 54% in Lancaster County to about 31% in the North Platte-based West Central District Health Department, according to the state's dashboard. Whether a particular area reaches the level of herd immunity needed to protect residents can vary by location. The variables include how many people have been vaccinated and the effects of variants.
Ideally, Nebraska would reach a 70% to 75% vaccination rate, Lawler said, "and, hopefully, we'll get there eventually."
But doing so, he said, will require a continued push for vaccination. In communities where some people remain hesitant, that means finding advocates who are trusted voices in those communities, providing easy access to shots and continuing to provide data about the vaccines' safety and efficacy.
Meanwhile, studies continue to bolster the vaccines' real-world performance.
A May 5 study in the New England Journal of Medicine by researchers in Qatar found that residents who received two doses of the Pfizer vaccine were 75% less likely to develop a case of COVID-19 caused by the strain that originated in South Africa than those who were not vaccinated. They also were about 90% less likely to develop an infection caused by the strain first found in the United Kingdom. Hardly any severe cases were documented in fully vaccinated people for either strain.
In addition, Israeli researchers reported in the Lancet on May 5 that two doses of the Pfizer vaccine were "highly effective across all age groups" in preventing COVID-19 infections both with symptoms and without. And, with 61% of residents 16 and older having received at least one dose of the vaccine, they found "marked and sustained declines" in infections.
Dr. Bob Rauner, president of the Partnership for a Healthy Lincoln, noted in a podcast last week that vaccinating school-age children will be important in efforts to rein in the virus.
The Pfizer vaccine is approved for people 16 and older; the Moderna and Johnson & Johnson shots for those 18 and above. Monday afternoon, the U.S. Food and Drug Administration authorized the Pfizer shot for adolescents ages 12 to 15.
Douglas County Health Department officials have begun preparing to begin vaccinating that group.
Nebraska's population, based on U.S. Census data from July 2019, numbers 1.51 million residents ages 16 and older and nearly 424,000 under age 16. That includes nearly 107,000 in the 12- to 15-year-old bracket, said David Drozd, research coordinator for the University of Nebraska at Omaha's Center for Public Affairs Research.
Unlike the state, the CDC calculates vaccination rates based on those 18 and older. According to that measure, about 717,000 Nebraskans ages 18 and older, or about 48.7%, were fully vaccinated. That ranked Nebraska 15th-best among states. Iowa, with 49.2% of those 18 and older fully vaccinated, ranked 13th.
Nebraska's fully vaccinated population includes 78% of those 65 and older, which ranks the state 12th-best in that category. Iowa is in the top 10 in that category at more than 80%.
World-Herald Staff Writer Henry J. Cordes contributed to this report.
---