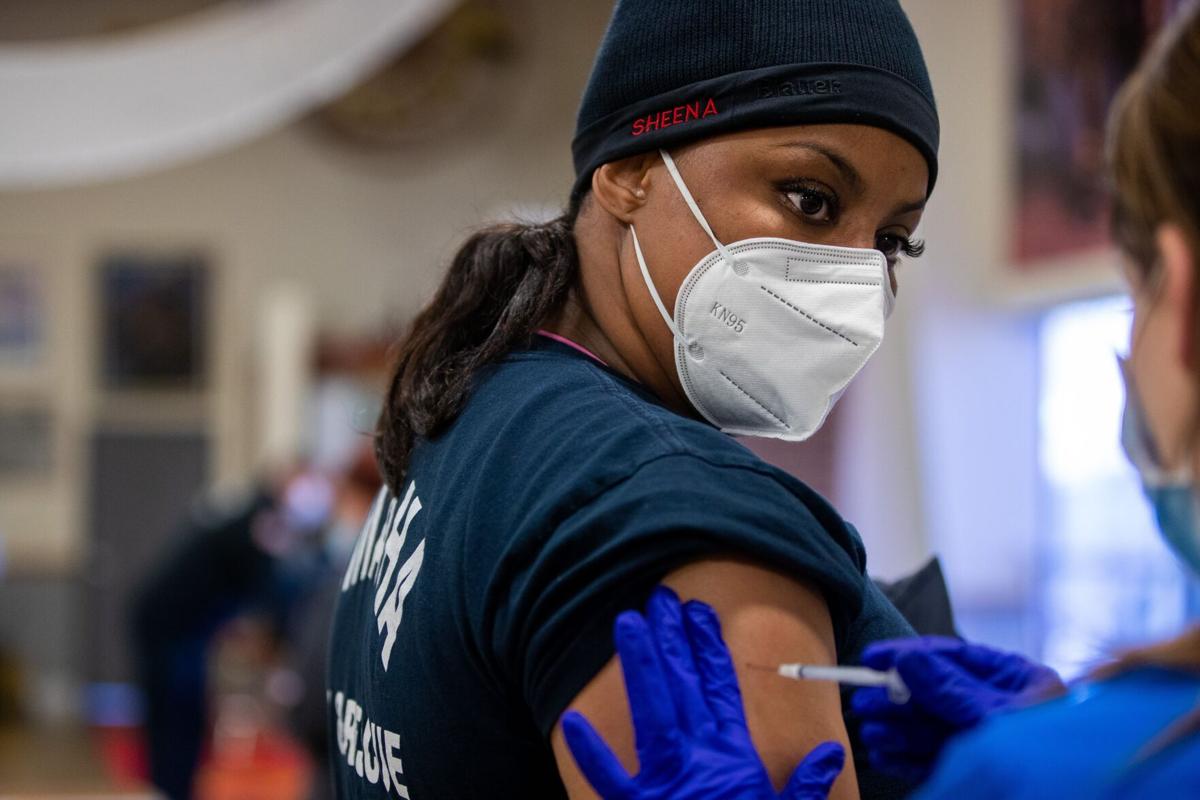 Nebraska is doing a good job of getting the COVID-19 vaccine it has received into the arms of those prioritized to receive it, state health officials said Thursday.
Health systems began vaccinating front-line health care workers Dec. 14. By Wednesday morning, more than 27,000 doses of the vaccines had been given to Nebraska hospital, health care and emergency medical services workers and others, the Nebraska Department of Health and Human Services said.
According to the federal Centers for Disease Control and Prevention's vaccine tracker, the state was among the top tier in getting the vaccine doses it had received out to its residents. Wednesday, Nebraska was among just over a dozen states that administered between 1,001 and 2,000 doses per 100,000 residents. Only two states — South Dakota and West Virginia — had injected more, some 2,000 or more shots per 100,000 residents.
"The state is doing well with distribution," Khalilah LeGrand, an HHS spokeswoman, said in an email.
Nationally, federal health officials acknowledged this week that the process of getting the vaccine into Americans' arms isn't moving as quickly as forecast.
Federal officials as recently as this month had cited a goal of immunizing 20 million Americans by the end of 2020. However, the CDC tracker indicated that just shy of 2.8 million doses had been administered Wednesday of the roughly 12.4 million doses that had been distributed.
At the same time, federal officials noted that the process is logistically complex, involving new vaccines with challenging cold-handling requirements. Even among health care workers, vaccinations are being staggered to avoid having too many workers sidelined by side effects at any given time.
The CDC tracker, last updated Wednesday morning, indicated that Nebraska had received 63,100 doses of vaccine. That's more than the 49,390 doses that the state reported having received on Monday, a sign that vaccine continues to arrive in the state.
LeGrand said in an email Thursday that all of the Pfizer and BioNTech vaccine that the state had received, except for the new doses that arrived within the preceding 24 hours, had been administered.
That vaccine requires super-cold storage and was sent initially to health systems with the freezers needed to handle it.
The Moderna vaccine, which is stored at more conventional temperatures, arrived just before the holidays. Because of the holidays and the staggered vaccination approach, LeGrand said, the state has administered about 25% of the Moderna vaccine it has received. She also noted that the most recent 11,200 doses had only just arrived in the state. Weather delays also have come into play.
"We expect these numbers to go up drastically in the next couple weeks," she wrote.
The state is not storing vaccine. The doses all have gone to the organizations that are vaccinating health care workers and long-term care residents and staff. Any extra doses from health care facilities are going back to local health departments to be given to health care providers in their communities.
Pharmacies involved in the federal program to vaccinate staff and residents of long-term care facilities also received their first allocations this week and have provided vaccinations in more than 100 facilities, LeGrand said. The program will run for approximately four to five weeks, with new allocations arriving each week.
Nebraska health officials planned to launch a new dashboard by the end of this week to help track vaccine distribution in the state. The dashboard will provide a daily total of first- and second-dose vaccinations as well as a breakdown of doses given by age, gender, race and ethnicity.
Federal public health officials said they expect the pace of vaccinations to pick up as soon as next week.
The CDC's Dr. Nancy Messonnier said long-term care facilities are likely to get more shots as the new year dawns. Messonnier attributed the slow rollout to public health departments being strained by the pandemic, launching the inoculation campaign amid the holiday season and the vaccines' special storage and handling requirements.
Locally, the Douglas County Health Department expected to have given 2,600 of the 4,500 doses it had received so far by the end of Thursday, said spokesman Phil Rooney. The health department held a vaccination clinic Thursday at the Omaha Firefighters Hall. Its doses are going to EMTs, paramedics, those who will be giving shots in the future and front-line health care workers who are not part of health systems.
Rooney said it takes some time to give vaccines because of the need to find locations where people who receive them can socially distance and remain under observation for any adverse reactions for 15 minutes. The clinics also are taking place amid holidays and snowstorms.
"All things considered, I think it's a pretty good operation," he said.
Vaccinations also began at long-term care facilities this week. Those shots are being administered through a federal program by CVS, Walgreens and local pharmacies.
A CVS spokesman confirmed Thursday that vaccination at long-term care facilities had begun in Nebraska. But no information was available regarding how many doses the pharmacy chain had administered.
CVS is slated to administer vaccines at 64 facilities in Nebraska, immunizing 8,618 residents and staff. In Iowa, it is in line to inoculate 49,836 individuals at 486 facilities. The vaccines will be given in three rounds — one each for first and second shots and a third to catch anyone who was missed.
This report includes material from Bloomberg News.
---
Our best Omaha staff photos of 2020