Health care workers across Nebraska are struggling under the recent surge in COVID-19 cases and the hospitalizations and deaths that have followed.
The workers say they are tired and worried about having to treat even more patients if Nebraskans don't take the necessary steps to slow the spread of the novel coronavirus. Their concern is that as hard as they try, a continued onslaught will compromise their ability to provide top-notch care.
As of Friday, 931 COVID-19 patients were being treated in Nebraska hospitals, more than double the number of a month ago.
Hospital workers say they want the public to take COVID-19 seriously.
Paige Pioppi, a pulmonology nurse practitioner at Methodist Fremont Health, has been taking care of COVID-19 patients almost exclusively since May. She has seen every coronavirus patient who has come through the hospital's ICU and has been ill enough to require oxygen.
The first patients were younger Latinos with links to meatpacking plants. They typically came to the hospital later in their illness and did not fare well.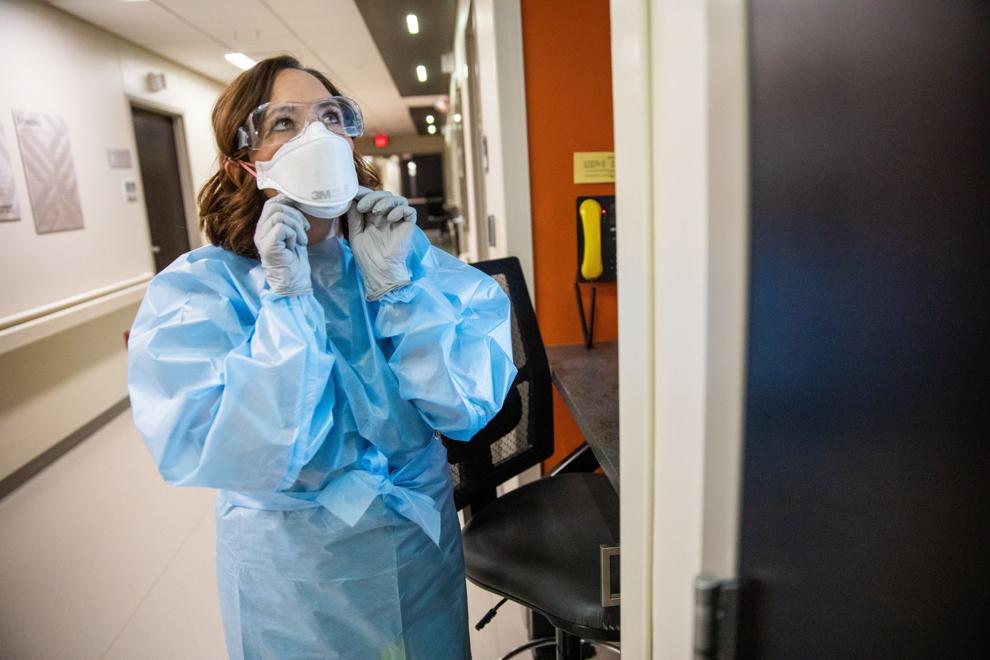 "It was devastating," Pioppi said, "because they were people with young families."
The number of patients dropped off for a while. Then, people started going to graduation and birthday parties and Fourth of July and Labor Day gatherings. Since then, Pioppi said, whole families have come in — parents in their 70s and their adult children, plus older adults from assisted living centers and nursing homes.
"It's really unpredictable who's going to be here now," she said. "But we still get random patients with no past medical history and with no explanation for why they're so severely ill. There's just a lot we don't understand."
As hospitals across the Midwest have scrambled to find beds for ill patients, the hospital has received patients from as far away as North Platte, central Iowa and Kansas, and has gotten requests from Wyoming and South Dakota.
Pioppi said she and others are working six days a week, 10 to 12 hours a day. She's scheduled to work Monday through Friday, but she typically comes in on weekends to check on patients.
"We just don't feel like we can hand over their care," she said. "I'm not doing it begrudgingly at all. We want to do it. But it's hard. I'm in the room with these older adults, some who've been in long-term care or assisted living (and) haven't seen their families since March. We've done that to protect them. But they end up in the hospital alone. And they're dying alone."
Pioppi and other staffers are the ones holding their hands. Family members are allowed in to see patients approaching death, but that may not leave enough time for everyone to visit, for final wishes to be conveyed, for needed reconciliations to take place.
Of course, nurses see good results, too. Recently, the hospital discharged a number of older adults who were eager to get back to work. "It was a very big celebration, for everyone," Pioppi said.
When people talk about the death rate from COVID-19 being low and continue with their usual activities, she said, it suggests that the dying patients whose hands she has held — the farmer, the factory worker, the retired physician — aren't valuable.
"Their lives have had value and purpose and meaning," Pioppi said, "and I feel like we're just throwing them away."
Meagin Skutnik usually works as a bedside nurse on a medical-surgical unit at the Nebraska Medical Center. Her floor now has been given over to caring for COVID-19 patients.
Such patients can decline quickly, sometimes with little warning.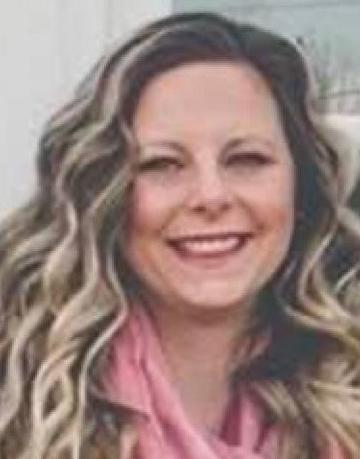 Recently, she was caring for an elderly woman with no underlying health conditions. In the morning, she and the woman were smiling and laughing together. A couple hours later, the woman's condition began to decline. Soon, Skutnik was on a Zoom call with the patient's family as they said their goodbyes. Later, she was with the patient while she took her last breath.
"It's hard, because at that time you're crying, because you feel bad.
"You can't wipe your eyes (because of protective gear) … tears are running down … hoping the patient doesn't see the same fear in your own face."
The disease doesn't just affect the elderly and those with underlying conditions. One healthy 30-something was hospitalized for more than a month.
Nurses Angie Sivertson and Abby Hager usually work on the med center's heart and vascular unit, which also has been transformed into a COVID-19 unit.
Both said it's hard for family members, because of visitor restrictions, to be the only one in the room with a dying loved one, wearing gloves, a gown and face shield, without other family members to lean on.
"I worry about the family's ability to grieve because it's not a normal situation (not to) have your loved ones around you when (you) grieve," Sivertson said.
In pre-COVID times, Hager said, groups of family members could come in. Staff would give them all the time they needed to grieve, sometimes even order them a food tray so they could stay with their loved one.
Sivertson and Hager said the hospital has lost some talented nurses to the stress and fatigue brought on by the pandemic, although they praised the health system for being innovative and supportive. Hospital officials have hired people to help with personal protective equipment and brought in some staff from clinics.
But it's not easy. Skutnik said she sometimes wears an N95 mask for six to seven hours straight. Some nurses have developed pressure sores on their noses from wearing the tight-fitting masks for so long.
"We're in this together, we're going to get through this together," she said. "... Now (people) just need to do what we can to stay home. It's to protect ourselves, our families and our community. The sooner we do it, the better we are doing it, the sooner we can go back to our norm."
Alisha Dunlap has wanted to be a nurse since she was 8 years old. But she didn't expect to work in an ICU during a global pandemic.
Many of her patients at Creighton University Medical Center-Bergan Mercy are on 100% oxygen and medications to maintain blood pressure. Some are on ventilators and can't communicate. She and her colleagues must serve as the go-betweens for patients and their relatives.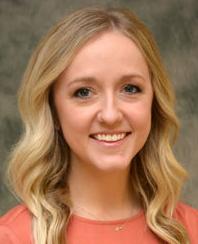 "The thing that sticks out to me is being there holding their hands," she said. "I want them to know I'm there for them, I'm on their team, I'm supporting them and I'm glad to be there holding their hand.
"... I couldn't imagine going through what they're going through (without) their family and friends … and I'm honored to be there for them."
With the increase in COVID-19 patients has come a need to move more patients, typically when they need a higher level of care.
CHI Health's transfer center, previously used to move patients among the health system's 14 hospitals, in April became the Nebraska COVID Transfer Center, which works with hospitals across the state to find beds for such patients.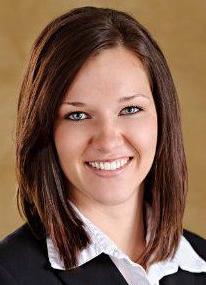 Kristen Blum, the center's manager, said hospitals now are having to look farther afield to find beds. The center relieves some of the burden by making those calls for them.
But it's challenging. The center is receiving about a dozen COVID-related calls a day on top of the usual non-COVID transfer requests.
"The time it might take to line up a transfer, to find a placement for a patient, can be much longer than we're used to seeing," Blum said. "That's because hospitals really are at their limits."
Air and ground ambulance services operated by Good Samaritan Hospital in Kearney also are seeing more calls than usual — ground is up 30 to 40 calls a week over the summer — and are transporting patients greater distances. Crew members wear full protective gear and disinfect vehicles when they return.
"Our staff are tired, but they're resilient," said Luke Ballmer, supervisor of Good Samaritan AirCare. "They're picking up extra shifts to get patients where they need to go."
Those who supervise hospital staff also worry about the toll the pandemic is taking on the members of their team.
Kyle Kreger, director of the critical care unit at Jennie Edmundson Hospital in Council Bluffs, said nurses in the unit are seeing more patients than they're used to, for longer periods of time, and form relationships with patients.
"Just to see them slowly deteriorate over the next week," he said, "and then ultimately to know in the back of their mind that a lot of them aren't going to make it out of the ICU …"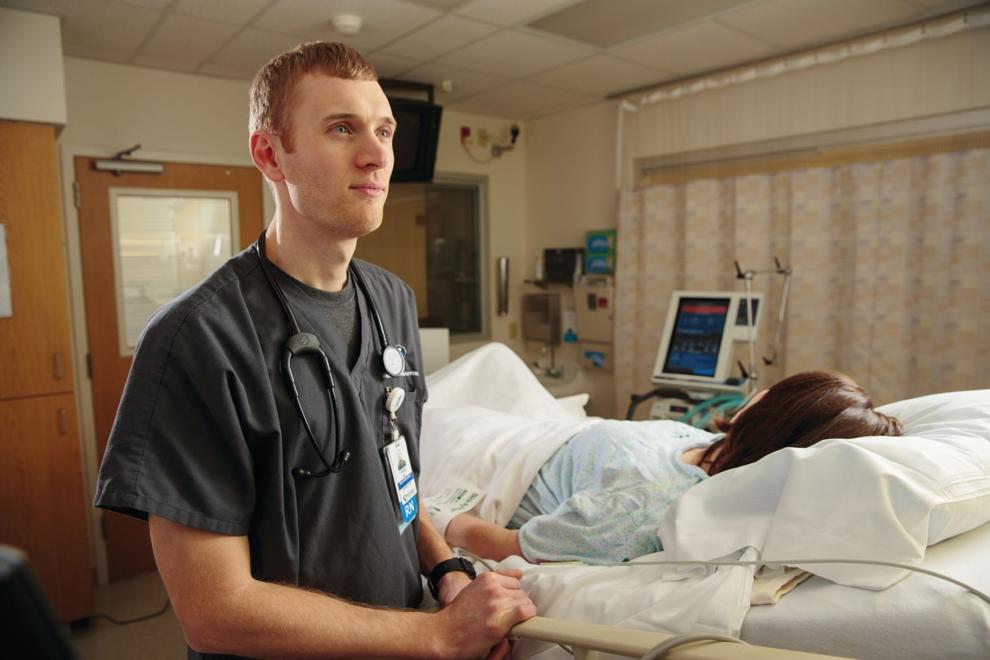 Some families have written notes to the nurses to tell them what they have meant to the family. "The nurses need to hear that stuff," Kreger said, "but it's very difficult because they realize this person's now gone."
As the unit director, Kreger's job is to make sure the staff is providing appropriate care, sometimes with fewer resources and staff, and to make sure they are mentally ready to perform it. That, he said, has been difficult.
The work has been the most difficult thing he has ever done, not just because of the patients who have died but also because of how long the pandemic has gone on.
"From the minute you wake up to the time you go to bed, if you can fall asleep, if you can shut your mind off, it's basically all you have to think about," Kreger said. In his case, the list includes thinking about what changes need to be made and how to adjust staff.
But he said he's also learned what an incredible team he has in the ICU.
"The staff that are here today have been here throughout the whole (thing) and really haven't wavered," he said. "At times, I think they've been frightened and unsure of changes … but they've stuck with the organization and trusted me to make decisions that are impacting them. I think we've done a pretty good job. I think we've learned a lot about ourselves and what we can deal with and accomplish."
Tim Hoarty, service leader of Methodist Hospital's critical care unit, said his ICU staff has done an amazing job of keeping focused. They have worked to build that mindset and develop the coping skills to go with it.
But the pandemic is challenging that. "I think we're in good shape right now from a hospital and staffing perspective. … But that's a constant worry for me: How are they doing, how are they going to be handling it … what long-term effect will this have on my team, what long-term effect is it going to have on me."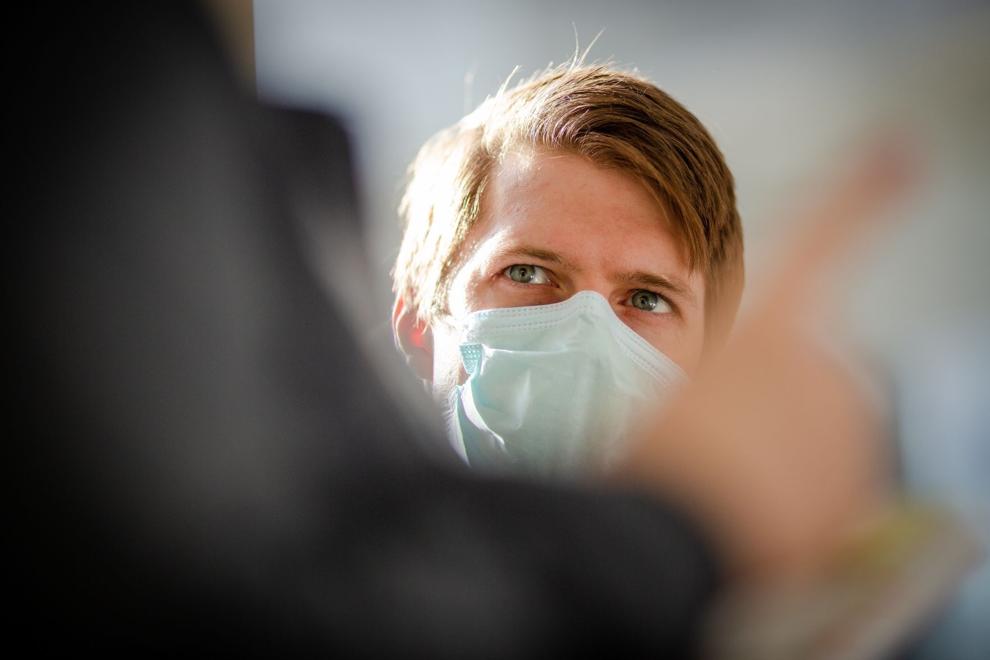 Hoarty said he has to remember that his staffers need breaks so they can stay at their best.
"When you're here in the building, you can feel the intensity at times," he said. "Certain days are more tense than others, certain days are more light than others. ... We have town hall meetings, where I'm checking on the pulse of the unit. I always end with 'Take care of yourselves, stay well.' "
Hoarty also is aware that people can't see what's happening inside hospitals. "I don't know how else to tell people, but this is real, and it's something (that) if we're not doing the right things, will continue to get worse," he said. "That creates anxiety and fear in a lot of us in health care. We're already here. How much worse could it get?"
He and others also worry about their own families. His daughter was born in January. When March hit and little was known about how the virus spread, his wife and daughter moved in with his in-laws. They lived apart for two months, FaceTiming a lot and meeting a couple of times. But he couldn't hold his daughter.
Eventually, the couple realized the pandemic wasn't going away. Hoarty's wife and daughter returned home on Mother's Day, but his daughter was afraid of him at first.
Kreger, too, said he lived apart from his family for a while: "Everybody's had to figure out how to do this and make it work."
Sara Wattier, a nurse practitioner who works in critical care at the Nebraska Medical Center, said that over the months of the pandemic, providers in the unit have learned what to look for when patients aren't likely to do well.
By that point, they have developed relationships with the patients and their families. And they have to prepare those family members for what may come.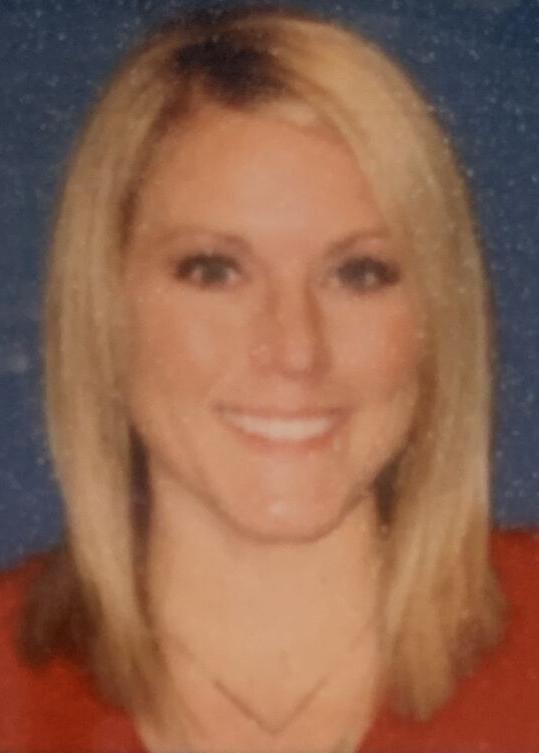 "You just want to hug them. You just want to wrap them up and pour all your love into them … but there's rules against that," said Wattier, a mother of two who's pregnant with her third child.
The medical center recently opened a comfort care unit where patients who are not doing well and don't want advanced life support can be kept comfortable.
"That's a gut punch," she said. "We talked about that in the spring, but we never needed to do it."
Crystal Sainato, who has been working with COVID-19 patients at the medical center since April, volunteers for shifts in that unit.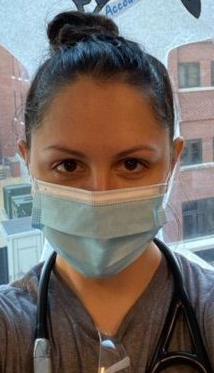 Before becoming a nurse in 2015, Sainato was a military truck driver and combat lifesaver, serving a couple of postings in Iraq.
Some patients, she said, don't have relatives who can be with them. "I don't want people to die alone," Sainato said. Even for those with family, visitors are limited.
Sainato said she wants to be able to care for her patients as she did before COVID, to go in and sit and talk to them whenever she can. Today, those casual pop-ins are limited, particularly by the need to conserve PPE.
In addition to nurses and doctors, care technicians, therapists, pharmacists, cleaning people and others all play important roles. "It's a huge team effort," she said. "Without one part, it would really all just tumble down."
Sainato, Wattier and others said they all have had times when they have gone around a corner or down a hallway and broken down in tears. Sainato said nurses support each other in that. "It's like a relationship," she said. "Sometimes, you're the strong one, (sometimes you're) the one who needs the shoulder to cry on."
But Wattier said what keeps her up at night is the worry about what happens if the health system maxes out its resources and people keep coming in with heart attacks and after accidents. "If there's one nurse left," she said, "what happens to person No. 2 when there's no room left?"
"If more people can help and chip in and hang on a little longer, I have full confidence that (a) vaccine is coming and will release that pressure … and (we'll) start to get back on top of it. But we just need a little more time."
---
Our best staff images from November 2020