Nebraska health care workers rolled up their sleeves Monday and received the first shots of the new COVID-19 vaccine.
In Omaha, five front-line health care providers got their shots Monday afternoon at Creighton University Medical Center-Bergan Mercy. Early Monday, the hospital received four containers holding a total of 3,900 doses.
In Lincoln, Bryan Health received about 975 doses and began giving shots at 12:30 p.m. The health system anticipated vaccinating 400 health care workers Monday.
For the staff at Bergan, the start of the long-awaited vaccination effort was marked by excitement and emotion.
Amanda Clanton, an ICU nurse, said she has been praying for a vaccine since March. It has been difficult, she said, to lose patients to the virus.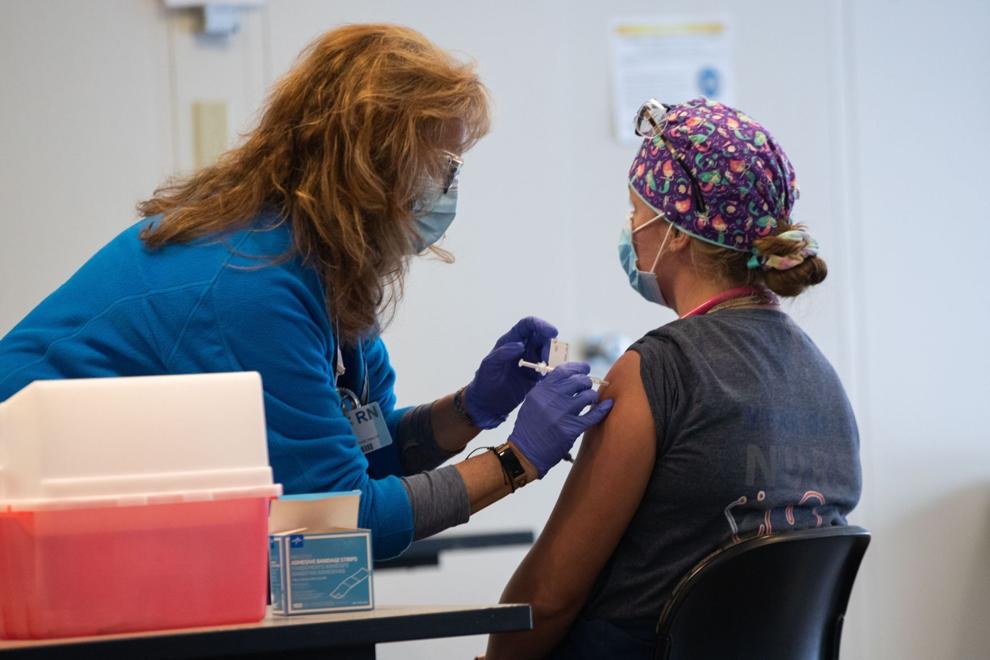 "We're all exhausted, and there is light at the end of the tunnel," she said.
Nurse Heidi Darty said she hopes that this will be the beginning of the end of the pandemic.
"We're just as ready to get back to normal as everyone out in the public," she said.
Dr. Eric Kuncir, a trauma surgeon, said he feels fortunate to receive the vaccine. While providers take strong precautions, not everyone who arrives in the emergency room has been tested. Kuncir and his colleagues want to take care of people in need. To do so, they need to be healthy.
"That's really our goal, to keep caring for the community," he said.
The providers also have worried about bringing the virus home to their families.
Mike Tiesi, CHI Health's vice president of pharmacy, got to handle a vial of the vaccine Monday morning as pharmacy staff moved doses from an ultra-cold freezer to a refrigerator, a first step in thawing and preparing to administer the shots to the health care workers.
"It is hope in a bottle and an early Christmas present for all of us who have been dealing with the pandemic" since early 2020, Tiesi said.
Tiesi said most of those first doses will remain at Bergan. Some will be distributed to other facilities. The hospital is working with Douglas County and the State of Nebraska on that distribution.
Shipments are expected to arrive Tuesday at St. Elizabeth Hospital in Lincoln and St. Francis Hospital in Grand Island. CHI Health officials said they plan to begin vaccinating at locations across the state beginning Tuesday.
Nebraska Medicine and Methodist Health system also expect to receive their first shipments Tuesday. Methodist is slated to begin giving the vaccine to health care workers Wednesday. Nebraska Medicine likely will hold its first vaccine clinic Thursday. Bryan officials said they are tracking another shipment due Tuesday.
The vaccine was approved for emergency use in people 16 and older late Friday, hours after it was OK'd by a Food and Drug Administration advisory panel.
The vaccine is seen as a sign of hope in a beleaguered nation in which cases and deaths reached record highs last week and hospitals in many parts of the country have been stretched to their limits.
New cases and hospitalizations in Nebraska dipped last week, although both remain higher than the number seen last spring.
Tiesi stressed that the arrival of the first batches of vaccine, while good news, is just the start of what will be a long process to vaccinate enough Americans to battle back the virus.
Health experts have estimated that roughly 70% of Americans will need to be vaccinated to achieve herd immunity, the point at which so many people are protected that the coronavirus can't easily find new people to infect.
Thousands of Americans already have received the vaccine as part of clinical trials, which indicated that it is 95% effective after two doses. And more vaccines are in various states of development. On Thursday, an FDA panel is scheduled to review another vaccine developed by the biotech company Moderna and the National Institutes of Health.
"This is just a start, (but) it's an exciting start," Tiesi said. "Today is probably one of the most exciting and historical days in my career, almost 40 years of it."
Tiesi said the hospital workers will not be required to get the vaccine. But Bergan, like other hospitals, will be staggering the doses among departments so any side effects that may arise don't sideline too many workers at once.
The people getting the Pfizer vaccine this week will have to get another shot three weeks from now for the vaccine to be fully effective. The Moderna vaccine also requires two doses.
Dr. Sebastian Lane, a resident in family medicine, said getting the vaccine as an African American physician was another way he could lead by example.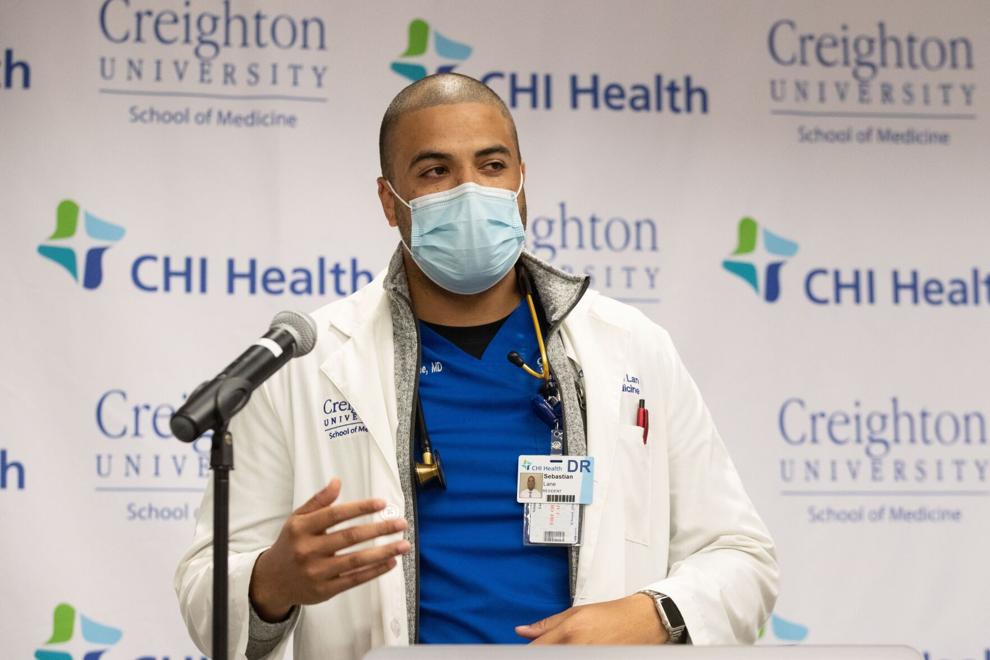 Concerns have arisen about acceptance among communities of color because of historical events such as the Tuskegee experiments involving African American men.
"I'm very comfortable and feel safe receiving this vaccine," Lane said.
Health care workers will continue to wear protective gear even after they receive the vaccine.
The vaccine has to be kept at between 60 and 80 degrees below zero until the time comes to administer it. Containers arrive on dry ice with a digital tracker.
"This is the hope we've been looking for, waiting for," Tiesi said, "and I can't wait until this gets into the arms of the general public" this spring.