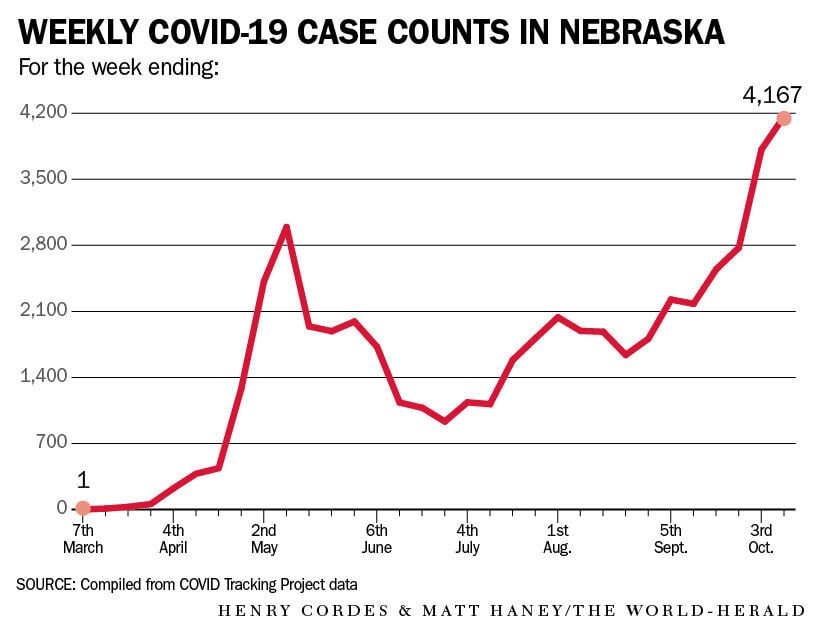 In April and May, Nebraska's COVID-19 cases were concentrated in close-quartered meatpacking plants and nursing homes, as well as in the larger cities of Omaha and Lincoln.
But the current surge comes as the virus has spread into rural areas, not just in Nebraska but also across much of the Upper Midwest and into the Mountain West.
Such increases have contributed to a surge in the nation as a whole. The United States topped 60,000 new cases on Thursday, the highest daily tally since July.
In Nebraska, new cases for the first two weeks of October set successive highs, with the week ending Oct. 10 coming in with the 11th-highest increase by percentage in the nation, according to a World-Herald analysis.
The current week appears to be on an even higher trajectory. On Thursday, the state was averaging 767 new cases a day over the preceding seven days, up from 545 cases a day for the seven days that ended Oct. 3, according to state data.
Both figures topped the average of 427 new daily cases on May 8, the earlier peak of COVID-19 cases in Nebraska.
Hospitalizations, too, have ticked up steadily since the end of September. On Thursday, 323 Nebraskans were hospitalized with COVID-19, a number nearly 40% higher than the previous peak in late May.
With the increase have come warnings, both from community physicians and pandemic experts at the University of Nebraska Medical Center, that the state could see even more hospitalizations in the coming weeks as some of that growing number of infected people become ill enough to require hospital care.
That, they warned, could further strain the state's hospital capacity and, more importantly, its health care workforce.
Douglas County, too, appeared poised to hit its third successive peak in new cases. On Friday, the county had tallied 1,349 new cases over the preceding seven days, an average of almost 193 a day.
That was up from 1,214 cases for the week ending Oct. 10 and 1,110 cases during the week ending Oct. 3.
The county's spring peak was 1,101 for the week ending May 30.
Douglas County on Friday was adding cases at an average rate of 34.1 per 100,000 residents, slightly under the state average for new cases.
World-Herald staff writer Henry J. Cordes contributed to this report.Our best staff images of October 2020
Omaha World-Herald: Live Well
News, advice, a calendar of fitness/race events from Live Well Nebraska and occasional offers will keep you in shape and informed.