After a fast start to getting COVID-19 shots into people's arms, Nebraska has settled into the middle of the pack when it comes to administering vaccines.
The 285,708 doses administered as of Sunday put Nebraska at 33rd among states in total doses given per capita.
The state has done better when it comes to delivering the full two-dose regimen, according to data from the federal Centers for Disease Control and Prevention. A total of 58,356 Nebraskans had gotten two doses of vaccine as of Sunday, ranking the state 16th per capita.
When looking at the per-capita number of people who have gotten at least one shot, however, the state ranked 42nd nationally.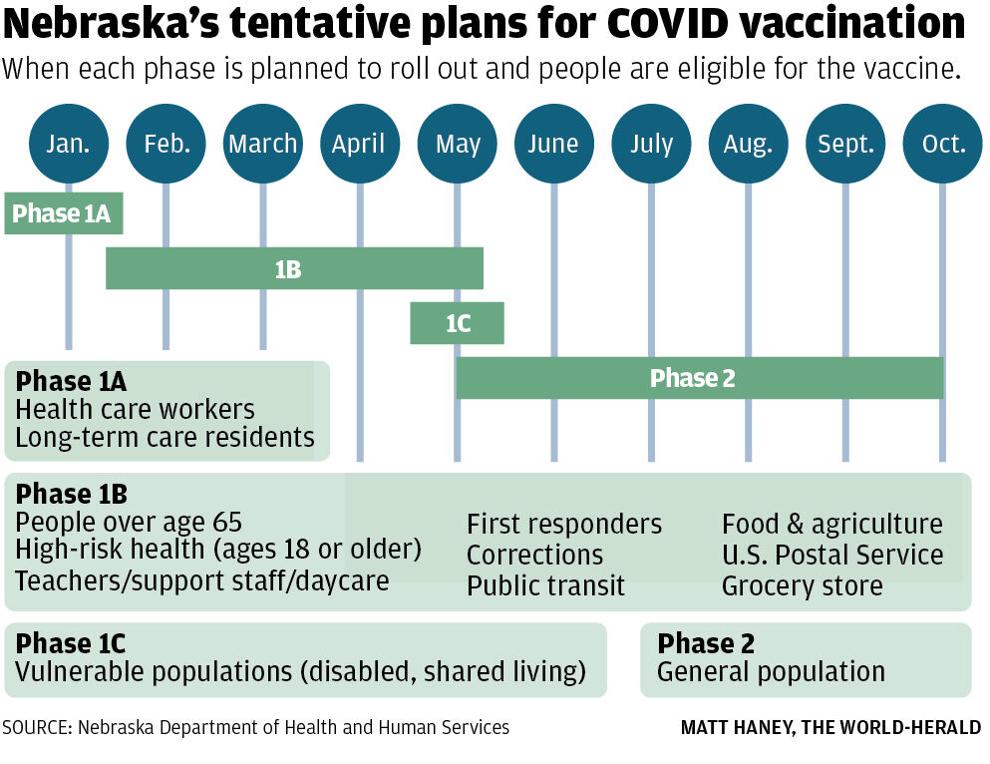 In a response to a question about whether the state's vaccine rollout is too slow, Nebraska Gov. Pete Ricketts said Friday that 95% of the first doses allocated to the state had been administered. As for the two-dose ranking, he said the state wants to rate higher.
But he pushed back against the notion that the rollout isn't moving quickly enough.
"Right now, Nebraska is doing a very good job and our local health directors are doing a very good job of getting the vaccine out," he said during a press briefing.
Dr. Ali Khan, dean of the University of Nebraska Medical Center's College of Public Health, also said Nebraska is doing comparatively well compared to the U.S. as a whole. A former CDC official, he has worked on global polio vaccination campaigns.
Some, however, have called for accelerating the pace.
"We need to speed our rollout up," said Dr. Bob Rauner, a Lincoln physician and president of Partnership for a Healthy Lincoln.
Nebraska continues to have an above-average backlog of shots that have been distributed but not administered. The state as of Sunday had administered 70% of the shots distributed, up from 66% last week. The national average was 76%.
According to CDC figures, the state administered about 55,000 shots last week, 1,700 more than the preceding week.
State officials haven't offered much explanation for the disparity between one-shot and two-shot rankings. The margin suggests Nebraska did well when it came to vaccinating health care workers and long-term care residents, the first priority group, but lost steam somewhere along the way.
Ricketts said the state is farther ahead in its efforts than a federal pharmacy program through which pharmacies have been administering shots in long-term care facilities.
The state now separates its vaccine data from that reported through the federal program. According to the state's data dashboard, the state on Friday had been allocated a total of 262,750 doses and administered 220,048. It had administered 95% of first doses and 64.5% of second shots.
The pharmacy program had been allocated 87,500 doses and administered a total of 35,146 doses. That breaks down to 71.3% of first doses through that program and 48.6% of second doses.
Ricketts noted that a lag likely exists in reporting for the pharmacy program. That program reports first to the federal government, which then reports to the state.
Ricketts has praised Community Pharmacy in Gretna for doing a "fantastic" job of delivering shots, noting that it is ahead of Walgreens and CVS. CVS gave its first round of shots Jan. 18; Walgreens followed Jan. 28.
Khan said the state was fast out of the gate because it started off with the relatively easy task of vaccinating health care workers in a few buildings.
As it moved into long-term care facilities and the 65-and-older group, the job got harder. But the state is doing what it needs to get more efficient, he said.
"The program is getting stronger every week," Khan said, "and we see that with the increased number of people getting vaccinated."
But Rauner said it's taking nearly two weeks, by his calculations, for vaccines coming into the state to get into arms.
"As soon as it gets into Nebraska, you want it in an arm in three to five days," he said.
Rauner also has called for getting more doses injected as first doses and holding back fewer second doses.
Nebraska continues to lead Iowa, which ranked 37th in all shots per capita and 39th in two shots. But Iowa administered 128,000 doses last week, up from 76,000 the week before and seventh-best per capita. That also was enough to boost Iowa's overall ranking in shots from 47th the week before.
Dannette Smith, CEO of the Nebraska Department of Health and Human Services, said she led a team of 15 in a recent planning session to prepare for an expected increase in vaccine allocations from the federal government.
The feds already have stepped up distributions of vaccines to states. Thursday, President Joe Biden said his administration had finalized agreements for another 200 million doses of the two approved vaccines. That's expected to provide the nation with enough vaccine by the end of July to cover every adult in the U.S.
The Nebraska department, Smith said, is developing a Vaccination Action Team that will focus on distributing vaccines, verifying that everyone who should have gotten shots has received them, maintaining good communications about vaccines and coordinating with a new federal retail pharmacy program that is beginning to send a limited number of shots to select Walmart stores and community pharmacies.
Outreach and vaccination efforts will address communities of color and rural residents, among others. The agency is planning to work with home health agencies to help vaccinate the homebound in their residences.
"We want to make sure we're doing a better job, that we're moving from (the state's current ranking) all the way to No. 1," Smith said. "That's our goal."
Smith also said she sees the current clamor for vaccines as a positive sign that Nebraskans understand the importance of getting the vaccine.
"We want people to continue to clamor to get the vaccine so that when they get here and their priority is called up, we can get them vaccinated as soon as possible," she said.
Nebraska, meanwhile, saw an uptick in cases of COVID-19 for the week that ended Saturday. Last week's 3,606 cases were up from 2,851 the week before. That 26% increase was the highest in the nation. Nebraska was one of only six states to see an increase in cases last week.
Overall, however, the weekly total was a fraction of the numbers seen during last fall's surge and still is less than the totals recorded two weeks earlier.
The uptick in cases might raise concerns that coronavirus variants, which have fueled surges in the United Kingdom and other places, are at work. However, Nebraska Public Health Laboratory officials said Monday that the variants have not been detected in Nebraska.
Iowa's case counts continued to fall. Iowa had 150 fewer cases last week than Nebraska despite its 50% larger population.
COVID-19-related deaths in Nebraska continued to fall. Last week's 34 deaths were down from 48 the week before and were the lowest since mid-October. Hospitalizations dropped below 200 for the first time since late September and are down 80% from their peak of nearly 1,000 in late November.
---
Everything you need to know about COVID-19 vaccination