Nebraska's COVID-19 cases, hospitalizations and deaths all hit their highest point in nearly a year last week with the delta surge showing no signs of abating.
As of Thursday, 611 Nebraskans statewide were hospitalized with COVID, the highest figure since Dec. 15, 2020, according to a World-Herald analysis of federal Centers for Disease Control and Prevention data. That was a time before vaccines were available.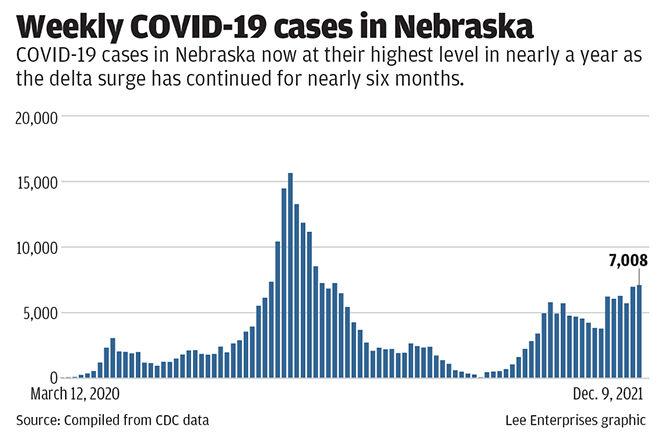 For the week ending Thursday, Nebraska posted 7,008 new cases of COVID-19, the first time weekly cases have surpassed 7,000 since the first week of January. Nebraska also reported 80 COVID-related deaths last week, the highest since the second week of January. 
Nebraska's case rate put it at No. 19 among a group of mostly Northeastern and Midwestern states experiencing the fall surge. Four states now have called in their National Guards to help staff hospitals or nursing homes. 
In Nebraska, the delta surge began in June, just as Nebraska Gov. Pete Ricketts lifted the COVID-19 state of emergency.
The surge is the most extended the state has seen during the pandemic, with hospitalizations plateauing at a high level during much of September and October before beginning a steep climb last month.
Ricketts said in a statement Monday that Nebraska hospitals had 987 COVID-19 patients in November 2020 and provided excellent care. The current count is about 60% of last year's peak. "Doctors and nurses across the state continue to provide great care for Nebraskans," he said.
Nebraska Medicine officials on Monday further limited the type of surgeries performed at the Nebraska Medical Center because of the demand for inpatient beds and the effects of COVID-19. As of Monday, the hospital was operating six COVID units and anticipated opening a seventh this week. 
Dr. James Lawler, a co-executive director for the University of Nebraska Medical Center's Global Center for Health Security, said the delta surge may not slow for a couple of weeks. He also expects to see more omicron cases in late December or January and for influenza cases to begin piling up.
Health systems have nowhere near the resilience and capacity they had last fall, he said. Hospitals were able to clear a lot of beds ahead of that anticipated surge. But this fall, they have seen increases in patients seeking regular and delayed care on top of the COVID influx. Hospital staff are burned out, and some have left hospitals across the state. 
"There's much less reserve and flexibility now than we had a year ago, and I think we're only entering the really bad part of this respiratory (virus) season," Lawler said. "I think we're going to get the triple whammy of delta, omicron and flu."
Several local doctors also tweeted over the weekend about the toll of working in their hospitals' intensive care units and seeing so many patients critically ill.
Nebraska continues to lag in vaccinations, according to CDC data. Only 58.7% of Nebraskans now are fully vaccinated, below the 60.8% U.S. rate and ranking 25th among states.
Ricketts again urged vaccination as the best available tool to reduce the likelihood of severe illness and hospitalization, noting that more than 90% of Nebraskans over age 65 have been vaccinated. "I encourage Nebraskans to consult their doctor about vaccination, especially those at higher risk from the virus due to age or medical condition," he said in his statement.
The percentage of Nebraskans fully vaccinated is inching up, gaining .8% last week over the previous week.
"There still are adults who've been eligible for a long time who are getting vaccinated," Lawler said. "It's not a hopeless cause. Our community leaders could have a huge impact if they could advocate strongly for vaccinations."
But of the 75,000 new doses administered last week, nearly two-thirds were boosters. Only 35.6% of Nebraska children ages 5 to 17 have received at least one dose. That's less than half the rate of top-ranking states and ranks 28th among the states. 
Lawler said most patients hospitalized with COVID are younger people who are unvaccinated, older people who haven't gotten boosters and people who are immunocompromised. He also encouraged masking in public indoor places.
State health officials said last week that people who are not fully vaccinated now are 14 times more likely to be hospitalized with COVID-19 than those who are fully vaccinated.
In Iowa, those not fully vaccinated make up 79.6% of patients in intensive care with COVID and 77.1% of those hospitalized with the virus.
Colorado Gov. Jared Polis last week spoke more bluntly about the mostly unvaccinated patients filling up that state's hospitals. 
"Everybody had more than enough opportunity to get vaccinated," Polis told Colorado Public Radio's Ryan Warner, adding: "At this point, if you haven't been vaccinated, it's really your own darn fault. ... Those who get sick, it's almost entirely their own darn fault."
---