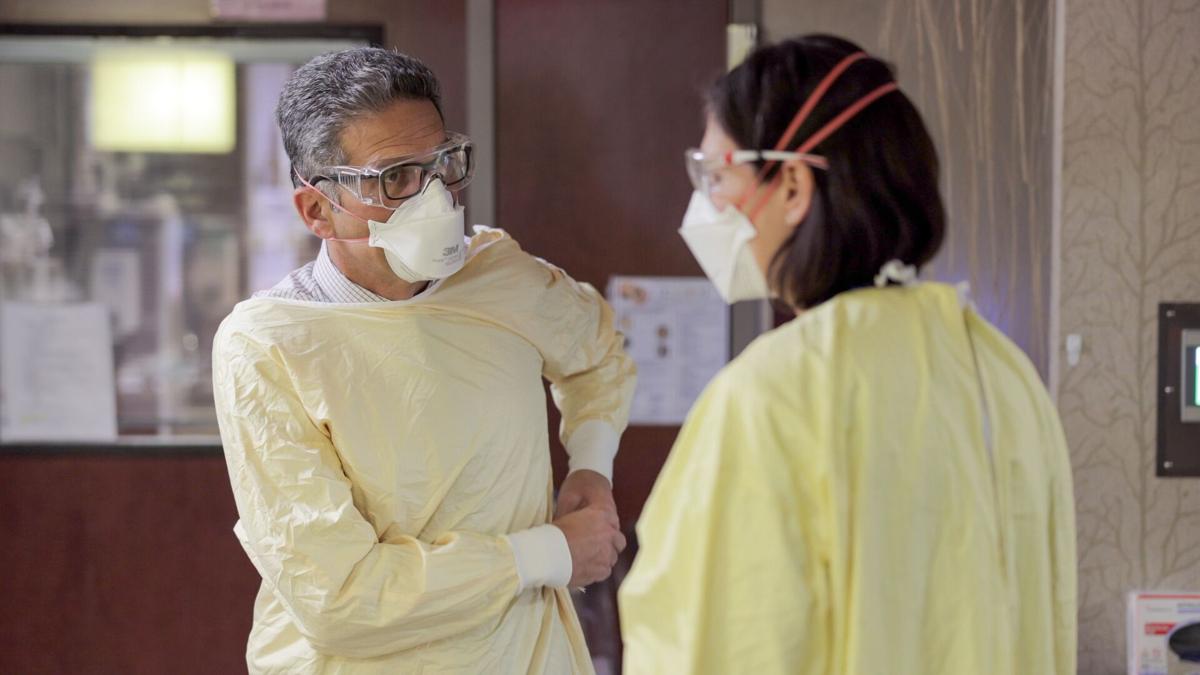 With the highly contagious omicron variant taking hold in the Omaha area, hospital systems are revamping mask policies for employees and visitors.
CHI Health announced Friday that employees involved in direct patient care will be required to double mask, wearing a medical-grade surgical mask beneath a cloth mask. They also have the option to wear an N95.
Visitors will continue to be asked to wear surgical masks.
The change was prompted in part by the highly contagious nature of the omicron variant and by national trends of health systems having a significant number of employees out sick with the illness, said Dr. Renuga Vivekanandan, chief of infectious disease with CHI Health and Creighton University.
"It's really important to have good masking so that we're able to continue to work and have a safe environment to take care of our patients," she said.
Officials at the Nebraska Medical Center changed the mask protocol for visitors Thursday. Visitors must now wear a well-fitted, hospital-grade, multilayer procedural mask inside facilities. Cloth masks, gaiters, vented masks and bandanas are not allowed.
Approved masks will be available at entrances for those who do not have one. Visitors are encouraged to wear their own non-vented KN95 or N95 masks if they have one.
In a video posted to social media, Dr. Kelly Cawcutt, an infectious disease and critical care physician at the med center, encouraged Omahans to wear high-quality masks like three-ply surgical masks, N95s, KN95s or another high-level respirator that does not have an exhalation valve.
Employees are also required to wear a multilayer procedural mask, a hospital spokesman said. They also have the option to wear an N95 or a non-vented KN95. Employees are encouraged to avoid in-person meetings and work remotely, if possible.
Methodist Health System requires visitors to be screened and wear surgical masks, regardless of their vaccination status.
Employees have been wearing surgical masks at all hospitals and clinical locations, a Methodist spokeswoman said.
Visitors at Children's Hospital & Medical Center are required to wear a well-fitted ear loop mask issued by Children's, consistent with the requirement for staff, a spokeswoman said.
At CHI Health, the goal of the change is to keep employees healthy and able to provide patient care.
Of 11,000 employees, Vivekanandan said, about 200 are out sick. Nationally, she said, other large health systems are seeing 500 to 1,000 employees out sick.
"We want to be able to prevent that," she said.
Wearing a cloth mask over a surgical mask provides a tighter seal. Up to 85% of particles are filtered out by double masking, Vivekenandan said. That compares with a little less than 60% for a procedural mask by itself.
Surgical masks are better at filtering virus droplets than cloth masks, said Dr. David Quimby, an infectious disease physician at CHI Health and Creighton. The surgical masks, he said, have a microscopic charge that can collect air droplets that cloth masks can't. Layering a cloth mask over a surgical mask provides a snugger fit around the face, lessening gaps and holes.
Quimby demonstrated different mask options on a video call with reporters.
When he was wearing only a surgical mask, Quimby's glasses fogged significantly, and gaps formed between the mask and his cheeks. With a cloth mask placed over it, the gaps were significantly tighter against his face, and his glasses fogged much less.
Wearing a medical-grade N95 mask gave Quimby the tightest fit. But an N95 purchased from a home improvement store was another solid option.
Foggy glasses are an indicator that a mask is loose at the top, but masks can also become loose at the bottom and sides.
N95s and other personal protective equipment have been and still are the protocol on COVID-19 floors and around coronavirus-positive patients, the doctors said.
Earlier in the pandemic, variants were less contagious, and a single mask was pretty good at preventing spread, Quimby said. Because omicron is so contagious, people need higher levels of protection.
The change is something the public can adopt, too, Vivekanandan said. Although she doesn't know how many people will adopt double masking, any mask in public — especially surgical — is good.
People shouldn't dismiss omicron as "just a cold," Quimby said. People are less likely to wind up in the hospital with this variant than with delta, he said, but with more people infected, that leads to more people in the hospital overall. The U.S. also has a significant portion of the population that is unvaccinated.
"We're doing what we can to keep our lights on and the floor staffed," Quimby said. "So far, we're doing well with that. Don't buy into the 'It's just a cold.' It might be mild in a lot of people, but not everybody is so lucky."
Vivekanandan said health care providers expect to continue seeing high case counts in the community, leading to an increased number of hospitalizations.
"In the next four weeks, it's going to be really important to bring the infection rate down to help everybody in the health care community," she said. "Wearing a mask in the outpatient setting is really important."
And, she added, it's not too late to get a COVID-19 vaccine or a booster dose.
---