At one point, Trevor Larson couldn't feed or dress himself.
He struggled to sit up on his own. And attempting to stand up left him breathless and exhausted.
Larson had to relearn basic skills after a bout with COVID-19 led to multisystem inflammatory syndrome in adults.
Now the 26-year-old Omahan is in physical therapy sessions three times a week. He's able to walk, hold planks and tackle other strength-building and cardio exercises.
"Anybody can get it," Larson said. "I had no preexisting conditions. I was very healthy, and it got me. Just take it seriously."
Multisystem inflammatory syndrome, which can affect multiple organ systems, is more commonly seen in children. As of April 22, the Nebraska Department of Health and Human Services had recorded 41 cases of the illness in children, with no deaths. Nationally, 2,617 cases have been recorded in children, with 33 deaths.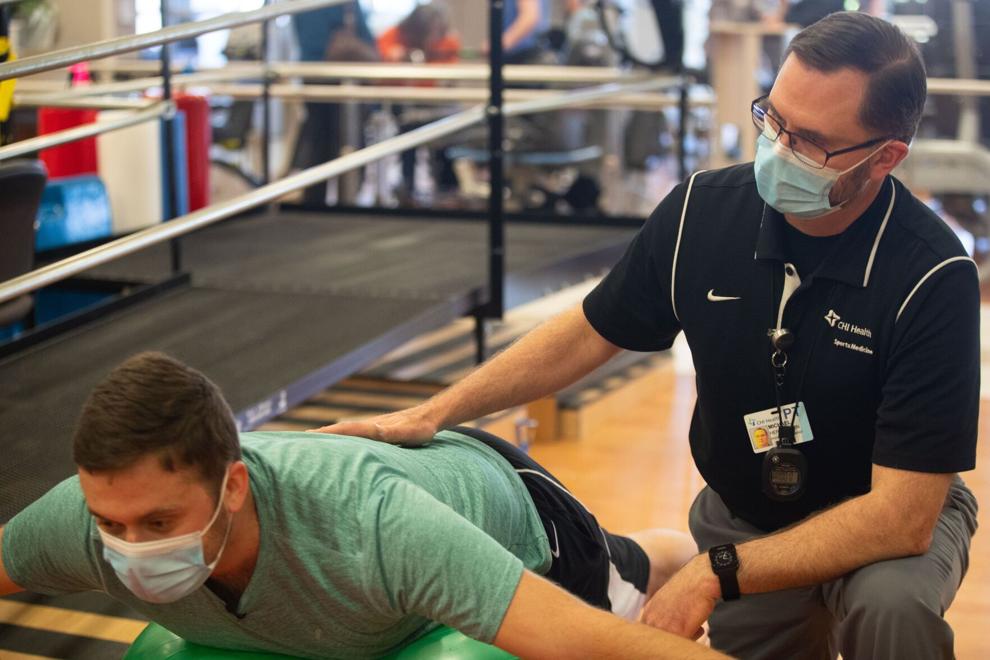 Less is known about the condition in adults, HHS said, and case counts have not been formalized. One study published in October 2020 did describe 27 cases of multisystem inflammatory syndrome in adults in the United States and the United Kingdom.
Larson said he thinks he contracted COVID-19 in late January after a brief exposure to a roommate who had tested positive for the disease. Larson didn't develop symptoms, but by early February, he started to feel sick. He had a fever and felt nauseated and weak.
He asked his parents to drive him from his midtown Omaha home to his primary care doctor. The doctor reviewed X-rays and told Larson to head to the hospital. After several hours at Lakeside Hospital, Larson was taken by ambulance to Creighton University Medical Center-Bergan Mercy.
"Once they took me into that ER area at Bergan, I don't remember anything," Larson said.
He spent the next eight days sedated.
CHI Health physicians said they have treated a handful of patients with MIS-A. In all of those cases, patients have been treated by a team of doctors whose specialties include infectious disease, cardiology, pulmonology and rheumatology.
"We all work together to make sure the patient receives the right treatment and we continue to follow them," said Dr. Renuga Vivekanandan, an infectious disease doctor with CHI Health.
The syndrome can show up four to 12 weeks after someone contracts COVID-19, Vivekanandan said. Larson's previous COVID tests came back negative, but once he was admitted to the hospital, an antibody test came back positive. Patients with the syndrome come in very sick, often with kidney, liver or heart failure, said Dr. Joseph Nahas, Creighton's division chief of rheumatology and program director of internal medicine.
The severity of the syndrome varies by patient. Patients requiring life-support measures, such as Larson, are on the more severe end of the spectrum.
When Larson arrived at the hospital, his blood pressure was low and his heart wasn't functioning the way it should, said Dr. Selma Mohammed, a cardiologist.
Larson had to be put on a heart pump as well as kidney dialysis and a ventilator. He also was given a handful of medications to help with inflammation.
For days, Larson didn't show signs of recovery.
"It was gut-wrenching to walk into his room every day and tell his mom he's not showing signs of recovery and asking her to keep hope and be there for him," Mohammed said. "On the fifth day, when his heart started showing signs of recovery, we knew he was going to be OK."
Larson is recovering well, his team of doctors said. They will continue to monitor his condition but expect a good outcome.
Seeing patients respond well to treatments is gratifying, said Dr. Doug Moore, Creighton's medical director of critical care.
"Getting to see the turnaround and having their loved one return to how they were prior, that's what makes the job worth doing," Moore said.
Larson woke up feeling foggy. His mom had to explain what was going on, but Larson still couldn't understand. He was frustrated and unable to move.
"It totally felt like I was a baby again," he said.
When he could manage to use his phone, he was flooded with messages from family, friends and members of his church.
"The support was there — from family and beyond — the whole time," Larson said.
During 12 days of inpatient rehabilitation, Larson had to relearn basic skills. Videos from the hospital show him sitting up on his own, standing with assistance and finally cruising down the hall with help from a walker. He also had to relearn to feed and dress himself.
Since mid-March, Larson has been going to outpatient physical therapy sessions three times a week. During a session on Thursday, he walked on the treadmill at different speeds and inclines. His other exercises included rowing, holding planks and leg presses. Between each set, Larson checked his heart rate on his watch and grabbed drinks of water.
Larson said he's close to being at full strength. He still struggles with endurance and has yet to be able to get back on the basketball court. He hopes to accomplish that before wrapping up rehab.
"I know this works," he said of the therapy.
The only way to protect against COVID-19 and multisystem inflammatory syndrome is by getting vaccinated, Vivekanandan said. It's especially important as more young adults are being hospitalized with COVID.
"We have to encourage that population to get vaccinated so this type of event doesn't happen in young, healthy adults," she said.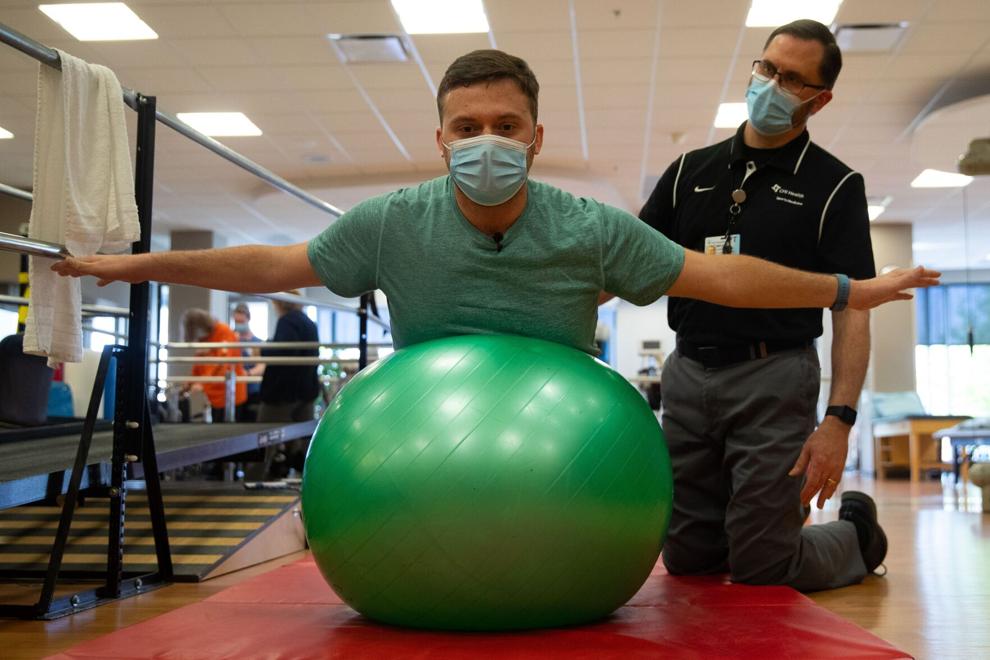 Larson got his first dose of the Pfizer vaccine on Wednesday.
"It felt like the closing chapter," he said. "Being vaccinated was like, 'OK. It's all in the past now.'"
Larson has since returned to Lifegate Church in Fremont, where he serves as youth pastor. He walked through the doors to a round of applause from church members.
Their support — and the support of family and friends — helped Larson keep a positive attitude while recovering. He said the experience strengthened his faith.
"God listens to our prayers. He hears us," Larson said. "... I just think God heard that and showed favor on me and kept me around."
---