Todd and Angee Nott never train together.
Todd, 57, is an ultramarathoner and spends his training runs focusing on distance. He rarely runs less than six miles when prepping for a race.
Angee, 45, spends her training time working on speed. She focuses on sprint work and rarely runs more than three miles in training.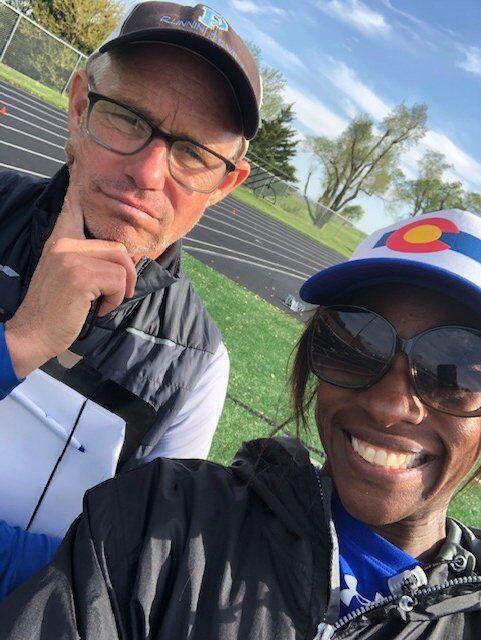 The Plattsmouth couple's hard work paid off last month.
Todd tackled the Badwater 135, a 135-mile race through Death Valley in California.
Days after his finish, Angee set a masters world record in the women's 400-meter dash.
"We don't care about age division," Todd Nott said. "We're just racing whoever's there because we love what we do. Some adults love being in coed volleyball or softball. She just loves track, and I love doing ultras and trail racing. We're just having fun."
The Notts have been married just over six years. Todd teaches at Plattsmouth High School and coaches the cross country and track teams as well as the middle school basketball team. Angee teaches English at Boys Town and coaches the volleyball, basketball and track teams.
Todd started distance running in high school. He kept it going in college and afterward by tackling 5Ks, 10Ks and triathlons.
Now he runs daily, sometimes squeezing in cross-training such as biking or swimming.
"It's always been part of my lifestyle," he said.
Angee started running in elementary school. She went on to become a collegiate track and field athlete at the University of Nebraska-Lincoln. She was a three-time conference champion and a 10-time All-American at Nebraska. She also was the NCAA women's long jump champion at the 1996 indoor and outdoor meets.
Now Angee said she dabbles in masters competitions whenever she can.
She starts her workouts as early as 4:30 a.m. Then she goes to work teaching and coaching and can leave her evenings open for family.
"I don't want anyone to steal my workout," she said.
She runs at least two miles a day, on the track or on the treadmill.
Todd was slated to run Badwater in 2020. He qualified after running Western States 100 and Angeles Crest 100. But Badwater was canceled two weeks before race day because of the coronavirus pandemic.
To put his training hours to use, Todd found a 100-mile race in Colorado. He also drove the Badwater course, which starts at Badwater Basin in Death Valley and finishes at Whitney Portal.
Todd said he gets in much of his training through races.
"It's much more fun for me to go to a race and race myself into shape than go out and train," he said.
He often sported extra layers on summer runs in an attempt to simulate the heat at Badwater. He spent hours sitting in saunas in the weeks leading up to the race. He also trained in Colorado to get used to the altitude.
Todd said his team of four pacers kept him hydrated and cool during the race, which started on July 19. They stuffed ice under his hat and into a scarf he wrapped around his neck.
They coated him with sunscreen and occasionally sprayed him down with water.
"I'm not saying it wasn't an oven out there, but I never felt like I was going to collapse because of the heat," Todd said.
Running it all on pavement proved to be one of the biggest challenges. Todd's ankles became swollen around mile 100, forcing him to power walk at times.
He finished the race in 14th place at about 33 hours. His goal was to finish in under 30 hours.
Todd said he thinks he'll attempt Badwater again in a year or two.
"It's almost a bigger commitment than other ultras," he said. "You have to do extra heat training. But I feel I have some unfinished business."
He plans to apply for Western States again next summer. This fall, Todd said, he'll run a few races, but for the most part he will focus on running with the cross country team.
On July 23 — days after Todd finished Badwater — Angee went with another Boys Town coach to compete in the Masters Outdoor Championships in Ames, Iowa. She finished the 400-meter dash in 56.14.
Angee set a record for the women's 45-49 age group, according to USA Track and Field. She just edged out the previous record holder, Marie Lande Matthieu of Puerto Rico, who had a time of 56.15 in 2003.
As she lay on the track post dash, Angee said she didn't realize she had broken a record. The coach she traveled with said they weren't leaving until Angee filled out the paperwork to make the record official.
Now she has turned her sights on next year. She plans to train for both the 400- and 800-meter dashes.
Angee said she and Todd try to set examples for the kids they coach.
"We always want to be a model for them," she said. "Not just telling them, but showing them what they can do now and later on in life."
---
Gymgoers share what motivates them, pet peeves and their proudest accomplishments
You never know who you might run into at the gym.
There's the man who's exercising as he waits for a heart transplant. Or the woman who's made Jazzercise workouts part of her life for more than 30 years.
Some workouts see moms accompanied by babies. Elsewhere you'll find folks well into their 90s who stick with exercise.