Julie Johnson delivered both of her babies there. Her mom, a nurse, worked there and later died there.
"There" is Oakland, Nebraska's hospital, MercyOne Oakland Medical Center, which closed its emergency room and ended inpatient admissions July 1.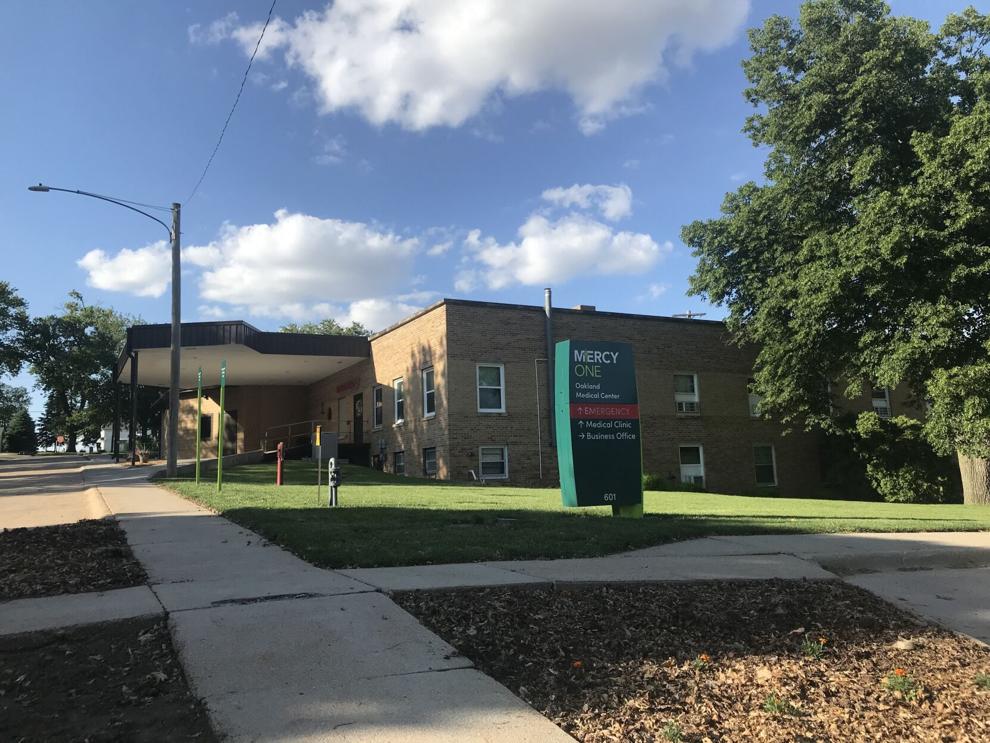 For Oakland residents, the nearest hospitals now are about 14 miles west in West Point or roughly 30 miles away in Pender, Fremont or Blair.
Beyond the emotional attachments, Johnson worries about the loss of one of the town's largest employers and how medical emergencies such as falls and heart attacks will be handled.
"I'm a firm believer that every single business entity in town is vital to the survival of us all," said Johnson, a third-generation grocer who owns Nelson's Food Pride in Oakland.
Beyond the impacts on the local community, the closure of the Oakland hospital exemplifies the pressures on rural hospitals across the United States.
Some 135 rural hospitals across the country closed between 2010 and early 2021, according to a report from the Chartis Group, a health care advisory and analytics group that tracks the sector. Hardest hit has been the southeastern United States and the lower Great Plains.
Nebraska has fared better than many other states during that time, said Jed Hansen, executive director of the Nebraska Rural Health Association. The Oakland closure is the second in Nebraska since 2010, following that of Tilden Community Hospital in 2014.
The state lost about a dozen hospitals between the late 1980s and the early 1990s, said David Palm, an associate professor and director of the Center for Health Policy at the University of Nebraska Medical Center. The creation in 1997 of the Critical Access Hospital program, which allowed hospitals that met the critical access criteria to receive cost-based reimbursements from Medicare rather than the usual fixed rates, helped stabilize rural hospitals in Nebraska and other states.
But a number of factors that began around 2010 put additional pressure on rural hospitals, Palm said. Among them were decreases in Medicare reimbursements and declines in patient volume as potential patients, especially those with private insurance, began bypassing local hospitals to get care in larger ones, sometimes in the towns where they worked.
The 18-bed Oakland hospital was part of the Iowa-based MercyOne health system. Once locally run, ownership was transferred in 2006 to what is now MercyOne Siouxland Medical Center and its parent organization after a vote of residents, according to the hospital's website.
In announcing the closure, MercyOne officials said low daily inpatient and emergency room volumes were the main factors behind the decision to close, noting that hospital use had been declining for a number of years.
Two affiliated clinics in Oakland and Lyons are to remain open, with the Oakland clinic providing imaging and lab services. MercyOne officials also said they were exploring the possibility of building a new clinic in Oakland to replace the existing one.
"Following discussions focused on how to address the evolving delivery needs of rural health care, it was clear a change was necessary," Beth Hughes, president of MercyOne's western Iowa region, said in a statement dated June 24.
Several local officials, however, say they received little or no advanced notice about the closure and don't have answers to a lot of questions, including how many workers will be affected by the move. An economic development report from a few years ago listed 52 employees there. MercyOne spokespeople did not return telephone messages and emails from The World-Herald seeking further information.
"We've got a lot of pieces we don't have answers for," said Ted Beckner, Oakland's mayor.
Meanwhile, emergency responders are adjusting how they handle patients who need urgent care. Emergency agencies now are automatically dispatching helicopters to transport patients suspected of suffering heart attacks, strokes or trauma, plus some pediatric emergencies, said Andrew Donawa, Burt County emergency manager.
Other patients, he said, now will be transported by vehicle to West Point, Pender or beyond. But that adds to the transport time both for patients and for volunteer responders, who typically leave work for calls. Winter weather will further lengthen run times.
"It's a toll that the hospital is not there anymore," Donawa said.
Local officials plan to meet Aug. 10 in Tekamah to discuss long-term plans. One option they're considering, he said, is a county-run quick-response vehicle, staffed by trained county employees, that could transport patients and relieve the burden on volunteers.
Hansen said Chartis data indicates the Oakland hospital was providing care to a shrinking share of its community. Centers for Medicare & Medicaid Services data indicates it had operated at a loss for three of the past four years for which data was available.
The Chartis report also lists 453 U.S. hospitals as vulnerable to closure. With the Oakland closure, the number of Nebraska hospitals on the vulnerable list stands at 15, Hansen said, with five considered at high risk.
But while challenges exist, Hansen said, the situation is "not all doom and gloom."
Over the past decade, many of Nebraska's critical access hospitals have performed well compared with others nationwide on financial and quality metrics, according to Chartis.
Palm, an economist, said he does not foresee a lot of additional closures in Nebraska in the next year or two. But he said officials need to consider what rural health systems should look like in the future to keep them viable.
Hansen said larger health systems in the state have helped rural ones in various ways, from creating community partnerships to providing education and training programs to support and build rural health workforces.
In early July, he said, the rural health association launched an "I Love Rural Health" campaign to educate Nebraskans about the challenges rural health providers face. The campaign is intended to highlight the care they provide and spotlights some of the unique features of rural communities.
"What we need to understand is when hospitals close, it's not only bad for the health of the community's residents but also for the economic health of that town," Hansen said.
He and others also are eyeing a new hospital designation as a possible option in the state. Created by the federal Consolidated Appropriations Act of 2021, the designation would allow qualifying hospitals to become rural emergency hospitals and keep their emergency rooms and outpatient services.
Currently, hospitals can receive Medicare payments for their emergency rooms and hospital outpatient services only if they're certified as hospitals, which requires them to provide inpatient care, according to a recent report from the North Carolina Rural Health Research and Policy Analysis Center. But that requirement has proved a challenge for rural communities that don't have the patient volume to support inpatient services.
Hansen said such a designation might have helped the Oakland facility, but the program doesn't go into effect until Jan. 1, 2023. The North Carolina report identifies 68 hospitals that might qualify for conversion, including four in Nebraska.
Mike Feagler, vice president of finance for the Nebraska Hospital Association, said federal officials have yet to issue rules for the program. The group also would have to work with the Nebraska Legislature to allow for the designation.
Meanwhile, Oakland residents are searching for answers.
Dr. G.E. Peterson, who practiced in Oakland from 1969 to 2006, said he hopes the community can find a way to regain ownership of the hospital.
"I feel with the resources that are here locally, we should have a hospital," he said. Having emergency services three blocks away has been good for the local nursing home, where he still acts as medical director.
Johnson, the grocer, said her granddaughter, who works at her store, recently was wondering aloud where she would go if she cut herself and needed stitches. Johnson wonders what will happen to the hospital building itself.
"It sucks to be our little town," she said. "We just have to hold strong."
---