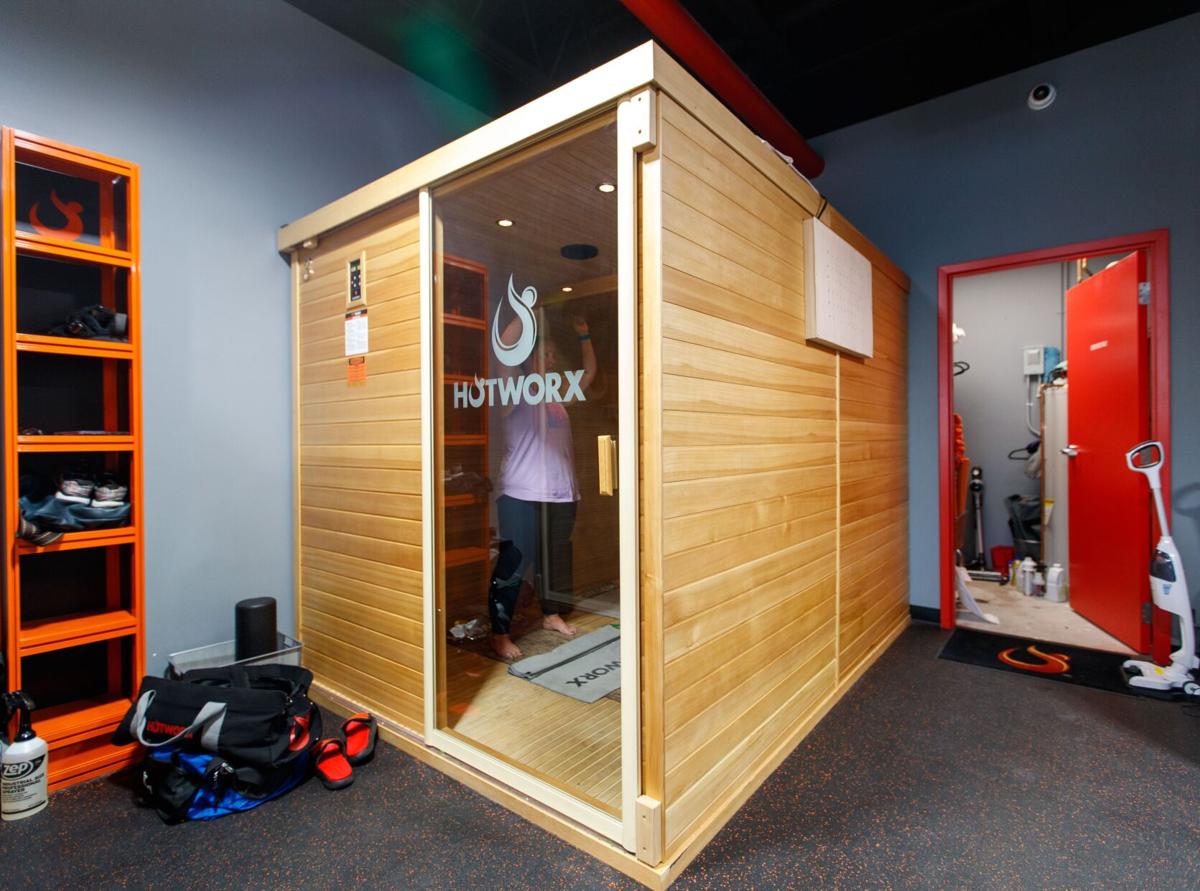 Anne Bencker has never been a gymgoer; exercise didn't appeal to her.
But now the Bennington woman rearranges her schedule to fit in sessions at the gym, sometimes going twice a day.
She leaves each session — held inside an infrared sauna — glistening from head to toe with sweat. Since joining Hotworx, a fitness studio near 78th and Dodge Streets, Bencker has dropped about 50 pounds and has gone down two shirt sizes.
Bencker and her husband, Brian, who's down 20 pounds, joined Hotworx in October.
Like the Benckers, fitness studio members tackle workouts — either 15 or 30 minutes long — inside small infrared saunas. Proponents say the heat helps torch calories in the short sessions and causes exercisers to continue burning calories for up to an hour after the workout.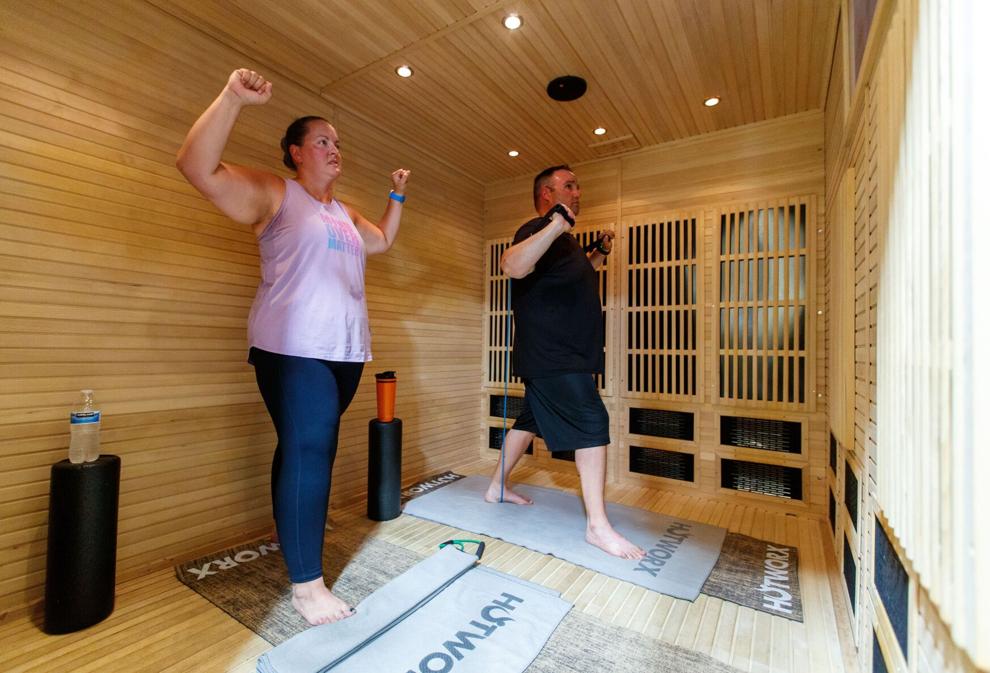 Omaha is home to four Hotworx locations, which are open 24/7 to members.
Hotworx got its start in New Orleans, said April Campbell, owner of a location near 165th Street and West Maple Road. She said the concept is the only one that combines infrared saunas with exercise.
The studios offer eight isometric training sessions and two high-intensity interval training sessions. Members can choose from Pilates, barre, yoga and cycling as well as sessions that target the glutes, core and total body.
Each 7-foot-by-9-foot sauna can hold three people. (Although during the pandemic, that's been scaled back to two per sauna.) The saunas use infrared light to heat the body without heating the air around a person. Saunas at Hotworx reach a temperature of 125 degrees.
Inside the saunas, members are guided through workouts by instructor-led videos, which change monthly. When users take the sessions multiple times, it's easier to track progress, studio owners said.
The studios also are equipped with traditional gym equipment such as dumbbells and battle ropes. Weightlifting workouts take place outside of the saunas.
Infrared saunas are popular with athletes to prep for a workout or recover from one, said Terry Grindstaff, an associate professor in the physical therapy department at Creighton University. They differ from traditional saunas in that the room temperature isn't as high. Instead, Grindstaff said, infrared energy sends a deeper heat to the body and the muscles. It's not as common, he said, to tackle a workout while inside one of the saunas.
Time in the sauna can help loosen up muscles or manage chronic joint pain. Other benefits, Grindstaff said, include lower blood pressure and improved cardiovascular fitness.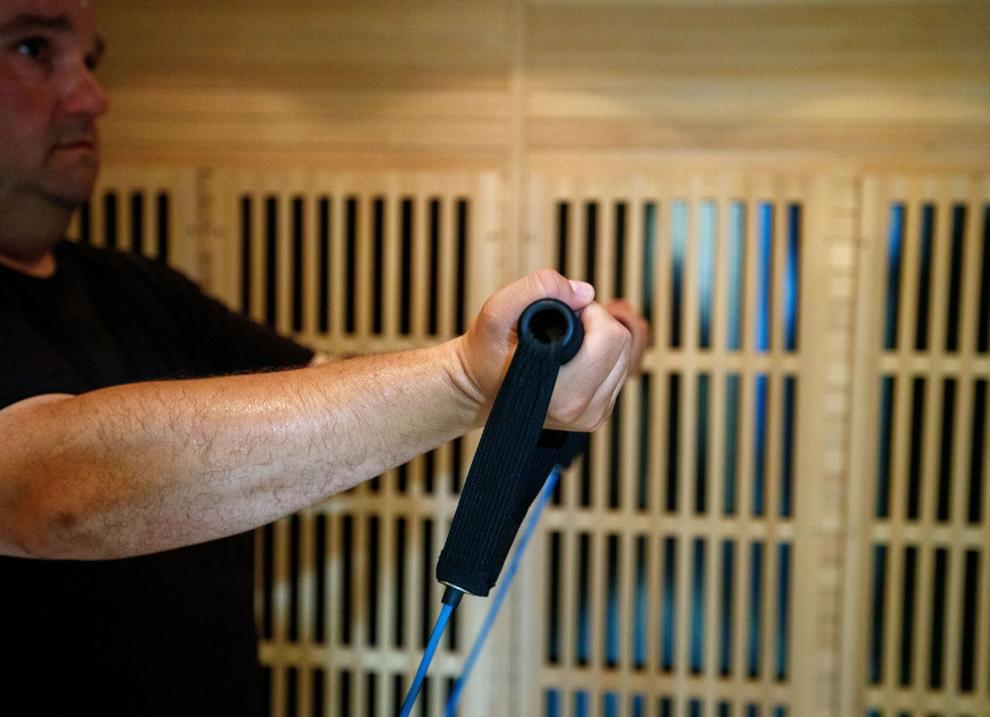 But people should use caution when mixing things like heat and exercise.
The first step is checking with a physician and making sure you have a solid fitness baseline, Grindstaff said. The high temperatures could cause issues, particularly cardiovascular issues, for people with certain health conditions. And anyone can become dehydrated or be at risk for heatstroke or heat exhaustion.
Campbell said Hotworx stresses that members should be hydrating before, during and after sessions. Waivers signed by gymgoers state that individuals with histories of medical issues such as seizures, fainting, dizziness, stroke or high blood pressure should consult with a physician before exercising there.
The Benckers said working out together has been a fun experience. Brian said he has been motivated "beyond anything else" by being able to exercise alongside his wife.
Anne, 39, prefers the shorter, 15-minute sessions. Brian, 43, is drawn to the 30-minute session using resistance bands or yoga.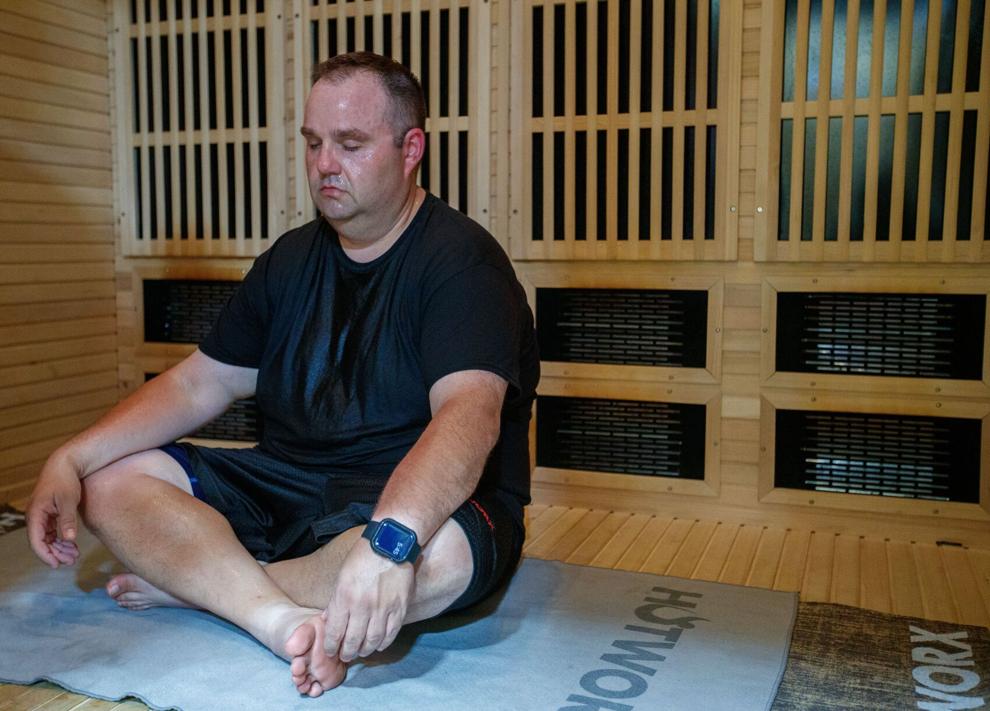 Carmella Ehle, 60, was out of commission for a year after injuring her lower back during an at-home workout.
Hotworx, particularly yoga sessions, helped the Elkhorn-area woman get back on track. Ehle said she has noticed better skin and better sleep, along with more energy and less pain from her back injury.
Plus, Ehle said, the heat starts to feel good and makes sweating during the workouts enjoyable.
"It's not like when you're working out in a gym and you're sweating and you just wish there were fans around," she said. "Been there, done that."