Darrin Cook helped raise tens of thousands of dollars to fight diabetes, assisted baseball teams in the College World Series and suited up as Santa every Christmas for a Special Olympics bowling outing.
Among friends and family, Cook, 57, was known as an approachable, big-hearted man.
The Bennington resident died Aug. 31 of complications from COVID-19.
"He's done so much for the community," said Michelle Cook, his wife of 31 years. "And (he had) such a big heart. He gave so much of his time out of work."
His passion, she said, was the nonprofit I-80 Cosmopolitan Club and its focus on fighting diabetes, particularly juvenile diabetes.
Michelle Cook said her husband told her many times that he would gladly trade places with diabetic children and deal with the disease himself. She said he would tell her, "If I could give them some kind of normal life, I'd trade places with them in a heartbeat."
Bill Kiefer, a fellow club member, said Cook introduced the idea of securing corporate sponsors for the club's annual casino fundraiser and raised more than $50,000 over the last few years. He also rounded up items for a silent auction, worked with a local restaurant to donate food for the event in early March and organized a calling party to reach past attendees, which increased attendance.
He also lined up trucks to haul equipment for the Juvenile Diabetes Research Foundation's annual walk and helped with an annual hot dog roast at Vala's Pumpkin Patch for diabetic children and their families.
The club has also served for years as a host for baseball teams visiting Omaha for the CWS. Cook, who worked in automotive supplies for LKQ Keystone Automotive, helped secure a truck to haul the gear belonging to the club's designated team from the airport to their hotel. He was also there to help with anything team members and coaches needed during their stay.
A few years ago, Kiefer said, the club's designated team was in the final game. The coach had told the players to give the practice balls to kids at the stadium, but the game was canceled for the day because of bad weather. The players had done such a good job of giving away balls that they had nothing to use for batting practice the next day.
"They called Darrin. He reached out to The Strike Zone and arranged to get balls to the team in a real rush so they could practice," Kiefer wrote in an email.
Cook also dressed up as Santa each year for a Special Olympics event at Maplewood Lanes. Michelle Cook said the kids couldn't wait to see Santa, give him a big hug and have their picture taken with him. They would beg Santa to bowl for them in hopes that he would bowl a strike.
"I'm trying to figure out how to carry on his legacy," she said, "but those are big shoes to fill."
Cook grew up in Atlantic, Iowa, graduated from Atlantic High School in 1981 and later moved to the Omaha area. He and Michelle met Aug. 19, 1988, and married Oct. 21, 1988.
The couple had four children: Tyler and Garrett Cook and Nicole Thapa, all of Omaha, and Michael Cook of Minneapolis. They also have three grandchildren.
Michelle Cook does not know how her husband contracted COVID-19 or why it hit him so hard. She said he had no underlying health conditions and took no medications.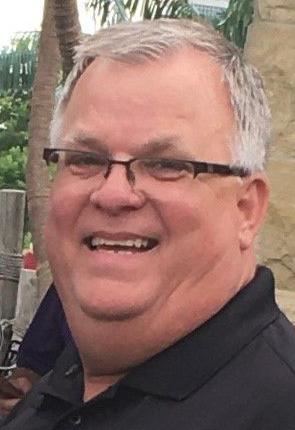 He was home for nine days with the virus, with a high fever and other symptoms. On the ninth day, she took him to an emergency room. He was transferred to another hospital, where he was put on oxygen and then a ventilator. Because of visitor restrictions, she was not allowed to see him after he was transferred. She talked to him by phone and then by text. But she was pained by their separation.
"I felt so cheated I didn't get to be with him," she said. "That is probably the worst thing ever, and I know he felt it, too."
After his death, she found one last text on his phone that he hadn't sent: "Tell the kids I love them, and I love you, too."
Michelle Cook didn't have an obituary published in Omaha because she was concerned that too many people would attend the visitation. But word of his death spread, and a line of people stretched around the funeral home.
"More people need to be loving and giving and show compassion and help one another," she said. "That's what Darrin did."
---
Our best staff images from December 2020