Steve Bailey and Bill Shiffermiller crossed paths in medical school at the University of Nebraska Medical Center.
The two men later reconnected and joined a private practice group that had privileges at Omaha's Methodist Hospital. The practice became part of Methodist Physicians Clinic in the mid-1990s.
Combined, Bailey and Shiffermiller have amassed more than 80 years worth of experience, almost all in the Methodist Health System.
Both doctors, who practice internal medicine, retired Friday. Bailey retired with 40 years in the medical profession and Shiffermiller with 43 years.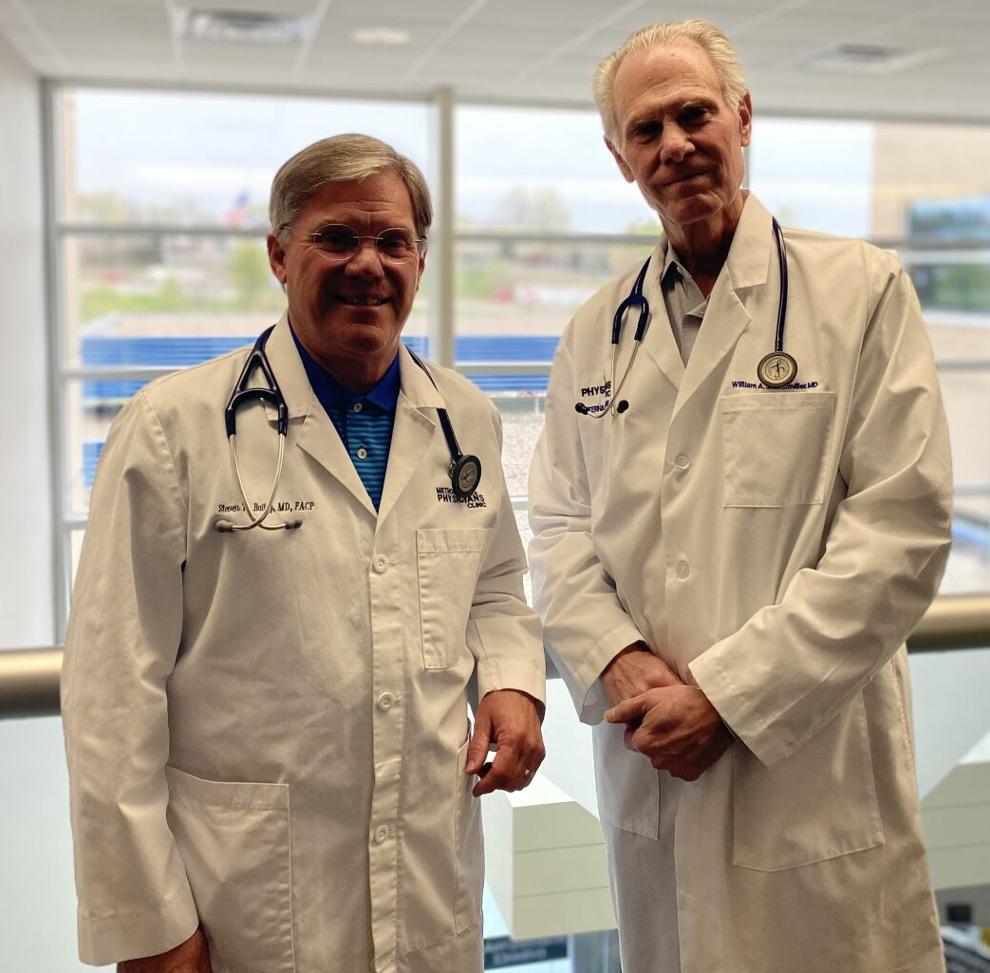 Bailey and Shiffermiller have treated generations of patients over the years. They have held leadership positions within the health system.
Over the last year, they scaled back their practice leading up to their retirements.
At an early age, Bailey, 70, had an interest in science and math. He considered a career in engineering, but patient care led him to medicine.
"The ability to form relationships with people kind of put me on that path," Bailey said.
Shiffermiller, 71, also enjoyed science. But he took inspiration from his father, who was a family physician in Ainsworth, Nebraska.
"He was interested in what he was doing. He was happy," Shiffermiller said.
Early on in their practice, both physicians were certified in alcohol and chemical dependency treatments. They visited patients at treatment centers as well as in hospitals. Shiffermiller said he still was making house calls and visiting nursing homes when he first started practicing.
While he learned a lot about patients by visiting them at home, he said, doctor's offices and hospitals are better equipped to treat patients.
Much has changed in the medical field over the years. For one thing, Shiffermiller said, most physicians used to be independent practitioners. Very few were employed by hospital systems.
Bailey said the biggest changes he has noticed are in technology. Medical procedures and the depth of knowledge regarding illnesses and diseases have changed.
Both doctors acknowledged how much easier accessing patient information is with electronic records. Pulling and maintaining physical charts was time-consuming.
With time, both doctors said they found a solid balance between family and work. Part of finding that balance has to do with having an understanding partner who is willing to step up, Bailey said.
Bailey is married and has two adult children. One is a cancer researcher and the other is in internal medicine. Shiffermiller is married with four adult children, one of whom is an internist.
In retirement, Bailey and his wife plan to winter in Arizona. He's looking into helping with his church and finding some medical-related volunteer work.
Shiffermiller said he plans to volunteer with Methodist's community clinic.
Both plan to get in more rounds on the golf course.
Bailey and Shiffermiller credited the staff and nurses who have worked in their practice over the years.
"Staff members are so critical to your patient care," Bailey said. "The whole patient experience starts at the front office."
Bailey said he will miss connecting with patients. Many, he said, become like family.
"Day in, day out, what has kept me from burning out is those relationships you have with all those patients," Bailey said. "That's what's kept me satisfied."
Practicing medicine got easier and more familiar over the years, Shiffermiller said. But, like Bailey, the patient connection kept him coming back to the office.
"They end up being, at the very least, close acquaintances," he said. "That's what brings you to work and keeps you from being burned out. It's easy to get worn down."
---