Many Nebraskans have once again gotten used to popping into a grocery store or showing up at a restaurant without a face mask.
But masks still are required — even for vaccinated patients, visitors and staff — in most health care settings. Health systems are seeking to remind those who have gotten used to going mask-free that the rules still apply.
Molly Herzberg, vice president of patient care services with Community Hospital in McCook, Nebraska, said it's challenging being one of the only organizations still requiring masks.
"They're used to everywhere else going mask-free," she said of hospital patients and visitors. "But when they come here, they have to mask."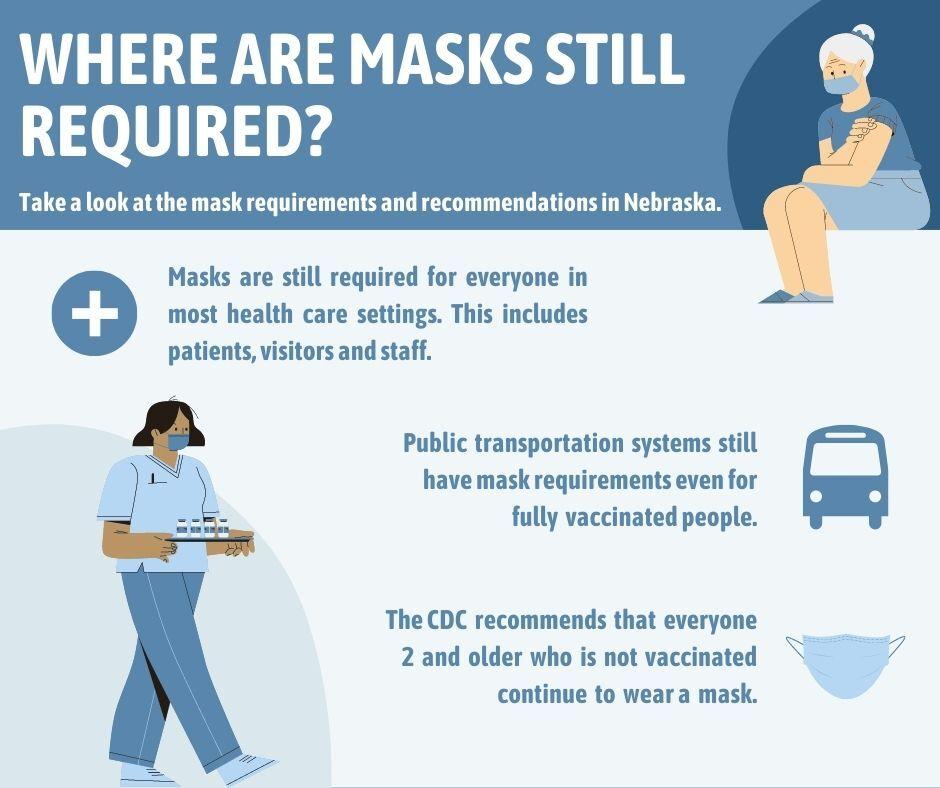 The requirements are based on several federal rules. The last municipal mask mandate in the state appeared to run out with the expiration of Omaha's rule in late May. Most hospitals and clinics have eased or removed limits on visitors and restrictions on people accompanying patients to appointments.
Guidelines from the federal Centers for Disease Control and Prevention, for instance, still call on hospital staff, patients and visitors in patient-care areas to wear masks regardless of vaccination status.
The agency determined that fully vaccinated people could ditch masks in most other indoor and outdoor settings. Public transportation — planes, trains and buses — was the other exception, with continued masking required even for vaccinated people. The agency also recommends that everyone age 2 and older who is not fully vaccinated continue to mask.
More recently, the Occupational Safety and Health Administration also issued an emergency temporary standard for health care facilities, which was intended to protect employees. The American Hospital Association has raised concerns that some requirements contradict or go far beyond what the CDC recommends.
Herzberg said some patients and visitors forget about the masking requirement. Staff members stationed near main entrances remind them, and the hospital has stations with masks and hand sanitizer for those who need the items.
CHI Health announced Wednesday that it is posting user-friendly kiosks at the entrances of its hospitals where patients can screen for COVID-19. Also equipped with new, medical-grade masks and hand sanitizer, the kiosks feature touch screens that will pose a short list of screening questions regarding COVID-19 exposure and symptoms.
Visitors who pass the screening will receive a sticker as proof and be free to proceed into the hospital. Visitors should sanitize hands and mask with new, medical-grade masks before using the kiosk. Those who don't pass will be asked to leave the hospital to limit exposure to patients, staff and other visitors.
Throughout the pandemic, staff members stationed at entrances have conducted the screening. The kiosks, CHI Health officials said, will free those staff members to work in other areas of the system's 14 hospitals and allow more entrances to remain open.