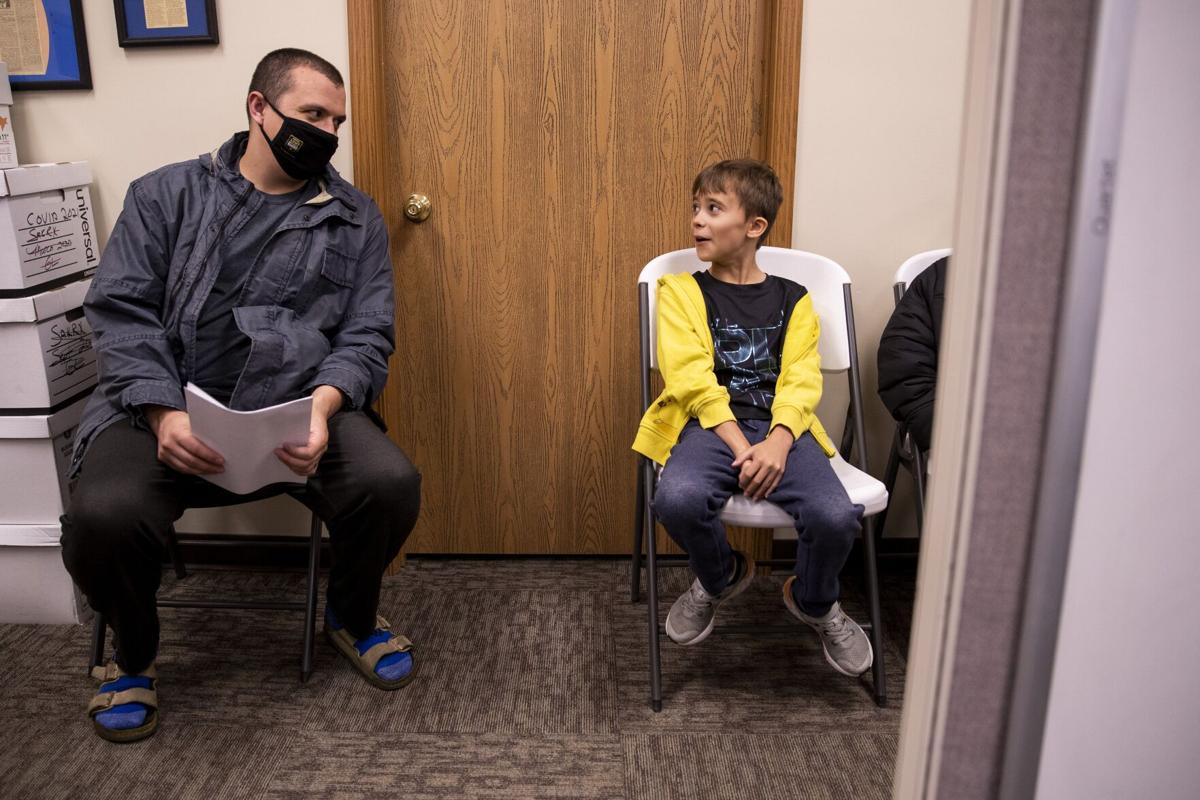 Tree Jacobson and her sister, Kristi Owen, initially booked appointments for their children to get the kid version of Pfizer's COVID-19 vaccine in a couple of weeks.
But with relatives, including Owen's husband, who have immune systems that are compromised by cancer or cancer treatment, they decided not to take any chances.
They pulled up Thursday morning outside Kohll's Rx in Millard about half an hour before the doors opened and waited for a chance at walk-in shots.
Jacobson's son, Flynn, 8, was more than ready. "I've been waiting for the vaccine since it came out for 18-year-olds," he said. "Now's my chance."
A handful of other parents who brought their elementary-age children also queued up for the shots, joining some older people seeking booster doses.
The specially sized and formulated doses for kids began arriving in Nebraska on Wednesday, the day after the last of a series of federal advisory panels and agencies signed off on the vaccine rollout for children ages 5 to 11.
The approval triggered a rush among parents eager to get the vaccines for their children. Health officials cautioned that early appointments may be limited and that most families will have to wait a few days until additional appointments and walk-in clinics become available.
No vaccine shortages are expected. Federal officials announced weeks ago that they had purchased enough for all 28 million U.S. children in that age bracket.
The Nebraska Department of Health and Human Services ordered 64,800 doses of the vaccine under a preorder allocation, said Olga Dack, a department spokeswoman. Some were arriving this week; more are expected next week. Other doses are going directly to pharmacies, federally qualified health centers and health departments.
Both state and local health officials are encouraging parents to vaccinate their elementary-age children as soon as they can, both to protect them from the coronavirus and to help tamp down the pandemic.
Nebraska, according to July Census Bureau estimates, is home to just over 186,000 children ages 5 to 11, said David Drozd, research coordinator at the University of Nebraska at Omaha's Center for Public Affairs Research.
Emergency approval of the vaccine for that age group adds to the roughly 1.57 million residents 12 and older who already are eligible for vaccination.
Children are at lower risk of severe illness or death from COVID-19 than older people. But 5-to-11-year-olds still have been seriously affected — including more than 8,300 hospitalizations, about a third requiring intensive care. The federal Food and Drug Administration said 146 COVID deaths have been reported in that age group.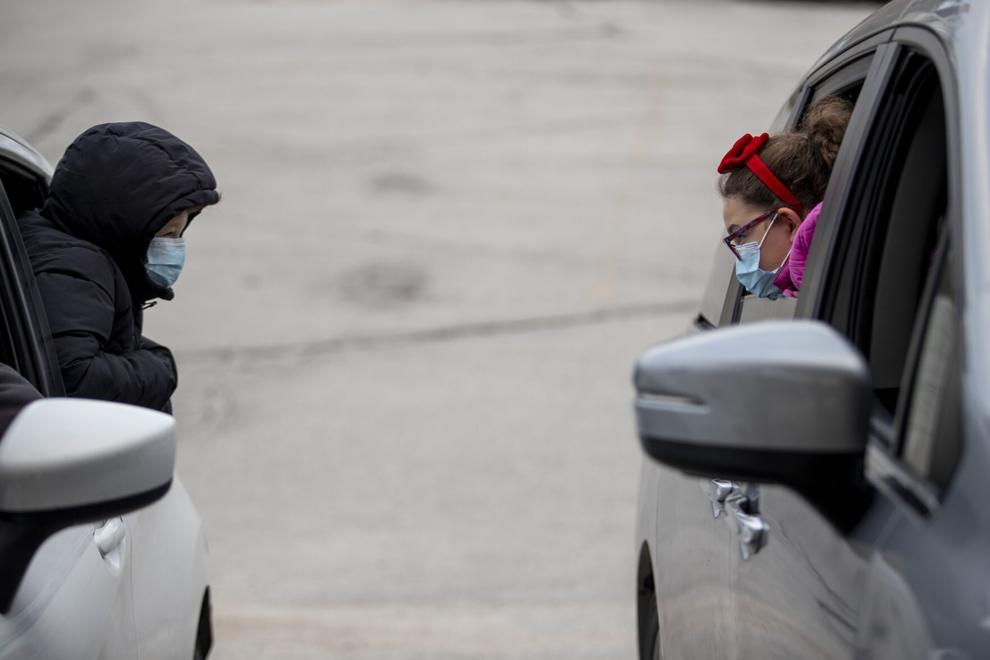 Dack said the state's latest data show that the risk of being hospitalized for people of all ages who are not vaccinated is now about 10 times higher than for those who are vaccinated.
The adult version of the vaccine was approved for 12-to-15-year-olds in May. Elementary-age children, however, had to wait while clinical trials tested the vaccine's safety and dosing in that population.
Michele Leibfarth, a registered nurse giving the shots at Kohll's, said the pharmacy administered about 50 kid doses in less than two hours Wednesday night. Children will need a second dose at least 21 days after the first.
Parents, she said, were enthusiastic, telling her, "I'm so excited, because now we can go places and do things."
Also lining up for his shot Thursday was Kaiden Kocourek, 8. His father, Ethan Kocourek, said his wife made the boy's appointment online. "This is just the next in line," he said. "We got ours, and we've just been waiting for him to get his shot."
Kaiden rolled up his sleeve for his shot with no hesitation. He said he was prepared because he already had gotten a flu shot. In seconds, the shot was over and he had a bandage on his arm. He chose a Blow Pop as a prize and went with his dad to wait out his 15-minute observation period.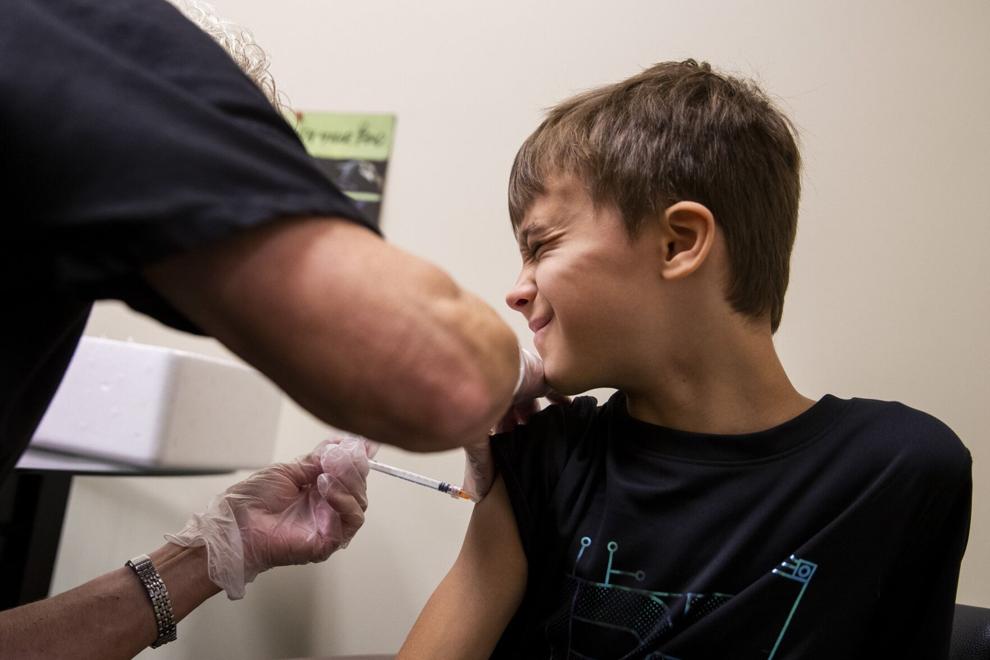 "I felt a little sting like I got a bee sting," he said.
And then Jacobson's and Owen's early-morning initiative paid off.
First, Nora Owen, 10, and then Flynn Jacobson sat for their shots. Their moms planned to cancel the kids' scheduled appointments if they got shots Thursday.
Kristi Owen said she has another child, who is too young to get the vaccine. She's waiting for that day, too. But for now, she said, getting her daughter vaccinated means one fewer person in the house she has to worry about catching the virus and becoming ill.
As for Flynn, he hesitated more over his choice of post-shot candy than he did over the inoculation itself.
After he got his shot, Flynn advised other kids not to worry and to get the shot when their turn comes.
"My dad told me the vaccine is powerful enough that after I'm fully vaccinated, it makes COVID feel like the flu," he said.
---