That ferocious wind storm a few weeks ago flattened my zucchini.
After adding a new layer of soil and compost earlier this summer from Hillside Solutions, they'd been the healthiest-looking and biggest plants I'd ever grown.
I wrote them off. But as the days passed, the leaves started to rebound.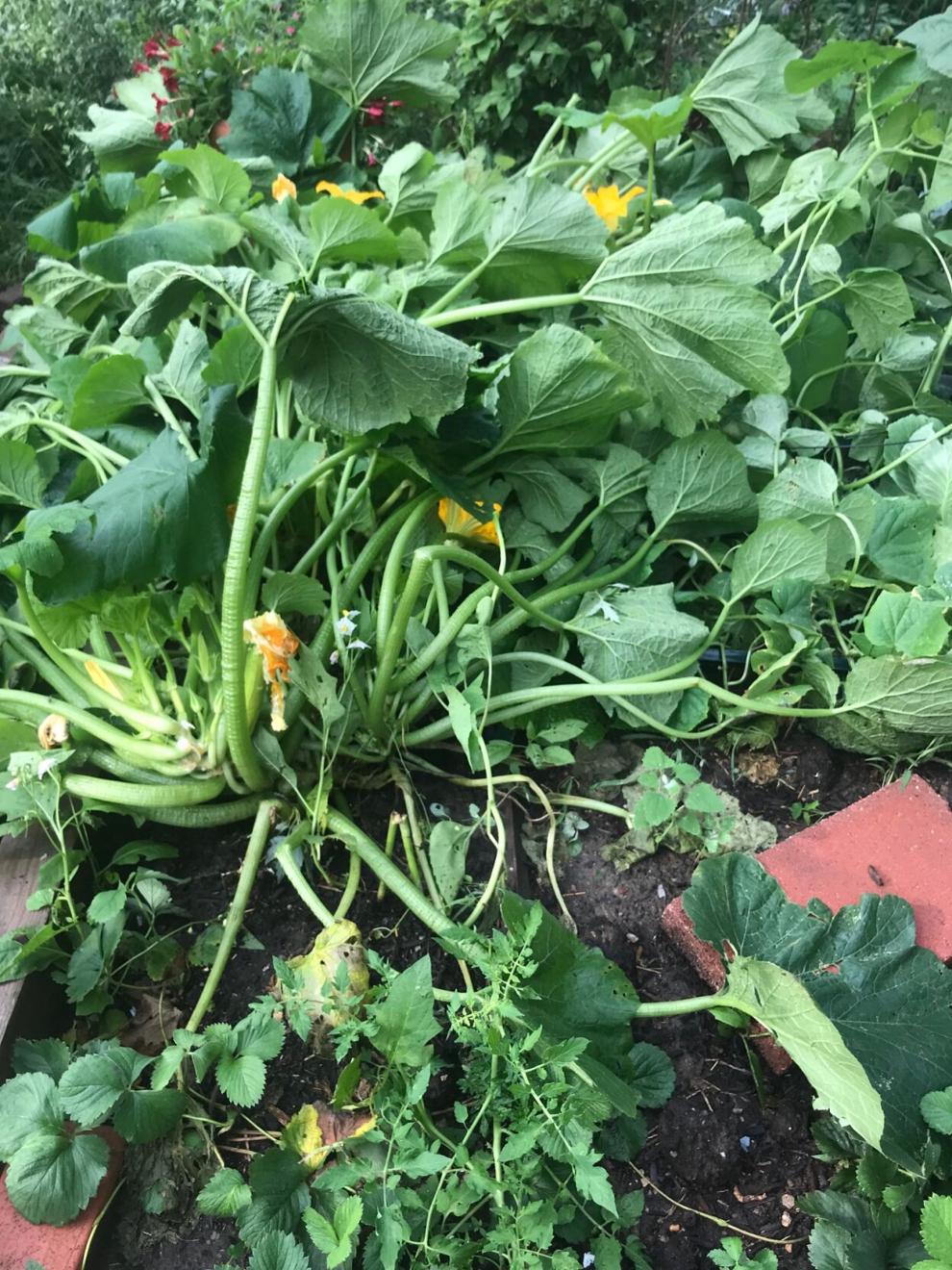 Then I found a surprise buried under those leaves — three huge zucchini, two measuring 14 inches long.
Yahoo! I've already promised bread to everyone in my book club.
But what to do with all the rest of that zucchini? Freeze it, says Cindy Brison, an educator with Nebraska Extension in Douglas and Sarpy Counties.
"I put them through the food processor, seeds and all," Brison said. She doesn't bother peeling them either.
"I'm lazy. That gives you extra fiber when you are cooking with it."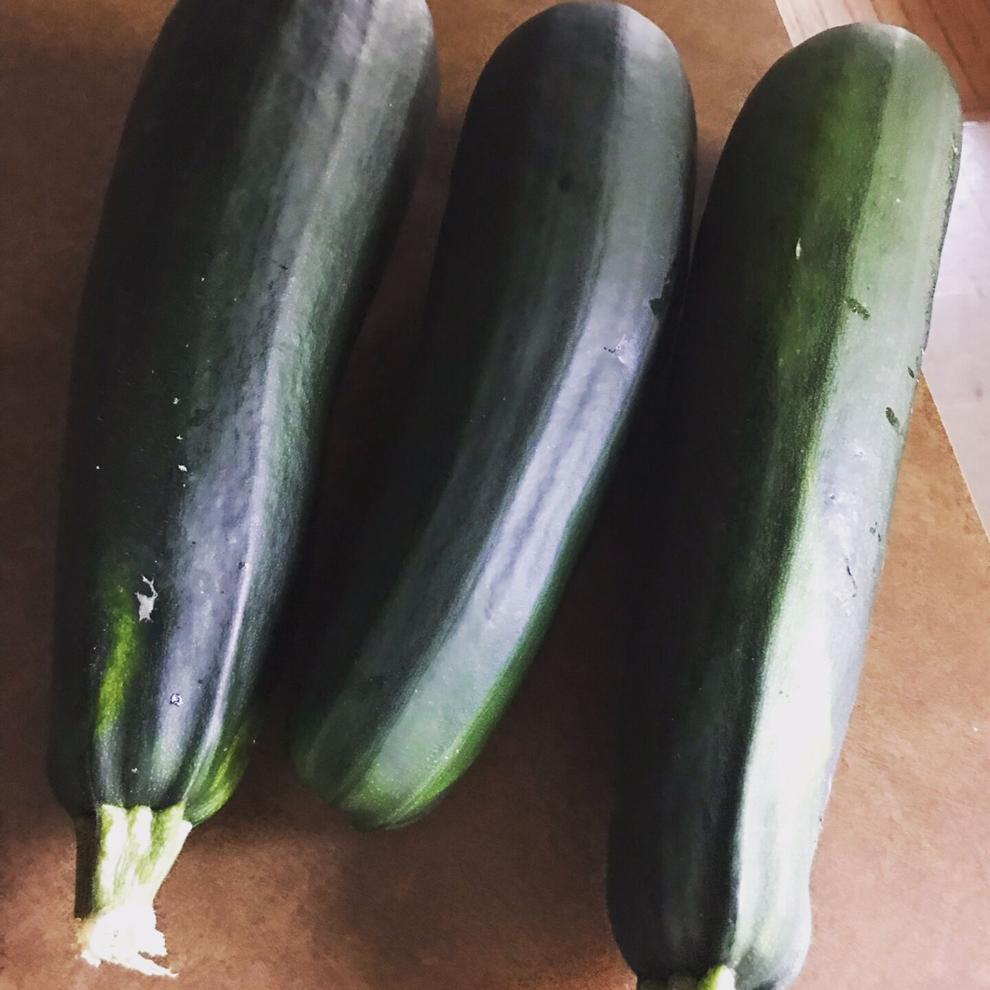 Most zucchini recipes take two cups, so Brison freezes her zucchini in plastic freezer bags of three cups apiece.
Yes, that's three cups and not two.
When she's ready to use the zucchini, Brison thaws it overnight, then clips one end of the bag to drain the water.
"You put in three cups and by the time the water comes out, you have about two cups left," she said.
She recommends refrigerating just-picked zucchini and using it within a week.
I love zucchini bread, and included one recipe for that, but here's a few others to try if you're ready for something different.
If you have any yummy recipes for any of the produce in your yard that you'd like to share, please send them to ducey@owh.com.
Summer Zucchini Casserole
2 pounds grated zucchini (about 2 to 3 cups), drained
1 (10.75 ounce) can condensed cream of chicken soup
1 stick unsalted butter, melted
1 (6 ounce) package chicken-flavored dry bread stuffing mix
2-3 cups cooked chopped chicken (optional)
1. Preheat oven to 350 F.
2. Sauté the zucchini and onion for 5 minutes; drain well.
3. In a medium bowl, combine the soup, sour cream and carrots. Stir in the zucchini and onion and mix well. If adding chicken, add here.
4. In a separate medium bowl, combine the butter and stuffing mix. Spread half of this mixture into the bottom of a 9-by-13-inch baking dish. Spoon the zucchini mixture over the stuffing, then top off with the other half of the stuffing.
5. Bake at 350 F for 25 to 30 minutes, or until stuffing is golden brown.
Note: You can also just add all ingredients together, including the topping without sautéing the onions and zucchini, and it turns out fine, Brison says.
Cindy Brison's recipe from her mom, Alice Powell
1 tablespoon burnt sugar flavoring
1. Preheat over to 350 F.
2. Beat eggs lightly. Add oil and sugar.
3. Sift together baking powder, baking soda, cinnamon, salt and flour. Combine with egg mixture and beat well.
4. Add zucchini, nuts and flavorings.
5. Drop on cookie sheet and bake at 350 F for 15 minutes.
Denise Spelic from Marilyn Walkowiak's recipe in the Spalding Cookbook
Zucchini With Ham, Mushrooms and Cheese
1 very large zucchini (about 1½ to 2 pounds)
½ pound fresh mushrooms, sliced
2 cups cooked ham, in thin slivers
½ cup Swiss cheese, shredded
1 teaspoon Dijon-style mustard
⅓ cup Parmesan cheese, grated
1. Slice zucchini and steam until tender-crisp, then lift out and drain. Set aside.
2. In large skillet melt butter and saute mushrooms for three minutes, add ham and toss; lift out with slotted spoon and add to zucchini.
3. In same skillet, saute onions; blend in flour and gradually add hot milk and chicken broth.
4. Cook over low heat until smooth and thick. Add cheese, mustard, salt and pepper, and stir until cheese melts. Mix with ham, mushrooms and zucchini; spoon into a shallow buttered casserole dish.
5. Sprinkle with parmesan cheese and almonds. Place under broiler for a few minutes until light brown and bubbling.
Denise Spelic from Eileen Ballweg's recipe in Spalding Cookbook
3 cups grated zucchini (about 2 medium)
3½ cups all-purpose flour
1 teaspoon ground cinnamon
⅔ cup coarsely chopped nuts
⅔ cups raisins or mini chocolate chips
2. Line three loaf pans with parchment paper.
3. Mix sugar and shortening. Stir in zucchini, water and eggs. Mix in flour, baking soda, salt, cinnamon, cloves, vanilla and baking powder. Stir in nuts and raisins or chocolate chips.
4. Pour into pans. Bake 60 to 70 minutes.
5. Remove from pans and cool completely before slicing.
Barb Haselhorst from her 1987 edition Betty Crocker cookbook
Chili Cheese Stuffed Zucchini Boats
1 (8 ounce) can tomato sauce
1 (15.5 ounce) can red kidney beans, drained and rinsed
1½ tablespoons chili powder
1. Preheat oven to 350 F.
2. In a medium skillet over medium heat brown ground beef and drain off any grease.
3. Add tomato sauce, undrained can of Rotel, beans and spices. Stir well and let mixture simmer for 5 to 7 minutes to let flavors meld.
4. Meanwhile, slice zucchini lengthwise and scoop out the center. (I find this easiest with a metal teaspoon).
5. Place zucchini boats on a large baking sheet and carefully spoon the chili mixture into the zucchini. Top with cheese and bake 20 minutes.
6. Top with crushed Fritos if desired.