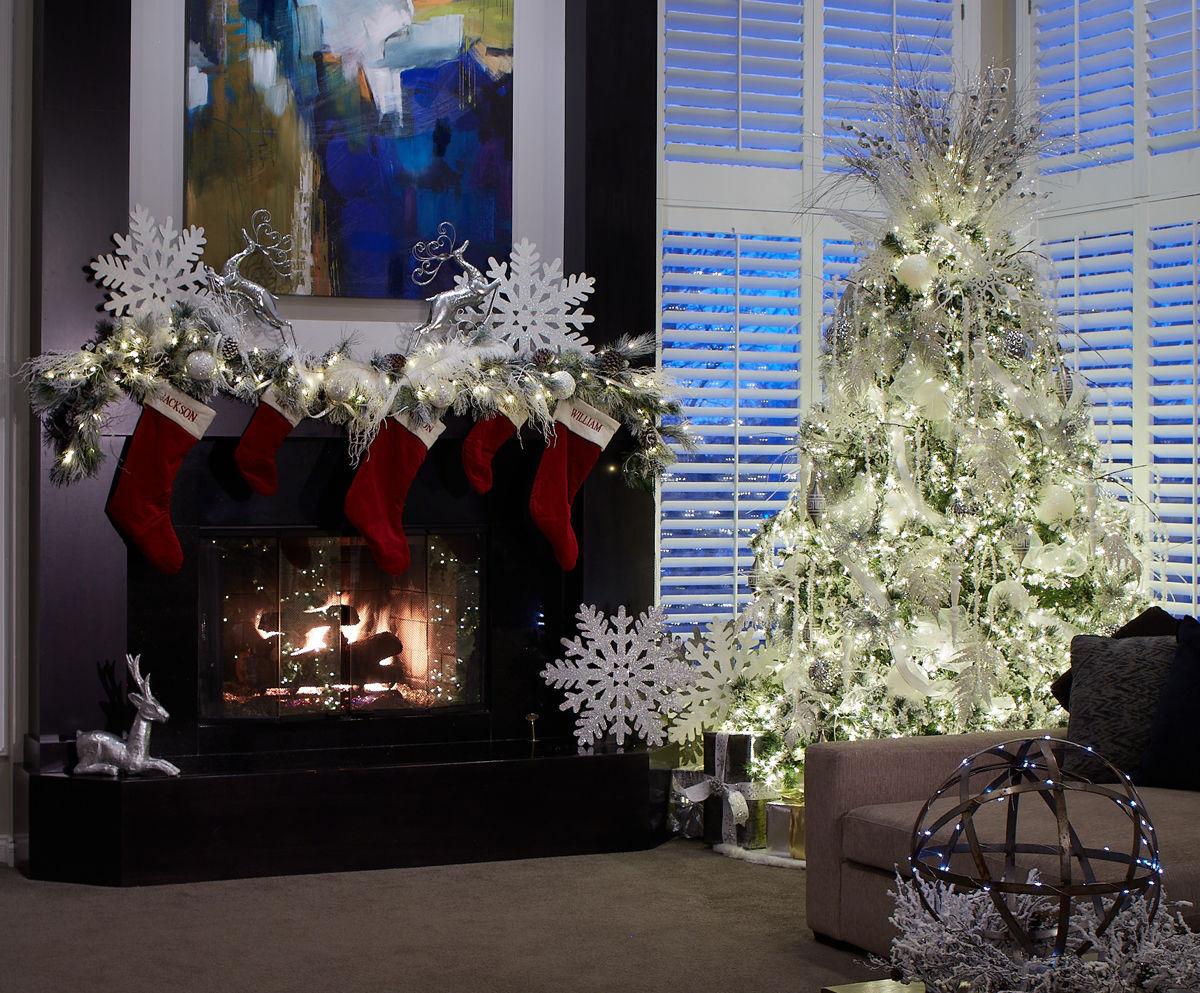 Decorator Shelly Minette knew the minute she walked into Carrie and Matt Clure's west Omaha home that their colors for the holidays would be silver and white.
"It just complemented the house," she says. "It was going to have that wow factor."
Minette, who owns Studio DIY, had been chosen to decorate the main level for the 2019 Christmas Caravan. She has transformed a residence the past two years and had planned to again this year before the event was canceled because of the coronavirus. The Assistance League of Omaha is raising holiday funds through a mail campaign instead.
Carrie Clure gave Minette carte blanche, telling her to design whatever she thought would look great. She was thrilled with the finished product.
"I absolutely loved the decorations," Carrie says. "So much so that we purchased a majority of them to use again."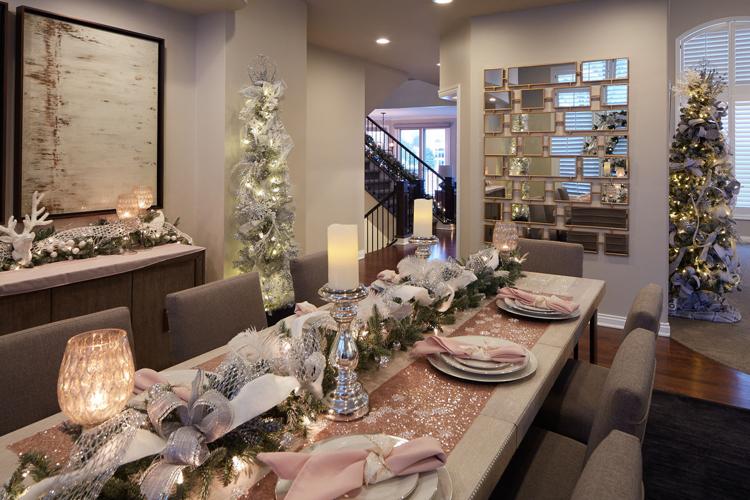 With the Clures' gray walls, which Minette calls "the new tan," she knew white was going to stand out. The family's white flocked tree — Minette's favorite element — cemented her plan.
"It's going to be gorgeous," she remembers thinking.
She took several photos as reference, then got to work on design specifics for the contemporary space.
Minette used silver and white stems, ornaments and ribbons to decorate the flocked tree. White feathers added another festive note to the garland on the mantel and to two pencil trees that Minette brought in to complement the Clures' flocked tree.
She added another layer in the dining room, with contemporary decorations in white, gray and light rose. The kitchen had some navy accents, so she incorporated that color along with gold on pencil trees. Centerpieces in the kitchen and sitting area also had navy and gold touches.
The main living area had a magical winter feel. "It was very white and glitzy," the designer says.
---
Shelly Minette's holiday decorating tips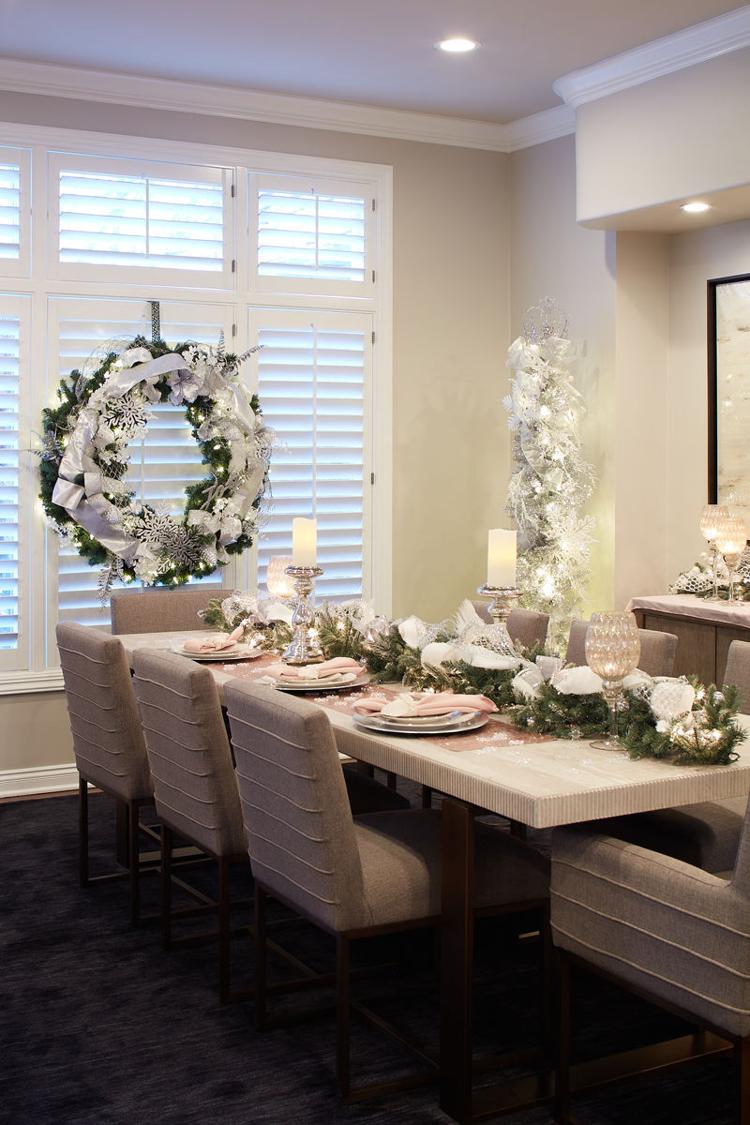 Don't get locked into a current trend
Minette goes with the flow and lets the house dictate the direction on decorations. Her first house with the Christmas Caravan wasn't as contemporary as the Clures' and had more tans, so she used gold, silver and rose gold.
Red is a classic that never grows old, Minette says. If you want to freshen the look, inject some sparkle with red glitter balls or stems. If rustic is your style, try red berry garlands and stems. Look for inspiration Magazines are good resources and Pinterest never fails, Minette says. She has a bulletin board in her office filled with images of things she likes and draws from for inspiration.
Trees get Minette's vote. Big, small, skinny, tall. "Trees just make it Christmas to me," she says. "It makes it a holiday."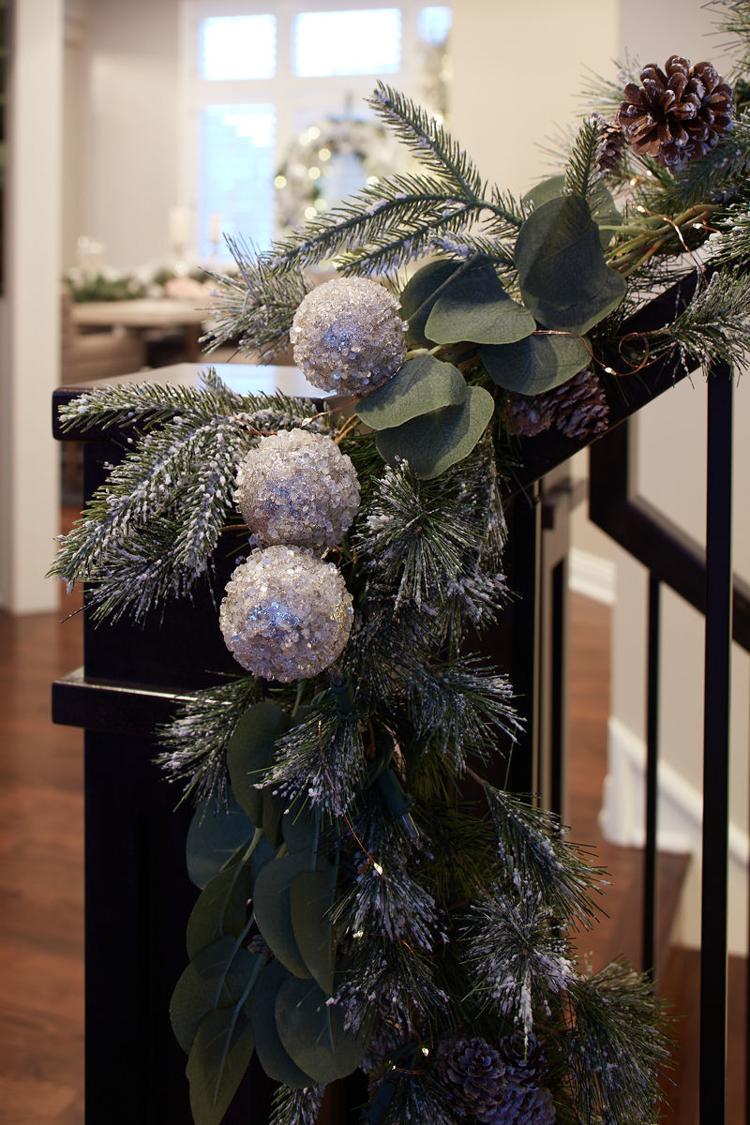 Navy, silver and white appear to be the go-to colors this season, Minette says. For one client, Minette is planning navy blue ornaments and silver stems for a platinum tree and garland.
Minette says a bonus for the Clures is that they aren't locked into just a Christmas theme. Their winter wonderland décor can easily stay up into January or February. That's not always the case with a space decorated in red, green and gold.
One client of Minette's wanted a white and silver tree. Instead of buying all new decorations, they brought out all of the client's Christmas totes and sorted through them. "We didn't have to buy a single thing," Minette says. "Sometimes you have to have someone else's eye to look at your stuff."
Designers can do projects big and small, and for any budget. Just don't wait until the last minute to hire someone. Last year, Minette decorated 28 houses and had to turn some people away.