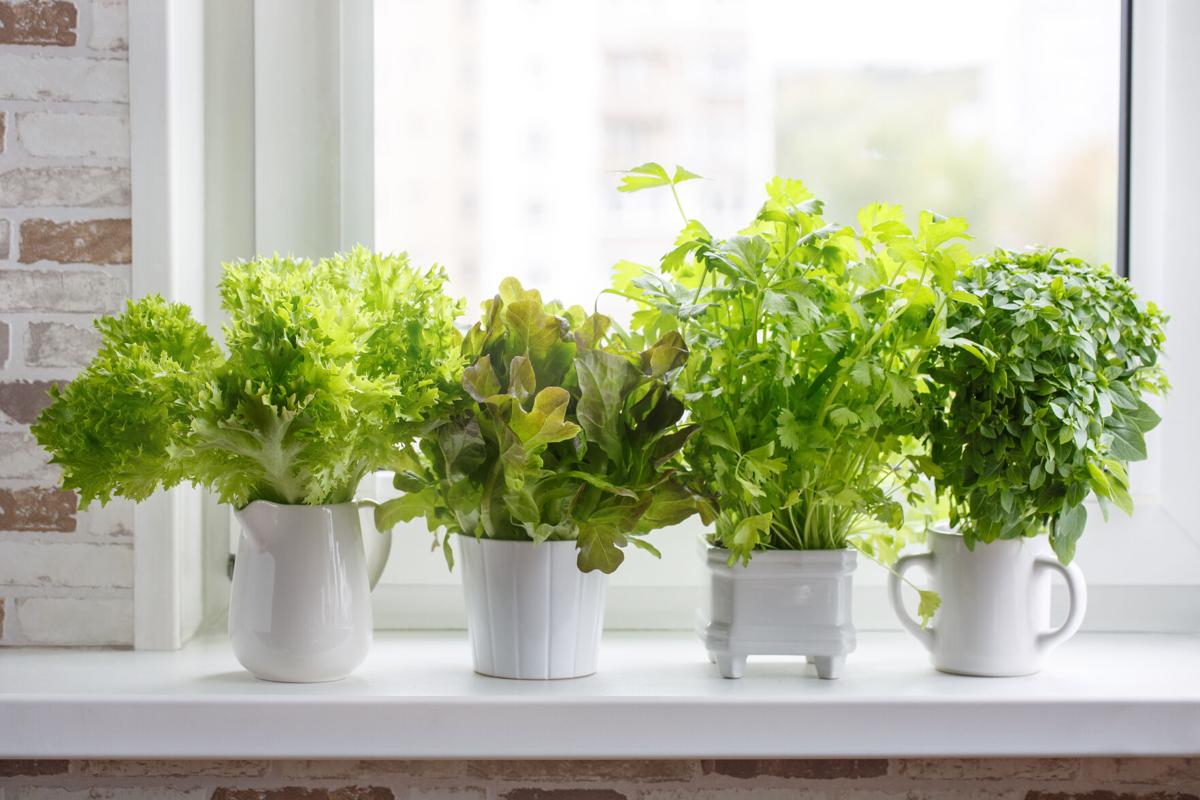 There's nothing as satisfying to a cook and gardener than walking a few steps to a vegetable bed in your backyard or even pots on a patio for those tasty herbs that make a dish special.
In Nebraska, you have lots to choose from, because for the most part, perennial herbs hardy to the state are easy to grow.
Growing them in containers or raised beds allows for more flexibility in how much moisture and drainage they receive. Because these sites dry out quickly, mulching will help.
A few of the Arboretum team's favorite yard-to-kitchen herbs:
Calamint, Calamintha, grows into a compact mound 15-18 inches high. Its gray-green foliage is a popular ingredient in Italian cuisine for its distinctive flavor of mint and savory that complements garlic-based sauces, soups and stews. The dried leaves also make an appealing tea. It's a pollinator magnet with loads of tiny, airy white blooms in upright sprays from June until frost.
Chives, Allium schoenoprasum, has grass-like foliage that tastes of fresh onion, useful in a wide range of dishes.
Tarragon, Artemisia dracunculus, is a woody perennial that will grow 2 feet high in full sun and rich, well-drained soil. It has a minty anise flavor useful for herbal vinegars and other uses.
Hyssop, Hyssoppus officinalis, tastes like mint with a hint of lavender and a slight bitterness that lightens up vegetable and other dishes. It thrives in hot, dry summers under full sun. It has narrow, dark green leaves and spikes of small blue flowers in summer.
Lavender, Lavandula species, can be used in everything from bath salts, soaps and lotions to scones and pound cake. To enjoy its fragrance year-round, dry and preserve it by hanging small blooming bunches upside-down in a dark, dry room. For winter protection, it's best surrounded with tall plants and leaf fall.
Lemon Balm, Melisssa officinalis, has wonderful lemon-scented foliage that can be used to flavor salads, fruit cups or herbal tea. It can be quite aggressive, so is best planted in confined spaces in sun or part shade. Frequent pruning will encourage new, more fragrant, leaves and minimize spread.
Lovage, Levisticum officinalis, has sturdy stalks of flat-topped yellow flowers up to 6 feet high in late spring, making it an excellent vertical addition to use just like celery in salads, soups, stews, frittatas, egg and potato salad. And if you like bloody Marys, the hollow stalk of lovage is perfect for them.
Mints, Mentha species, are very aggressive. To prevent spreading, plant them in containers, confined spaces or raised beds. They add a minty flavor to a wide range of dishes.
Oregano, Origanum species, grow 12-24 inches high and 10-20 inches wide, and is a flavorful addition to Italian pastas and stews. It requires full sun and well-drained soil. Its loose clusters of small white flowers are a great nectar source for bees and butterflies.
Sage, Salvia officinalis, is an attractive low shrub with velvety, greyish green leaves. Frying it mellows its flavor; fried sage can be crumbled over a dish to heighten flavor at the last moment. It can also be added fresh to teas and drinks and fresh or dried to sauces, compound butters, meat marinades, pastries and breads.
Savory, Satureja montana, is a compact plant with dark green leaves and woody stems, growing to 15 inches high and needing protection from winter winds. The aromatic foliage has a strong peppery flavor. It's often paired with beans during cooking since adding salt can toughen beans. Fresh or dried leaves can be used to infuse vinegar, make herb butters or steeped for tea.
Thyme, Thymus vulgaris, is a small, many-branched perennial shrub 12 inches wide that adds a minty, somewhat peppery flavor to a variety of culinary dishes. Like lavender, it's best sheltered in mulch or leaf litter through the winter.
Men's Club sale
The Omaha Men's Garden Club plant sale is just ahead.
The annual event will be held from 4 to 8 p.m. on April 30 and 9 a.m. to 1 p.m. on May 1 at the Keystone Event Center, 7803 Military Ave.
Heirloom tomatoes, peppers and bedding plants will be sold as well as tropicals.
"We have the best selection of heirloom tomato plants you will find in our area," club member Rita Corell said. "The tomato plants are always a big hit. We have some nice Italian and specialty pepper plants too, in addition to a few other vegetable plants for the garden."
Volunteers will be wearing masks and gloves. The number of people let in will be limited due to the coronavirus.
Gardening for diversity
A hands-on workshop about gardening for diversity will be held Monday at 7 p.m. at the Hitchcock Nature Center in Honey Creek, Iowa.
The event will focus on plant species selection, native garden landscaping and where to purchase your plants.
This is the second of six sessions that cover different aspects of native gardening, from planning to planting.
The next session will be April 26 at Narrows River Park north of Council Bluffs. Participants will learn hands-on how to plant and space native plants in a pollinator garden.
---
What is Arbor Day? Here's the meaning behind day for trees
It literally means tree day
The Latin word for tree is arbor. True to its name, Arbor Day celebrates the preservation and planting of trees.
Arbor Day started in Nebraska
Nebraska was the first U.S. state in the US to observe it as a formal holiday in 1872. However, the Arbor Day Foundation, based in Nebraska, says "tree planting festivals are as old as civilization."
In 1872, Julius Sterling Morton, a newspaper editor and former U.S. secretary of agriculture, submitted a resolution to Nebraska's State Board of Agriculture to set aside one day dedicated to planting trees. After the board passed the resolution, more than one million trees were planted on the first official celebration of the day on April 10, 1872.
In 1885, Nebraska moved the holiday to April 22 in honor of Morton's birthday. The event eventually spread to all 50 states and other countries, including Australia, Brazil and Canada.
Nixon recognized it as a holiday
In 1972, former President Richard Nixon declared National Arbor Day to be celebrated on the last Friday in April. However, some states have designated different dates to ensure the trees are planted at the best time for growth.
"The planting of trees is an action that yields a long-range benefit on generations to come," Nixon, who created the Environmental Protection Agency, wrote in his proclamation. "Arbor Day uniquely symbolizes the truth that the earth belongs to every generation, not just ours."
Trees offer tons of benefits
Morton and his wife sought to plant trees in Nebraska to increase the amount of shade from the hot prairie sun. Trees also served as windbreaks, fuel and building materials.
Today, trees provide wildlife habitat, erosion control and natural beauty, the Arbor Day Foundation says.
In addition, they offer huge benefits when it comes to absorbing atmospheric carbon dioxide, which is the main driver of climate change.