Those acrobatic little aviators known as hummingbirds have been putting on quite a show this year in Nebraska.
At backyard feeders from Aurora to Pilger, from central Nebraska to North Omaha, many bird lovers have reported an increase in hummingbirds this year.
Peak numbers typically occur during the first week of September as part of the fall migration, said Joel Jorgensen, the nongame bird program manager at the Nebraska Game and Parks Commission. In the weeks ahead, the numbers will decline as more head south.
Laggards sometimes remain into the second week of October, Jorgensen said. Males migrate through first, followed by females and immature hummingbirds.
Birding message boards have been alive with reports and photos of hummingbirds.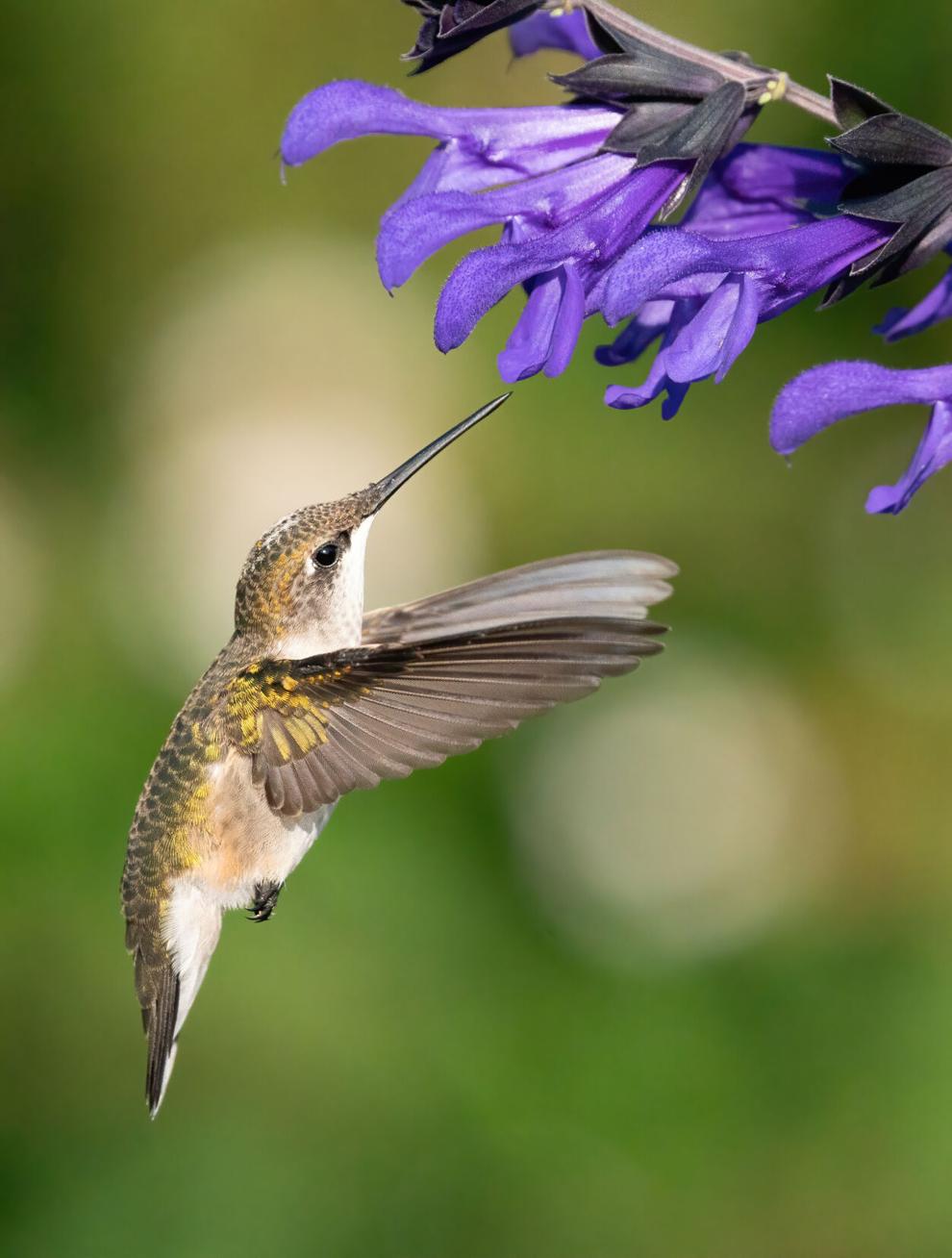 "Everybody is excited to see them right now," said Ami Sheffield, an Omahan who has made birding and photography an avocation. "How they move is so amazing to me, they use their tails like little rudders ... and they are so territorial."
Sheffield said the key to photographing birds is patience.
"You just have to be real patient," she said. "For every one photo I get that's beautiful, I have 40 blurry, chaotic ones. But when you get that one magical photo, it's amazing."
Hummingbirds aren't the only birds that have popped in. Area birders have also seen more orioles lately.
Ian Feilmann of Bellevue said he noticed oriole numbers begin to increase about three years ago. And this year, he saw a jump in hummingbirds. It's interesting, he said, how the tiny hummingbird doesn't seem to be intimidated by the larger orioles.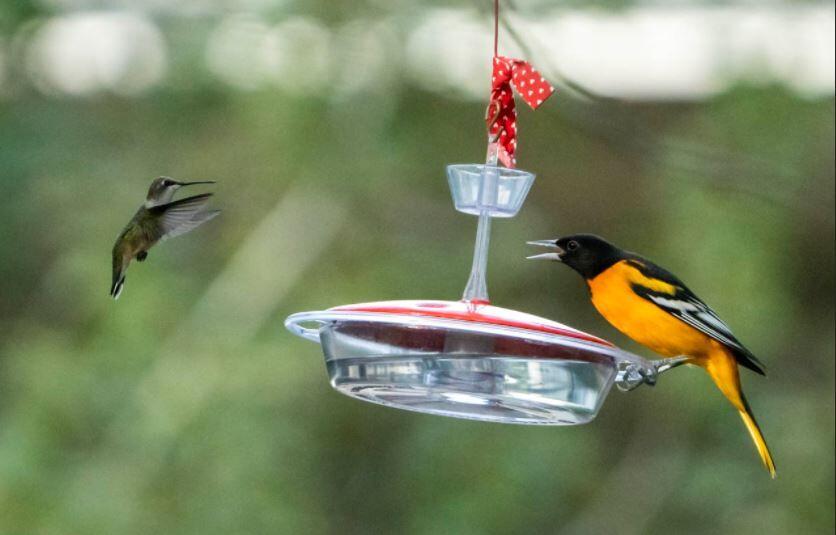 Jackie Fox of the Elkhorn area is not sure why she's seeing more hummingbirds, but she's enjoying the show.
"I love how tiny and quick they are, and when one hovers near me to check me out, it takes my breath away," she said.
Liz Garcia of Utica said she had at least 40 hummingbirds in her garden the first week of September, the most she has ever had at one time. In years past, she said, the number has peaked around 30.
Ornithologists say there's no clear reason for the increased numbers at feeders and in gardens.
Data from eBird, a public bird-reporting website run by the Cornell Lab of Ornithology, show that sightings of hummingbirds are up in Nebraska but oriole numbers are fairly average. The numbers show what could be a concentration of birds migrating through a bit earlier.
"One year is too short a time to understand a trend," said Andrew Farnsworth, a senior research associate at Cornell. "It is exactly this kind of observation that leads to interesting scientific ends and understanding of patterns. Time will tell if there is something to it."
Bob Wells, a member of the board of the Audubon Society of Omaha, said people who are new to feeding hummingbirds should learn the habits of the little birds so they don't get discouraged.
The birds feast at feeders during two separate periods: the spring and the fall. People shouldn't be discouraged, he said, if the birds disappear in the summer. They typically arrive around the start of May, famished from their long journey north. At that point, they eagerly sip sugar water from feeders to rebuild energy.
In the summer, as they rear their young, they shift to more nutritious insects, both for themselves and for their young.
After the young have fledged and they prepare for their migration south, they return to backyard feeders to load up on sugar water.
Many birders comment on how feisty hummingbirds get around feeders, chasing each other off. Wells said there's a reason for that.
"They're eating like mad; they know they have to get out of here," he said of their looming migration to as far south as Central America.
The best food for hummingbirds, these and other birders agree, is sugar water (one part sugar, four parts water, brought to a boil and cooled off). Wells said there's still a chance that you'll attract hummingbirds if you put out a feeder, but expect them to disappear over the next few weeks.
Orioles like orange slices and grape jelly.
In eastern Nebraska, Jorgensen said, the primary hummingbird is the ruby-throated hummingbird. In the Nebraska Panhandle, he said, the broad-tailed, rufous, calliope and black-chinned hummingbird can be found.
---