Joel Case didn't balk too much when his wife, Bambi, wanted to spend $1,000 on Halloween decorations.
She had to have the almost life-size skeleton horse and buggy that lights up at night. And, of course, there was the mausoleum and grave digger for the other side of their Dundee yard.
Bambi Case just had to do a little convincing.
"It is our favorite time of the year," she reminded Joel.
The Cases aren't alone. Although expecting a dip due to the coronavirus pandemic, the National Retail Federation says that consumers still will spend more than $8 billion on Halloween this year.
Millions still will trick or treat.
Brad and Amy Schaap totally understand the Cases' love of all things Halloween. Since moving to 38th Street in the Gold Coast neighborhood, they've joined the frenzy of decorating every October.
Nineteen blowup decorations fill their front yard.
"We have had up to 2,000 trick-or-treaters," she said. "When we moved in, I had to put Halloween candy in my annual budget."
Usually, just about every house along 38th Street is decorated. But this year, because of the virus, many houses will be dark on Oct. 31. The homeowners don't want to risk becoming a COVID-19 hot spot by drawing big crowds.
Amy Schaap supports the neighborhood decision but still wanted to put out her decorations.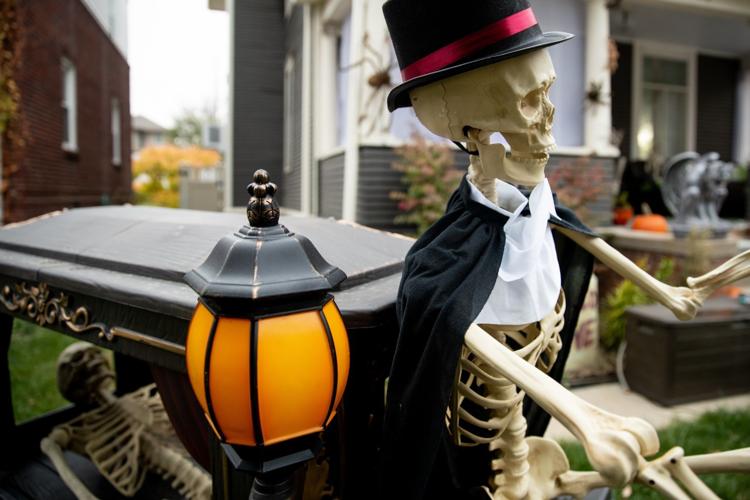 "I enjoyed Halloween growing up. It just became a lot more fun when everybody is into it," she said. "It's very energetic and such a community event. Everybody is happy. That's kind of what we love about it."
Schaap said she hasn't spent a ridiculous amount on her decorations. She tries to get them on sale and to buy early. By October, the best stuff is gone.
Bambi Case said that's usually the case with her family, too. She just couldn't resist the horse, mausoleum and grave digger.
She's not sure yet where she'll store it all when the holiday is over. Right now, all the packing boxes are in a neighbor's garage.
Many more boxes of Halloween are in her basement.
Bambi Case said her family adored decorating when she was growing up, and Joel has grown to love it, too.
He dresses up as Michael Myers from the "Halloween" movies every year. Most kids think he's just part of the decorations until he slowly starts to follow them after they nab their candy.
That's when the screaming starts.
"We love scaring the kids when they come by," Bambi Case said. "I know it sounds horrible, but the kids get into it every year."
More than a dozen huge spiders climb over their house, and on Halloween night they project a ghostlike figure coming out of the grave. Inside, they even have a fish bowl with skeleton fish.
The Cases still plan to hand out treats while taking safety precautions. Bambi ordered resealable bags and has already stuffed about 500 with candy. She'll wear a mask and gloves to hand out the treats.
"I still think we will get a lot of trick-or-treaters," she said. "I'm hoping so."
Halloween history in Omaha
Omaha World-Herald: Inspired Living
Inspired Living Omaha spotlights home, design, fashion, food, entertaining, design, travel + more.