Ten raised garden beds, a chicken coop and drying laundry swaying in the breeze are the first signs that these aren't your typical suburban homeowners.
Certainly not at the front doorstep of the Stony Brook subdivision in Millard. The property's landscaping has prompted complaints to the city because it doesn't match the sea of green lawns dotted with pretty flowers that fill the rest of the neighborhood.
"The way it was explained to me is people think it looks tacky," said Morgan Rye-Craft, who shares the house in question with husband Ean Craft, their son Quinn-Michael and Craft's sister and brother-in-law, Reneelynn and Cade Parker.
Some neighbors have raised concerns, saying that the large corner lot at the entrance to the subdivision is one of the first visitors see. They worry it will bring down property values.
To the two couples, the examples of sustainable living in their yard are a beautiful sight. The raised beds, filled with flourishing herbs and vegetables, will feed them throughout the winter. The three chickens provide eggs.
"Every time I roll up it makes me happy," Rye-Craft said.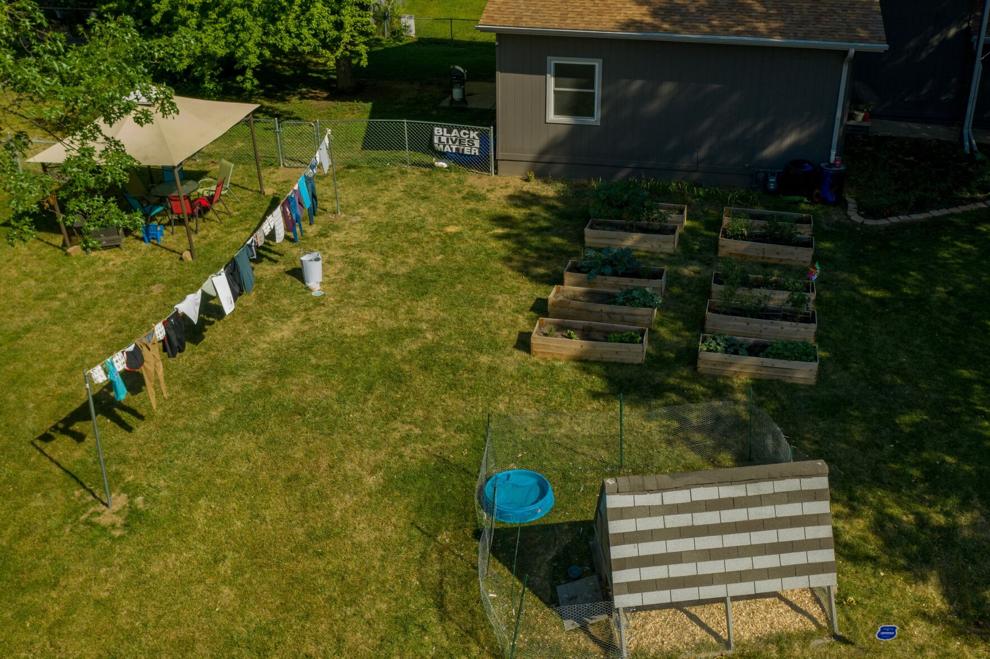 The families moved in together in March as part of their goal to practice a zero-waste lifestyle. They compost, recycle and share items on a buy nothing Facebook group.
Rye-Craft quit her job when Quinn-Michael was born to devote as much time as possible to making their lifestyle a success. She's now working part time.
"I try to describe it as a mindset. It's not necessarily that we don't make waste," she said. "We try not to buy anything that gets thrown away or reuse things we have. We always try to find a purpose for every item that gets brought into our house."
After losing a chance at several other homes in a hot housing market, Rye-Craft was happy to return to Millard, where she grew up while soaking up her recycling skills from her grandmother.
She knew not everyone would appreciate the way they're putting their yard to work, but the couples have been very careful to follow city rules. There are no covenant regulations.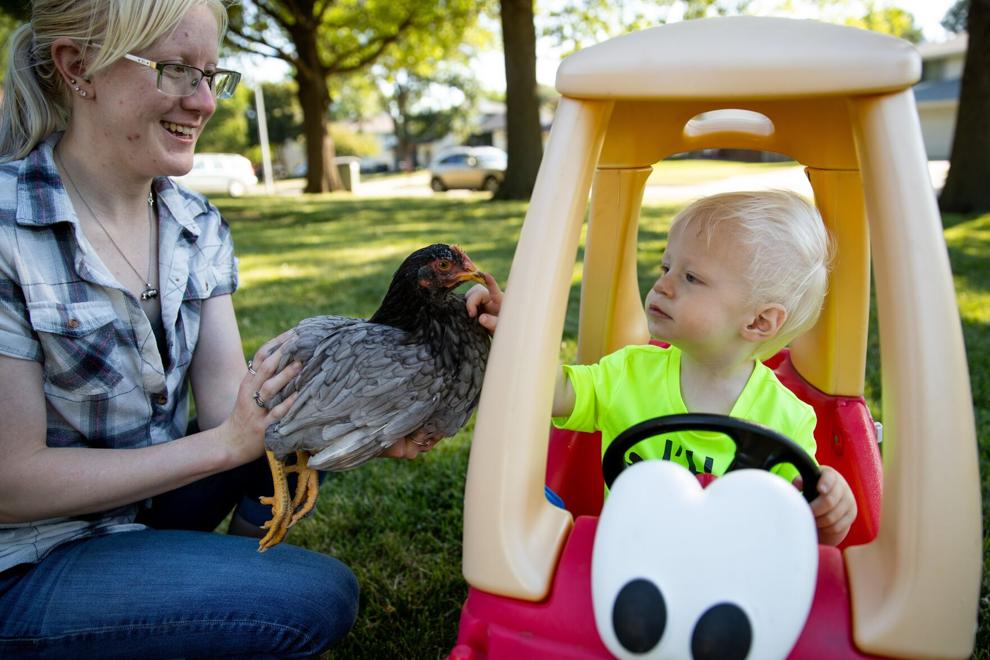 Neighbor Chad Johnsen says it's different from the majority of the neighborhood, and he's heard some negative comments, but he thinks what they're trying to accomplish is a positive.
"Growing your own food in your own yard is fantastic," he said. "And having chickens for fresh eggs is great, too."
The couples hope to become involved in the neighborhood association and welcome questions about what they're doing in their yard. They try to keep the lawn, the coops and the garden beds as tidy as possible.
A fence will provide another solution. They had planned to add one this spring, but the high cost of lumber delayed that decision.
Rye-Craft said they understand it's a different lifestyle and knew there could be pushback when they moved in. But it's not something they're trying to impose on anyone, though they would love to set an example for others interested in sustainability and helping the environment.
"We have tried really hard. We're outside a lot. We've tried to introduce ourselves to everyone around us," Rye-Craft said. "The majority of people around us think it's neat."
---