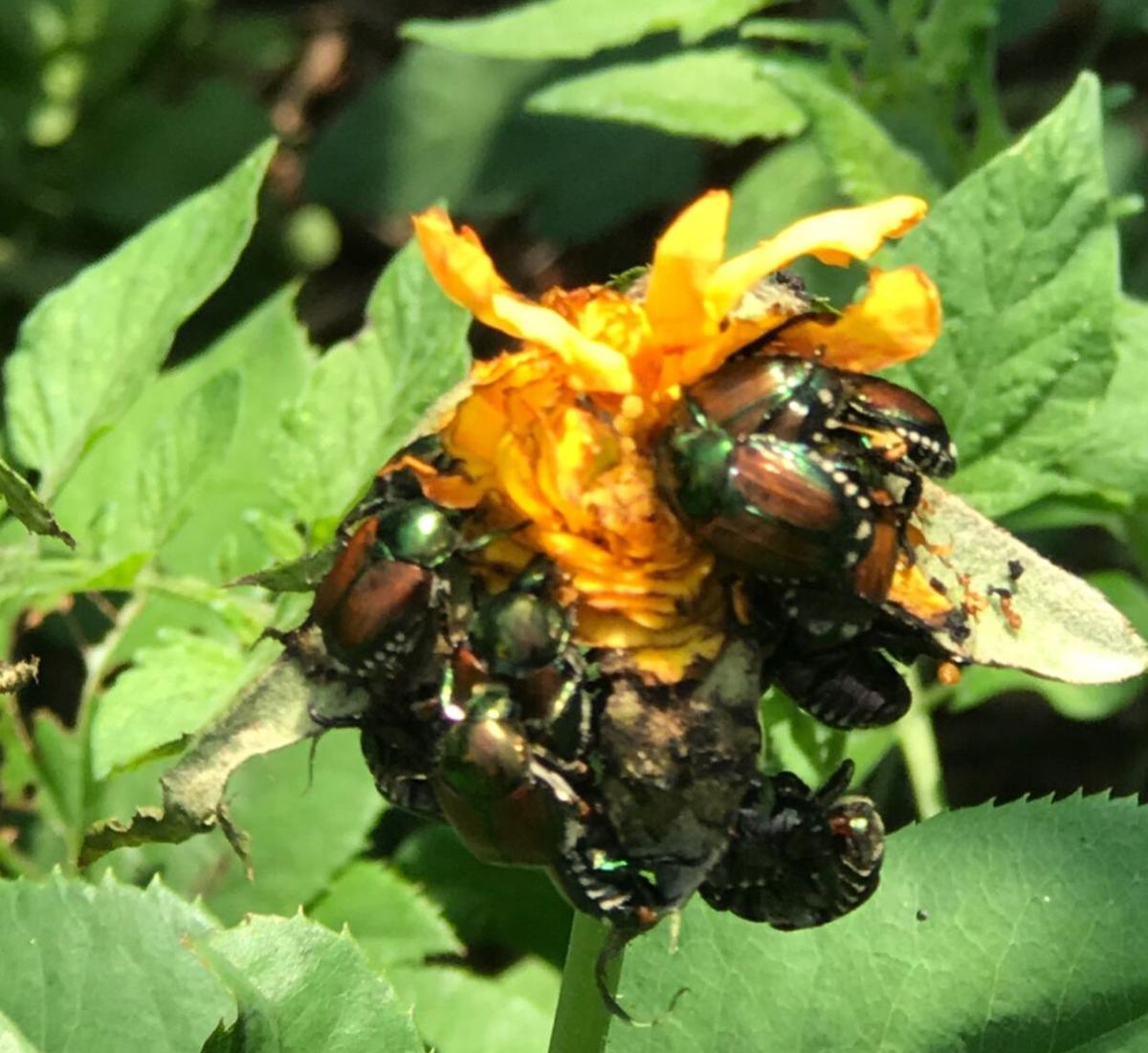 While it's depressing to walk outside and still see Japanese beetles devouring your flowers, the end is near.
At least for the pesky insects. The adults, which began to appear around the Fourth of July, only live for about 45 days.
"They should really start decreasing in the next seven to 10 days," said Scott Evans, horticulture program coordinator for the Nebraska Extension in Douglas-Sarpy Counties.
Once they're gone, clean up affected plants, just like you would dead-head a rose, but don't do any heavy pruning.
"Trimming can stimulate new growth, and that's something we don't want right now," he said. "Remove flowers that have just really taken a hit."
Evans said gardeners should continue to be patient if their tomatoes are still green. His tomatoes last year didn't start turning red until after Labor Day.
"It's just probably going to be a late harvest," he said.
Other things on the calendar this week:
Now is the time to start overseeding lawns with turf-type fescue. Bluegrass lawns can be seeded starting at the end of the month.
Improve seed-soil contact by aeration. If possible, have the lawn double-aerated (north to south, east to west).
Wait until surprise lilies finish flowering before digging and thinning. They should be divided every four to five years.
Garden mums are now available at garden centers. They are not reliably winter hardy to Nebraska. Consider pairing them with kale, pansies and Swiss chard Northern Lights.
It is too late to apply an herbicide to kill crabgrass. It is too big and healthy to be managed. However, it will die off with the first killing frost or freeze.
Arboretum sale
The Nebraska Statewide Arboretum has been focusing on plants for pollinators for the last several years. With so many gardeners planting vegetables for the first time, they might not know that pollinator-friendly plants can make a difference in production.
To produce a mature watermelon, for instance, eight or more visits by a pollinator are required. Attracting birds, butterflies and other pollinators also makes landscapes more lively and interesting for the gardener.
Every Friday through the end of September, the arboretum is hosting in-person plant sales from noon to 4 p.m. at the University of Nebraska-Lincoln East Campus greenhouses. Enter via North 38th and Huntington Streets due to construction. There will also be Saturday sales from 9 a.m. to noon Aug. 29 and Sept. 12.
Masks and social distancing is required.
An online plant sale at arboretumplants.org is open weekly from noon Monday to noon Wednesday. Pickup is Thursday and Friday in Lincoln.
For plant recommendations and resources and more information about sales, go to plantnebraska.org.
Garden walk
The Papillion Junior Woman's Club is holding a garden walk from 9 a.m. to noon Saturday.
Freewill donations will benefit four Sarpy County food banks. Five gardens will be on the walk. Go to the group's Facebook page for more details.
Photos: Tomlinson Woods garden is 20-year work in progress
Rebecca Timmerman of Sunnyside Garden Care maintains Sylvia and Gary Bohn's grounds weekly, sometimes with a pickup loaded with new plants. That's why the gardens seem to change by the day as the different species take their turn in the limelight.
Sprout new ideas
With our home & garden newsletter!