Mark and Mikal Eckstrom of Maison MxM love checking out houses on their walks.
There are plenty of gorgeous properties in their Regency neighborhood. But occasionally they'll come across a home with columns that look like toothpicks holding up a roof or a garage door painted with a contrasting color that makes it stand out when it should disappear.
"Mikal, you should leave a note,'' Mark Eckstrom will say. "Those are the things that kind of drive us nuts.''
Those "toothpicks'' are all about the scale of the house. They aren't in proportion with the rest of the structure. And the Eckstroms are firm believers that garage doors are utilitarian and should not be a focal point.
They have a favorite quote from famed architect Frank Lloyd Wright: "A doctor can bury his mistakes, but an architect can only advise his clients to plant vines.''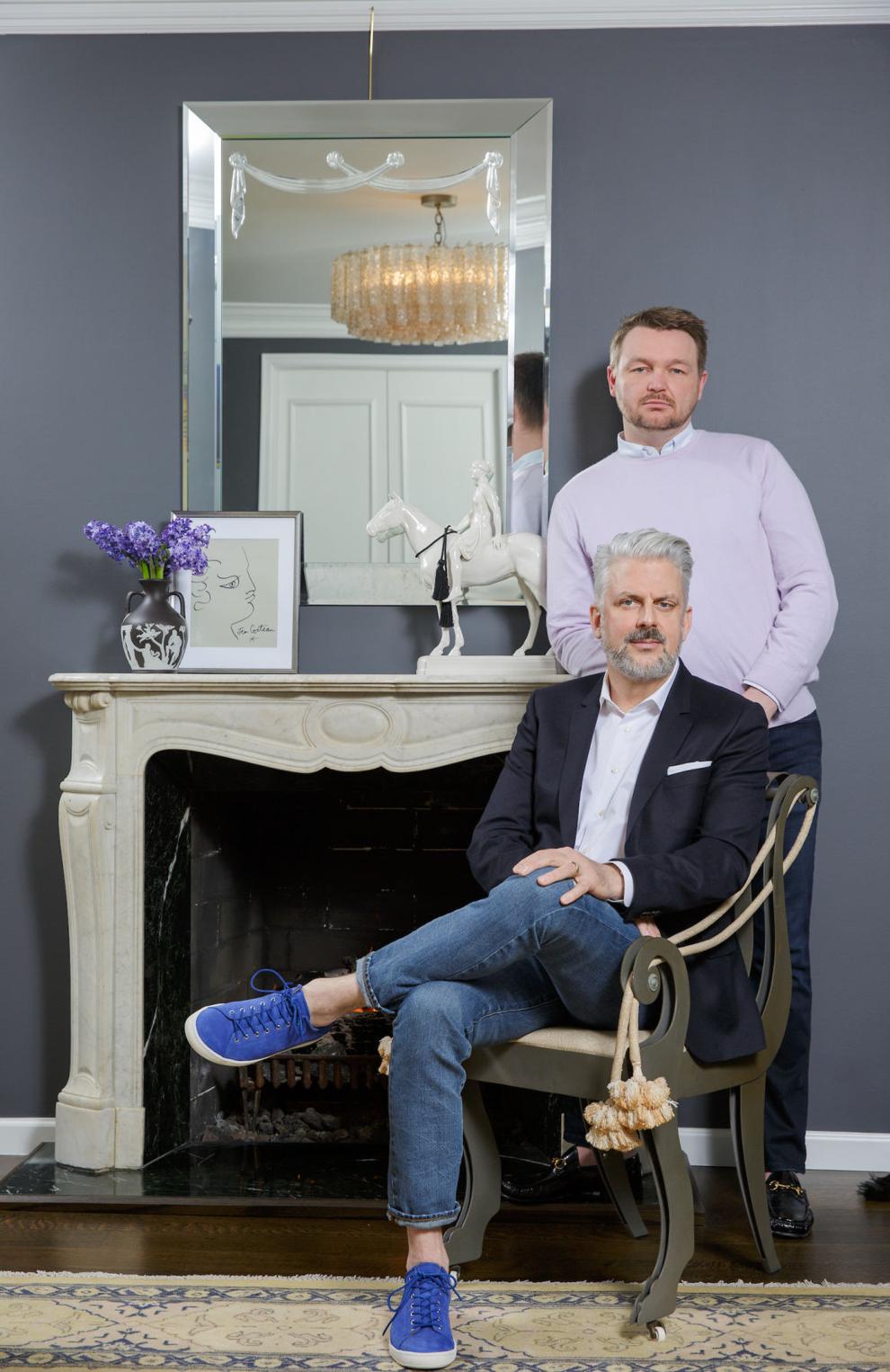 Here, the Eckstroms and other Omaha-area interior designers offer their best curb appeal tips, so you don't have to plant vines. Unless you like them, and then that's great.
"Start by making a wise choice on your house colors," says Courtney Otte, founder and principal interior designer at The Modern Hive. "Diversify and add interest to the house by keeping your neighbor's home color scheme in mind. The goal is to have something that is different and stands apart from surrounding houses, but is complementary to the neighborhood.''
One trend is to paint red bricks white and add black shutters and a black roof, says Beth Settles of Interiors Joan and Associates. Painting brick, siding or window trim adds interest. Shutters and new windows can too. "Choose elements that are different from your neighbor's to avoid the 'cookie-cutter' look,'' Settles says. "Be consistent, but add personality.''
If your front door can be seen from the curb, let it shine, suggests Libby Pantzlaff of Creative Interiors by Libby. Spring green, robin's egg blue, burnt orange or a mellow yellow are fun choices. "It can bring life to a home with a fresh coat of paint,'' she says. "Don't be afraid to mix a custom color to be uniquely yours.''
Also trending are oversized, stylized house numbers that make a statement. The font style can enhance the design and give a clue to what is inside your home. You can be creative on their placement, too. "It's not set in stone to have it next to the front door or even attached to the house,'' Pantzlaff says.
The back of your house deserves equal priority, too, especially if you live on a corner or a lake where it's in full view.
The next focus should be the landscaping. A well-kept yard and exterior make a huge difference, Otte says, and it doesn't need to cost a fortune. "Simple things like a few potted plants flanking either side of the door can add to the curb appeal.''
Curb appeal stretches to he inside of your house, too. A cottage vibe on the exterior doesn't necessarily go with an ultra-contemporary interior, Settles says. "It's inconsistent.''
Even the small stuff can make a difference. Don't overlook the lining and street-side backing of your window treatments. They may look great inside but you want them to look just as nice from the outside.
"If you're remodeling or building new construction, those are great times to update the exterior, too, and to incorporate details that give your home a more updated or appealing look,'' Settles says.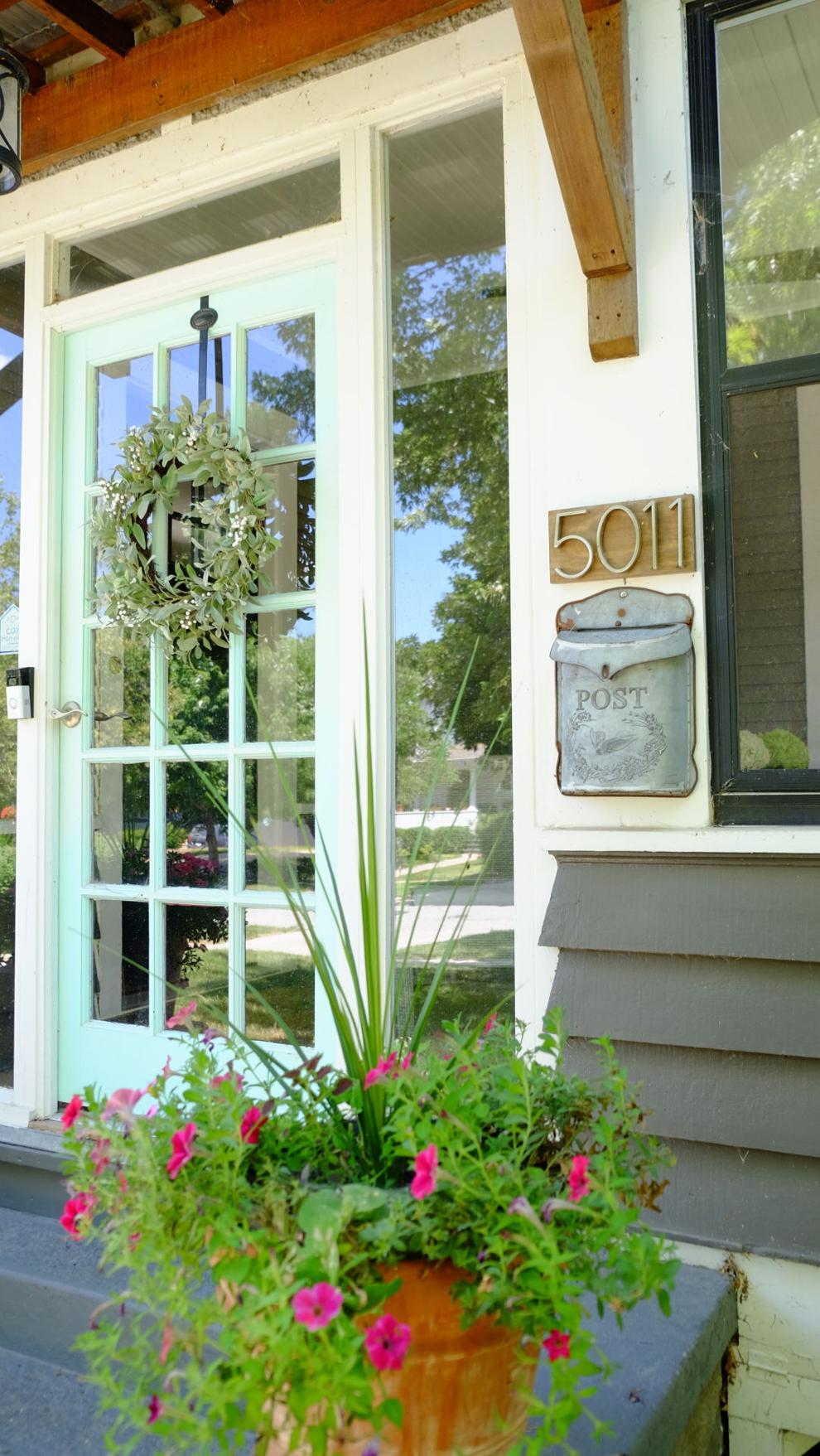 Doors
John Sunderland of Sunderlands has always been fascinated by how different doors can be made to look. His 1925 home, which was built to look like a French farm house in Normandy, where its designer served in World War I, features a massive front door. It was painted periwinkle blue when he moved in and he decided to keep it that color because he likes the look from the street. "I found it striking,'' he says. The door has the thickness of three and restoring it is on his agenda. Although he likes it, he's not sure yet if he'll keep the same color.
The Eckstroms, of Maison MxM, say the possibilities are endless. Red is historically a welcoming color and radiates an inviting glow to guests. "We also believe there's a Nebraska affinity to the scarlet hue,'' they say. But there are so many other fun colors like lime green, chrome yellow, fuchsia and Hermès orange. They know someone with a pink front door, and they love it.
"Be bold and experiment,'' they say. "It's easier to paint your front door vs. painting the entire house.''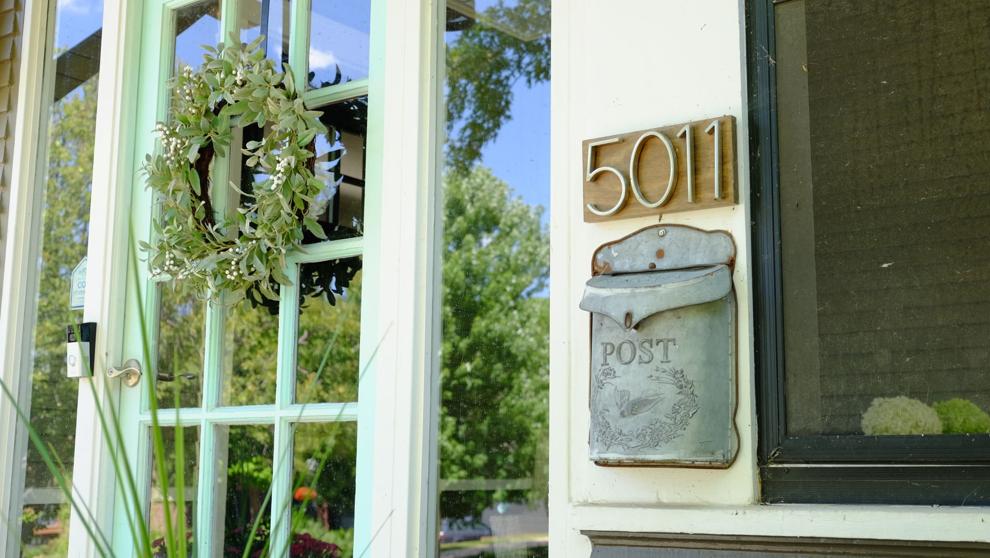 Little touches
Omaha teacher Sara Connell wanted a different look for her house numbers and mailbox. She stained a piece of wood and then drilled on numbers she found from Lowe's. Her mailbox was an internet find. Next up is to replace her pale blue door with a lighter wood-colored glass design. "It will add to the craftsman's style of the house,'' she says.
Little points of interest will always draw attention to your home, says Otte, of The Modern Hive. "These are the things people notice as you add layer and depth to the curb appeal of a home.''
Remember, too, that it's all about what you like. Otte says rules are meant to be broken when it comes to design. The most important considerations in your design decisions are flow and continuity.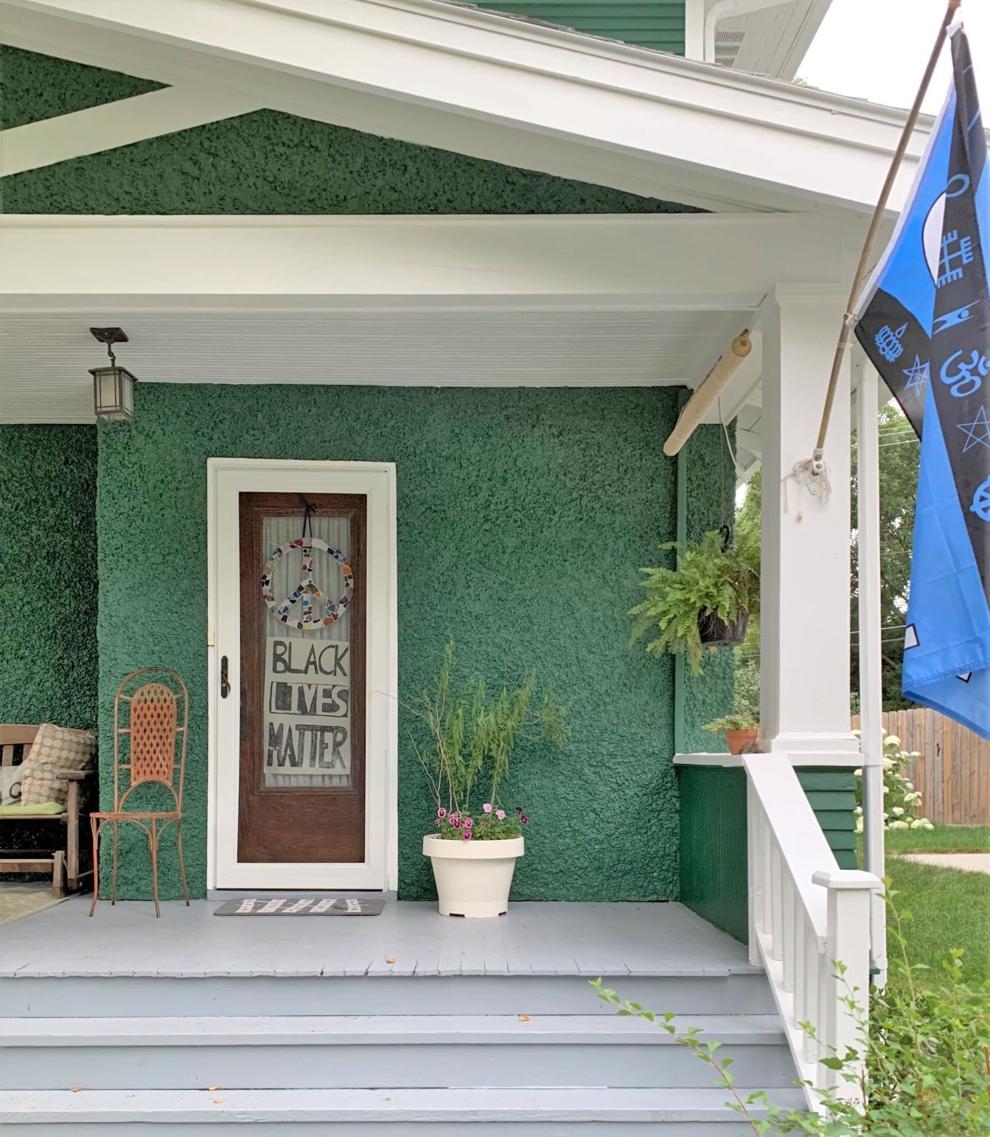 Paint
The De Motts have kept their Dundee home white for 36 years. That was so when it needed painting, Jim could tackle one side each summer. It was hard for him to give that job up, but this year he and wife Lynn decided to hire a pro.
"We did some research about craftsman-style homes and learned darker colors were stylish when our homes were built,'' Lynn says. They opted for green (Benjamin Morris "Wilderness") with white trim.
"I love the way our flowers and yard look with the house,'' Lynn says. "It will be interesting to see how it looks when it snows.''
Pantzlaff, of Creative Interiors by Libby, says says painting your home can give it a face lift. "Not only does paint add a layer of protection from weather damage, insects and dust, but a fresh coat can take years off a home.''
Consider accenting the front door or shutters with a fun, bright color, she says, but let the exterior base be something more neutral. When picking a color, consider the color of other houses on the block. "You want yours to be unique but not shout out.''
Don't pick your color off a small paint chip either. Purchase sample-size paint and white art board. Give it two coats of paint, and move it around the exterior in sun and shade. "If you are still unsure of color choice, maybe it's time to call a designer to help. Who knows, you could end up with a paint color you can name your own,'' she says.
Landscaping
Routine maintenance is the biggest thing you can do to improve your home's curb appeal, says Lanoha Nurseries' Pam Johnsen. Pruning trees, trimming shrubs, pulling weeds, adding sufficient mulch and keeping a clean edge on beds will instantly up your look.
Creating layers of plant material with varieties that can provide seasonal interest and adding trees for proper scale to the home are important, says fellow designer Kristy Fortik. But also add elements such as boulders and outcroppings to create elevation changes and movement. A few strategically placed annual flowers will add color and interest. Decorative pots will set your entryway apart.
A few things to remember: Don't plant trees too close to your foundation or a plant that needs sun in full shade or vice versa. "Don't install more landscaping or features than you can maintain,'' Johnsen says. "Do something, but make sure you can take care of it.'' That means consistent watering so your plant material looks its best.
With more people staying home, there's an increased demand for outdoor living spaces as well as pools and play areas. Cool tones such as grays, whites and black are part of that trend. Paver walkways lead the eye to your front door and can add an original touch. There are lots of options, Fortik says, so no two pathways have to be alike.
The overall look
The exterior of your home is just as important as the interior, says Settles, of Interiors Joan and Associates, so put equal thought into the aesthetics of both spaces. "They should compliment each other.''
Coordinate the structural lines of the home to compliment the window shapes and placement.
Use brick, stone, stucco, siding and other textures to add interest and depth to the exterior. A professional interior designer can help you to determine the correct scale and proportion, even getting as detailed as selecting the appropriate width of siding.
Take into account the aesthetics of the neighborhood. Is it wooded? Is it more of a prairie landscape? Is it on a lake? What do the neighboring homes look like? What are the homeowner association rules and codes?
Shingles can make a big difference in the look and style of the home.
Front door design is crucial to setting the tone for the interior of the home. Choose a door that is cohesive with the home's style, and don't be afraid to go custom. A custom front door can add instant impact in the way of shape, window integration, etc.
Garage doors have become a big architectural feature. Consider which style and finish/color will be best for your home.
Paint color and stain color are perhaps the biggest impact of all for a home's exterior. Work with a professional designer to choose something that is unique, but still parallel to the neighborhood's aesthetics.
Consider using unique wood species to get a different look. Cedar is an example.
Utilize metal detailing in house numbers, cladding, etc., to add interest and depth.
Don't forget that a mailbox can have a huge impact on the front of a home. Landscaping can add beauty.
Professional landscaping is a huge part of the success of a home's exterior. Strive for layers, textures and colors that allow for color all year long.