Karen Kader describes her backyard as a pollinator's heaven.
It's filled with big beds of colorful zinnias, along with cannas, coneflowers, milkweed and sunflowers.
"With a few vegetables that get swallowed," she said.
The zinnias, passed down from her grandmother and mother and shared often with friends, are a magnet for butterflies and birds.
"Lots of bees," she said. "Holy cow. All kinds of bees."
Kader, a nature and wildlife photographer who lives in southwest Omaha, said she recently had around 100 painted ladies flitting for several days around her zinnia beds. A few hummingbirds have made an early arrival, and Kader thinks they might be nesting in the area. She has counted five types of swallowtails, numerous skippers, sulfers and moths. And in late August, the monarch butterflies will show up en masse.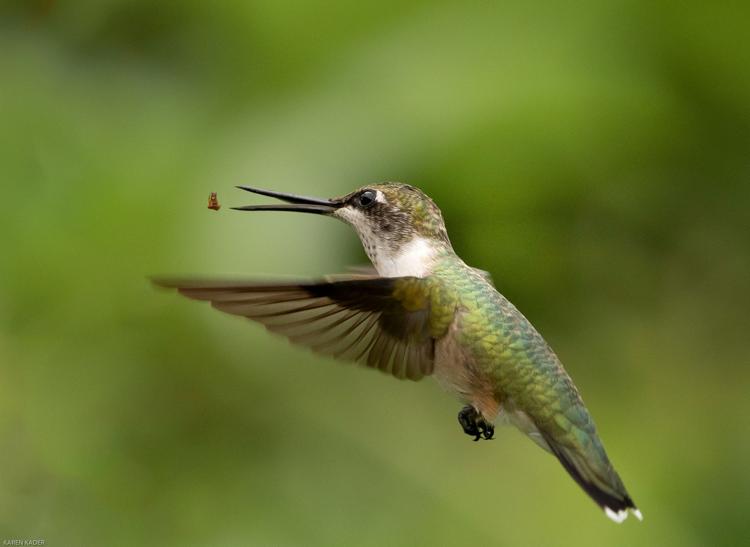 Kader likes zinnias because they are easy to grow, there are countless varieties and they bloom all summer. Cut some to bring inside for a bouquet, and they'll bloom again.
Kaders saves the seeds each year and then plants them in her old plastic flower pots. Some seeds she'll just toss on the ground and cover with soil, and then keep the area wet for a few weeks. That's the key, she says.
They're easy to care for once they start growing. She recommends watering the plants near the soil to avoid powdery mildew. She mulches with grass clippings and occasionally fertilizes with a sprinkle of Epsom salts for strong roots.
Then she just watches the parade of pollinators enjoy her work.
"It's my sanctuary," she said.
Plant swap
The Midtown Plant Swap will be held from 10 a.m. to 1 p.m. Aug. 8.
Marin O'Donnell and Amelia Rosser organized the event after several others in the spring were canceled. It will be held outside at 2142 S. 34th St.
Anyone interested in attending can sign up by going to Midtown Plant Swap on the Facebook events page. Only 10 people will be allowed at the swap at a time.
O'Donnell said they want to connect people while still maintaining CDC guidelines for social distancing.
"Just give people a little happiness through houseplants," she said.
'Don't mow flowers'
Rich and Kathleen Henningsen's quest to visit all of the country's national parks has been sidelined by the coronavirus pandemic.
So, instead, they've been doing lots of walking on the trails near their Regency Lakeside Apartment home. They were particularly struck recently by the beauty of the Big Papio Trail near 105th and Pacific Streets.
"This year, it was absolutely gorgeous with the amount of wildflowers," Rich Henningsen said.
He even wrote a letter of appreciation to Omaha's parks department.
A few days later, all the flowers were mowed down.
It wasn't the city that took that action, however. The pathway is under the jurisdiction of the Natural Resources District. Mowing occurs a few times each year in order to meet maintenance requirements for the channel from the U.S. Army Corps of Engineers.
Henningsen understands, but was disappointed. He wishes the mowing could be scheduled before and after the flowers bloom.
"I just think it's strange to mow at the premium time of year when everything is blooming," he said. "It makes you mad. Especially when people are trying to preserve the bees and butterflies."
He wants to give a shoutout to Quarry Oaks Golf Club for its landscaping.
"The main road is mowed a few feet on both sides and the rest is covered in wildflowers," he said. "There are wildflowers over the whole course. Absolutely beautiful, and tons of butterflies."
Extra produce
Several food banks and pantries are accepting extra produce:
» Kountze Memorial Lutheran Church Food Pantry, 2665 Douglas St., is serving 500 to 800 people a week and will accept extra produce. The pantry is open from 10 a.m. to 1 p.m. Monday and from 5 to 7 p.m. Friday. Other drop-off times can be arranged.
» The Food Bank for the Heartland, 10525 J St., is accepting produce. Vegetables and fruit can be dropped off Monday through Friday between 8 a.m. and 4 p.m. Set items on the black plastic pallet in the parking lot near Dock Door 6.
» Several food pantries are accepting produce in Council Bluffs. Preferred items are tomatoes, peppers, onions, squash, sweet potatoes, potatoes, cabbage, broccoli, sweet corn, melons and cucumbers. The pantries are: Care and Share, 600 S. Main St., 5 to 7 p.m. Monday and Wednesday, and 1808 Fifth Ave. 9 a.m. to noon Monday and Thursday; First Baptist Food Pantry, 540 First Ave., 9:30 a.m. to noon Monday; Southside Pantry, 1919 S. 10th St., 8 to 10 a.m. Tuesday and Wednesday; Community of Christ Food Pantry, 17 N. Second St., 9 a.m. to 4 p.m. Monday through Friday.
» In collaboration with Whispering Roots, Mulhall's, 3615 N. 120th St., is accepting donations of fresh produce every Thursday from 11 a.m. to 2 p.m.
Omaha World-Herald: Inspired Living
Inspired Living Omaha spotlights home, design, fashion, food, entertaining, design, travel + more.