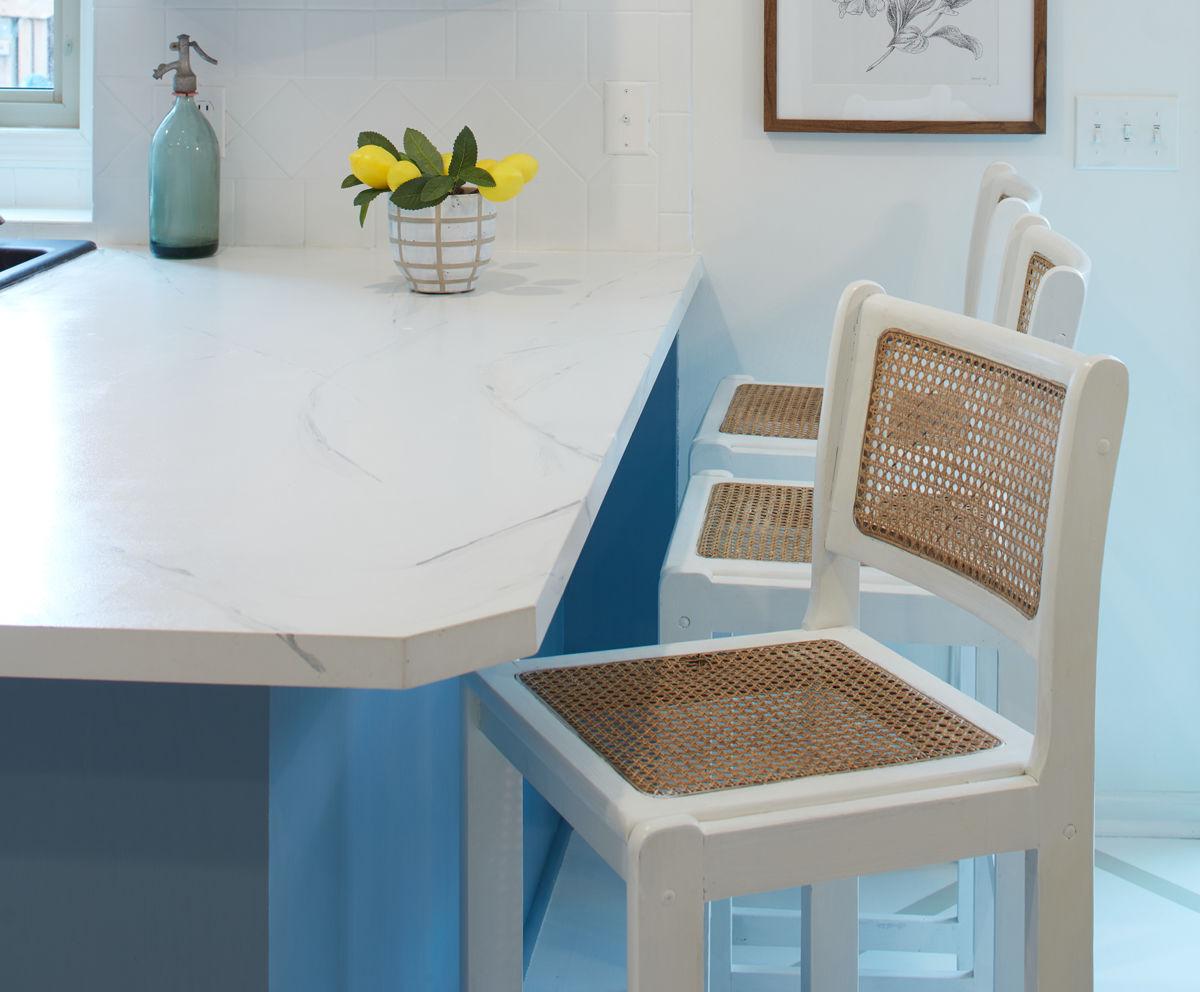 Designer Stacy Worlie of Stella Maris Designs, painted her countertops a year ago and says they've held up well. She has only had to do a few touchups. Here's her how-to for marbling your own countertops.
What you need
Paint brushes, including one with slanted bristles
Acrylic paint in three similar colors
What you do
1. Clean the countertop area at least twice to make sure it's super clean. Allow to dry completely.
2. Tape off the areas where the counter meets anything you don't want painted. I taped off my stove, sink and one cabinet. I used FrogTape painter's tape for the clean lines it leaves when removed.
3. Apply primer with a roller brush, following the directions on the can. I chose B-I-N Ultimate Stain Blocker and applied three coats because I had a very busy print on my Formica countertops. Paint the corners of the counter with a brush, then use a roller to level the spot so you don't have uneven paint areas.
4. Once the primer is dry, roll on the chalk paint. I used Rust-Oleum and applied three coats — better safe than sorry.
5. Next, paint the veining design. I used Anita's Acrylic Craft Paint in Pale Gray and Rainy Day Gray, and DecoArt Slate Grey. Look at examples of marbling or veining and practice the painting process on a sheet of paper or an old board. Use a slanted paint brush, dab it into the paint and start making lines with movement. I used a sponge to smooth things out. Don't be afraid to mess up; you can always paint over your pattern with more chalk paint and start fresh.
6. Apply a clear coat to the countertop to protect the design. A semi-gloss finish is easy to wipe down and clean. I applied three coats of semi-gloss Minwax One Coat Polyurethane. The can says one coat is enough, but I feel the more protection, the better. Roll on the clear coat and use a brush where necessary. Let dry completely.
7. Caulk around your sink to protect the area from water spills. I used DAP waterproof clear caulk.
Omaha World-Herald: Inspired Living
Inspired Living Omaha spotlights home, design, fashion, food, entertaining, design, travel + more.