Kris Freeman called her husband, Rob, back in 2016 and delightedly told him, "I think I've found our dream home.''
She was house-hunting for the couple, who were returning to Omaha from Denver. Rob told her to submit an offer, even though he hadn't seen it. After 36 years of marriage, he trusted her instincts.
"I just saw openness and airiness. It has such great light,'' Kris says. "It's like living in a snow globe. Every window offers a piece of art.''
There was just one tiny problem.
The whole house was orange, inside and out.
"The soaring ceilings, the woodwork and all of the oak cabinetry screamed of the '80s,'' she says.
It was a "country-ski lodge hodgepodge," she says, and it badly needed an update.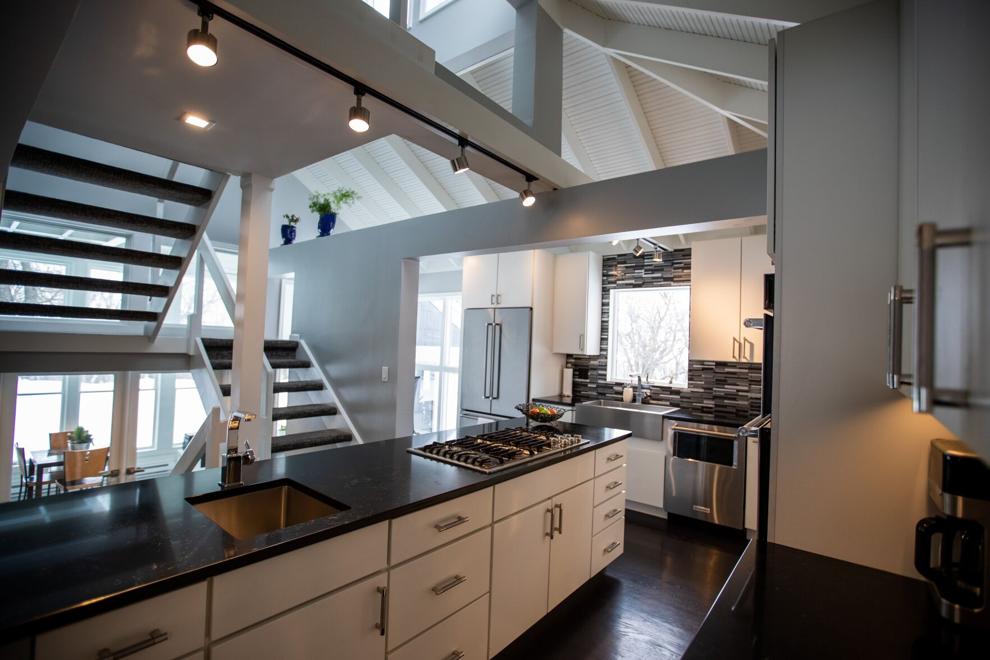 But combine the architecture of the 3,000-square-foot house − with its striking lines and good bones − plus more than an acre lot filled with 200-year-old oak trees, a guest house and a glorious view, and Kris knew they could make it stunning.
"I had a vision in my head that it could be a beautiful contemporary house,'' she says.
Kris, a retired teacher, had always been interested in architecture, so she drew up the plans. Rob and a friend, Ralph Maynes, both electricians, brought that vision to life.
They completed all of the carpentry and electrical work during an 18-month renovation. The Freemans were their own general contractors, hiring help where needed.
Sprucing up the outside was the first priority. The orange is gone, replaced with gray hues. The main house, guest house and shed all were different colors. Each received several coats of Sherwin Williams Peppercorn Gray for the base and SW Argos for the trim. New glass garage doors, exterior doors and lights brought the home's exterior up to date.
On the inside, they used those Sherwin Williams colors, plus a third gray. Passive appears on the main walls, Argos in the stairways and Peppercorn on the fireplace cabinetry.
With all the trees and wildlife, the gardens they've had at previous houses weren't possible. Kris planted 500 to 700 hostas, which the deer treat as an open salad bar. Birds flit around their bird feeders.
The couple lived in the guest house during the interior renovation. Kris had to laugh when she talked about the kitchen redo. She couldn't wait to get rid of a wall at the end of the island that divided the kitchen from the dining room.
"I took a sledge hammer to that thing, and every single bit of electricity that went to the upper floor was in that wall,'' she said.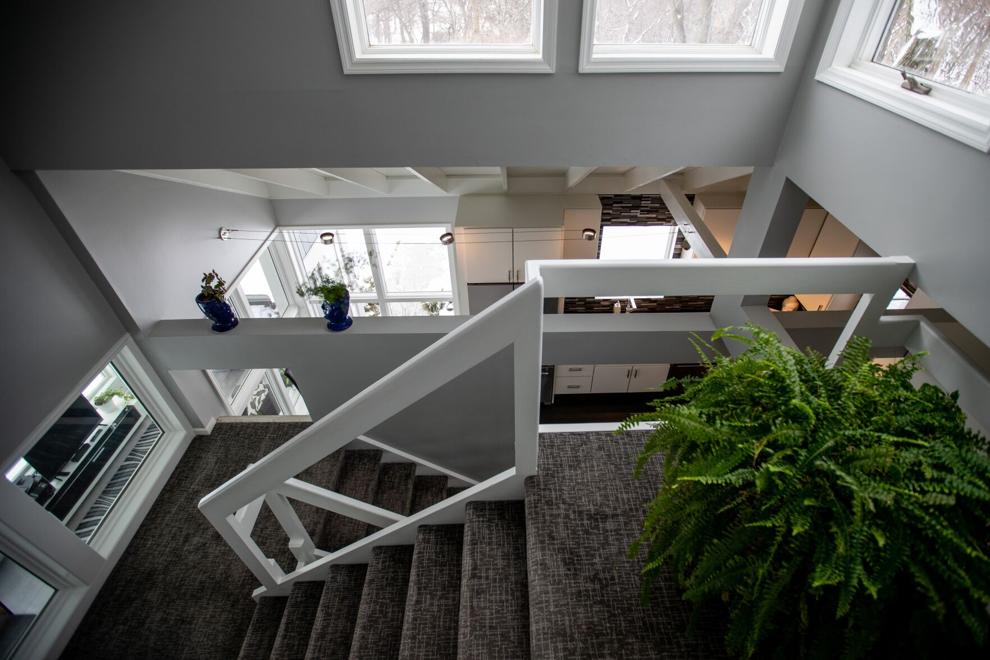 Electricity or not, it had to go. Kris said Rob was a genius in figuring out how to rewire everything.
Because of leaks, most of the walls and vaulted ceiling on the second level were taken down to the studs. A long hallway from the master bedroom to a laundry room was eliminated to gain living space. They removed a deck off the master bedroom that had caused leaks down a living room wall.
Now, with the renovation mostly complete, they spend most of their time in that living room, Kris says.
"We put in a gas fireplace as opposed to having to bring the wood in. We just flip the switch and there we are,'' Kris says. "It's a cozy place to be. We both like the outdoors. In the summer and spring, we like to be outside. We have a big deck in the back.''
The Freemans are in their 60s, and hope they can enjoy the house for many years despite its many stairs. Their dream would be to someday retire to the guest house (which has a heated five-car garage underneath) and have either son Jordan or daughter Ashley move into the main house.
The property, located north of Omaha, is a lot of work. They joke that the upkeep, inside and out, is keeping them young.
"We always say this house needed us,'' Kris says.