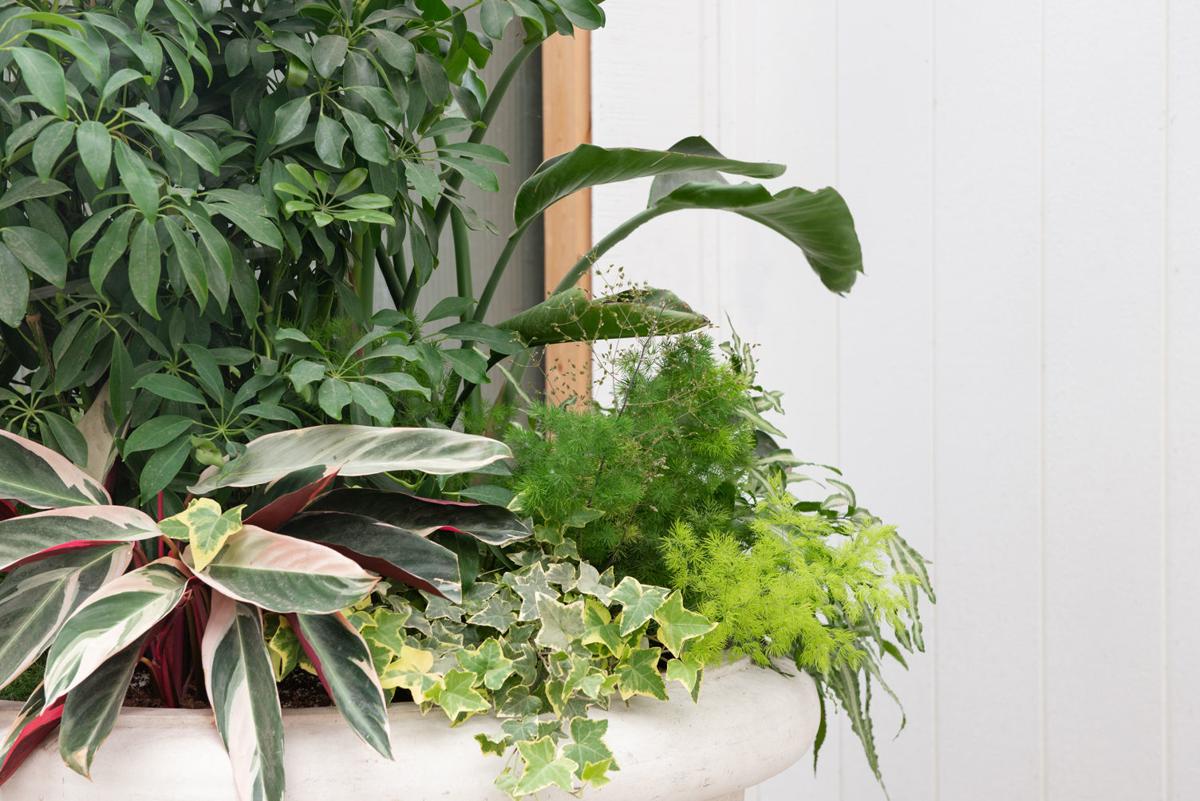 These are not your usual suspects — there's not a potato vine or spike in sight.
Not that there's anything wrong with using either in your containers. But you might be ready for something new and fresh this season.
No more blandscapes, says Amy Mefford, manager at Indian Creek Nursery.
Start as usual with your thrillers, fillers and spillers. But your containers don't need much more.
"We try to keep things here more on the simple side," says Angie Phillipp, a container design specialist at Mulhall's. "You get more of an impact than with a ton of different flowers."
Sunpatiens and begonias work well if your container is in a sunny area, offering big showy blooms. Consider tropical plants if your container is in the shade — many can provide great color and texture, even if they don't bloom.
Check with your favorite nursery staff for options that will bloom all summer.
Here, five container gardening pros share ideas for winning combinations.
Angie Phillipp, Mulhall's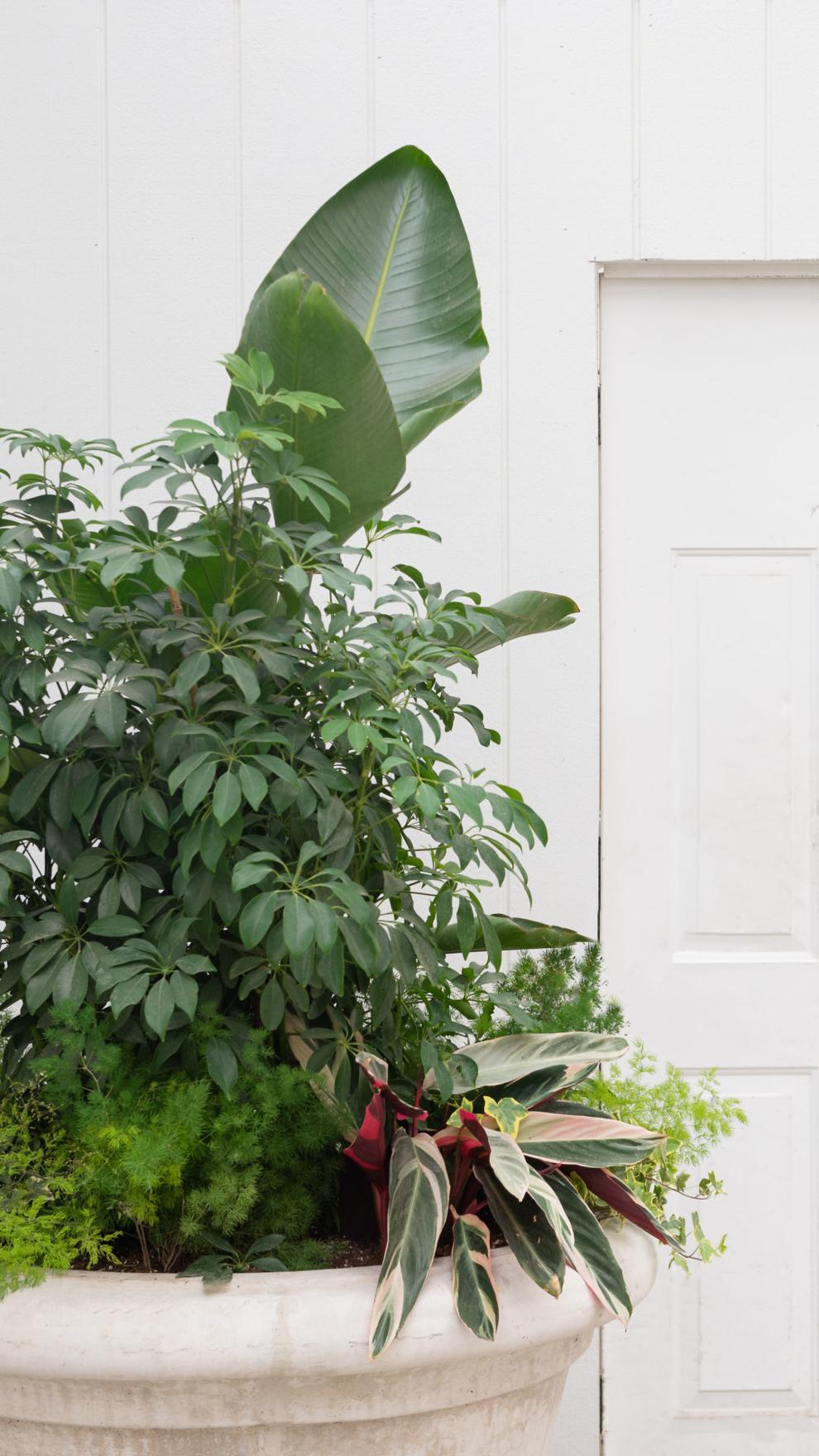 This tropical shade arrangement would be perfect for a covered patio or front entryway. It's easy to care for, too. "It doesn't mind going to the dry side, but when you do water it, you'll want to water it thoroughly."
Plant list: Bird of Paradise, Schefflera, Stromanthe, Ming Fern, Pteris Fern, Hebera Ivy
---
Ron Harvey, Urban Trail Gardens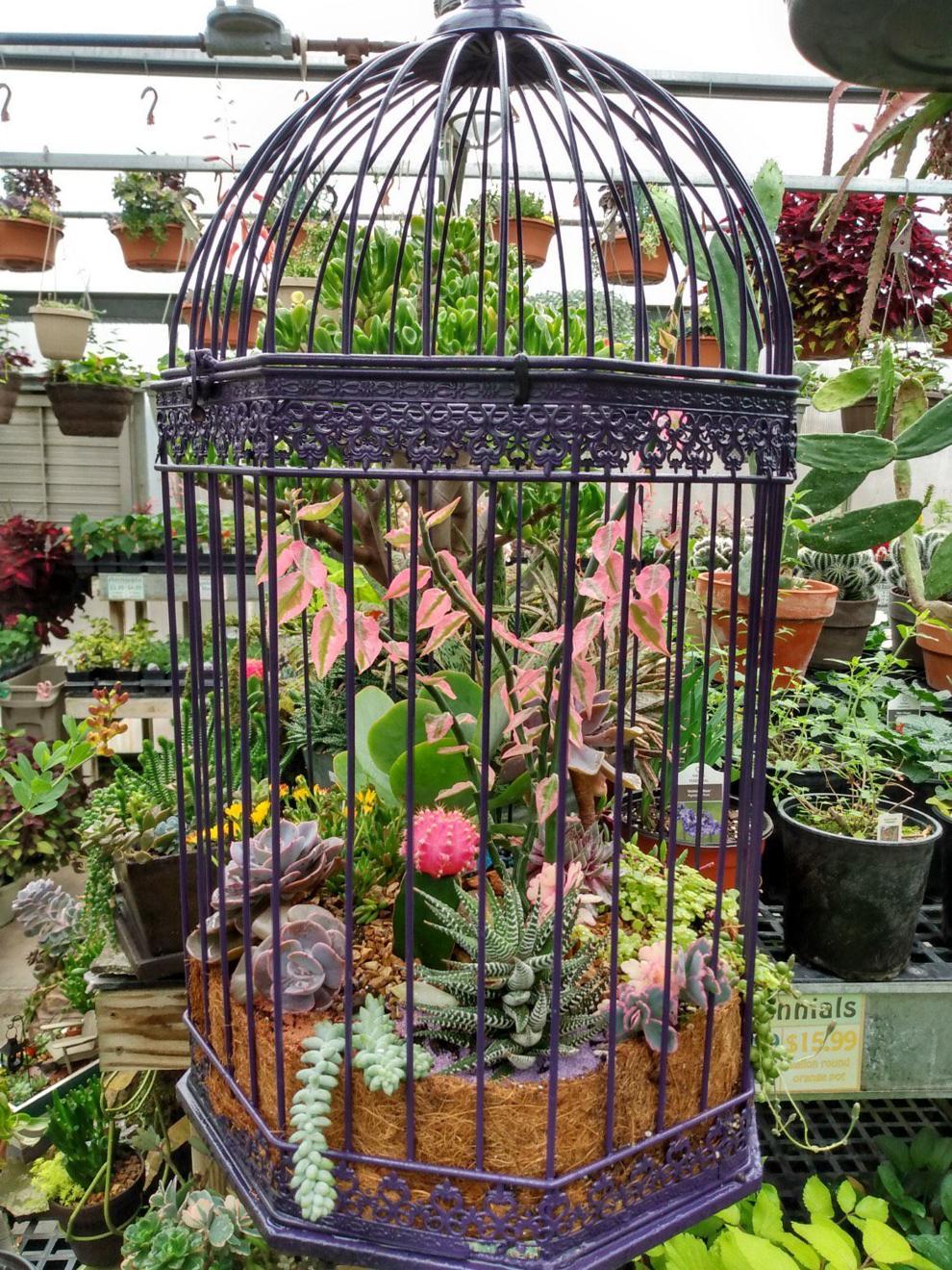 Display this succulent arrangement as you would a hanging basket. It needs at least four hours of sun but can tolerate all-day sun, too. Water weekly. In the fall, bring it inside and place it near a sunny window or under a grow light.
Plant list: Haworthia Wide Zebra, Sedum Burro's Tail, Grafted Pink Moon Cactus, Echeveria Perle von Numberg, Kalanchoe Aurora Borealis, Variegated Devil's Backbone, Pancake Plant, Sedum Ogon
---
Michelle Patten, Canoyer Garden Center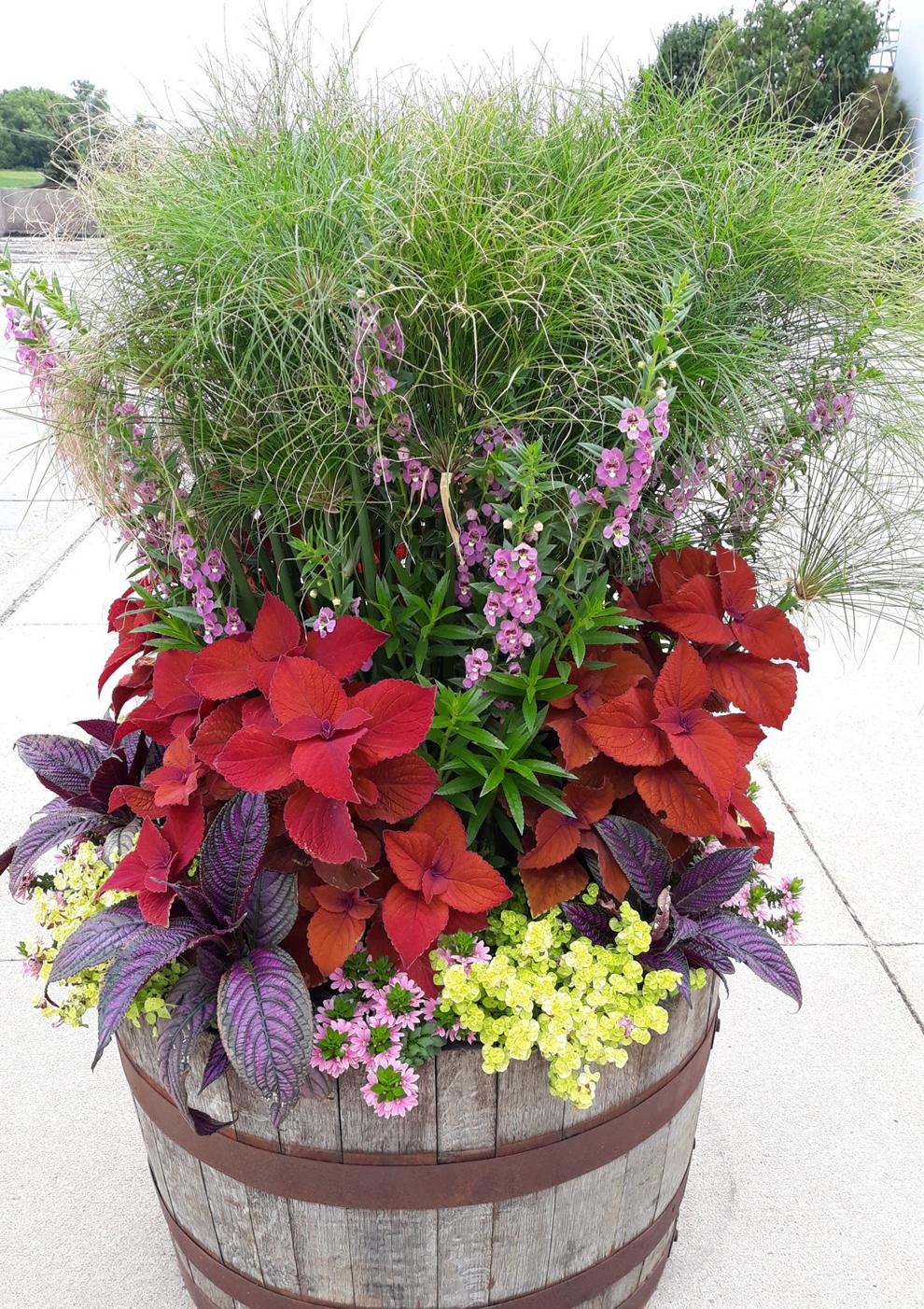 This rustic container uses bright contrasting foliage for dramatic effect. The King Tut grass has pom-pom flower heads that will remind you of fireworks. The coleus is a bronze orange with a purple sheen. The lime green is provided by golden oregano, which has culinary uses.
Plant list: Persian Shield, Scaevola Whirlwind Pink, King Tut Grass, Golden Oregano, Angelonia Angelface Perfectly Pink, Coleus Colorblaze Sedona Sunset
---
Catherine Willis, Lanoha Nurseries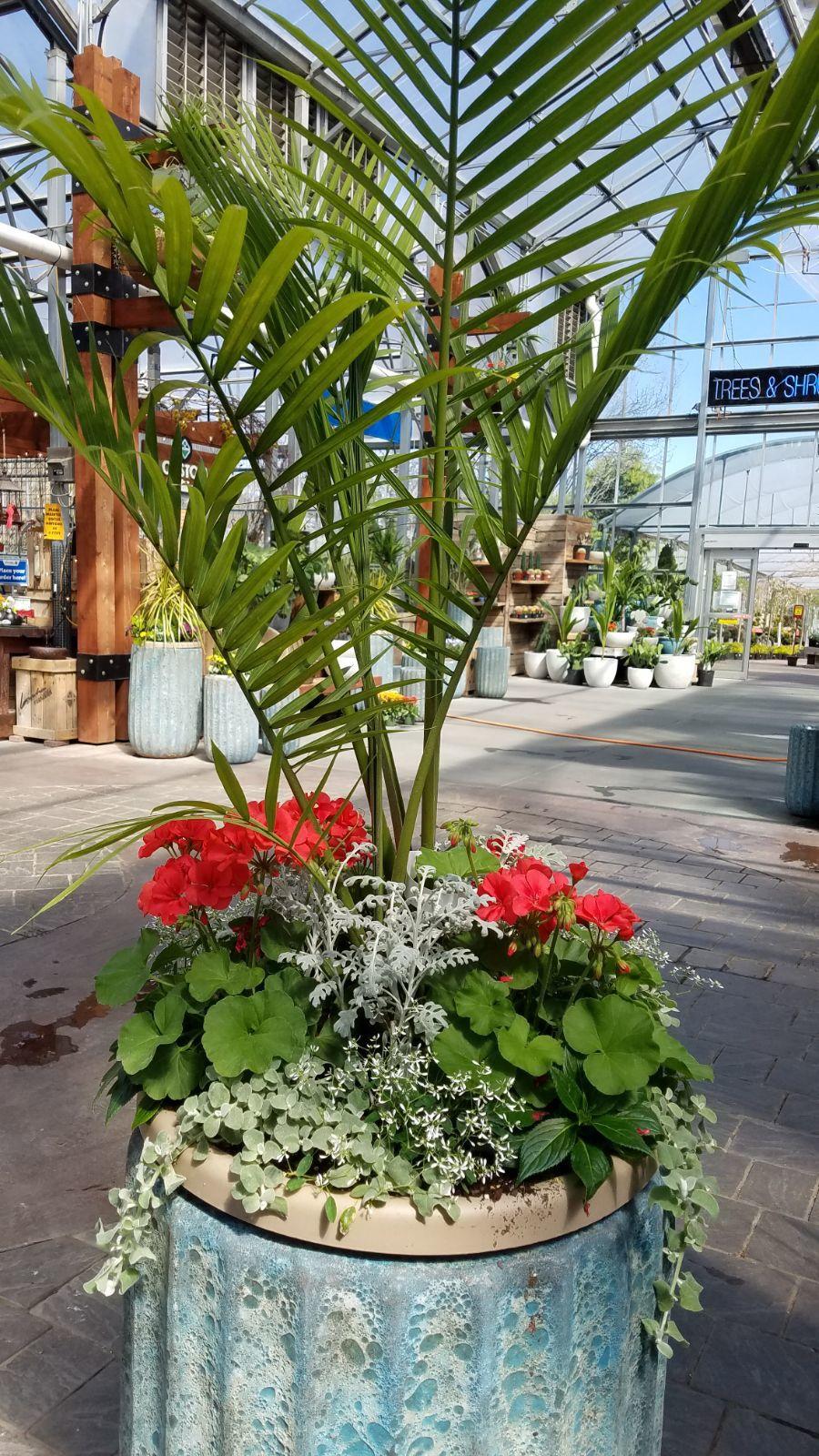 This summer container takes full- to part-sun and features low-maintenance, compatible plants. Water when the soil feels dry. Deadhead geraniums when necessary.
Plant list: Ravena Majesty Palm, Geranium, Dusty Miller, Diamond Frost, White New Guinea Inpatiens, Silver Licorice
---
Amy Mefford, Indian Creek Nursery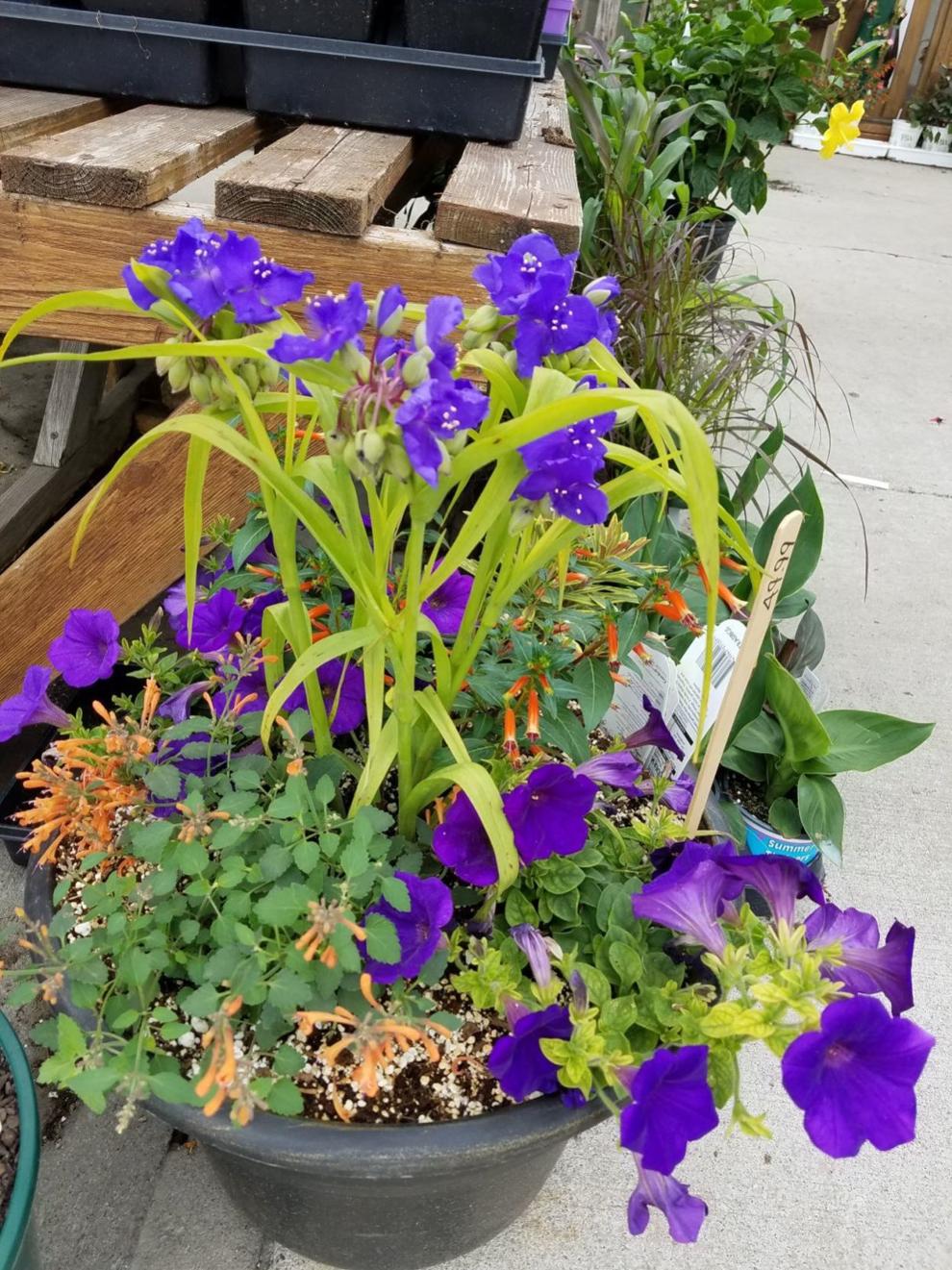 Designed to be hummingbird friendly, this combination is easy to care for and will bloom all summer. Perfect for a sunny spot. Fertilize once a week and water daily if it's hot. All of these plants are perennials that could be planted in the ground at the end of the season. Agastache can be used to make tea.
Plant list: Cuphea, Petunia, Lilriope, Agastache, Dusty Miller