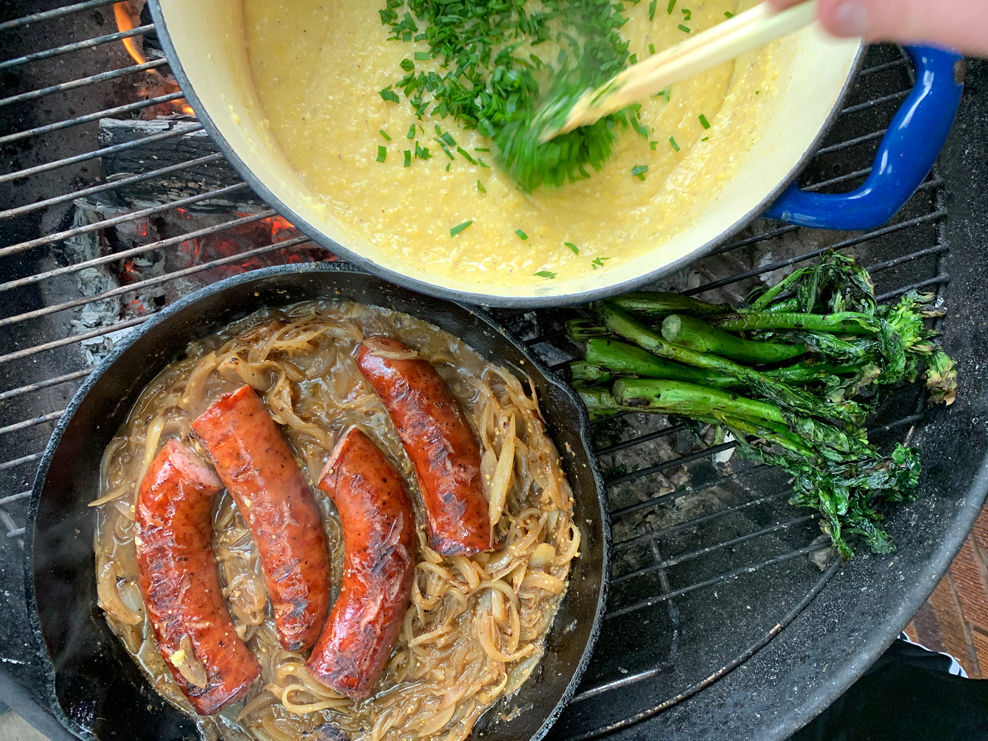 Growing up in Switzerland, eating out for Tim Maides meant stepping outside to grab something from the garden.
No problem if there happened to be a stray caterpillar in the greens.
"At least it was fresh," he says.
Food is gravitating back to a more rustic style once again, Maides said. That's good news for someone like him, who loves working with the quality ingredients he has on hand and the charred flavor of outdoor cooking.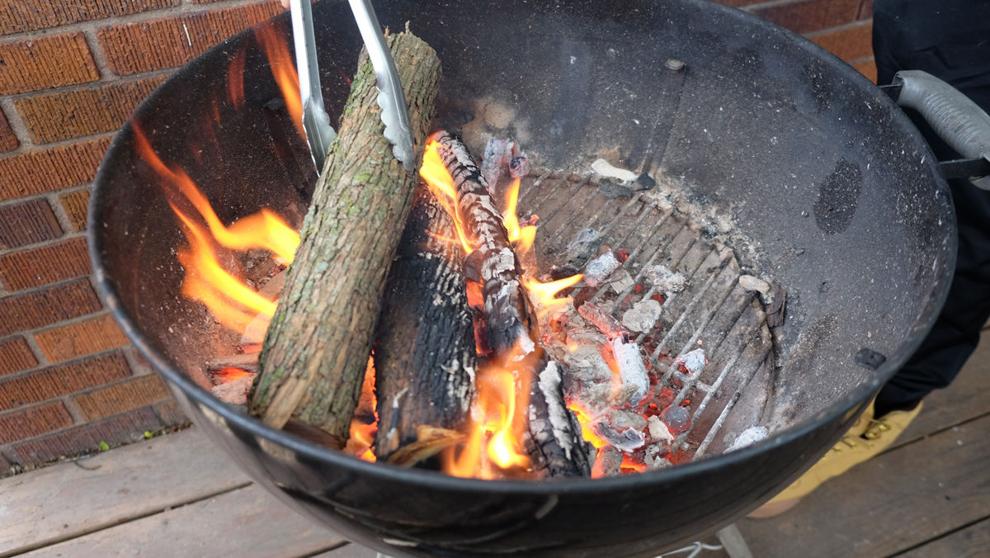 So does one of his roommates, fellow chef Josh Poe, so they're quick to grab the charcoal and wood and spark up the grill.
"We planted a pretty big garden, and we're excited to grill it right in the backyard," Maides says. "There is a certain sense of reward and pride in that."
Maides, a chef for Omaha Country Club and owner of Benson Soap Mill, doesn't limit his outdoor cooking to the backyard.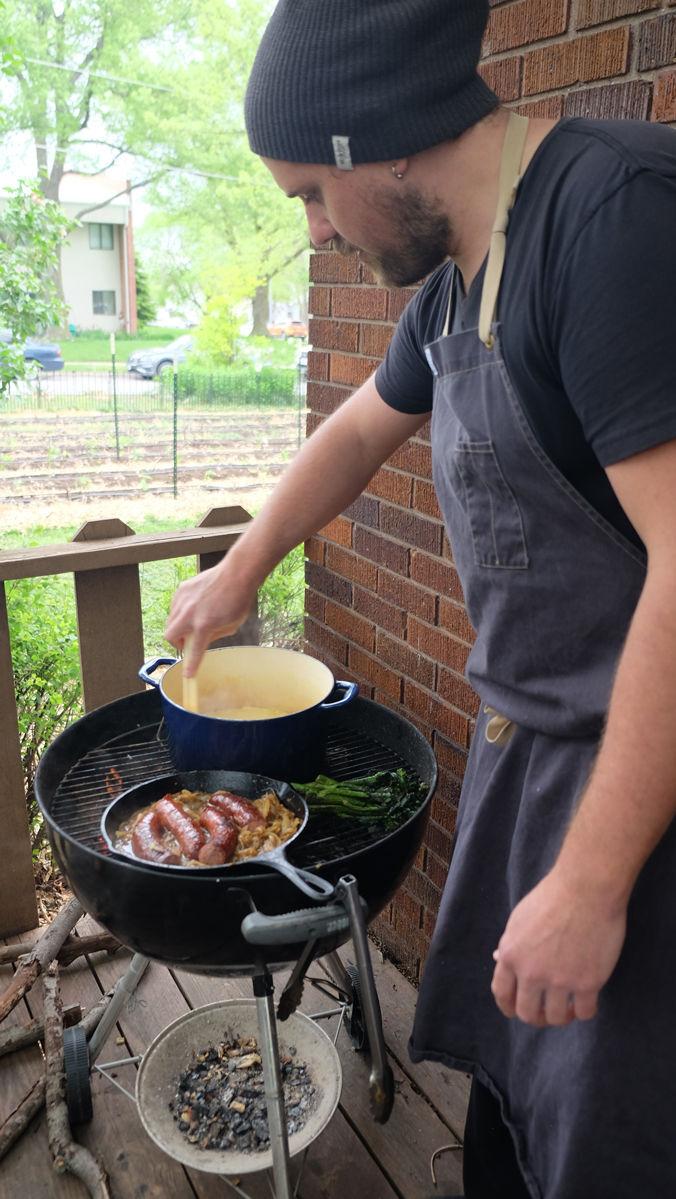 He camps often and loves cooking over an open fire. He calls it his caveman vibe.
"It just puts you in touch with how people have been cooking a lot longer than the way we cook now," he says. "It makes you be creative, and it's very primal. You have a little less control."
He's been doing a lot of bike camping. A friend has an ultra-light cooking stove and they bring along just a few pans. That limits the menu considerably but Maides enjoys the challenge.
He's able to expand his repertoire when he's tent camping. Friends loved the polenta — corn meal with sausage and caramelized onions — that he made during a trip to Indian Cave State Park near Shubert, Nebraska.
"If you have a fire, it changes the game," he says. "A lot of vegetables are great. Grill them up with a little salt and pepper and lemon. You are already working with something delicious."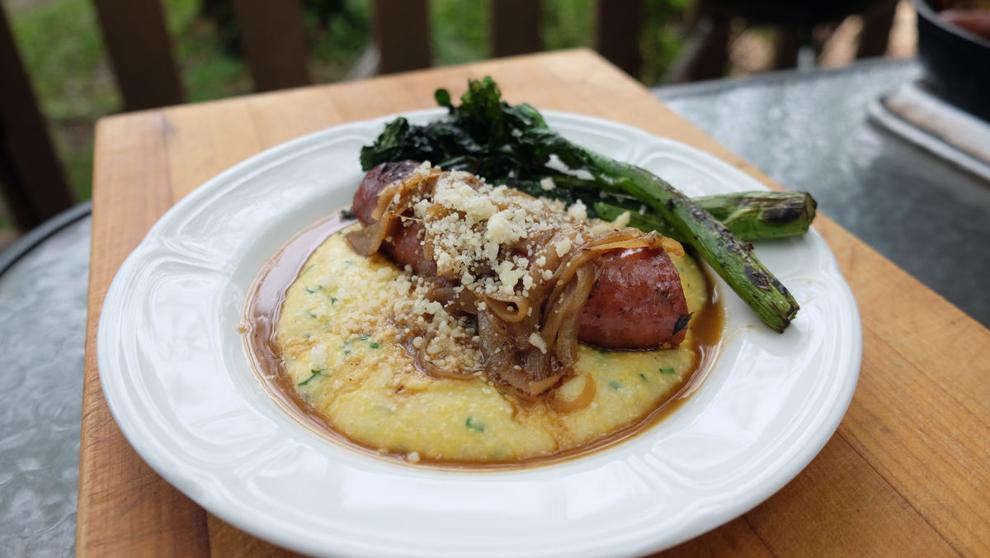 He enjoys doing popup events for larger crowds, too. For one at Big Muddy Urban Farm, he and some other chefs roasted a suckling pig over a bed of coals. It was a farm dinner, with a spread of homegrown food that was in season and prepared in traditional ways.
Maides never went to culinary school but he picked up a lot of knowledge from his mom and grandmother in Switzerland. His brother, Benjamin, owns Au Courant, and Maides said they cook together often.
He returns every few years to his home country. He also did a stint in Germany with another chef, and he just returned from what he called a world tour a year ago.
"I made it to Vietnam. There is so much street food happening there," he says. "They are cooking on little grills on the street. You get to see how everyone cooks and what they can create as far as the food that goes with it."
---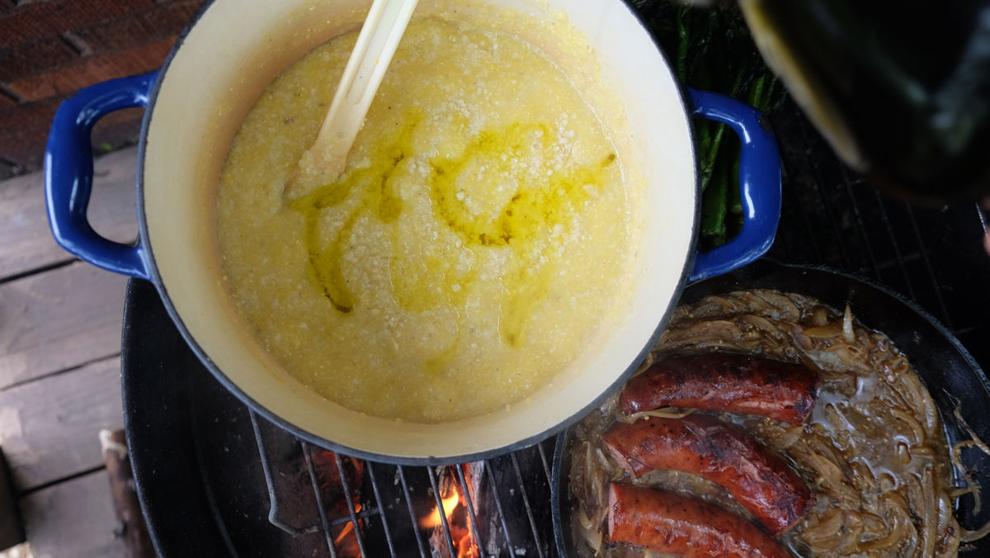 Grits/Polenta
1 cup Bob's Red Mill Organic Polenta Corn Grits
2 tablespoons fresh chives, thinly chopped
1. Combine all ingredients in a Dutch oven and place on hot coals, stirring occasionally until boiling.
2. Move pot to cooler side of fire and allow to simmer, stirring occasionally, for 20 to 30 minutes or until grits are soft.
3. Fold in Parmesan cheese, chives and a little butter or olive oil just before plating.
---
Caramelized Onion Gravy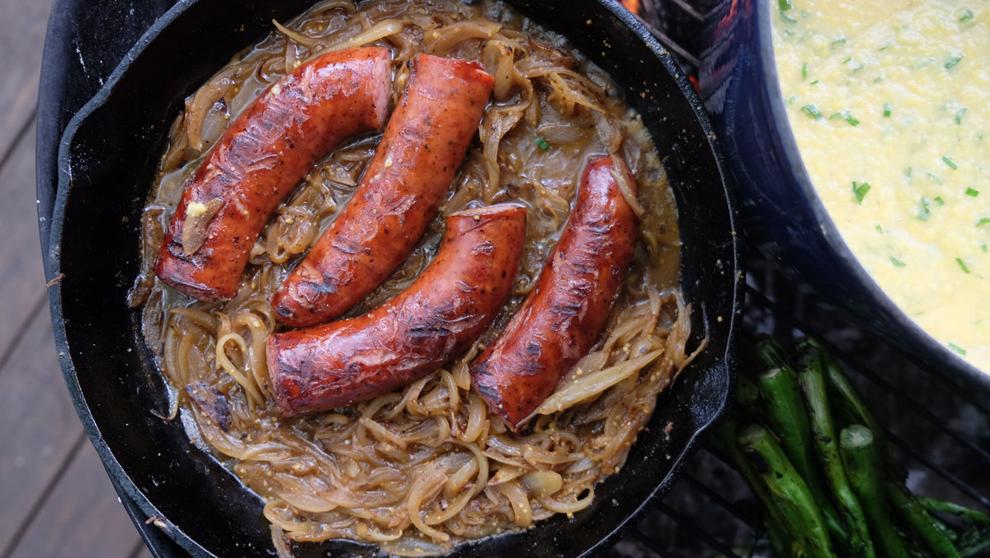 2 medium yellow onions, sliced julienne
1 cup liquid (beer, wine, stock)
2 tablespoons mustard (stone-ground or Dijon)
1 package Kielbasa sausage, smoked and cooked
1. Put oil in cast iron skillet over hot coals and add onions, salt and pepper. Stir frequently until onions are a deep golden brown.
2. Deglaze onions with some liquid on hand (vegetable stock, beer, wine) and stir in mustard.
3. Cook the sausage on the grill until hot and charred and set inside the gravy pan. When sauce is reduced a little, season to taste and slice sausage into four portions for serving.
---
Grilled Broccolini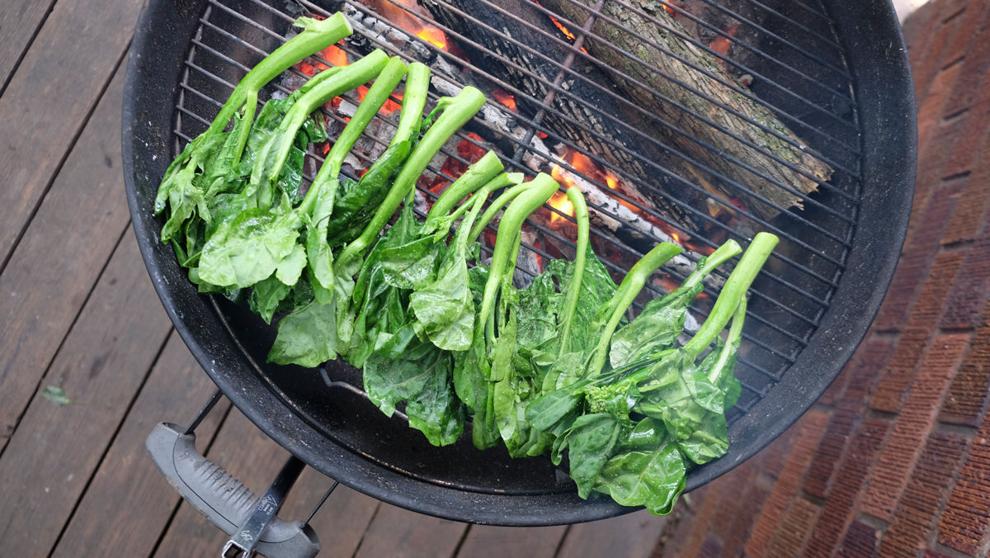 1. Set fresh broccolini spears on cutting board and sprinkle with olive oil, salt and pepper. Using hands or tongs, toss to coat.
2. Place broccolini on grill and char over hot coals (not flames). Broccolini is done when stems are soft. Season with lemon juice, if desired.
3. To plate your meal, first make a bed of polenta and top with sausage. Next, ladle pan gravy and onions over sausage and polenta and sprinkle with remaining Parmesan cheese. Serve with broccolini on the side.